---
USA. 2003.
Crew
Director – John Woo, Screenplay – Dean Georgaris, Based on the Short Story by Philip K. Dick, Producers – John Woo, Terence Chang, Michael Hackett & David Solomon, Photography – Jeffrey L. Kimball, Music – John Powell, Visual Effects Supervisor – Gregory L. McMurry, Visual Effects – CIS Hollywood (Supervisor – Bryan Hirota), Creo Collective (Supervisor – Andy McDonald), Frantic Films (Supervisor – Chris Bond), Pixel Playground & yU+Co, Production Design – William Sandell. Production Company – Davis Entertainment/Lion Rock/Solomon-Hackett Productions/Paramount/DreamWorks SKG.
Cast
Ben Affleck (Michael Jennings), Uma Thurman (Dr Rachel Porter), Aaron Eckhart (James Rethrick), Colm Feore (John Wolfe), Paul Giamatti (Shorty), Joe Morton (Agent Dodge), Michael C. Hall (Agent Klein), Peter Friedman (Attorney General Brown), Kathryn Morris (Rita Dunne), Ivana Milicevic (Maya), Michelle Harrison (Jane Anderson)
---
Plot
Michael Jennings is a reverse engineer – a technical genius with the ability to take apart competitor's designs and improve on them. At the end of each assignment according to his confidentiality agreement, his memory is wiped of the details of the discovery. His friend, business magnate James Rethrick, offers him an assignment that will last 2-3 years (Jennings's previous record having been a total of eight weeks) in return for which he will receive an eight-figure sum. However, when Jennings emerges from the memory wipe three years later, he finds that he has sacrificed his $92 million in stock options for a packet of trivial personal items – a pair of sunglasses, a book of matches, a can of hairspray, a paperclip, a crossword puzzle, a bus ticket, a key and other such like. Immediately after, Jennings is arrested and interrogated by FBI agents and hunted by Rethrick's assassins. On the run, he discovers that each of the items in the packet come in useful in aiding him at a particular time and realizes that he has somehow managed to see into the future and leave the items to aid himself.
---
Philip K. Dick was named by The Encyclopedia of Science Fiction (1992) as "one of the two or three most important 20th Century writers of SF." Philip K. Dick wrote works such as The Man in the High Castle (1962), Martian Time-Slip (1964), The Three Stigmata of Palmer Eldritch (1964), Do Androids Dream of Electric Sheep? (1968), Ubik (1969), A Maze of Death (1970), Flow My Tears, The Policeman Said (1974) and Valis (1981). Philip K. Dick's work tends to centre around paranoia and questions of reality. Protagonists in Dick stories are constantly finding that their world is an artificial construct or that someone is manipulating their perception. Philip K. Dick is one science-fiction author who has proven been surprisingly popular on film. Adaptations of Dick's works include Blade Runner (1982), Total Recall (1990), Screamers (1995), Impostor (2002), Minority Report (2002), A Scanner Darkly (2006), Next (2007), The Adjustment Bureau (2011), Total Recall (2012), Radio Free Albemuth (2014), the tv series adaptation of The Man in the High Castle (2015-9) and the tv anthology series Philip K. Dick's Electric Dreams (2017-8), while there has also been a documentary made about Dick's exceedingly strange life with The Gospel According to Philip K. Dick (2000). Paycheck is based on Philip K. Dick's 1952 short story of the same name – in fact, Paycheck was Dick's fourth published story.
The story works well on screen. The script shuffles around several of the themes that are familiar through other Philip K. Dick screen adaptations – the man who struggles to rediscover information that has been wiped from his memory (Total Recall), the precognition themes (Minority Report, which also prefigured the basic premise of Paycheck in one scene where a precognitive is able to elude pursuers by knowing what is going to happen in advance). The script is adept and clever. The fun comes in seeing the way that the items are going to be used falling into place. This is what all good science fiction should be about. Although, the most ingeniously science-fictional moments in the film are the ones where bad guy Aaron Eckhart sends a lookalike of Uma Thurman (Ivana Milicevic) to meet Ben Affleck at the cafe, playing upon his wiped memory by fooling him into thinking she is Uma and with Affleck struggling to remember through a blank memory to know whether to trust her or not. Screenwriter Dean Georgaris certainly earns forgiveness here for the mind-numbing script he delivered for Lara Croft, Tomb Raider: The Cradle of Life (2003) several months earlier.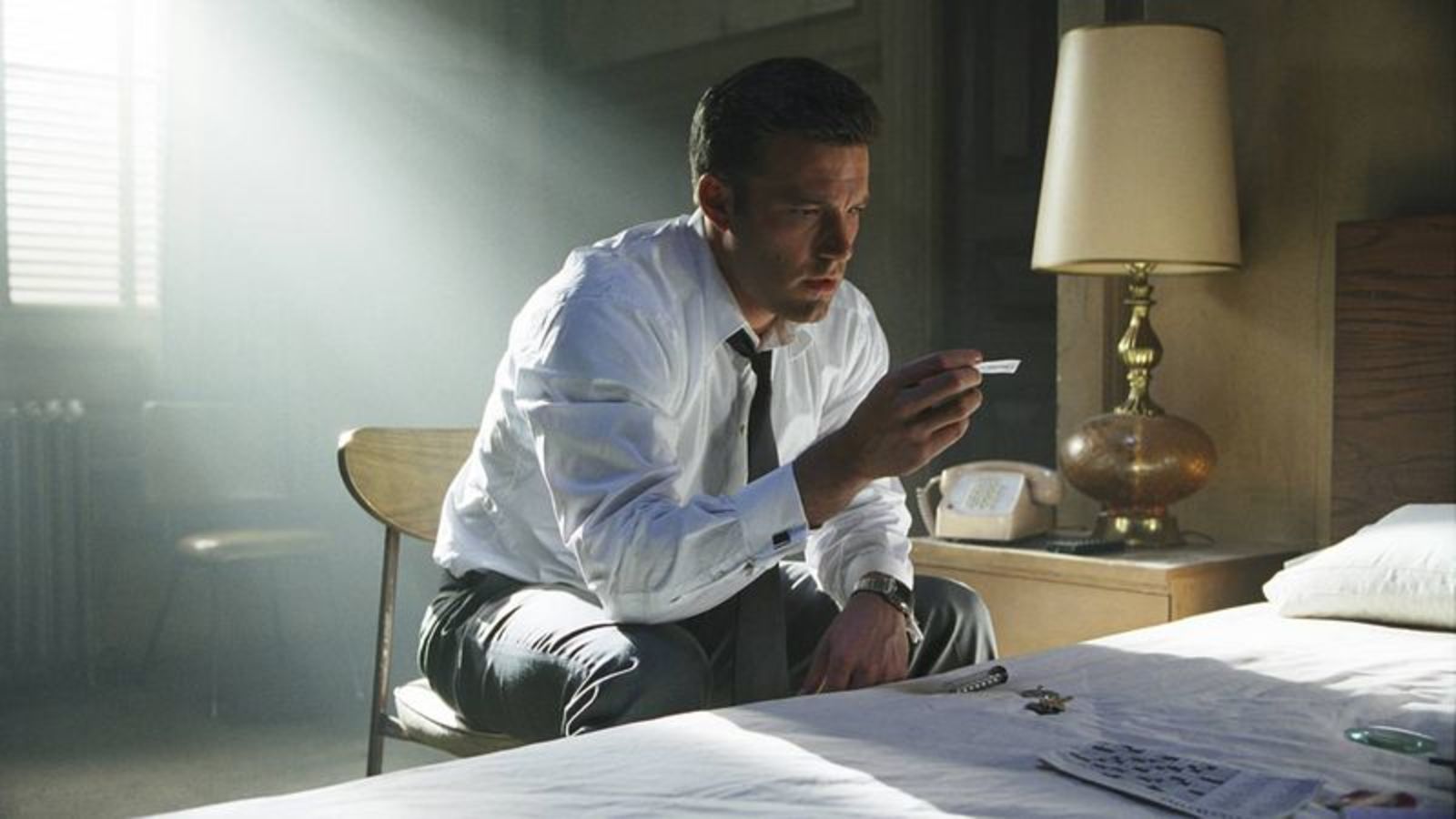 Alas, what befalls Paycheck is exactly the same problem that befell several other Philip K. Dick adaptations – Total Recall, Next – in that it is turned into an action movie. Philip K. Dick stories are conceptual in nature, they are psychological stories about protagonists coming to doubt the nature of their world or making a sudden discovery about who or what they are. The frequent tone of a Philip K. Dick story is one of paranoia. What they are not about is action movie staples – high-speed vehicle chases, guns, people's heads being kicked in etc etc.
Paycheck unfortunately ends up in the hands of John Woo. For a time in the 1990s, John Woo became a cult figure with action films made in his native Hong Kong such as A Better Tomorrow (1986), The Killer (1989) and Hard-Boiled (1992) where he patented a uniquely balletic form of stylised, slow-motion violence. Woo emigrated to the US just before the Chinese takeover of Hong Kong where he embarked upon a successful career, making films such as Hard Target (1993), Broken Arrow (1995), Face/Off (1997), Mission: Impossible II (2000) and Windtalkers (2002). Hard Target and Mission: Impossible II were both fair efforts but what is almost universally agreed is that John Woo's move to Hollywood is one that has taken the wind out of his sails, where the films produced feel swamped by the big-budget action movie process and where Woo's characteristic moves often feel like self-pastiche – like here when he throws in a characteristic Mexican standoff between Ben Affleck and Aaron Eckhart with both holding guns pointed at one another or when yet another dove flies by in slow-motion.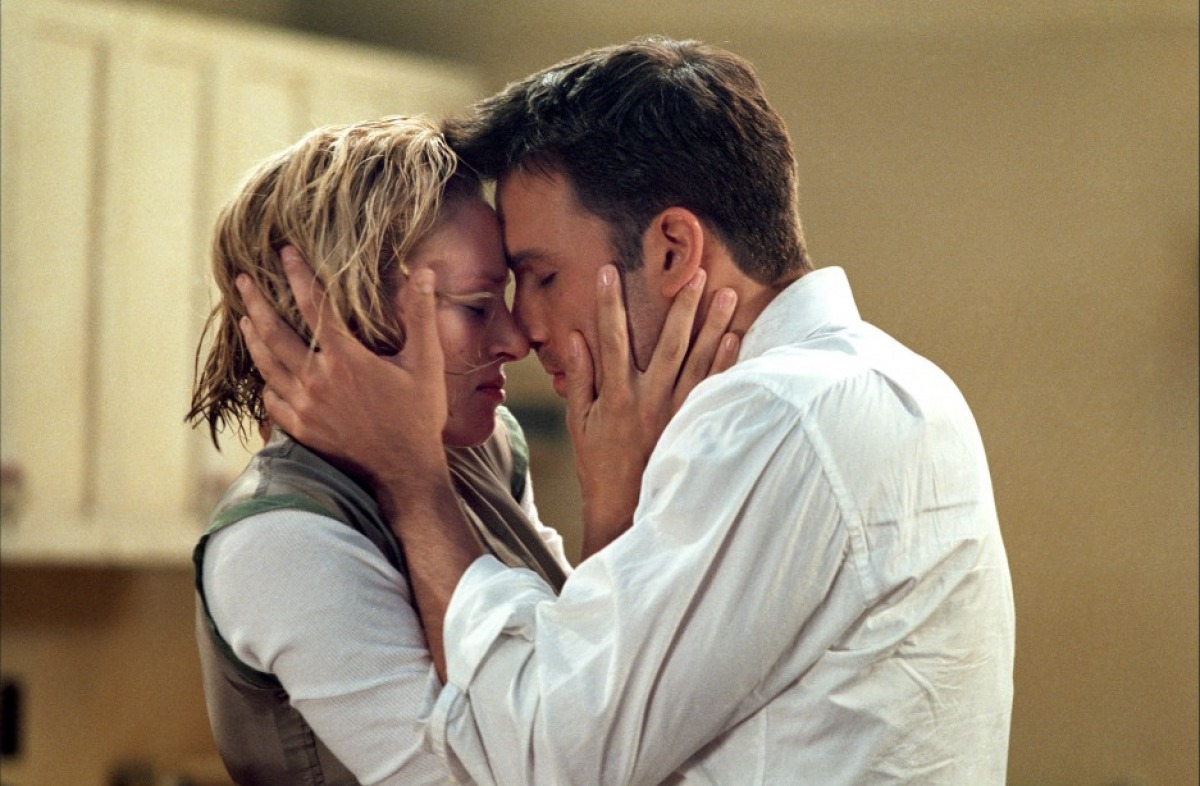 To Woo's credit, he never lets Paycheck be taken over by the action element as badly as Paul Verhoeven did in Total Recall. For the most part, Woo simply lets the story tell itself. However, there are a number of gratuitous action sequences – high-speed motorcycle chases with vehicles colliding and exploding; shootouts running through a subway; and a particularly superfluous big climactic shootout through the lab where in the most ridiculously improbable part Uma Thurman somehow manages to turn a robotic arm into a kendo stick-wielding device.
Disappointingly, John Woo's American films are starting to show that the stylised slow-motion action movie is the only trick that he has in his arsenal. Whether he is making an identity exchange film (Face/Off), a spy film (Mission: Impossible II), a war film (Windtalkers) or a psychological science-fiction film (here), Woo still succeeds in making exactly the same film with the same slow-motion car chases, explosions and massively destructive gun battles. Even on their own terms, the action sequences here are routine – there is nothing that holds the visual kinesis of Woo's Hong Kong films or even his better American films like Hard Target and Mission: Impossible II. Even more disappointingly, a John Woo film where the action sequences are subdued and have largely been replaced by story makes for a not very interesting film. This leaves Paycheck reliant on John Woo as a storyteller, something at which he proves at best a routine journeyman (although, to his advantage, he does have a good story that is enough to carry the film on its own).
Woo also demonstrates little interest in the science-fiction trappings of the film. Compared to say the extraordinarily visually dense Cyberpunk look of Blade Runner, the backgrounds that Spielberg invested the future depicted with in Minority Report, or even the touches of futurism that Verhoeven gave in Total Recall, Woo gives us no more in the way of futuristic trappings – an artificially intelligent smoke detector, the anti-grav platforms used in the laboratory and the somewhat ridiculous notion of a hydroponics laboratory where artificial lightning and snowstorms are regarded as necessary to growing crops – than the plot requires him to carry.
(Nominee for Best Adapted Screenplay at this site's Best of 2003 Awards).
---
Trailer here
---