USA. 1998.
Crew
Director – Roger Young, Teleplay – Joe Wiesenfeld, Based on the Novel A Connecticut Yankee in King Arthur's Court by Mark Twain, Producer – Nick Gillott, Photography – Elmer Ragalyi, Music – Patrick Williams, Visual Effects – Hollywood Digital, Production Design – Peter Mullins. Production Company – Disney/Rosemont Productions International Ltd.
Cast
Whoopi Goldberg (Dr Vivian Morgan), Simon Fenton (Clarence), Michael York (King Arthur), Amanda Donohoe (Queen Guinevere), Robert Addie (Sir Sagramore), James Coombes (Sir Lancelot), Ian Richardson (Merlin), Paloma Baeza (Sandy)
---
Plot
Physicist Vivian Morgan is working on the Kablooey Project in an attempt to find an unknown particle. With her grant due to run out that day, she pushes the equipment beyond safety limits, only to be caught in an energy surge. She finds herself transported back to the year 589 A.D.. Thought to be an ogre, she is captured and taken to Camelot before King Arthur. She is sentenced to be burned at the stake but uses her knowledge of an eclipse that day to fool the locals by threatening to put a spell on the sun. King Arthur knights her as Sir Boss. Upon discovering that many of the people of the land live in poverty and slavery, she determines to improve their lot and sets out to invent the flourmill. However, the scheming court magician Merlin and the self-important knight Sir Sagramore set out to thwart her plans.
---
Mark Twain's novel A Connecticut Yankee in King Arthur's Court (1889) is a popular classic, one where Twain subjects King Arthur and the knights of Camelot to some irreverent Yankee humour. The story has proven surprisingly popular on film with adaptations like A Connecticut Yankee in King Arthur's Court (1921), A Connecticut Yankee (1931), the Bing Crosby starring A Connecticut Yankee in King Arthur's Court (1949), Disney's Unidentified Flying Oddball/The Spaceman and King Arthur (1979), A Kid in King Arthur's Court (1995), A Young Connecticut Yankee in King Arthur's Court (tv movie, 1995) (which also featured Michael York but playing the role of Merlin rather than King Arthur), the Martin Lawrence vehicle Black Knight (2001), and numerous tv versions, even a Bugs Bunny short A Connecticut Rabbit in King Arthur's Court (1978).
A Knight in Camelot is a modernised version. Here the Mark Twain story has been reworked as a Disney Channel comedy and Whoopi Goldberg cast in the central role. The story is given a few updatings – Whoopi Goldberg is now a physicist rather than a mechanic (something that propels the story into the realm of science-fiction as opposed to fantasy), she gets her information on the upcoming eclipses from a Mac Powerbook and so on. More so than any other version of the story, the film places an emphasis on the social realities of the age – the poverty and poor hygiene. Upon arriving back in Camelot, for instance, Whoopi makes it her mission to save the peasantry from serfdom and have them treated as equals, while also inventing the flourmill. We even get mention of droit de seigneur (and in a Disney tv movie no less) and discussion of the problems of going to the toilet while wearing plate armour. The script also interestingly attempts to wind in elements from the more traditional Arthurian legends – like the affair between Guinevere and Lancelot – that Mark Twain never did – "Lancelot and Guinevere?" Whoopi Goldberg says upon meeting them, "I know all about you guys. You should be more discreet."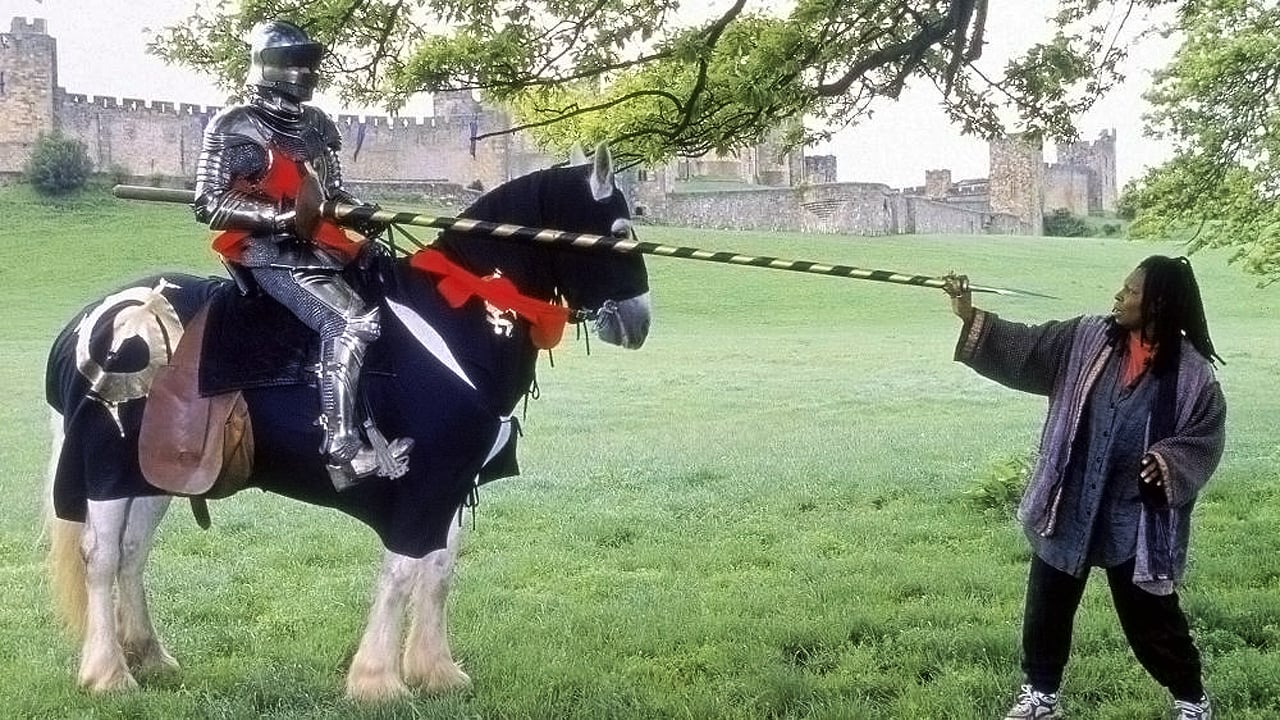 On the other hand, A Knight in Camelot is a decidedly uneven film. Whoopi Goldberg was once seen as an immensely promising Black actress/comedian. She could have ended up the places that Eddie Murphy is today – but ended up making a series of poor career choices in dogs like Fatal Beauty (1987), The Telephone (1987) and Theodore Rex (1995). That she is talented there is no doubt – she was even nominated for an Oscar for The Color Purple (1985) and won for Ghost (1990) – but apart from odd hits like Sister Act (1992), her career has stalled in the mid-1990s.
A Knight in Camelot is unevenly stuck between Mark Twain's story and being a Whoopi Goldberg comedy. Unfortunately, all it ends up doing is shuffling Goldberg around in some not-at-all-funny routines hi-fiving King Arthur or engaging in mud fights. The scriptwriters provide her with a series of annoying quips throughout.
The entire film feels caught in a tug of war between a story that wants to devote some time to serious realism and being a Whoopi Goldberg comedy – one minute we get a knight in full armour making some impressive leaps as he comes after Whoopi, the next we see him treated as the slapstick punchbag of an entirely unarmed Whoopi. Characters also make unconvincing changes – Ian Richardson's Merlin is shown as a sinister charlatan and painted as the villain of the show but is then shown to be a wise and powerful magician who guides Whoopi off into the universe at the end; Amanda Donohoe's Guinevere is seen to be scheming and manipulative but about halfway through her schemings are all forgotten about.
---
Film available in several parts beginning here
---