---
Crew
Director/Screenplay/Producer – Kurt Neumann, Additional Dialogue – Orville Hampton, Photography (b&w + Martian Sequences Tinted Red) – Karl Struss, Music – Ferde Grofe, Photographic Effects – Jack Rabin, Mattes – I.A. Block, Special Effects – Don Stewart, Production Design – Theobold Holsopple. Production Company – Lippert Productions.
Cast
Lloyd Bridges (Colonel Floyd Oldham), Osa Massen (Dr Lisa Van Horn), John Emery (Dr Karl Eckstrom), Noah Beery, Jr. (Major William Corrigan), Hugh O'Brian (Harry Chamberlin), Morris Ankrum (Dr Robert Fleming)
---
Plot
Dr Robert Fleming holds a press conference at White Sands, New Mexico. There he announces the existence of Rocketship X-M (Expedition Moon) – a rocket that will land a four man, one woman crew on The Moon – fifteen minutes before it is due to blast-off. The rocket is successfully launched but once in orbit has a power failure and drifts out of control. The crew decide to use an untested trioxide mixture to correct their trajectory but this causes the rocket to head off at great velocity. When the crew come around, they find the rocket is nearing Mars. They make a successful landing and emerge onto the surface of the red planet. There they discover the debris of an advanced civilisation that has been destroyed by an atomic war. They then encounter the Martian natives who have been reduced to Stone Age primitives and left blinded and scarred by radiation.
---
Rocketship X-M was a B-budget film that was initially made to cash-in on George Pal's big budget Destination Moon (1950). However, things worked out differently with production being completed so quickly that Rocketship X-M succeeded in beating Destination Moon into theatres by three weeks. As a result, Rocketship X-M ended up being the first entry into the great Golden Age of Science-Fiction Cinema. And for all that it was made as a film designed to exploit the promotional campaign of another, Rocketship X-M is a surprisingly modest and well made entry.
Up until this point, Kurt Neumann, a German immigrant who had been directing since the 1930s, had made a series of routine Westerns, B-movie thrillers, Tarzan films and musicals. Indeed, the film that Neumann became best remembered for would be his last The Fly (1958). (See below for Kurt Neumann's other genre films). Here for the first time, Neumann also writes the film's screenplay.
What surprises one about an (up until then) otherwise undistinguished director and a film that was made on the quick is that Neumann does a fine job on script. The science during the spaceflight is surprisingly accurate for the most part. Moreover, Neumann creates some wonderfully poetic turns of phrase when it comes to describing the journey through space: "the wind between worlds", "No-one's ever seen the light reflected from a dead world before" and Osa Massen's description of her one and only romance "the water black like cold coffee, the moonlight like flecks of cream floating on it." Neumann even throws in sly jokes: "Down on the ranch I used to throw a thousand pound steer over my shoulder every morning," "You sure that wasn't a little bull you were throwing?"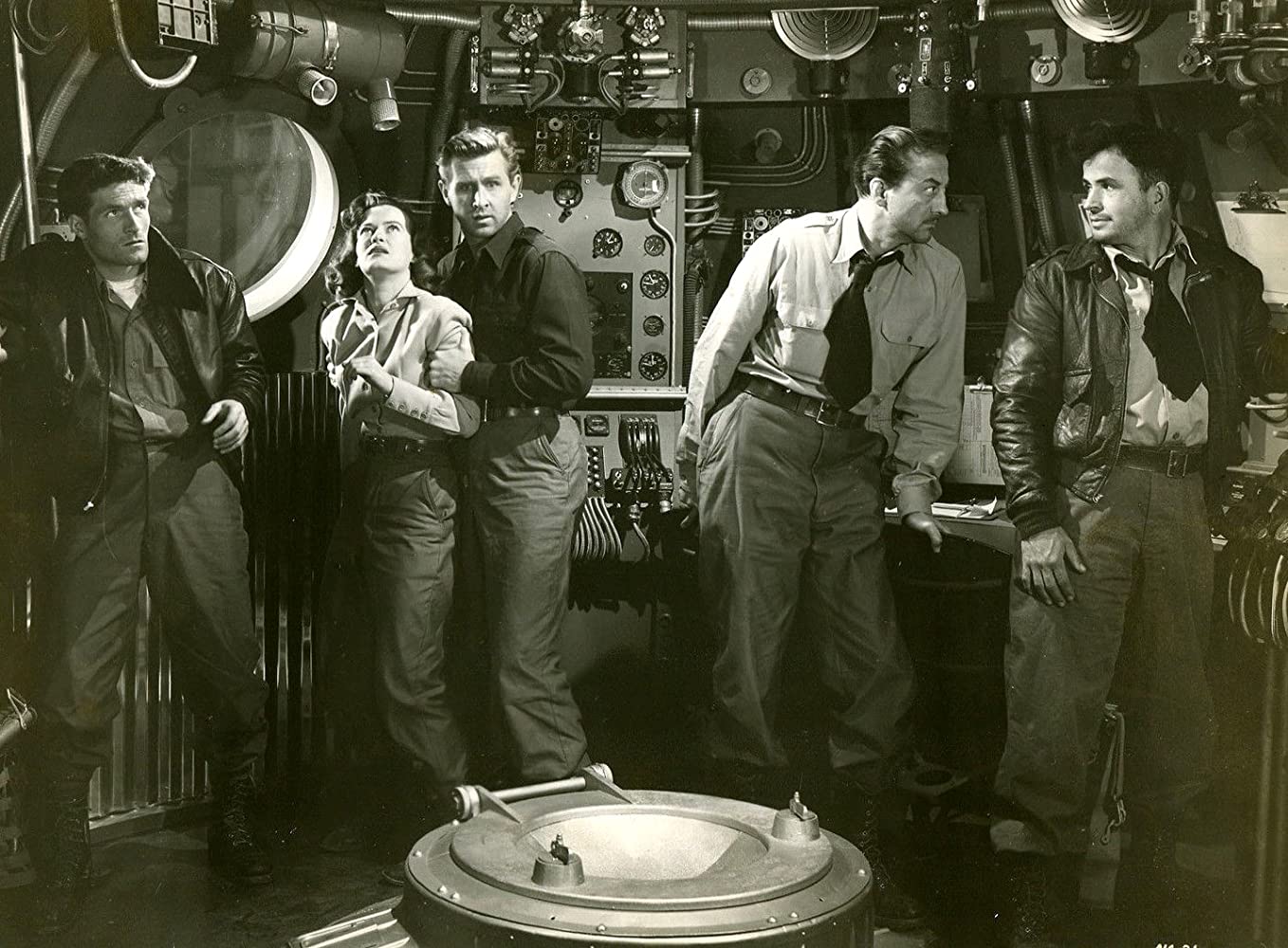 Dramatically, Rocketship X-M is actually a more interesting film than Destination Moon turned out to be. Kurt Neumann takes care to create characters whereas Destination Moon was centred around self-contained dramatic and special effects set pieces without any real human resonance. Of course, the one thing that Destination Moon had over Rocketship X-M was colour and a top-notch budget that allowed it some of the best special effects available in the era. Rocketship X-M is also much less interesting on the directorial level. Kurt Neumann's set-ups are frequently static and he rarely ever relies on external special effects. (The shots through the capsule windows are modestly effective as are some of the mattes, although the model effects vary). The red-tinted scenes and the desert locations do a surprisingly convincing job of evoking the Martian surface.
What is perhaps surprising is the film's lack of interest in exploring the Martian city – all that is seen of it is it in the distance, a couple of artifacts and the degenerated Martian survivors. This was very much indicative of depictions of space exploration in subsequent 1950s science-fiction. Destination Moon started the science-fiction boom off with an enormously optimistic imaginative bound – a call to go forth and conquer the Moon – but just when the genre seemed on the verge of leaping out to conquer other worlds, suddenly all that space travellers seemed to find was the spectre of atomic warfare or civilisations that had destroyed themselves due their own hubris or warlike ways. This pessimism came to seriously undercut the imaginative drive outward and overshadow science-fiction over the next twelve years. Other films of the era like This Island Earth (1955), Forbidden Planet (1956) and First Spaceship on Venus (1959) seem tainted by this underlying pessimism no matter the imagination they deploy.
Rocketship X-M is also amusing to compare to the real Moon landing nearly two decades later. Here the existence of the Moon rocket is only announced to journalists fifteen minutes before it is due to launch and demonstrated by crude chalk drawings on a blackboard compared to the massive media event the build-up became in the real world. The medical tests the astronauts undergo consist of everybody sitting around in an office having their blood pressure taken. Unlike the real Moon mission, the film here has a woman aboard from the start, something the US space programme did not achieve until nearly two decades after the Moon landing. That said, the film does have a typically 1950s condescension towards her presence with much talk about how achieving professional standing means that she has become emotionally cut off.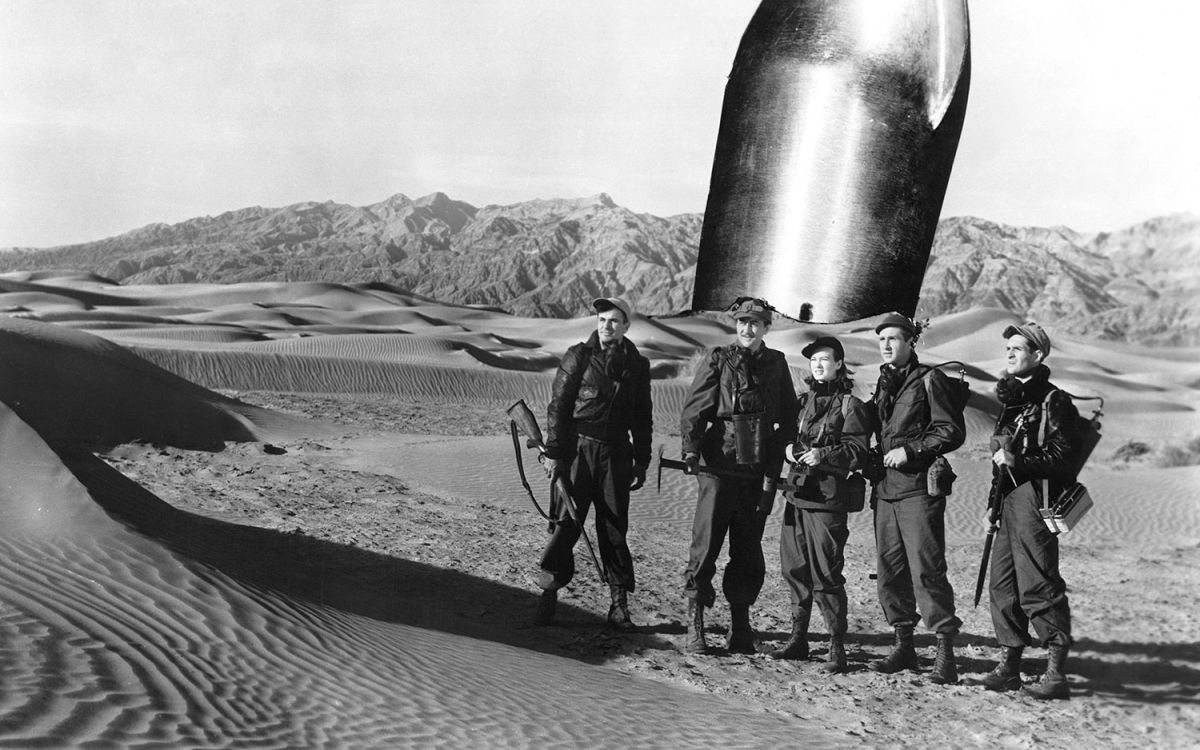 In the original cinematic release of the film, the Martian scenes were tinted red but most modern prints of the film have reverted this to black-and-white. In 1978, film distributor/collector Wade Williams brought up rights to Rocketship X-M and shot several new special effects sequences and scenes on the Martian surface. This version was seen on video for a number of years but subsequent releases have replaced these with the original effects scenes.
Kurt Neumann's other genre films are:– several of the Johnny Weissmuller Tarzan films – Tarzan and the Amazons (1945), Tarzan and the Leopard Man (1946) and Tarzan and the Huntress (1947) and one with Lex Barker Tarzan and the She-Devil (1953); the Arabian Nights fantasy Son of Ali Baba (1952); the mad scientist cheapie She Devil (1957); the interesting Kronos (1957) about an alien energy-devouring machine; and the classic monster movie The Fly (1958).
---
---