---
Austria/UK/Germany. 2019.
Crew
Director – Jessica Hausner, Screenplay – Geraldine Bajard & Jessica Hausner, Producers – Philippe Bober, Bertrand Faivre, Martin Gschlcht, Jessica Hausner, Geraldine O'Flynn & Bruno Wagner, Photography – Martin Gschlcht, Visual Effects Supervisor – Markus Kircher, Little Joe Animated by VAST, Little Joe Designed by Marko Waschke, Production Design – Katharine Wöppermann. Production Company – Austrian Film Institute/FISA – Coop 99/The Bureau/Essential Films.
Cast
Emily Beecham (Alice Woodard), Ben Whishaw (Chris), Kit Connor (Joe Woodard), Kerry Fox (Bella), David Wilmot (Karl), Lindsay Duncan (Psychotherapist), Jessie-May Alonzo (Selma), Phénix Brassard (Ric), Sebastian Hülk (Ivan)
---
Plot
Alice Woodard heads a team of scientists at a laboratory in London where they are attempting to create new types of plant. Alice names the successful experimental breed Little Joe after her son Joe. One of the scientists Bella then insists that her dog is no longer the same after it was accidentally left in the hatchery. Afterwards, Bella comes to Alice with a theory that the Little Joe plants emit a pollen that enters through the olfactory canal and deadens certain senses, leaving the person in a state of happiness but where the emotions they project are at a distance. Alice begins to see the people in the laboratory change, along with her own son after she gives him a plant. She believes that the plants are controlling people as a means to breed. As she tries to alert her colleagues about what is happening at the laboratory, they dismiss this as part of her mental health issues.
---
Little Joe was the sixth from Austrian director Jessica Hausner. Hausner had previously made Inter-View (1999), Lovely Rita (2001), Lourdes (2009) and Amour Fou (2014). The only of her films to approach genre territory was Hotel (2004) about a girl taking a job at a hotel adjoining a mysterious forest. Little Joe was Hausner's first international production and her first film shot in the English language.
It is not easily possible to tell where the film is going from the outset. As becomes apparent, Little Joe is a Body Snatchers film. There was a fad for these in the 1950s with films like It Came from Outer Space (1953), Invaders from Mars (1953), I Married a Monster from Outer Space (1958) and, the absolute classic of the genre, Invasion of the Body Snatchers (1956). In all of these, humans are replaced by alien duplicates and/or their minds are taken over and controlled by aliens.
There have been assorted other ventures into the body snatchers theme since then, as well as other films that have substituted android duplicates or mirror doppelgangers. Little Joe features the oddity of plant body snatchers – the script offers up an interesting sounding explanation about spores invading the olfactory canals and people learning to mask emotions, all as a means for the neutered plant to reproduce itself.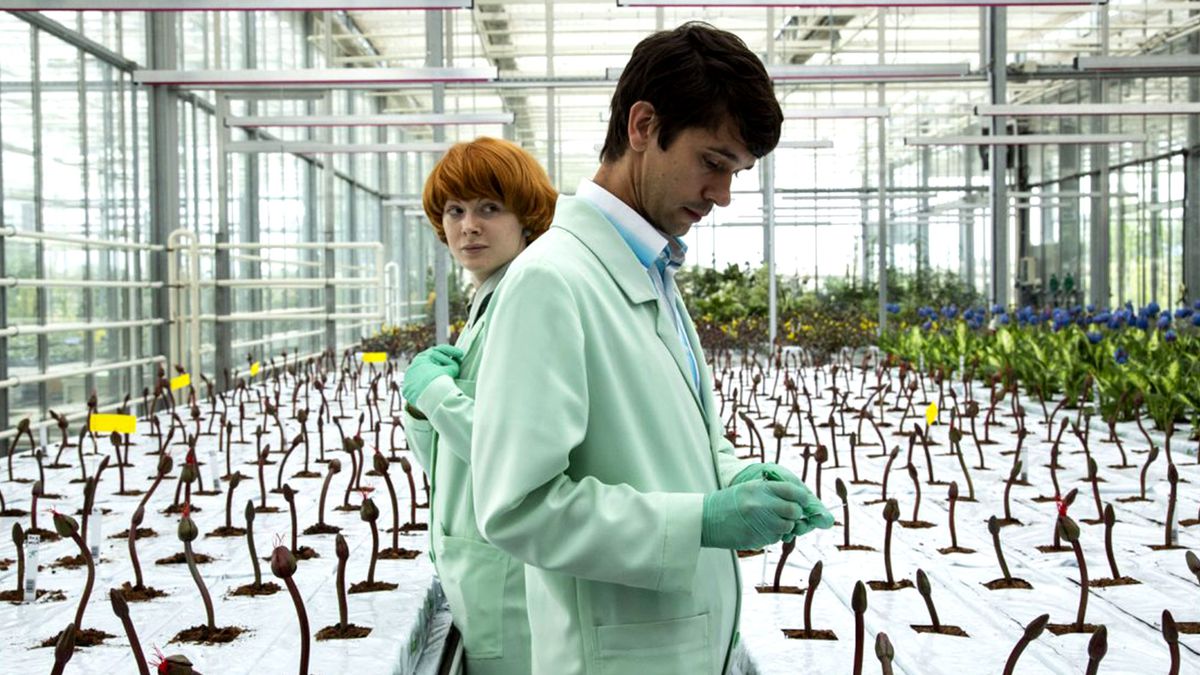 Jessica Hausner directs with an oblique manner and disquiet effect. Unlike Invasion of the Body Snatchers and most of the films listed in the abovementioned Body Snatchers theme, she does not rely on paranoia effects – even though Little Joe is a paranoid film. The film is shot in solid blocks of colour – the pastels of Emily Beecham's apartment, the solid whites of the laboratory or the patterns of the trays lined up in the hatchery. Hausner's direction comes coolly understated – I particularly like the scenes where Emily Beecham joins co-worker Ben Whishaw for a drink where her subtle turn of head at his attempts to move in for a kiss show us all we need to know about their non-relationship than any words do.
Things become particularly disquiet as various of the people around Emily Beecham end up being changed. There are good performances from the entire cast. It is especially unnerving when Emily's son Kit Connor and his school friend Jessie-May Alonzo become affected and start telling her what is happening. It becomes the interesting idea of the body snatchers film removed from the essential black-and-white film noir cliches from which the genre emerged and placed against a distinctly modernist background where the film becomes drawn out against a mother's fears of the loss of custody of her child.
---
Trailer here
---