---
Crew
Director – Jeremy LaLonde, Screenplay – Jonas Chernick & Jeremy LaLonde, Producers – Jonathan Bronfman, Jonas Chernick & Jordan Walker, Photography – A.A. Scott McClellan, Music – Stephen Krecklo & Ian LeFeuvre, Visual Effects Supervisor – Darren Wall, Special Effects – Nexus Canada SPFX, Production Design – Michelle Lannon. Production Company – Walker Entertainment/Banana Moon Sky Films/JoBro Productions.
Cast
Jonas Chernick (James Dolinsky), Daniel Stern (Jimmy), Cleopatra Coleman (Courtney), Frances Conroy (Dr. Edna Rowley), Tommie-Amber Pirie (Meredith Dolinsky), Tara Spencer-Nairn (Officer Walker)
---
Plot
James Dolinsky is a scientist absorbed in his work to the point he never goes out to socialise and even forgets to eat. He abruptly receives a visit from a middle-aged man who claims to be the older version of himself and is able to prove this. Jimmy, the future self, has travelled back in time via the time machine that James is about to invent to plead with him not to invent it as it dooms him to a miserable life. If James does not do so, he, the older self Jimmy, will take drastic measures to stop him. With the aid of Jimmy, James sets out to see change things before Friday. To this extent, Jimmy pushes him to develop a relationship with his co-worker Courtney.
---
James vs. His Future Self was the fifth film for Canadian director Jeremy LaLonde. LaLonde had previously made comedies such as The Untitled Work of Paul Sheppard (2010), Sex After Kids (2013), How to Plan an Orgy in a Small Town (2015), which had enjoyed reasonable success internationally, and The Go-Getters (2018), all non-genre films.
There have been some clever and sophisticated time travel films in recent years with the likes of Timecrimes (2007), The Infinite Man (2014), Predestination (2014), Black Hollow Cage (2017), In the Shadow of the Moon (2019) and Beyond the Infinite: Two Minutes (2020). (For a more detailed overview of the genre see Time Travel Films).
A similar version of the premise in which a regular guy is surrounded by multiple versions of himself travelled through time appeared just before this with the fun Mega Time Squad (2018). If anything what James vs. His Future Self resembles is The Kid (2000) in which Bruce Willis encounters a boyhood version of himself, although here it is more a case of the boy or twentysomething self receiving a visit from the older self. (In real-life, Daniel Stern who plays the older James is only ten years older than Jonas Chernick who plays his younger self).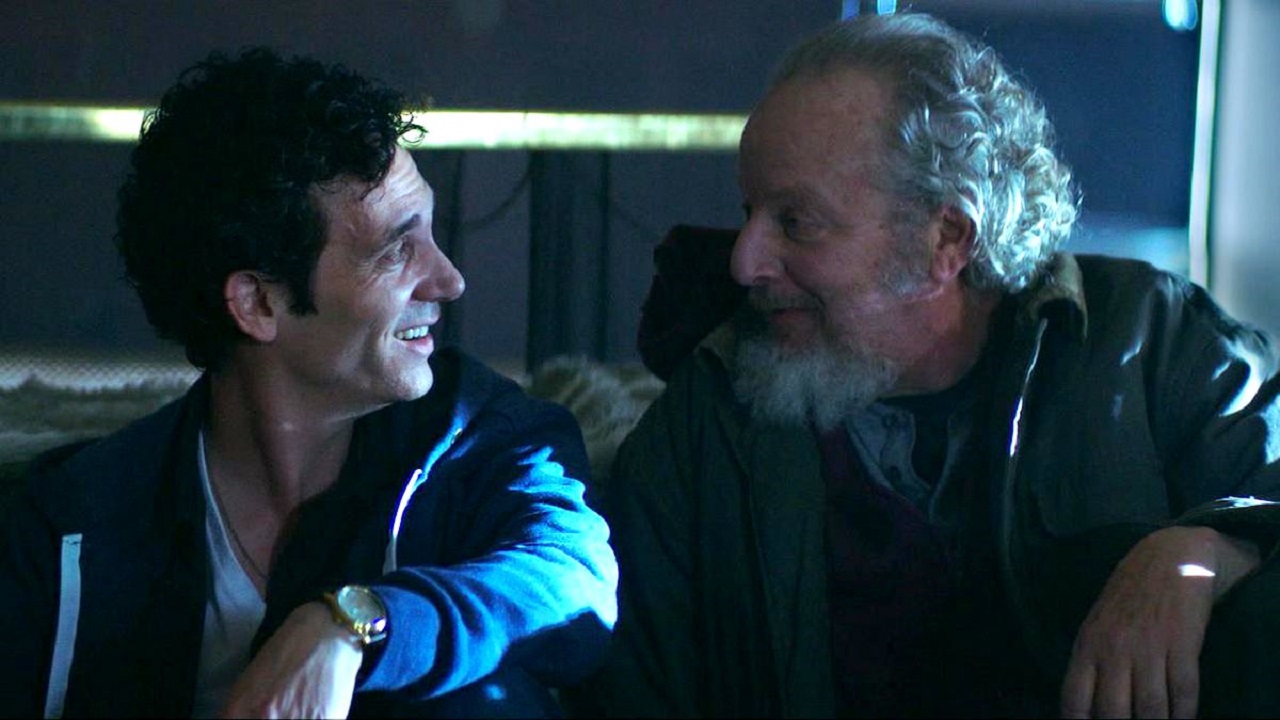 Jeremy LaLonde's background is comedy rather than science-fiction. He make a minimalist science-fiction film – one where we never even get to actually see the machine that Daniel Stern uses to travel back through time. The film offers the amusing depiction of a particle accelerator that look like a metre-long piece of plumbing pipe. It is clear that nobody actually bothered to look up what a particle accelerator looked like in real-life – by contrast, the Hadron Collider is a 27km torus, while the US's Tevatron accelerator comes in at mere a 3.7km.
Jeremy LaLonde's focus is less on the SF elements – in fact, there are not even the usual twists and turns based around time travel to the script. What we do get is some solid and well polished comedy based around Jonas Chernick trying to prevent his future coming about. It really ends up being a film that has been designed to be carried by its actors.
In the lead, Jonas Chernick (who also co-writes the script) plays with a certain gloopiness, which is just what the role needs. He has the show stolen out from under him by a wild-eyed Daniel Stern, who seems to have aged about forty years since the last time one saw him in anything. Here Stern appears to be having the time of his life doing the wide-eyed crazy man thing. The other scene-stealer of the show proves to be Cleopatra Coleman who manages to look incredibly sexy in in a buzz cut and brings magic and sparkle to the romantic scenes. The restaurant scene where the two order dinner is hilarious. Also of note is Frances Conroy, giving another of the flaky eccentric performances she specialises in where she is perfectly cast as the head scientist.
---
Trailer here
---