---
Crew
Director/Screenplay – Christopher McQuarrie, Producers – J.J. Abrams, Tom Cruise, Christopher McQuarrie & Jake Myers, Photography (3D) – Rob Hardy, Music – Lorne Balfe, Visual Effects Supervisor – Jody Johnson, Visual Effects – Bluebolt (Supervisor – Sandro Henriques), Cheap Shot (Supervisor – Benjamin Perrott), DNeg (Supervisor – Huw Evans), Lola VFX UK Ltd (Supervisor – Erik Liles), One of Us (Supervisor – Douglas Larmour), Special Effects Supervisor – Neil Corbould, Production Design – Peter Wenham. Production Company – Paramount/Skydance/Bad Robot/Alibaba Pictures.
Cast
Tom Cruise (Ethan Hunt), Henry Cavill (August Walker), Rebecca Ferguson (Ilsa Faust), Ving Rhames (Luther Stickell), Simon Pegg (Benji Dunn), Sean Harris (Solomon Lane), Alec Baldwin (Alan Hunley), Vanessa Kirby (Alanna Mitsopolous, The White Widow), Angela Bassett (Erika Sloane), Michelle Monaghan (Julia), Wes Bentley (Erik), Frederick Schmidt (Zola Mitsopolous), Kristoffer Joner (Dr Nils Debruuk), Liang Yang (Lark Decoy), Wolf Blitzer (Himself)
---
Plot
Following Ethan Hunt's capture of Solomon Lane, members of his organisation have reformed as a new group known as The Apostles. They have stolen three plutonium cores that can be used to construct nuclear weapons. They are now preparing to sell these to John Lark, one of The Apostles who has published a radical manifesto aimed at bringing down civilisation. Ethan attempts to buy the cores but the deal goes wrong and Ethan has to abandon the cores to save Luther's life. Because Ethan allowed the cores to be taken, the CIA insist that he be accompanied by one of their agents August Walker. The two follow Lark's trail to a meeting with arms broker The White Widow at a charity event in Paris. The attempt to find Lark goes wrong and Ethan is forced to impersonate Lark to meet The White Widow. She states that the cost of the required information is that they break Lane out during a prison transfer. The IMF team set this up but the operation is endangered by former MI6 agent Ilsa Faust who has an agenda of her own.
---
Tom Cruise has been a No 1 box-office star since the 1980s and appeared in a string of hit films. As the 2010s come around and Cruise enters his fifties, for the first time his unassailable box-office position has started to flag and some of his hits have been less than stellar – see the likes of Valkyrie (2008), Knight & Day (2010), Oblivion (2013) and especially The Mummy (2017) – which may be due either to age or the public switching off over the weirdness of some of the stories filtering out about his involvement with the Church of Scientology. This is perhaps why Cruise now seems to be banking on the familiar and regurgitating previous hits, churning out sequels like Jack Reacher: Never Go Back (2016) and Top Gun: Maverick (2022). In the same vein, Fallout is the third Mission: Impossible film that Cruise has made during the 2010s (the sixth entry in the series overall) with the three years between this and the previous entry being the shortest gap between any of the other films in the series.
Ostensibly based on the popular tv series Mission: Impossible (1966-73), the Cruise series began on the big screen with Mission: Impossible (1996) – although adherence to the tv series was quickly sidelined as the films grew into their own franchise. This was followed by the John Woo directed Mission: Impossible II (2000) and the series then hits its peak with the J.J. Abrams' directed Mission: Impossible III (2006) and especially with Brad Bird's Mission: Impossible – Ghost Protocol (2011). Christopher McQuarrie, a screenwriter on several other Cruise and Bryan Singer films, probably best known for the script for The Usual Suspects (1995), took over for Mission: Impossible – Rogue Nation (2015) and returns to the director's chair here.
The Mission: Impossible films have established a well honed formula by now and Cruise and associates don't mess with it. Back are all the regulars like Ving Rhames, Simon Pegg and Michelle Monaghan, while we get a surprising number of familiar faces returning from Rogue Nation – Alec Baldwin, Rebecca Ferguson, Sean Harris. In fact, this is the only film of the series that majorly continues on character arcs from the previous film in telling us what happened to both Ferguson and Harris's characters, not to mention winding in an explanation of why Ethan's wife Michelle Monaghan is no longer part of the scene. Fallout should also be commended for being one of the few Mission: Impossible films that doesn't have the by now cliche of the IMF team being shut down – although they still do get to go rogue.
The new player on the block is Henry Cavill whose contractual inability to shave his mustache became the subject of much meme humour on the internet when it had to be digitally edited out during reshoots for Justice League (2017). Cavill is one of the few bad guys in the series who is physically able to give Cruise a run for his money – although the series' best villain is still by far Philip Seymour Hoffman from Mission: Impossible III. On the other hand, his character twist is kind of obvious – you don't have a big name star suddenly drafted onto the team and expected to play a second banana and that be that; in other words, Cavill's very casting seems to shadow more in store for the role than the supporting position he is ostensibly shoved into. Not to mention that the publicity department did not exactly keep the twist a secret.
Christopher McQuarrie is not the best director to work on the Mission: Impossible series. His script here seems a blur of shifting loyalties, double-crosses and credulity-defying set-ups to fool people – how could Cruise and co possibly know that Kristoffer Joner would choose to get Wolf Blitzer to read his manifesto out on air in advance in order to have Blitzer's face scanned into a mask, for instance? What there isn't are the tight tension and jaw-dropping reversals of some of the better spy thrillers – it all seems highly improbable and we are just meant to accept what is happening for the fantasy it is.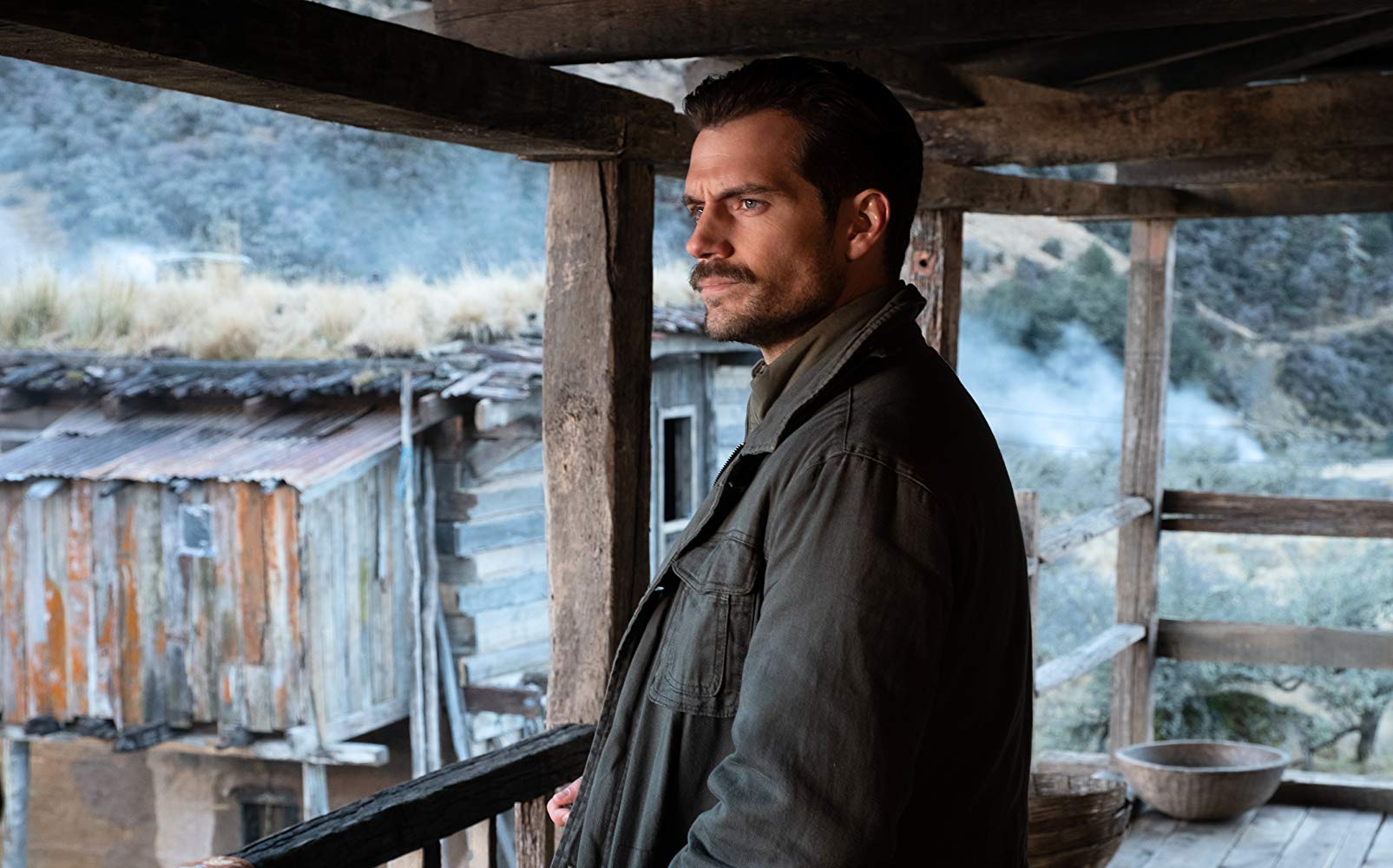 McQuarrie certainly serves up some expert action sequences. I'd nominate the Parisian bathroom fight scene for the most all-out balls-to-the-wall fight sequence I'd seen all year but unfortunately I ended up watching Timo Tjahjanto's sensational The Night Comes for Us (2018) only a few days beforehand and the scenes here pale in comparison.
There are expertly polished sequences with the Halo jump and racing around the streets of Paris in vehicles and on motorcycles, which are made all the more impressive by Cruise's habit of showing us that it clearly him and Henry Cavill in mid-air or on the bikes. The climatic helicopter chase is so-so but the sequence with Cruise and Cavill fighting in a collapsing copter on the edge of a cliff and then wedged down a crevice on the side is seat-edge stuff.
---
---