---
Crew
Director – Justin Lin, Screenplay – Doug Jung & Simon Pegg, Producers – J.J. Abrams, Bryan Burk & Roberto Orci, Photography (3D) – Stephen F. Windon, Music – Michael Giacchino, Visual Effects Supervisor – Peter Chang, Visual Effects – Atomic Fiction, Inc (Supervisors – Kevin Baillie & Ryan Tudhope), Double Negative (Supervisors – Peter Chiang & Sean Stranks) & Kelvin Optical (Pauline Duvall), Special Effects Supervisor – Cameron Waldbauer, Makeup Effects Designer – Joel Harlow, Production Design – Thomas E. Sanders. Production Company – Paramount/Skydance Productions/Alibaba Pictures/Huahua Media/Bad Robot/Sneaky Shark Productions/Perfect Storm Entertainment.
Cast
Chris Pine (Captain James T. Kirk), Zachary Quinto (Mr Spock), Karl Urban (Dr Leonard McCoy), Simon Pegg (Commander Montgomery Scott), Zoe Saldana (Lieutenant Nyota Uhura), Anton Yelchin (Ensign Pavel Chekov), John Cho (Lieutenant Hikaru Sulu), Idris Elba (Krall/Captain Balthazar Edison), Sofia Boutella (Jaylah), Lydia Wilson (Kalara), Melissa Rosburgh (Ensign Syl), Joe Taslim (Manas), Shohreh Aghdashloo (Commodore Paris)
---
Plot
The Enterprise docks at the enclosed space super-habitat Yorktown for some crew R&R. While they are there, an escape pod approaches Yorktown pleading for help. The Enterprise is despatched through an unstable nebula to help rescue its crew from the planet there. However, in the nebula, they are attacked by a swarm of small ships, which overwhelm and tear The Enterprise apart. Captain Kirk orders them to abandon ship in lifepods. Various of them land on the planet's surface. Separated, they try to regroup as the alien Krall, who is behind the attack on The Enterprise, determines to attain an alien artifact that Kirk has.
---
Star Trek: Beyond was the third of the film in cinematic Star Trek reboot series. It follows the J.J. Abrams directed Star Trek (2009) and Star Trek: Into Darkness (2013), which recast the original Star Trek (1966-9) with younger faces. The Star Trek reboot films have a love it or hate it response from the fans of the classic series. I fall into the hate it camp. The original Star Trek was about boldly going and confronting the unknown, it dealt with strong and intelligent science-fiction ideas and sometimes allegorically disguised politics of the day. From about the point of the Star Trek cinematic journeys (see below for these), Star Trek became about the camaraderie of the aging crew playing to fan nostalgia and special effects extravaganzas. This became much worse with the reboot series, which played free and easy with the continuity of the series, while making a play for the essential 18-24 youth demographic in casting hot, sexy leads and maximising big flashy effects sequences. It was Star Trek but not as we knew it, Jim.
Star Trek: Beyond comes out on the fiftieth anniversary of the original series. Here J.J, Abrams steps back to take a producing role and has passed the directorial reins over to Justin Lin. Lin is Taiwanese born but grew up most of his life in the US. After three indie films, Lin gained attention as director of The Fast and the Furious: Tokyo Drift (2006), the third in the film series, and went on to make the next three films in the series with Fast & Furious (2009), Fast Five (2011), Furious 6 (2013) and Fast & Furious 9 (2019). Elsewhere, Lin has produced the tv series Scorpion (2014-8), S.W.A.T (2017-23), the reboot of Magnum P.I. (2018-23) and Space Jam: A New Legacy (2021).
The script for this film comes from co-star Simon Pegg, who plays Mr Scott but one should also remember wrote Shaun of the Dead (2004), Paul (2011) and The World's End (2013), among others. Pegg inherited the job after Alex Kurtzman, co-writer of the two Abrams Star Trek films, proved 'difficult' and was removed from the job after angling to turn it into his own directorial debut. (Notedly, the film comes produced by Kurtzman's writing partner Roberto Orci but he is nowhere in sight).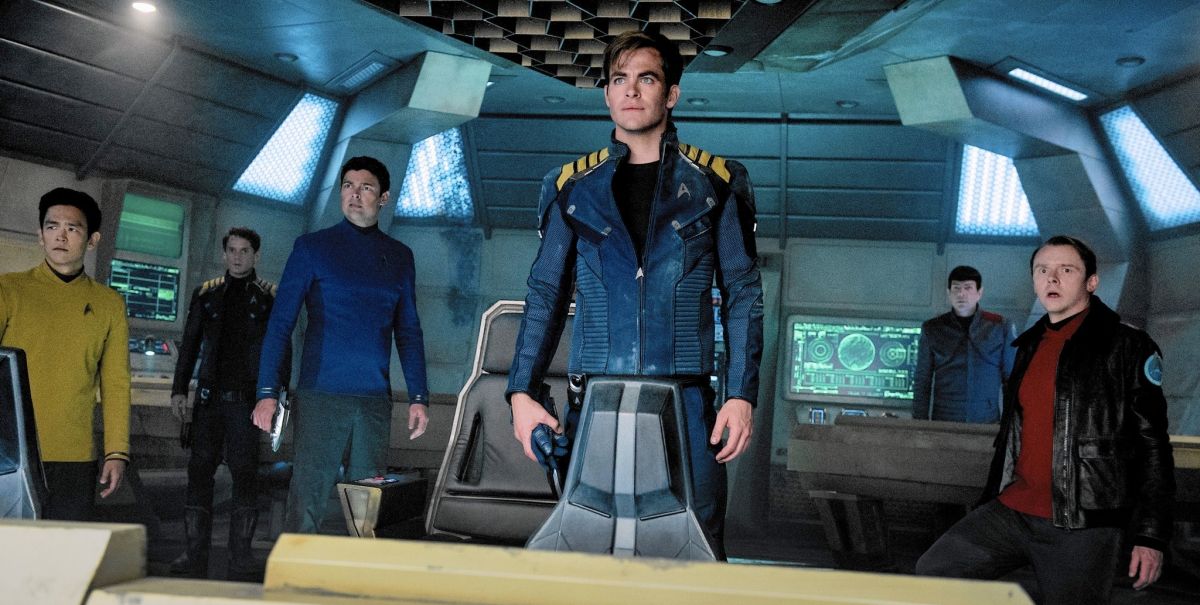 It says something sad about what the Star Trek franchise has become when to celebrate the series' fiftieth anniversary Paramount chose to make a new film (great idea) and then selected as the person to helm it not someone who comes steeped in science-fiction and genre history but a director whose only fame comes from the Fast and the Furious franchise. Now, while I have no wish to knock the Fast and the Furious films, they are aimed fairly and squarely at the male 18-24 demographic and come with an emphasis on fast cars, cool, simplified heroics, hot-looking guys and spectacular vehicular stunts. None of these are things that immediately come to mind when you think back at the original Star Trek. They are however exactly what you associate with the Star Trek reboot series.
In Justin Lin's hands, what we have is essentially Star Trek: The Action Movie. This begins from fairly much from the moment The Enterprise leaves Yorktown (a very coolly designed Bernal Sphere by the way). Thereafter the film has been designed to do nothing more than keep providing a series of action and effects sequences. There is a spectacular and intensive set-piece with The Enterprise being invaded, torn into several parts and crashlanding on the planet. (The inherently spectacular nature of the sequence aside, blowing up The Enterprise yet again, which we also went through in Star Trek III: The Search for Spock (1984) and Star Trek: Generations (1994), is starting to get old hat. It's the cinematic equivalent of a Comic Book Death where a long-standing fixture or usually character of a series is killed in a massive rush of publicity, while the fans fully know that they will be revived not too far off in the future). Thereafter, the film propels us with little let-up through a series of action sequences fighting and running through the halls of the crashed Enterprise, raising its wreck off the ground, Chris Pine on a motorcycle (why a motorcycle on an alien planet, well just because – there is not a lot of logic as to why things happen in this film) and a climactic fight in and around a gravity control centre as the Yorktown is attacked.
What this is not is much in the way of Star Trek. Well the characters are there and imbued with many of the aspects that we expect of them. And certainly the new ensemble cast are starting to come together as a well-rehearsed unit in their third film. But what we have feels like a Star Trek that is now been run by the marketing department and sold to aforementioned 18-24 demographic. It's about relentlessly hurtling action and big spectacular effects, cool motorbike stunts, the cast exchanging snappy retorts.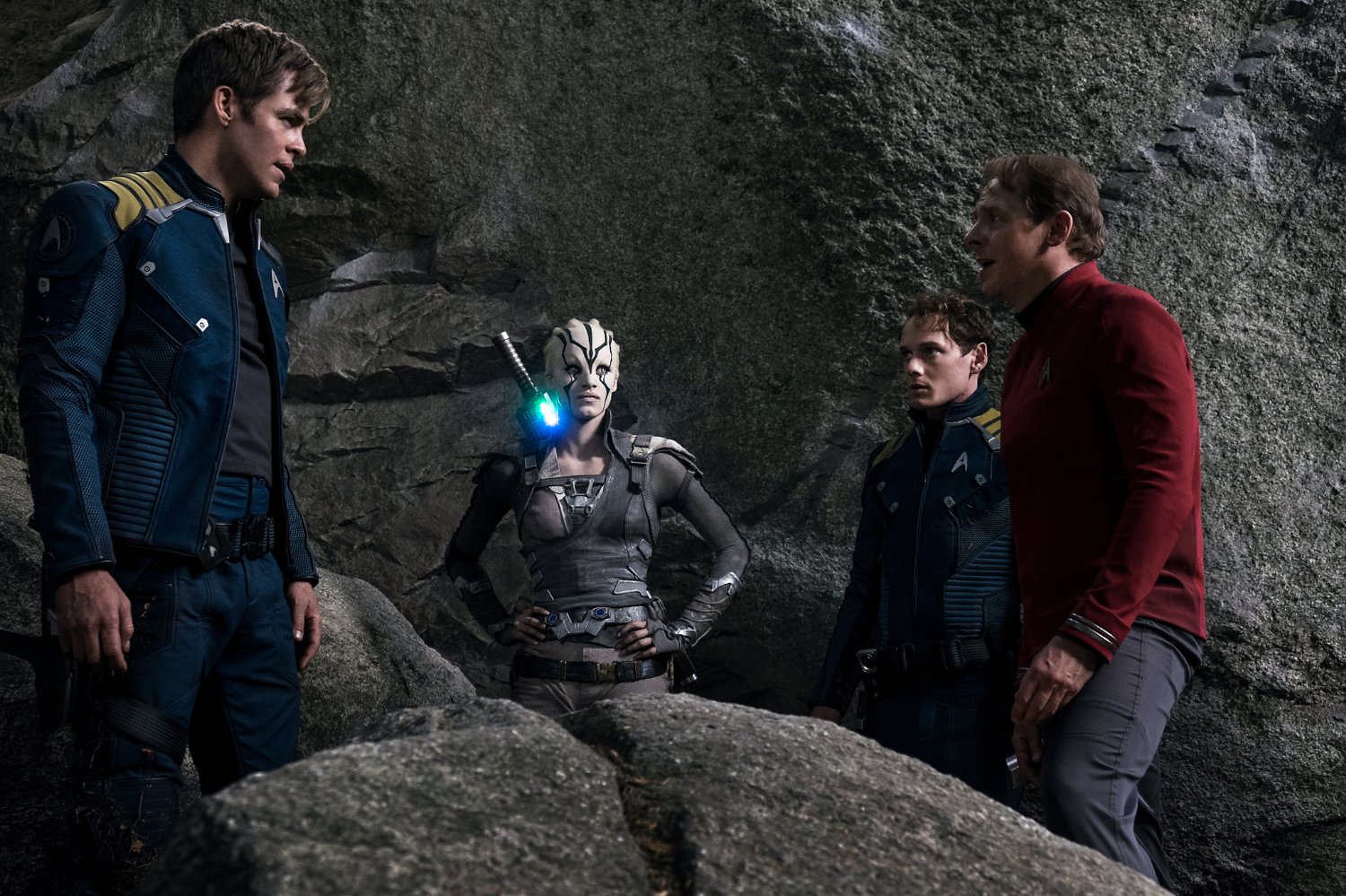 Where, you ask, in all of this is Gene Roddenberry's concept about confronting the alien, the lessons about contrasting different types of cultures and ways of life? Put it another way – take what we have here and imagine it as an episode of TOS enacted by Shatner, Nimoy etc. The show wouldn't have the budget for massive displays of effects so it would have been stripped to an adventure about the crew stranded on a planet, hunted by an alien who wants an intergalactic McGuffin of ill-explained purpose (we never even get to learn how Kirk came to possess it) because [insert generic evildoer purposes]. Stripped of all the effects sequences, the script of the film would lack any substance to get it past the commissioning editor back in 1966. Star Trek the tv series created strong and original stories, Star Trek: Beyond only seems to know how to create action sequences.
The other Star Trek tv series are:- Star Trek (1966-9), the animated Star Trek (1973-5), Star Trek: The Next Generation (1987-94), Star Trek: Deep Space Nine (1993-9), Star Trek: Voyager (1995-2001), Enterprise (2001-5), Star Trek: Discovery (2017– ), Star Trek: Picard (2020-23), the animated Star Trek: Lower Decks (2020- ), Star Trek: Prodigy (2021- ) and Star Trek: Strange New Worlds (2022- ). The classic Star Trek films are:- Star Trek – The Motion Picture (1979), Star Trek II: The Wrath of Khan (1982), Star Trek III: The Search for Spock (1984), The Voyage Home: Star Trek IV (1986), Star Trek V: The Final Frontier (1989) and Star VI: The Undiscovered Country (1991). Star Trek: Generations (1994), Star Trek: First Contact (1996), Star Trek: Insurrection (1998) and Star Trek: Nemesis (2002) are film spinoffs from Star Trek: The Next Generation.
(Nominee for Best Special Effects at this site's Best of 2016 Awards).
---
---