---
Crew
Director – Martin Campbell, Screenplay – Jeffrey Caine & Bruce Feirstein, Story – Michael France, Producers – Barbara Broccoli & Michael G. Wilson, Photography – Phil Meheux, Music – Eric Serra, Miniature Effects Supervisor – Derek Meddings, Special Effects Supervisor – Chris Corbourd, Production Design – Peter Lamont. Production Company – Danjaq.
Cast
Pierce Brosnan (James Bond), Izabella Scorupco (Natalya Fyodorovna Simonova), Sean Bean (Alexander Trevalyan), Famke Janssen (Xenia Onatopp), Gottfried John (General Ourumov), Alan Cumming (Boris Ivanovich Greshenko), Robbie Coltrane (Valentin Dimitrovich Zukovsky), Judi Dench (M), Joe Don Baker (Jack Wade), Desmond Llewellyn (Q), Tcheky Karyo (Dimitri Mishkin), Michael Kitchen (Bill Tanner), Serena Gordon (Caroline), Samantha Bond (Miss Moneypenny)
---
Plot
Under the new female M, James Bond is assigned to track down a stolen Mirage fighter helicopter that was used in an attack to commandeer and then destroy the control installation of the top secret Russian Goldeneye electromagnetic pulse satellite. Bond travels into the former Soviet Union on the trail of the mysterious Janus Syndicate, who are believed to be behind the attack. There Bond is shocked to discover that Janus is an embittered former colleague 006 Alexander Trevalyan, whom Bond left for dead during a mission seven years earlier. Bond must stop Trevalyan as he plans to turn Goldeneye on British banks, erasing all financial computer records, seconds after he transfers all the money to his own accounts.
---
The James Bond films were always a fantasy born of the Jet Age. The films contained old serial-style thrills served up on an A-budget, with a veneer of decadent male sophistication drawn from Hugh Hefner, all with a nod toward Cold War tensions. As the 1960s came to an end and the Cold War relaxed, the James Bond films turned into oversized camp parodies of themselves. Eventually the coming of Glasnost effectively robbed Bond and the spy film of enemies.
Subsequent to the downfall of the Soviet Union, the spy film has badly tried to cope with the New World order – the only way that The Hunt for Red October (1990) could still operate as a Cold War film, for instance, was to predate its scenario to before Glasnost. The last handful of James Bond films up to this point and the most successful inheritors of the Bond mantle, the films based on Tom Clancy's Jack Ryan books, impotently tried to find enemies amongst the IRA and Central American drug barons.
Almost obsessively, the Spy Film continued to return to Russia with the post-Soviet likes of The Russia House (1990), The Saint (1997), Mission: Impossible – Ghost Protocol (2011) and A Good Day to Die Hard (2013). The threat of nuclear weapons in the splintered republics offered momentary promise in the likes of Crimson Tide (1995) and the tv mini-series Op Center (1995), while The Sum of All Fears (2002) made a belated effort to resurrect Cold War nuclear tensions. In 1995, there seemed something faintly dated about making yet another James Bond film.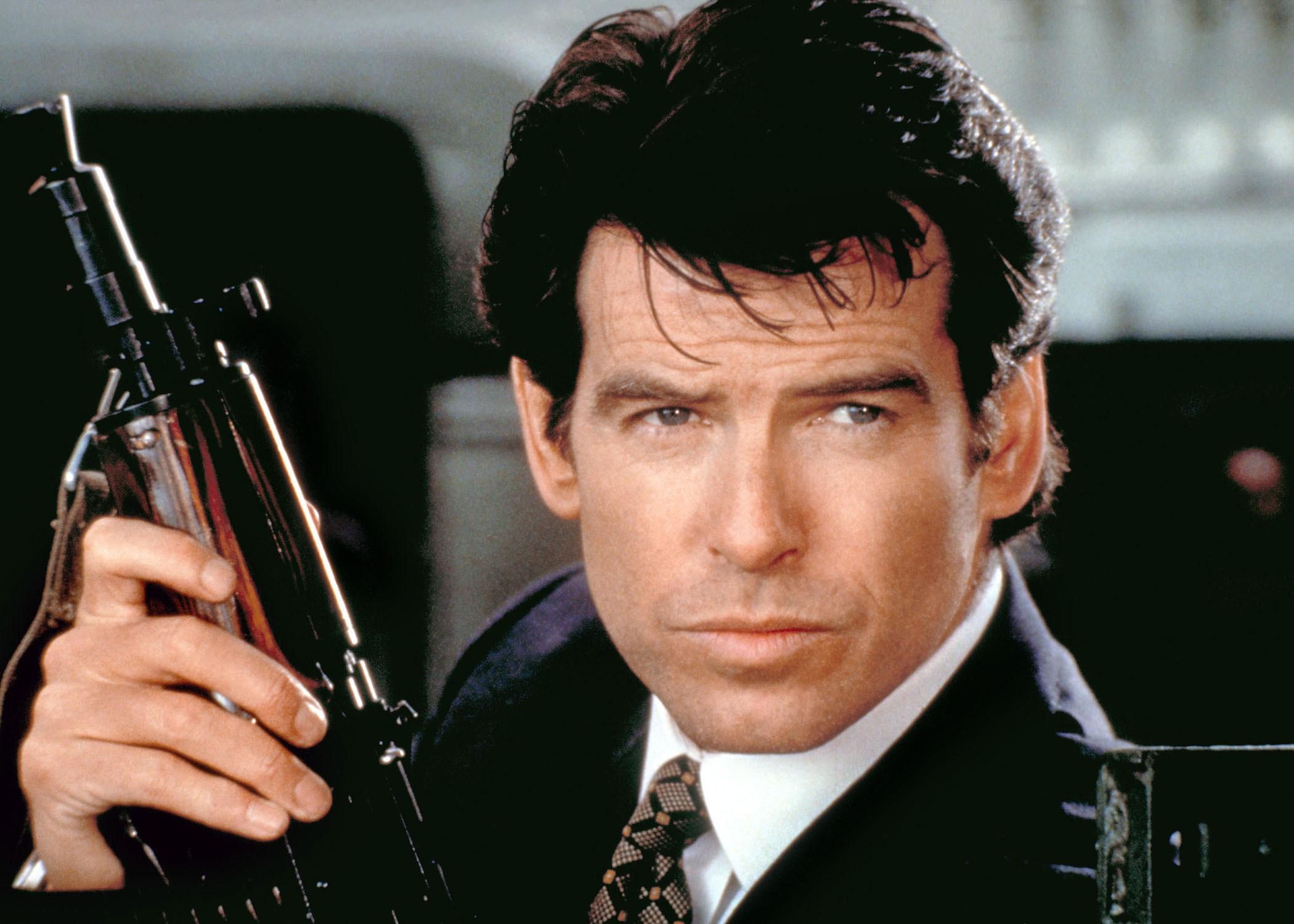 GoldenEye, the seventeenth James Bond film, came after a six-year gap between the previous Bond film – License to Kill (1989) – and this. It had been the longest gap between films in the Bond series to date, which led many to think that the series had run out of steam. Certainly, License to Kill gave appearances to the effect that the series had run itself dry – with both Glasnost fairly much rendering the whole concept of a spy film obsolete and feminist in-roads leaving the series uncomfortable in trying to cling to its playboy image. License to Kill even included a warning in its end credits that the cigarettes Bond smoked were bad for your health – rough times indeed for the Bond image of suave sophistication. The box-office returns for License also showed that the public did not appear interested in Bond anymore.
However, the Bond series instead used the six-year gap as a period in which to reconstruct itself. Albert R. Broccoli, who had produced every Bond film since Dr No (1962), had retired and turned the series over into the hands of his daughter Barbara and stepson Michael G. Wilson. (Broccoli died shortly after the release of GoldenEye). In these new hands, GoldenEye emerges not so much a James Bond film as it does a lament for the Bond film. GoldenEye's success lies not in replicating a tried formula but by smartly deconstructing itself and building a new 1990s James Bond. The film's savvy is to recognize Bond as a dinosaur. It is the first Bond film that spends as much time in self-analysis as it does on the action. In one intriguing scene – which in a potent piece of symbolism takes place in a graveyard of decommissioned Lenin statues – Bond comes face to face with a disillusioned former Secret Service colleague who questions the purpose of all the killings they did together, something to which Bond has no easy answer, only an appeal to duty.
Feminism has made a belated entry into the James Bond series. GoldenEye is caught in the delicate balancing act of trying to be Politically Correct, while also providing the requisite titillation an audience expects of a James Bond film. The usual beautiful women are there but the publicity machine now makes the dubious distinction of calling them Bond Women instead of Bond Girls. Although, with lead villainess Xenia Onatopp, there is still apparently room for the women with suggestive names a la Pussy Galore, Holly Goodhead and the ever delightful Chu Me. On the other hand, in one potent scene, M, now recast as a tough ballsy woman and given a great performance by Judi Dench, berates Bond as being "a sexist, misogynist dinosaur – a relic of the Cold War." Best of all is Miss Moneypenny who, instead of hanging on in perpetually unfulfilled infatuation, finally gets a date and gently hints that Bond's sexual innuendo smacks of sexual harassment, while equally suggesting that he should either put up on his innuendoes or shut up.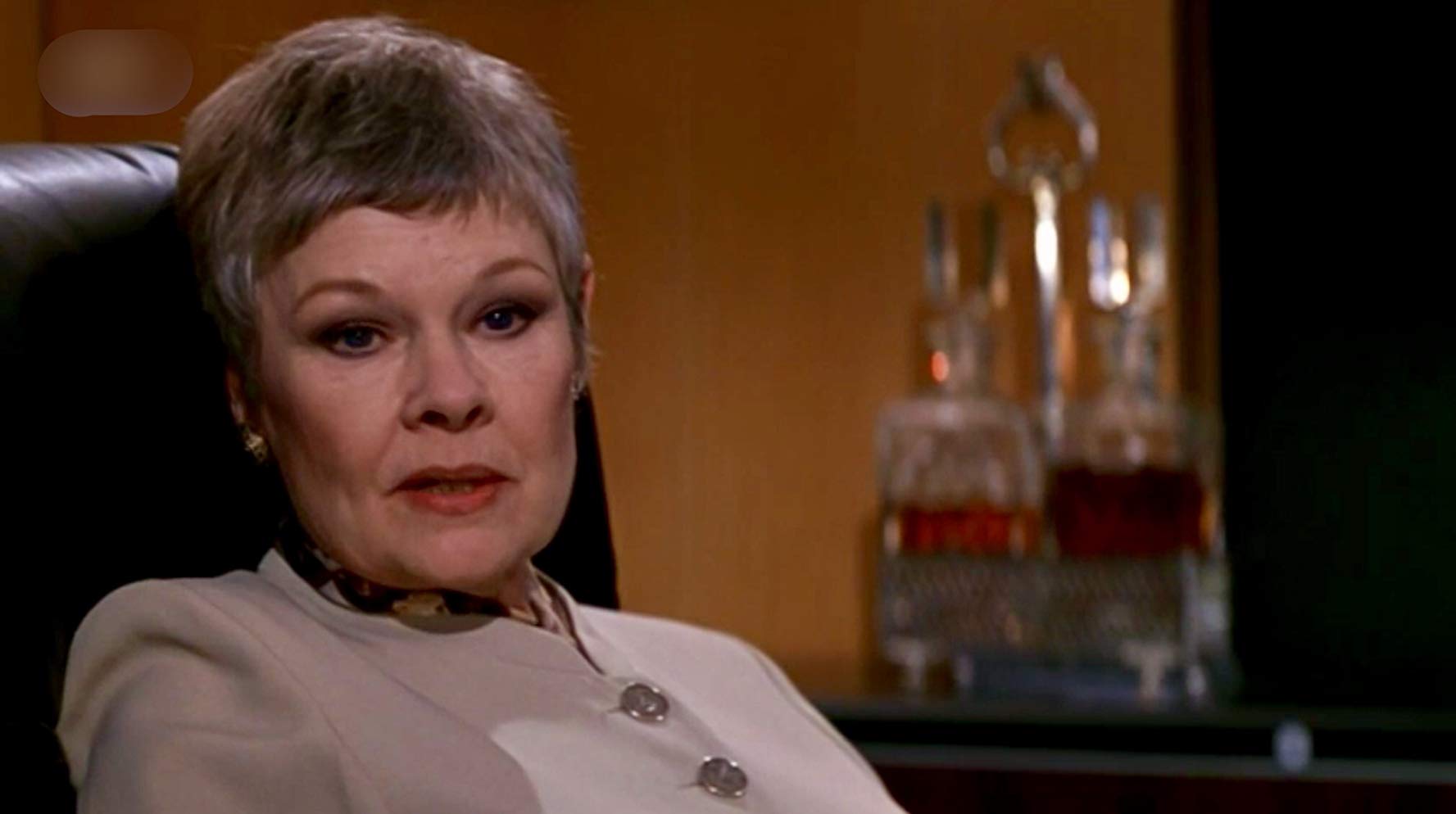 Outside of its deconstruction of the Bond myth, GoldenEye is a mixed bag. The film has probably the most forgettable score and title song of any James Bond film. There is also something to it that feels distinctly behind the times. With Basic Instinct (1992)-styled no-holds-barred sex scenes having become almost de rigeur at the time GoldenEye was made, the old Bond-styled sex scenes, which were once considered the height of titillation, where the sheet remains conveniently and, in the love scene with Izabella Scorupco, obviously taped to all the right places, seems quaintly old fashioned.
When it comes to the action scenes, the usual forte of the James Bond films, things are surprisingly low key. All the more so when one considers that there is an action specialist, Martin Campbell, who has also made the stunning nuclear power/environmental mini-series Edge of Darkness (1985) for British tv and on film the likes of No Escape/Escape from Absolom (1994), The Mask of Zorro (1998) and Vertical Limit (2001), at the helm. [Campbell later returned to the James Bond series with the excellent Casino Royale (2006), which also did a remarkable job of reinventing the franchise]. The modern action film has pushed cinematic action to such a spectacular extreme that classic Bond action looks decidedly tame competing alongside. There is a good pre-credits sequence with Bond jumping off a cliff on a motorcycle and heading without a parachute after a pilotless plane, and the tank chase sequence is fun. However, none of the other action sequences amount to much. The intention to trim back the extravagant action set-piece of the Roger Moore Bond films is a fine one but GoldenEye has done so to perhaps too much of an extreme.
The one place that GoldenEye works superbly is in the casting of Pierce Brosnan. One had doubts about the casting of Brosnan. I was never that huge a fan of Sean Connery – you could believe him in the roughneck action but he seemed restless and itchy in the tux. Roger Moore was the reverse. He had a certain arch drollery with the one-liners and sipping the shaken martinis but never any credibility throwing a punch. Moore's Bond increasingly came to resemble an aging lounge lizard. While there is a good deal of anti-Timothy Dalton sentiment circulating these days, Dalton was for my money the best of all Bonds. He was the only Bond who was an actor. He had the effortless ability to move between an aggressive ruthlessness in the action scenes and a romantic appeal in the bedroom scenes – you could actually see what it was that attracted women to his Bond.
Memories of tv's Remington Steele (1982-7) suggested Pierce Brosnan's Bond would emerge as another foppishly effete Roger Moore clone. Instead, Pierce Brosnan's Bond takes one aback. Brosnan projects a cruel ruthlessness of looks and a steely coldness that quite overwhelms. It brings a real sense of danger back to Bond, the sense of Bond as a cold-blooded killer that has been missing in the part ever since Bond shot a woman he had just made love to in Dr No. It is certainly the most extreme that James Bond has ever been portrayed as.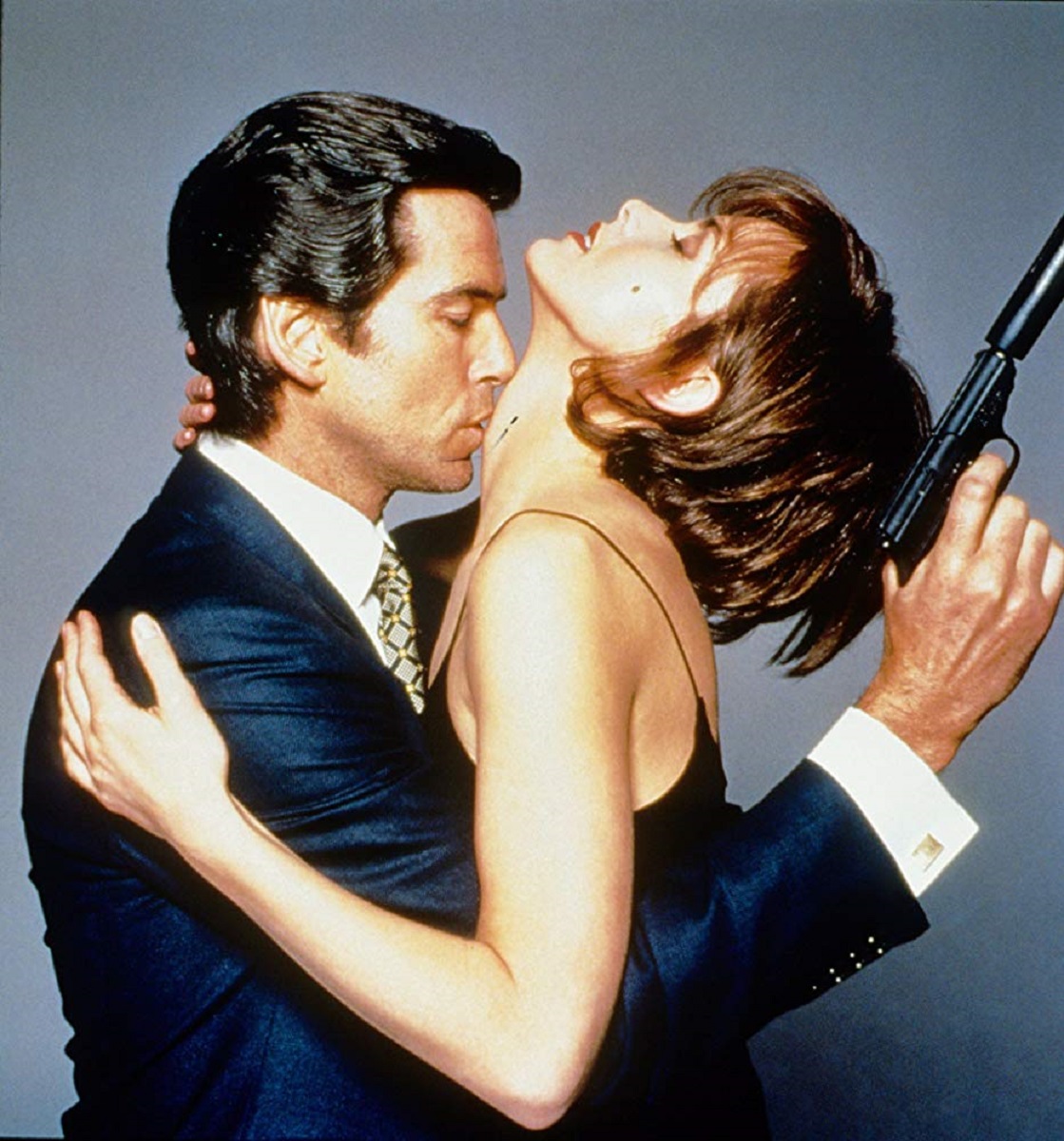 Trivia footnote: The film borrows its title from Ian Fleming's Jamaican estate, the place he would annually pilgrimage to to write the Bond books. Fleming in turn had named the estate after Operation Goldeneye, an Allied plan that he conceived as a Naval intelligence officer during World War II.
Director Martin Campbell has also made the likes of:- the superb British nuclear/environmental thriller Edge of Darkness (1985), the psycho-thriller Criminal Law (1988), the US tv movie Cast a Deadly Spell (1991) set in a world where magic works, the future prison film No Escape (1994), The Mask of Zorro (1998) and The Legend of Zorro (2005), the mountaineering action film Vertical Limit (2000), the dull US remake of Edge of Darkness (2010) and the DC Comics superhero adaptation Green Lantern (2011).
The other Bond films are:– Dr No (1962), From Russia with Love (non-genre, 1963), Goldfinger (1964), Thunderball (1965), You Only Live Twice (1967), On Her Majesty's Secret Service (1969), Diamonds Are Forever (1971), Live and Let Die (1973), The Man with the Golden Gun (1974), The Spy Who Loved Me (1977), Moonraker (1979), For Your Eyes Only (non-genre, 1981), Octopussy (1983), A View to a Kill (1985), The Living Daylights (non-genre, 1987), License to Kill (non-genre, 1989), Tomorrow Never Dies (1997), The World is Not Enough (1999), Die Another Day (2002), Casino Royale (non-genre, 2006), Quantum of Solace (non-genre, 2008), Skyfall (non-genre, 2012), Spectre (2015) and No Time to Die (2021). Casino Royale (1967) and Never Say Never Again (1983) are non-series Bond films. Everything or Nothing (2012) is a documentary about the Bond series.
(Winner for Best Actor (Pierce Brosnan), Nominee for Best Supporting Actress (Famke Janssen) at this site's Best of 1995 Awards).
---
---