---
Crew
Director – Ang Lee, Screenplay – David Benioff, Darren Lemke & Billy Ray, Story – David Benioff & Darren Lemke, Producers – Jerry Bruckheimer, David Ellison, Dana Goldberg & Dom Granger, Photography (3D) – Dion Beebe, Music – Lorne Balfe, Visual Effects Supervisor – Bill Westenhofer, Visual Effects – East Side Effects, Legend 3D (Supervisor – Matt Kemper), Park Road Post Production (Supervisor – Darwin Go), Scanline VFX, UPP (Supervisor – Viktor Muller) & Weta Digital, Ltd. (Supervisors – Sheldon Stopsack & Guy Williams), Special Effects Supervisor – Mark Hawker, Production Design – Guy Hendrix Dyas. Production Company – Paramount/Skydance/Jerry Bruckheimer Films/Fosun Pictures.
Cast
Will Smith (Henry Brogan/Junior), Mary Elizabeth Winstead (Danny Zakarewski), Clive Owen (Clay Verris), Benedict Wong (Baron), Douglas Hodge (Jack Willis), Linda Edmond (Janet Lassiter), Ralph Brown (Del Patterson), Ilia Volok (Yuri Kovacs), E.J. Bonilla (Marino)
---
Plot
Henry Brogan is the top assassin for the Defense Intelligence Agency. After his most recent hit that involves shooting a rogue molecular biologist aboard a moving bullet train in Belgium, Henry announces that he wants to retire.  Henry heads off to spend his time fishing on his boat in Buttermilk Sound, Georgia. There he is visited by his old colleague Jack Willis who shows Henry proof that the man he killed was innocent. Henry figures out that Danny Zakarewski, the new girl at the jetty kiosk, is a DIA agent sent to observe him and asks her out for a drink. He and Jack are unaware that the DIA were eavesdropping on their conversation by satellite. That night, Jack is killed and someone breaks in and attempts to kill Henry. Henry flees and takes refuge with Danny. As someone attempts to kill her, Danny joins Henry and they flee to Colombia with the aid of his friend Baron. Henry's assassins are the Gemini program who now activate a special agent to come hunting Henry. Henry finds that he is fighting against someone younger than himself who is just as skilled as he is. As the battle continues, Henry makes the discovery that Junior, the assassin sent to kill him, is actually a clone of himself.
---
Gemini Man has been a project in development hell for over twenty years. (The title kept making me think of the tv series The Gemini Man (1976), which only lasted for twelve episodes, featuring Ben Casey as an invisible man). It was a project nurtured by Jerry Bruckheimer, the producer responsible for a long list of principally action films including the likes of Beverly Hills Cop (1984), Top Gun (1986), Bad Boys (1995), Con Air (1997), Armageddon (1998), the Pirates of the Caribbean films and even the various CSI tv series.
The film began way back in 1997 at Disney where it was developed under Tony Scott, director of Top Gun and other Jerry Bruckheimer films like Crimson Tide (1995) and Deja Vu (2006). At that point, it had a script by Darren Lemke, writer of Shrek Forever After (2010), Jack the Giant Slayer (2013), Goosebumps (2015), Shazam! (2019) and director of the modest thriller Lost (2004) and David Benioff, still a decade plus away from developing the hit tv series Game of Thrones (2011-9) and scripts such as The 25th Hour (2002), Troy (2004), Stay (2005) and X-Men Origins: Wolverine (2009). Many others subsequently dipped their hands into the script during the film's lengthy development. A long list of lead actors, including Harrison Ford and Mel Gibson, were considered for the part. The principal problem seemed to be in developing digital effects sophisticated enough for the de-aging of the lead character.
After a long line-up of directors on the project, the interesting final choice of director is Ang Lee. The Taiwanese-born Lee first emerged with Chinese-American culture clash comedies like The Wedding Banquet (1993) and Eat Drink Man Woman (1994) and then moved on to the likes of the Jane Austen adaptation Sense and Sensibility (1995), The Ice Storm (1997) and Ride with the Devil (1999), before reinventing/popularising Wu Xia cinema with Crouching Tiger, Hidden Dragon (2000). Since then, Lee has become an American mainstream director who seems to change genres and styles with each project he touches. He has made everything from one of the first of the Marvel comic-book adaptations with Hulk (2003) to the gay cowboy love story Brokeback Mountain (2005), Life of Pi (2012) and Billy Lynn's Long Halftime Walk (2016).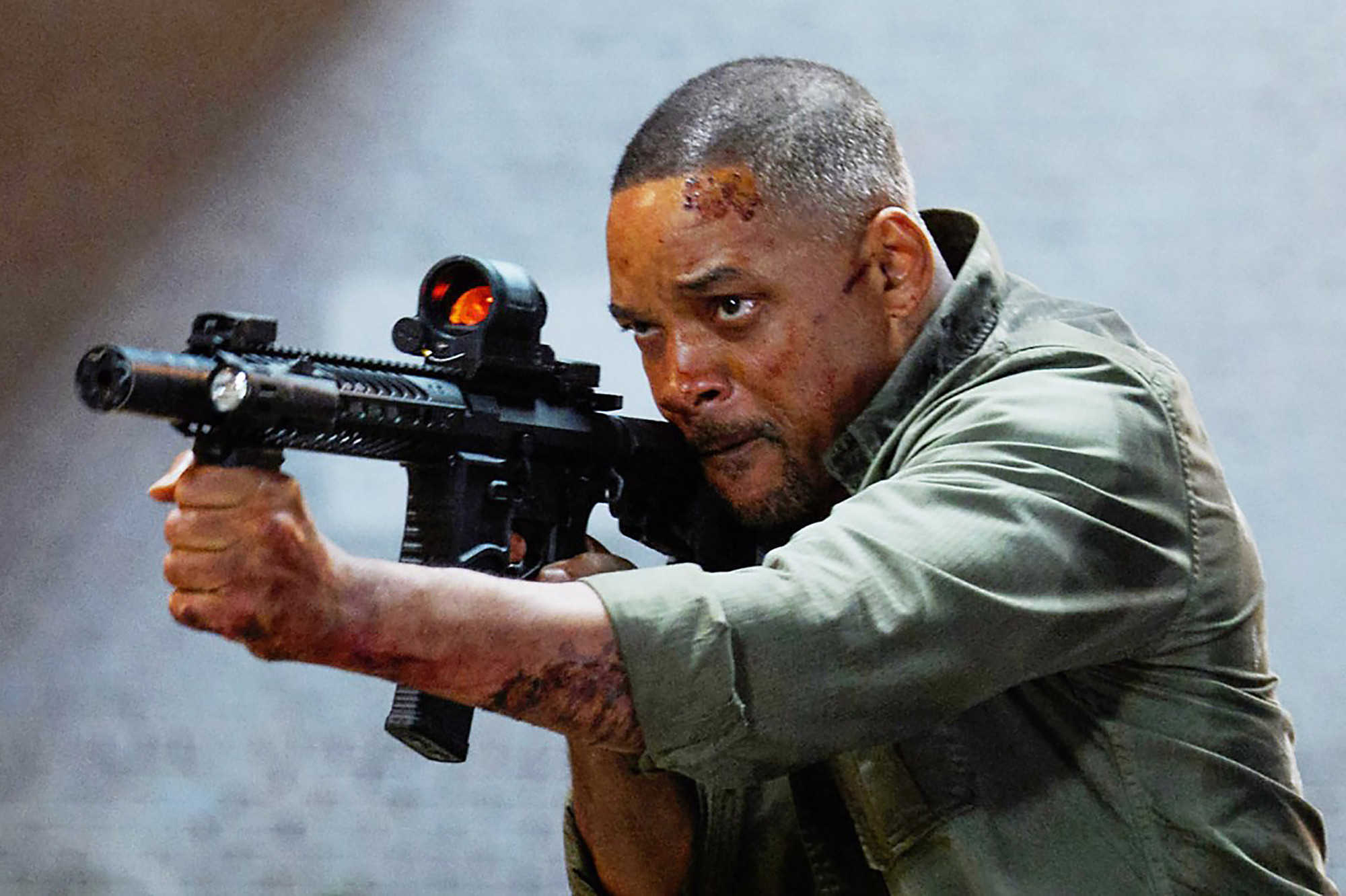 Gemini Man ended up earning far less at the box-office than it was expected to do. I had high hopes for the film based on the Ang Lee name and the fact that Will Smith has proven a smart and intelligent star with the choices of roles he has made in the last few years – we will politely forget about Collateral Beauty (2016). Despite Gemini Man's mixed reviews and box-office, neither of them disappoint.
This is Ang Lee's first venture into the action film. And it is a genre he does not disappoint with either, entering at a far higher level of game that most directors who have been working there for decades. The initial fight scene between Mary Elizabeth Winstead and an assassin comes with a tough edge that immediately leaves behind the postured moves of most mainstream competitors. The film's standout sequence is one with Will Smith and his clone shooting each another up in the streets of Colombia and then a breathtaking motorcycle chase in which the younger Will turns his bike into a weapon menacing his other self. It's a breathless, seat-edge sequence that casts the similar sequence in Mission: Impossible – Fallout (2018) in its shadow. There is equally a drop dead sequence with Will Smith and Junior engaged in a brutal fistfight in the catacombs in Budapest.
The cloning theme gives the film an edge. This reminds somewhat of the previous low-budget Replicant (2001), which had Jean-Claude Van Damme as the clone of a serial killer. I commend Benioff, Lemke and Billy Ray for maintaining a credible version of cloning ie. not producing a clone the same age as Will but one that had to grow up like a normal person from the point he was cloned. In reality (as opposed to what science-fiction regularly gives us), a clone is no different to a twin that is just not born at the same time as the original. The film seems to buy somewhat into the assumption that the clone would inherit the same skills as the donor, although there is sufficient lip service paid to the need for training for credibility's sake. The latter half does engage in more improbable science-fictional talk about super-soldiers with their emotions excised.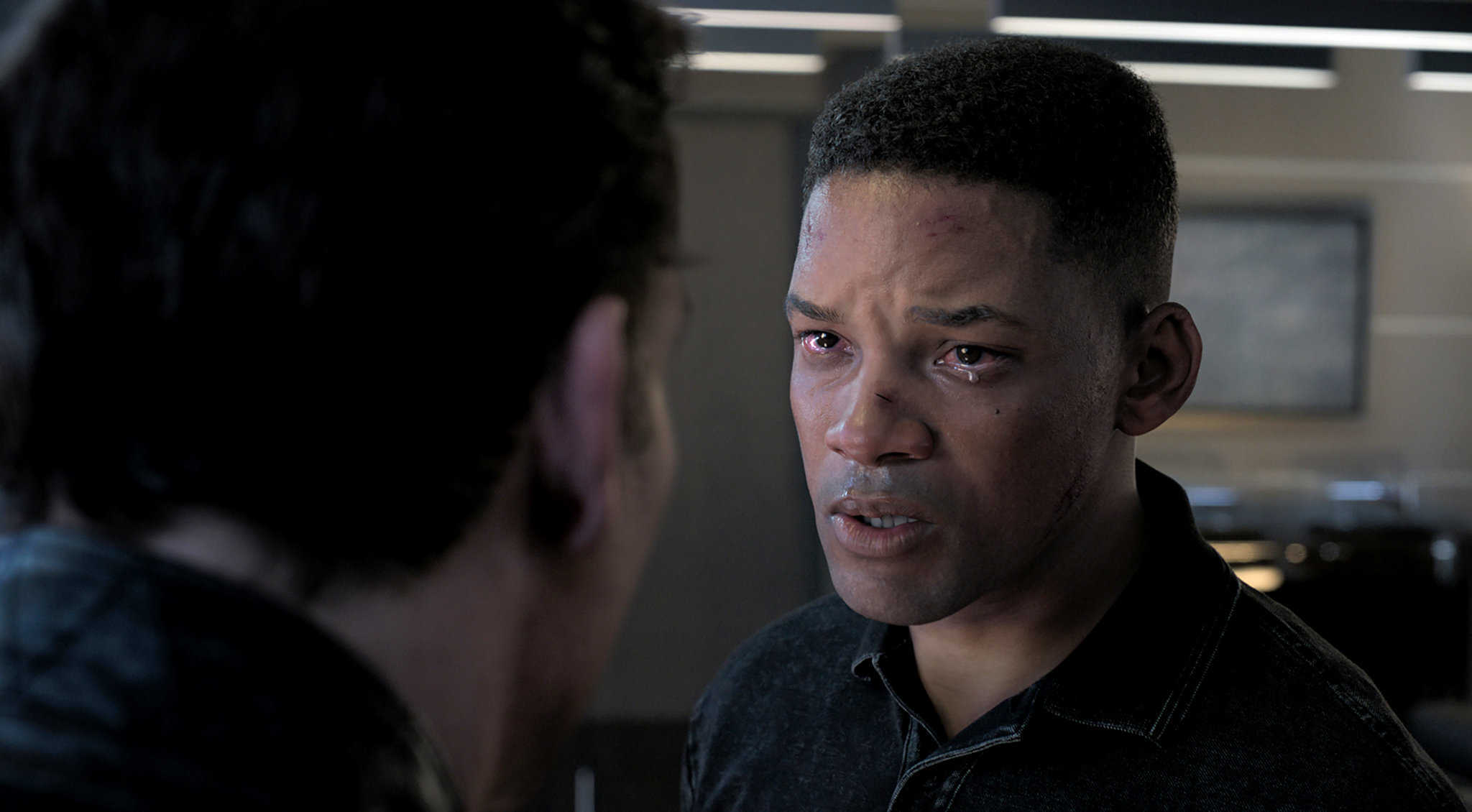 The core of the film is the relationship between Will Smith and clone. I feel that the script maybe has the two team up earlier in the game than it should have rather than pit them against one another in a to-the-death duel. Not to mention that Will seems an awfully nice guy for someone whose job is killing people ie. he only targets those who deserve it – I can just imagine the conversations he would with his superiors "I am sorry, sir, I am going to have to refuse an order, I don't think the target is a sufficiently bad guy to warrant elimination."
One should commend the Weta Workshop (principally) for the digital creation of the younger Will (where Will is outfitted with the same haircut he used to sport around The Fresh Prince of Bel Air (1990-6) era). Unlike the sense of Uncanny Valley you received with the digitally recreated versions of Peter Cushing and Carrie Fisher in Rogue One (2016), this seems highly convincing. Will does do some fantastic acting in the part – just look at the scene where he confronts the clone and tells him all about himself when you realise it is both Will doing the pleading and Will also reacting in stunned incomprehension.
The Will Smith factor does give some unconscious readings to the film. Smith, like the character he plays in the film, is age 51 in 2019. Like his character, he is an actor at the top of his game. Equally, you cannot help but feel that the theme about Will facing competition from a younger copy of himself feels like an echo of his attempts to push his far less talented son Jaden to the forefront as an actor – remember After Earth (2013) and the torrent of ridicule it gathered – and the uneasy question of whether it was a case of nepotism or a parent earnestly trying to encourage a kid's desire to fulfill a dream.
(Nominee for Best Original Screenplay, Best Actor (Will Smith) and Best Special Effects at this site's Best of 2019 Awards).
---
---