---
Crew
Director/Screenplay – Elizabeth Banks, Story – David Auburn & Evan Spiliotopoulos, Based on the TV Series Created by Ivan Goff & Ben Roberts, Producers – Elizabeth Banks, Doug Belgrad, Elizabeth Cantillon & Max Handleman, Photography (3D) – Bill Pope, Music – Brian Tyler, Visual Effects Supervisor – Karen Heston, Visual Effects – Scanline VFX (Supervisor – Roland Langschwert), Special Effects Supervisor – Uli Nefzer, Production Design – Aaron Haye. Production Company – Brownstone Productions/2.0 Entertainment/Cantillon Company/Studio Babelsberg.
Cast
Kristen Stewart (Sabina Wilson), Naomi Scott (Elena Houghlin), Ella Balinska (Jane Kano), Elizabeth Banks (Bosley), Patrick Stewart (John Bosley), Nat Faxon (Peter Fleming), Jonathan Tucker (Hodak), Sam Claflin (Alexander Brok), Djimon Hounsou (Edgar Bosley), Chris Pang (Jonny Smith), Luis Gerardo Mendez (Saint), Noah Centineo (Langston), David Schutter (Ralph)
---
Plot
Bosley, the head of the Townsend Agency, which uses highly trained girl operatives named Angels, retires after forty years during which time he transformed a regular detective agency into a hi-tech international organisation. The new female Bosley sends Angels Sabina Wilson and Jane Kano on an operation to Hamburg. There Elena Houghlin, a programmer at Brok Industries, wants to whistleblow over the fact that her superior Peter Fleming has quashed a report that shows that Calisto, the new clean, wireless energy device that the company is about to premiere, is dangerous and can create an EMP feedback that fries people's brains. An assassin tries to stop Elena but the Angels prevent this. Elena joins the Angels as they travel from Berlin to Istanbul to stop Fleming selling Calisto as a weapon on the blackmarket. During the course of this, the Angels realise that somebody inside the agency is a traitor.
---
The tv series Charlie's Angels (1976-81) was one of the essential pop culture icons of the late 1970s. Produced by Aaron Spelling, the series became the No 1 rated show on tv. It featured three women – Kate Jackson, Jaclyn Smith and Farrah Fawcett – who were employees of the Townsend private detective agency run by the mysterious never-seen Charlie Townsend (voiced by John Forsyth) who would become embroiled in solving a new case each week. The series has received both praise and criticism – it was called 'Jiggle TV' in the day and criticised for placing the Angels in scanty attire and bathing suits on ample occasions; equally, it was one of the few series of the era that showed women as competent, tough and in charge of their lives.
The complement of Angels changed over the series' five seasons. Farrah Fawcett left at the end of Season 1 in a much publicised defiance of her contract and was replaced by Cheryl Ladd. Shelley Hack stepped in in the fourth season and Tanya Roberts in the fifth with Jaclyn Smith being the only one of the leads to stay the entire run of the show.
The series was rebooted on the big screen with Charlie's Angels (2000) from director McG, an empty-headed style-driven action piece where the Angels were recast with Drew Barrymore, Cameron Diaz and Lucy Liu. This was a box-office hit and led to a sequel Charlie's Angels: Full Throttle (2003), There was also a reboot tv series Charlie's Angels (2011) but that was cancelled after eight episodes.
Charlie's Angels has been revived on cinema screens again here. The big spin this time is that we are told it is a woman-powered version of the story and one that places girl power at the centre. This comes amid much call for Hollywood to redress the disparity in numbers between male and female directors and an upsurge in a number of films featuring women protagonists.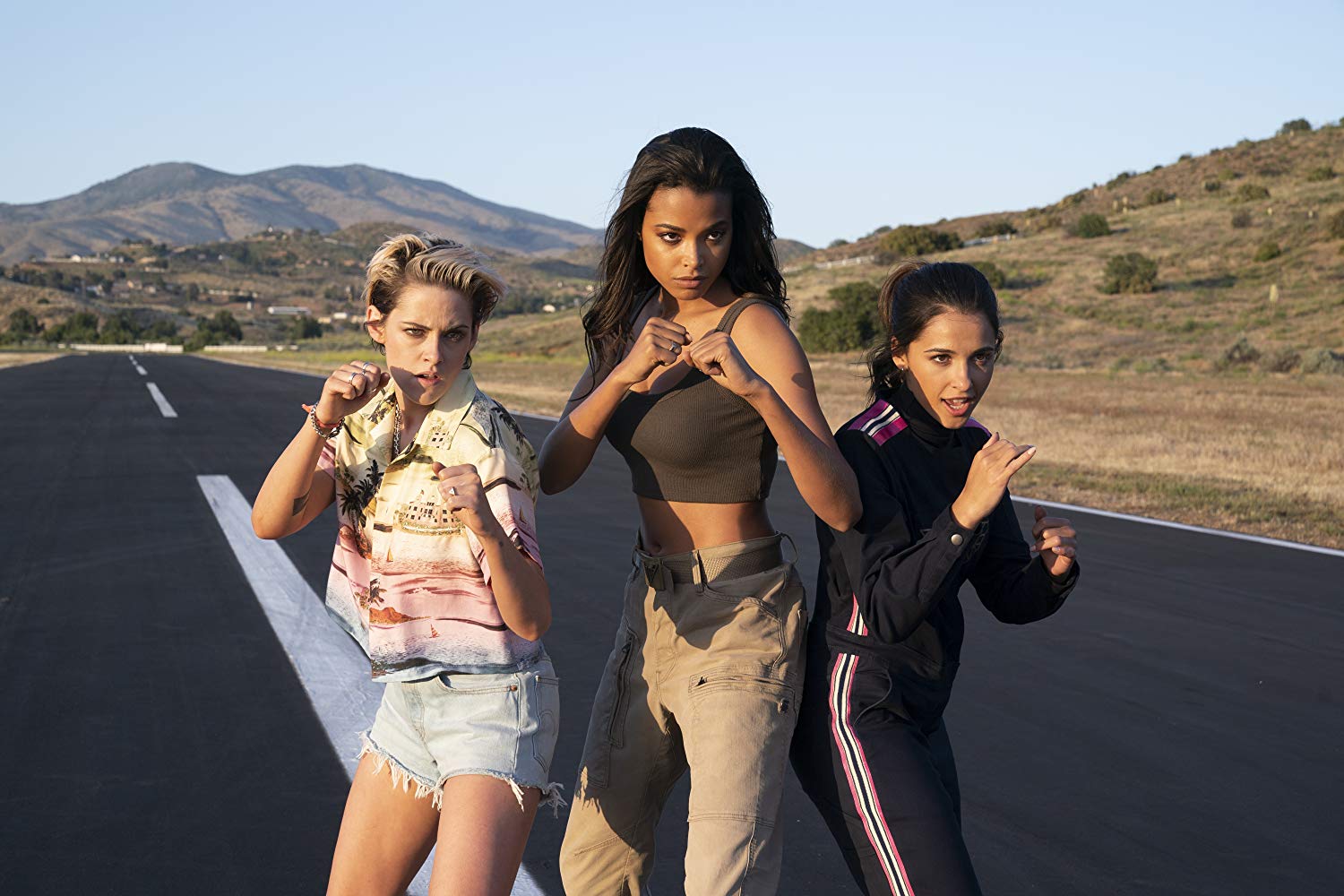 Direction has been handed over to Elizabeth Banks who is better known as an actress. She has appeared in a reasonable number of films since the late 1990s, including The 40 Year Old Virgin (2005), Slither (2006), The Uninvited (2009), even voicing Wildstyle in The Lego Movie (2014), although is probably best remembered as Effie Trinket in The Hunger Games (2012) and sequels. She had a small role in Pitch Perfect (2012) and made her directorial debut first with one of the segments of Movie 43 (2013) and her full-length debut with Pitch Perfect 2 (2015). Subsequent to this, she went on to make Cocaine Bear (2023).
Charlie's Angels is essentially a Girl Power version of one of Tom Cruise's Mission: Impossible films. It is largely the opportunity for Elizabeth Banks to create a series of caper set-pieces that she has clearly modelled on the Mission Impossible films with the Angels breaking into Brok Industries using a series of disguises, various chases and shootouts in the streets, more break-ins to a party held by Alexander Brok and a break-in/shootout around a quarry warehouse in Turkey. These are okay, even occasionally mildly spectacular sequences, although nothing that will be giving Tom Cruise and Christopher McQuarrie sleepless nights.
Whereas in the original tv series and the McG films, the Angels were operatives at a private detective agency, here they have been promoted to some kind of international NGO of ill-defined purpose. For what is essentially a glorified detective agency, they are incredibly well technically outfitted with highly advanced spy gadgetry and devices that can allow them to instantly hack almost any computer system. This does lead to the unanswered question of how exactly the agency is funded – Naomi Scott contacts them but at no point offers or is billed for any fee. Even more improbably, we are now told that Bosley, the Angels' handler in the tv series and previous films, is now an actual rank in the organisation and is played by several people throughout.
It should also be noted that none of the other incarnations of Charlie's Angels were fantastic in nature. The original series did feature the episode Unidentified Flying Angels (1977), which had them investigating a UFO but that had a mundane resolution, while the fourth season episode Of Ghosts and Angels (1980) had them visit to a haunted house and various spooky phenomena, but that was it. By contrast, the film here features the Angels outfitted with hi-tech gadgetry and seeking an advanced technical device that places the film in the realm of science-fiction (hence it being reviewed here).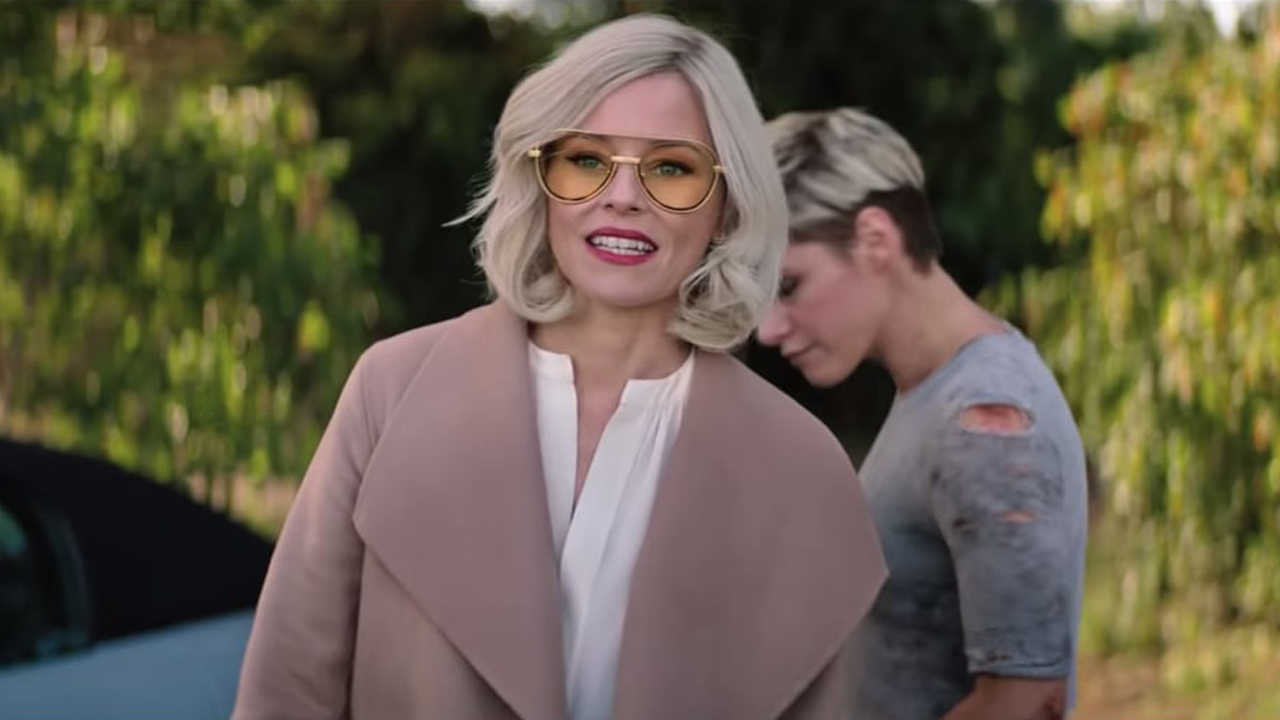 There's the question of the Girl Power label Charlie's Angels chooses for itself. I find myself in the odd position of having advocated for women's rights for many years and then when it is being achieved am left squirming in my seat and turned off by the shrill loudness of the need to lecture about it that some of the works to emerge are engaging in. This is something that rendered Black Christmas (2019), which came out four weeks after Charlies Angels did, near unwatchable. It feels like we are in for more of the same here when the very first shot of the film is Kristen Stewart facing the audience in closeup and stating "I think women can do anything" and then engaging in a debate about this with Chris Pang (who turns up throughout as a recurring bad guy). Not long after, we get a scene where Naomi Scott is treated patronisingly by her boss Nat Faxon (who naturally also becomes one of the bad guys of the show) who either talks over or shuts down anything she has to say.
The truth that films like Black Christmas seem to miss is that audiences don't go to film to receive moral lectures. My feeling is that Girl Power and diversity are all one thing (and long overdue) but when it becomes hectoring to an audience about it people will switch off no matter whether it is supportive of their viewpoint or not. On the other hand, if characters, the plot or what is happening holds interest then an audience will cease to care whether things are being enacted by men or women, whether faces are black, white or Asian, gay or straight, and who is directing the show. People want stories that engage them, not characters that are there solely to maintain demographic numbers so that the producers of shows are not shouted down in a torrent of social media invective about not being inclusive enough.
While Girl Power and redressing the balance of women's directors makes for a great selling point, the great leveller will always be the box-office. It should be noted that a cluster of recent such films that sought to rework familiar stories with a girl focus as their selling point – Terminator: Dark Fate (2019), Black Christmas, Charlie's Angels and Birds of Prey and the Fantabulous Emancipation of One Harley Quinn (2020) – all did well under expectation at the box-office and received indifferent or bad reviews. A lot of these films are ones that would have been enjoyed by a traditional male audiences. In essentially saying to guys "Move over, make way for women who now want an equal part of what you enjoyed before," then there is going to be a sizeable proportion of the male audience that is not going to react positively and more importantly pay money to see girl-fronted films. Equally so, if girl power marketing is going to succeed then a lot of it seems predicated on women audiences being sufficiently engaged with standing up to support their cause in terms of shelling out money at the box-office. Otherwise, great and all a marketing campaign as women doing it for themselves is, these films is going to fall flat on its face for lack of financing. As it is, the returns on these films seem to indicate the across the board support is not there.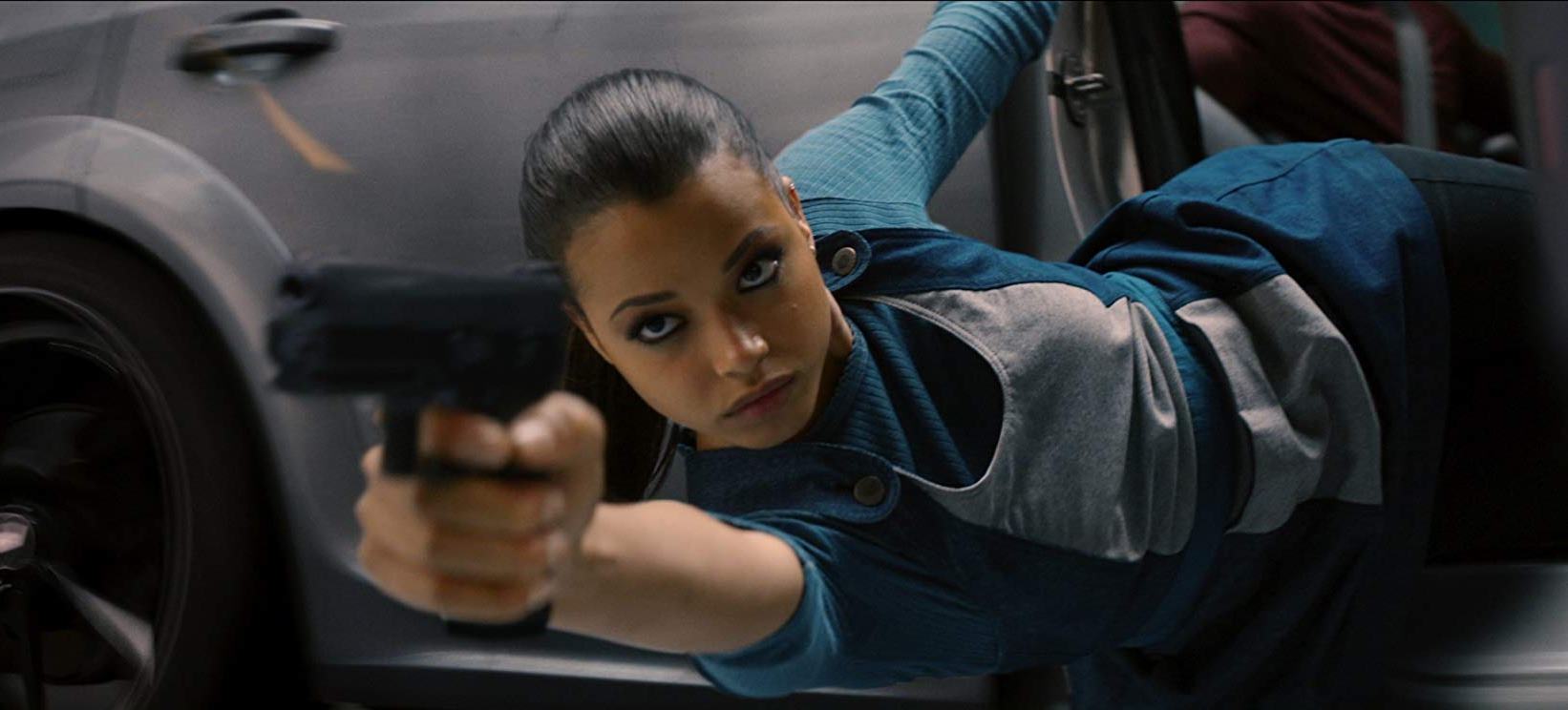 All of that said, the feeling that Charlie's Angels is going to offer another series of heavy-handed messages drops off soon into the show. Charlie's Angels passes the test – you are absorbed in its happenings rather than looking at your watch or switched off through its lectures. And that is just the way it should be. The story is heavily borrowed from the Mission: Impossible films and features regular cliches from that series about there being a mole in the organisation, while people seems to switch allegiances with an abruptness that feels as though it has more to do with the need for plotting novelty than credibility. The action scenes are adequate but lightweight and easily forgettable, like most of the film. I must say though that I think Elizabeth Banks directs them far better than the empty-headed McG ever did.
The Angels make a reasonable trio. Kristen Stewart is an actress that leaves me fairly ho-hum in her usual detached non-performances. You cannot deny that she actually does some acting here and throws herself into something that is decidedly different to what she has before. On the other hand, the social awkwardness of the character seems an off note, especially when this is contrasted to the highly skilled person she is once she gets into action. And especially when you contrast her to the elegance, sophistication and desirability that was always presented by Jaclyn Smith, Kate Jackson, Farrah Fawcett, Cheryl Ladd et al back in the original series, she seems like just a ragamuffin street kid.
Far better is Naomi Scott, Jasmine in the remake of Aladdin (2019), who proves a likeable and sympathetic character. Even better is the unknown Ella Balinska who plays with a kick-ass lethality in action and an exoticism of looks – you could easily sign up for a solo adventure based solely around her. Even then her character is hobbled by some writing that has to turn her into a nerd who seems to have no interest in social interaction.
The truth about this though is that for all its Girl Power message, Charlie's Angels 2019 does little that is any different from what the tv series did forty years earlier. The girls in both are capable, kick ass, in charge and take no crap from men. The sole difference is that this is a film where doing so has become a marketing campaign that makes a big political statement out of them doing so. It's refreshing that back in 1977, they just got on and did what they did and seemed unconcerned about having to tell an audience they were doing it.
---
---