---
Crew
Director – Bettina Hirsch, Screenplay – Lance Smith, Producer – Roger Corman, Photography – Jonathan West, Music – Ernest V. Troost, Visual Effects Supervisor – Roger George, Special Effects Supervisor – Lisa Romanoff, Creature Effects – Robert Short Productions Inc, Production Design – Robert Schulenberg. Production Company – New Horizons.
Cast
Harvey Korman (Cecil Waterman/Simon Waterman), Charles Stratton (Paul Waterman), Nadine Van Der Velde (Cindy), Charlie Phillips (Eddie), Alix Elias (Melvis Waterman), Jon Stafford (Dude Waterman), Hardy Rawls (Big Ed)
---
Plot
Simon Waterman, a crackpot anthropologist obsessed with proving that aliens have visited Earth, uncovers a small furry creature in a South American temple and smuggles it back to the USA. The creature is then abducted by Simon's brother Cecil, an unscrupulous fast-food magnate, where it proceeds to go amok, multiplying into dozens of malevolent, mischief-making creatures.
---
This cheaply made ripoff of Gremlins (1984) – produced by no less than the king of cheap films himself, Roger Corman – is possibly one of the most badly made films one has seen in at least the last several years viewing.
On every level, Munchies is cheap, inept and contemptuously made. The tone aimed for in many parts is the crassly adolescent humour vein of the Porky's and Lemon Popsicle films – with scenes of the munchies grabbing girls' bikini tops and leering at asses (even though the film has been sold under a G-rating). The creature effects are appallingly unconvincing, the creatures looking more often than not as though they were puppets being moved about by a single wire. Most excruciating of all is the choice to dub them over with squeaky voices spouting hip colloquialisms – "Head for the hills, mama," "Hiya toots," "What's your sign?" to name but a handful. At one truly amazing point, the film has them doing an impression of a lounge lizard with a French accent.
The acting is almost uniformly bad. Many of the performances are the odiously overacted grotesqueries that fill out these failed slapstick genre pieces such as Charlie Phillips' geekish deputy and Alix Elias's preening performance as the bimbo Melvis. Harvey Korman gives two truly embarrassing performances, especially when he is playing the hammily strutting villain uncle in what must be the world's most unconvincing wig.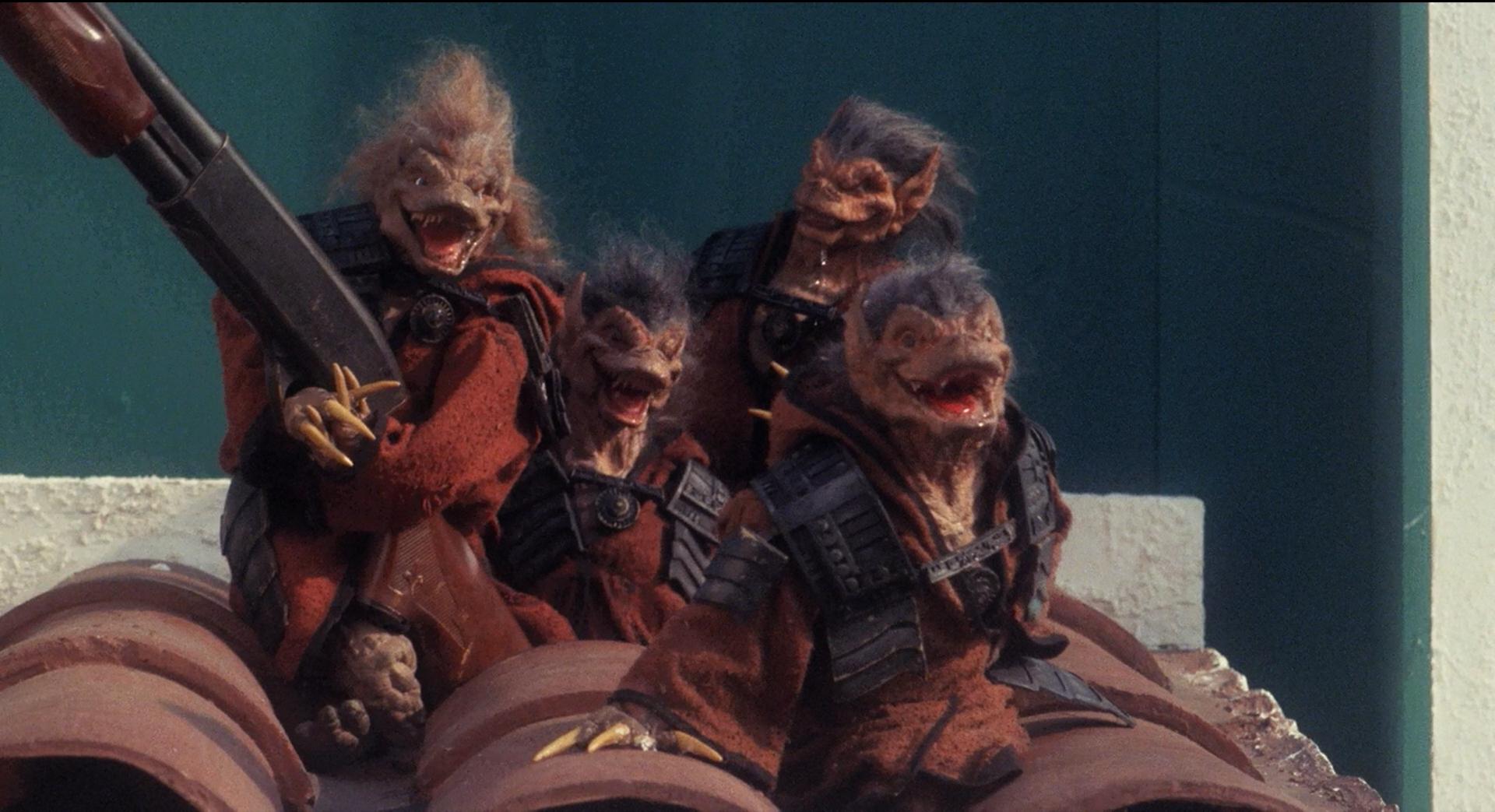 The whole affair is acted and directed as though nobody involved had anything but sneering disdain for the whole exercise. None of the characters even display the slightest interest or surprise at being confronted with an alien creature. The scene where hero and heroine Charles Stratton and Nadine Van Der Velde convince dickweed deputy Charlie Phillips to let them go because Van Der Velde's father is a CIA agent and because they are on the trail of spies is writing and playing that simply displays contempt for its audience's intelligence.
There were two films that posed as sequels, Munchie (1992) and Munchie Strike Back (1994), both directed by low-budget hack Jim Wynorski. Despite being promoted as sequels, both feature a creature with magical powers and are otherwise unrelated to this film.
Bettina Hirsch was an editor on various Roger Corman films and was promoted to the director's chair here. This is the only film she would direct, although she did go on to edit some reasonable high-profile films over the next few years.
---
---