---
Crew
Director – Stephen Herek, Screenplay – Stephen Herek & Domonic Muir, Story – Domonic Muir, Additional Scenes Written by Don Opper, Producer – Rupert Harvey, Photography – Tim Suhrstedt, Music – David Newman, Visual Effects – Quicksilver F/X, Miniature Effects – Fantasy II Film Effects (Supervisor – Gene Warren Jr), Critter Effects – Chiodo Brothers Productions (Supervisors – Charlie & Stephen Chiodo), Special Effects – Chuck Stewart, Zanti & Transformation Makeup – Chris Biggs, Production Design – Gregg Fonseca. Production Company – New Line Cinema/Sho Films/Smart Egg Pictures.
Cast
Scott Grimes (Brad Brown), Dee Wallace Stone (Helen Brown), Billy Green Bush (Jay Brown), Don Opper (Charlie McFadden), Terrence Mann (Johnny Steele), Nadine Van Der Velde (April Brown), M. Emmet Walsh (Harv), Billy Zane (Steve Elliot), Ethan Phillips (Jeff Barnes), Jeremy Lawrence (Reverend Miller)
---
Plot
A group of Krites – small balls of fur with teeth and a ferocious temperament – escape from an asteroid prison and head for Earth aboard a stolen ship. Two polymorphic bounty hunters come in pursuit. On Earth, the Krite ship comes down on the Brown family's farm near the small town of Grover's Bend. In a rapid space of time, the Browns find themselves holed up by wild alien creatures.
---
This enterprising little ripoff of Gremlins (1984) was a surprise hit in the 1980s, picking most of its audience up on video. It has spawned four sequels so far (see below).
Critters closely resembles Gremlins and has almost certainly been conceived in attempt to copy the success of Gremlins. It takes in inordinate glee in unleashing a horde of malicious goblins upon innocent small town Americana. Both Critters and Gremlins are in fact anarchist rejoinders to Spielberg – they enjoy throwing a spanner into the picture postcard niceness of the feelgood suburban dream represented by E.T. – The Extra-Terrestrial (1982).
Both films seem conscious of the fact too – Gremlins had a cinema billboard screening a film called A Boy's Life (which was the shooting title for E.T.); Critters stars E.T. mom Dee Wallace Stone and cheerfully acknowledging its model by having one of the Critters biting the head off an E.T. doll. Although eventually, Critters lacks the daringness to go the whole way in being nasty – it never goes as far as hurting any of its characters, while the forcedly happy ending where the bounty hunters reconstruct the house only reaffirms the happy nice milieu that the film cannot bring itself to tear all the way down.
Nevertheless, it is easy to see why Critters was such a hit on the video-shelves – fewer films seem designed as such light and entertaining popcorn munchers. The film has no purpose other than providing light fun. The Critters are wonderfully mean and nasty – biting the ends off pitchforks, swallowing explosives with only a burp.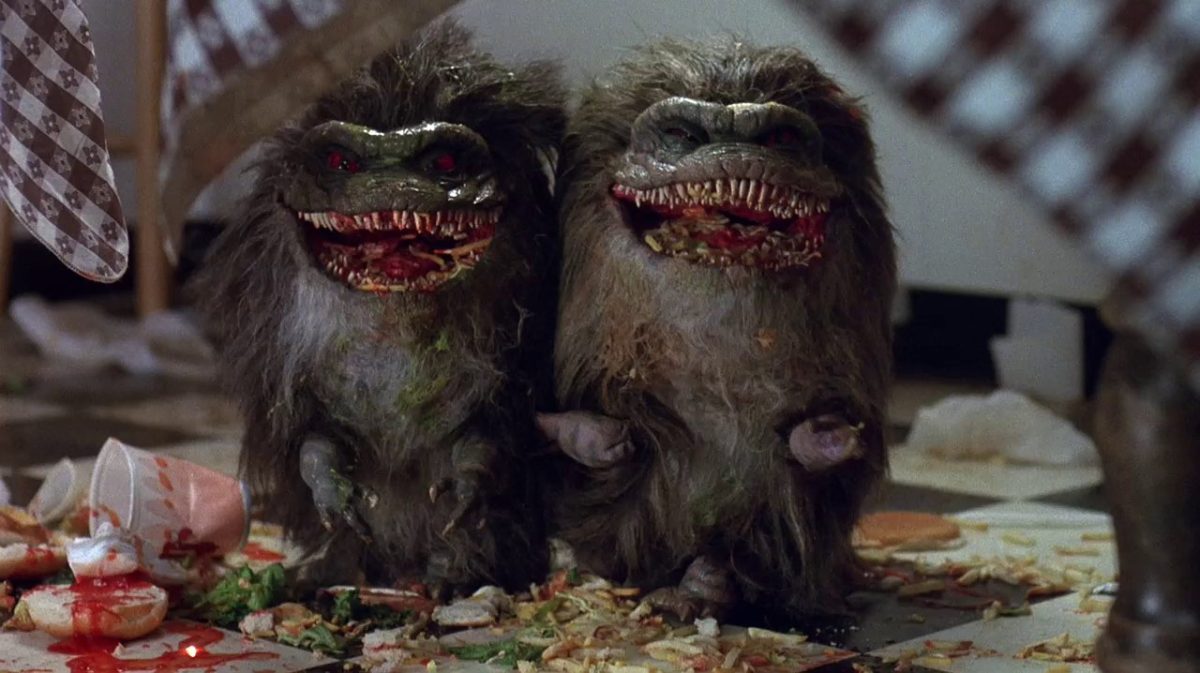 The effects work is good – the Critters look sufficiently disagreeable and are kept in the dark most of the time to cover any budget short fallings. Director Stephen Herek builds a competent series of suspense sequences with the Critters holding the family at siege in the house. And that is about the total limitation of Critters – like a McDonald's burger, enjoyable on the palette but never ultimately fulfilling one's dietary needs.
There were four sequels: – Critters 2 (1988), Critters 3 (1991), which is the best of the series and features a young Leonard DiCaprio, and Critters 4 (1992). Actor Don Opper is the common factor in all of these. The series was later revived with Critters Attack! (2019).
Since his debut here, Stephen Herek has gone on to make several other genre films, including the highly entertaining Bill and Ted's Excellent Adventure (1989), the live-action remake of 101 Dalmatians (1996), the romantic film Life or Something Like It (2002) wherein Angelina Jolie receives a prophecy of her death,  Dead Like Me: Life After Death (2009) based on the tv series about grim reapers and Afterlife of the Party (2021). Herek has made various other mainstream films including the likes of Don't Tell Mom the Babysitter's Dead (1991), The Mighty Ducks (1992), The Three Musketeers (1993), Mr Holland's Opus (1995), Holy Man (1998) and Rock Star (2001), which are generally competent if mostly lightweight.
---
---