---
Crew
Director/Screenplay – Jonathan R. Betuel, Producer – Jonathan Taplin, Photography – David M. Walsh, Music – Peter Bernstein, Visual Effects Supervisor – John Scheele, Photographic Effects – Philip Meador, Animation – John Van Vliet, Tyrannosaurus – Doug Beswick Productions, Makeup Effects – Lance Anderson & Robert Schiffer, Production Design – David L. Snyder. Production Company – Touchstone.
Cast
John Stockwell (Mike Harlan), Danielle von Zerneck (Ellie Sawyer), Fisher Stevens (Vince Latello), Dennis Hopper (Bob Roberts), Rafael Sbarge (Sherman), Richard Masur (Detective Nulty), Barry Corbin (Lew Harlan), Ann Wedgeworth (Dolores)
---
Plot
Searching for something to use as his high school science project, Mike Harlan breaks into a disused Air Force base. He falls through into an underground storeroom where he finds a strange glowing sphere, unaware that this is the heart of a UFO that crashed in the 1950s. Back in the school machine shop, Mike and his friend Vince examine the device and discover that it has the ability to drain power and warp time. When it is connected to a battery, the sphere creates a miniature space-time vortex. It is then accidentally hooked up to the mains, only for it to propel the entire school into a vortex where past, present and future intermingle.
---
My Science Project was about the third film released from the newly formed Disney subsidiary Touchstone. It was the directorial debut of Jonathan Betuel, whose sole prior screen credit had been as screenwriter of the previous year's modest hit The Last Starfighter (1984). Betuel has done little since – working as a producer on the dire Freddy's Nightmares – A Nightmare on Elm Street: The Series (1988-90) tv series and directing only one other film with Theodore Rex (1995) featuring Whoopi Goldberg as a cop with a dinosaur for a partner, which proved a total bomb that put an end to his career. (Betuel subsequently founded the visual effects company Luma Pictures). Equally unfortunately for Betuel, My Science Project did little at the box-office, being eclipsed by the one other film of that summer also involving teenagers and time travel – Back to the Future (1985), which had been released only four weeks earlier.
My Science Project has several things in its favour, particularly several of its principals. John Stockwell, better known at this point as a teen actor than as a director, does a very likeable turn in a lunkhead with a heart of gold routine, largely through avoiding turning the role into a greaser meathead or throwing in lowbrow comedy routines. On the other hand, Fisher Stevens does exactly that and relishes playing the loudmouth with considerable panache – "This is no time to be sucking snot," he enjoins a quivering Rafael Sbarge.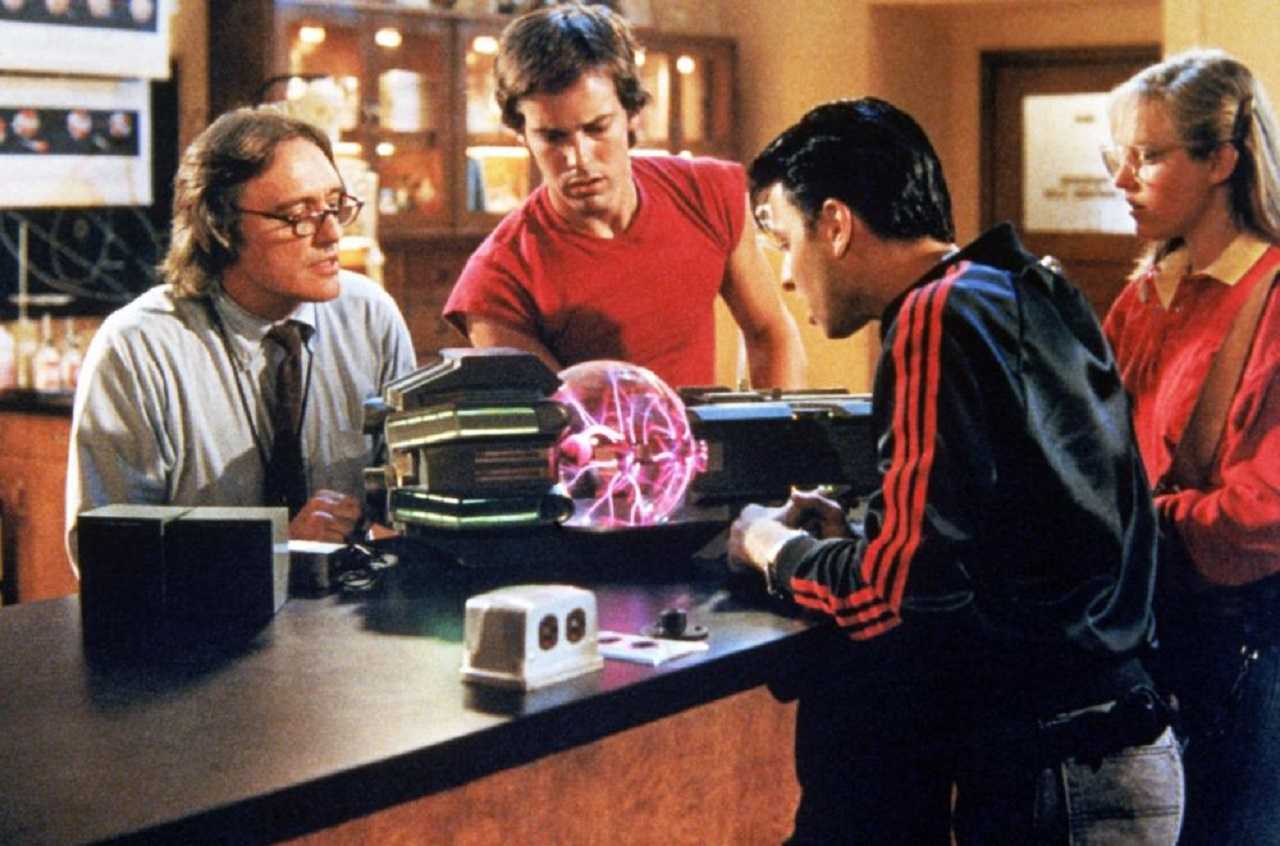 The rest of the fun to be had in the film comes from Dennis Hopper, cast in self-parody mode as the science-teacher-come-1960s-survivor. Hopper gives the appearance of having ad libbed his dialogue and has a series of incoherent speeches rambling about TNT, protest rallies and White Rabbits while sucking canisters of gas and coming out with lines like "It's pure time, pure space. I'm at the headquarters of creation. I feel infinity. The future is a groove, man" or "No pigs, ah no, ah no."
With much going for it, it is sad to see My Science Project fall flat on its face. The mystery, the artifact and time warp are nicely set up. Unfortunately, the materialised vortex lacks any conviction in its cheap lighting and C02 effects. For all the build-up, nothing is done with the vortex except to climax on a shoot-'em-up as the teens run through the high school encountering a handful of time-displaced Neanderthals, Spartans, mutants and dinosaurs.
The rest of the film consists of too many filler scenes with subplots about John Stockwell's father Barry Corbin marrying a bimbo (Ann Wedgeworth), Stockwell and Fisher Stevens' arrest by an over-zealous cop (who files a missing person report on someone hasn't even been gone for a single evening) or with John Stockwell racing to stop the energy discharge spreading through the power lines when the time mix-up holds far more possibilities as a story. It is sad for a science-fiction film when the token romance is more interesting than the science-fiction content.
---
Trailer here
Full film available online here:-
---