---
Crew
Director – B.W.L. Norton, Screenplay – Clifford & Ellen Green, Producer – Jonathan T. Taplin, Photography – John Alcott, Music – Jerry Goldsmith, Photographic Effects Supervisor – Philip Meador, Miniature Effects Supervisor – Paul Huston, Mechanical Effects – Joe DiGaetano, David Domeyer, Richard Hill, Hans Metz, John Parker & Michael Reedy, Special Effects Supervisors – Isidoro Raponi & Roland Tantin, Makeup – Robert J. Schiffer, Production Design – Raymond G. Storey. Production Company – Touchstone.
Cast
William Katt (George Loomis), Sean Young (Susan Matthews Loomis), Patrick McGoohan (Dr Eric Kiviat), Kyolo Mativo (Cephu), Julian Fellowes (Nigel Jenkins), Olu Jacobs (Colonel Nsogbu), Hugh Quarshie (Konge Obe), Eddie Tagoe (Dr Pierre Dubois)
---
Plot
Evidence is uncovered of a brontosaurus alive in the East African jungle. Palaentologist Susan Loomis and her husband George race against the ruthless Dr Eric Kiviat to be the first to find it. They find a family of brontosauruses but then Kiviat and his mercenaries come, shooting the father and capturing the mother. Susan and George are left having to escort a troublesome baby brontosaur to safety, pursued the whole way by Kiviat.
---
This Disney film is a surprisingly good rehash of old B dinosaur discovery films like The Beast of Hollow Mountain (1956), The Giant Behemoth/Behemoth the Sea Monster (1958), Dinosaurus! (1960), Gorgo (1961) and Reptilicus (1961). It makes a departure over 1950s dinosaur films in that here the dinosaurs are played with considerably more eco-friendly understanding – instead of rampaging aggressors they are shown as the peaceful herbivores and more importantly as an endangered species. Thus the dinosaur film has made a move from monster movie, as in the likes of 1950s films such as The Beast from 20,000 Fathoms (1953) and Godzilla, King of the Monsters (1954) to an eco-friendly movie, as echoed by the later likes of The Lost World: Jurassic Park (1997) and Dinosaur (2000).
The film has bothered to go and shoot on real African locations (the Ivory Coast) and this immediately gives it a much greater conviction in contrast to the usual studio backlot jungle sets and back-projected scenery of abovementioned B-movie staples. The dinosaur effects are highly convincing – the film makes the most sophisticated use yet of the old person-in-the-rubber suit effects.
The film was made prior to Jurassic Park (1993) and the advent of CGI and, although not always completely convincing, contained some of the most convincing dinosaur effects put on screen up to that point. The scenes with the dying male nuzzling its mate or of the baby indulging in water sports and playing with monkeys have an astonishing tenderness. Probably the dinosaurs have been anthropomorphised towards mammalian behaviour far more so than ever was the case and for their brain size, and the child substitute theme is overdone, but the emotional conviction and tenderness with which they are mimed rides over such rough spots.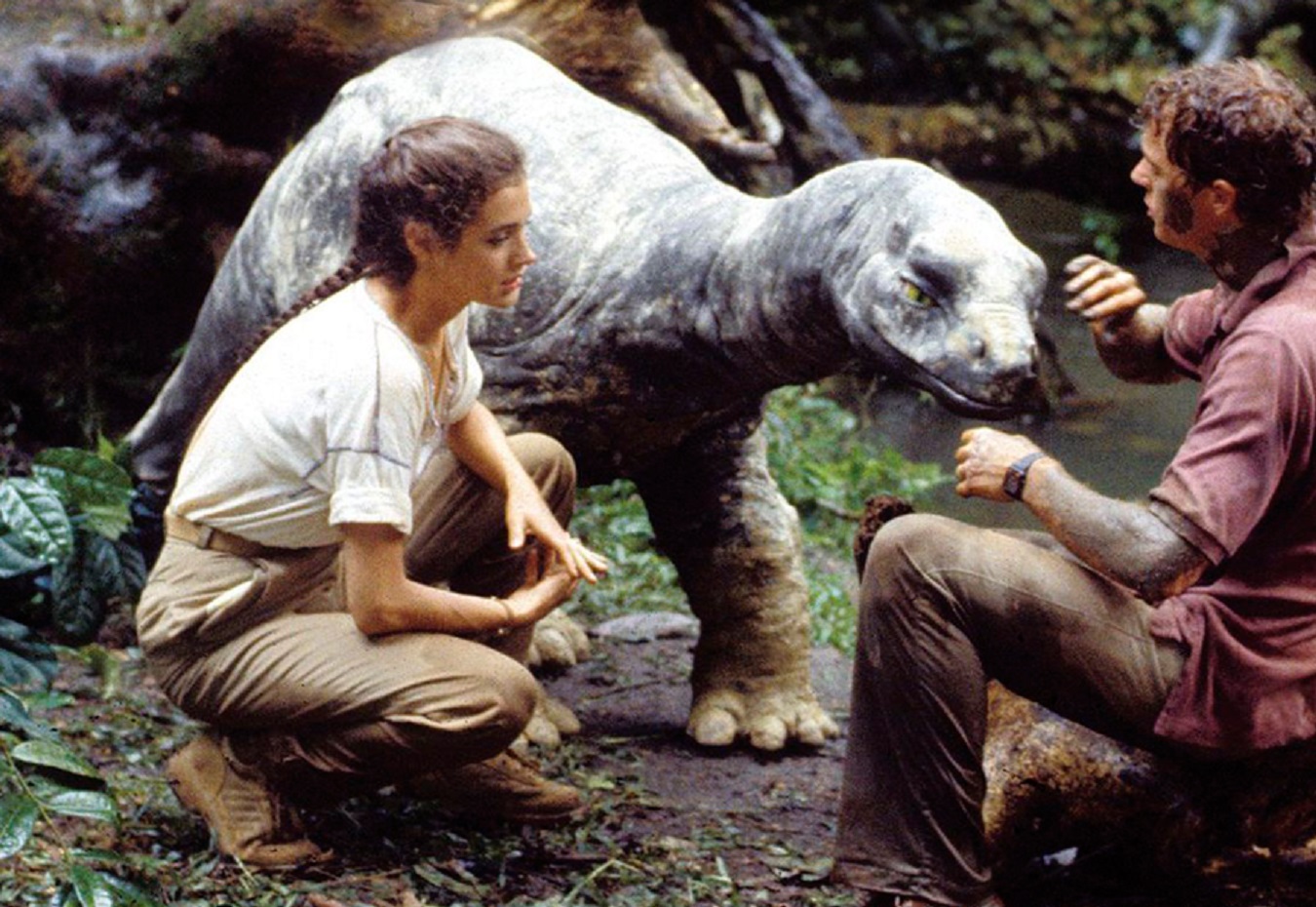 For Disney, while never leaving their family image, it was a significantly more adult film than usual during this era – even addressing the use of birth control pills, and having Sean Young stand up to make a strong pro-choice "My body, my right," statement at one point.
The film believe it or not is based upon fact, namely an expedition conducted in 1980 by University of Chicago biochemist Roy P. Mackal into the Congo in search of legend the natives called 'mokele-mbembe' (a name the film is happy to appropriate), which Mackal strongly believed was a brontosaurus. The film's principal point of departure with truth being that Mackal never found his 'mokele-mbembe'.
Baby – Secret of the Lost Legend was not a financial success for Disney. Director B.W.L. Norton subsequently went onto a career directing television, including genre efforts such as the alien invasion tv movie Them (1996), the clairvoyance tv movie A Deadly Vision (1997) and the plague outbreak film Thirst (1998). The only other genre film of note that Norton made was the culty tv movie Gargoyles (1972). In retrospect, the films greatest notoriety was going out into theatres preceded by the original short film version of Tim Burton's Frankenweenie (1985).
---
Trailer here
---