---
Crew
Director/Producer – Jim McCullough Sr, Screenplay – Jim McCullough Jr, Photography – Joseph Wilcots, Music – Ron F. Dilulio, Visual Effects – CineVisual Consultants (Supervisor – Ken Jones), Miniatures – Michael Novotny, Production Design – Drew E. Hunter. Production Company – Jim McCullough Productions/The Aurora Joint Venture.
Cast
Carol Bagdasarian (Alain Peebles), Jack Elam (Charlie Hawkins), Mindy Smith (Sue Beth McKeska), Mickey Hays (Spaceman), Peter Brown (Sheriff Temple), Will Mitchell (Ranger Peter Sheridan), Dottie West (Irene)
---
Plot
The small town of Aurora, Texas, in the 19th century. A number of locals are scared by sightings of a UFO. One woman shoots at the pint-sized inhabitant after it peeps at her undressing. The alien then joins old-timer Charlie Hawkins playing checkers. Three children fall down into an old Indian burial ground but are able to use a crystal left by the alien to levitate themselves free. Schoolteacher Alain Peebles, editor of the town newspaper, prints a story on the alien but this attracts the attention of the state governor who sends a Texas Ranger to investigate.
---
The Aurora Encounter was one of a host of cute alien-comes-to-America films that came out following the huge success of E.T.– The Extra-Terrestrial (1982). The only novelty to be found in this low-budget entry is the hardly sensational use of its 19th Century Little House on the Prairie (1974-83) setting and the claim to be based on a true incident.
The incident the fim is based on is a claim made in the Dallas Morning Post in April 19, 1897 that a spaceship had crashed into a water-tower in the town of Aurora, leaving behind the charred corpse of a Martian, was later found to be a hoax created by the inhabitants of Aurora to draw attention to the town.
There is not much in the way of a plot – the film rambles and plods its way from one encounter to the other, offers up a light sprinkling of feminism, a round of cute alien confrontations, some silly nonsense with flying bicycles and an end message copped from The Day the Earth Stood Still (1951). The film certainly takes its Erich Von Daniken seriously and gets into interpreting Indian burial grounds as homage to the aliens/gods. In what has become a cliche by now, the alien comes accompanied by angelic glowing lights and dry ice. There is a tinny score.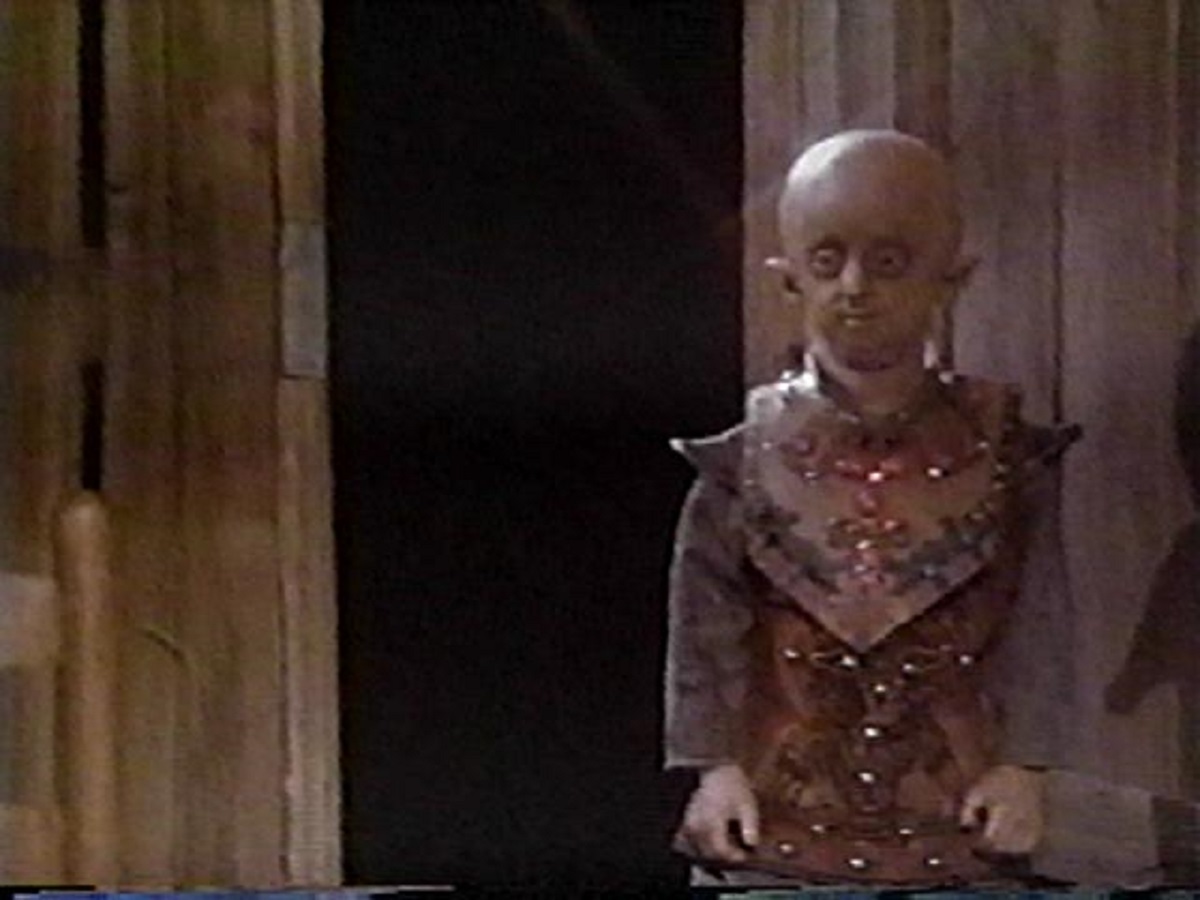 A scene between the spaceman and Jack Elam, the bug-eyed warhorse of countless B-Westerns, with both mutually cheating in a game of checkers is one mildly elevated scene in a series of nondescript encounters. There is a terribly maudlin ending where the glowing coffin goes flying off.
Director Jim McCullough Sr, along with his son Jim McCullough Jr, made a number of independently produced films during the 1970s/80s, including directing the genre likes of Mountaintop Motel Massacre (1986) and The Video Murders (1988), as well as producing Creature from Black Lake (1976).
---
Trailer here
Full film available online here:-
---