---
Crew
Directors – Annabel Jankel & Rocky Morton, Screenplay – Parker Bennett, Terry Runte & Ed Solomon, Based on the Game Created by Shigeru Miyamoto & Takashi Tezuka, Producers – Jake Ebert & Roland Joffe, Photography – Dean Semler, Music – Alan Silvestri, Visual Effects Supervisor – Chris Woods, Special Effects Supervisor – Paul Lombardi, Makeup Effects – Makeup and Effects Lab, Production Design – David L. Snyder. Production Company – Lightmotive/Allied Film Makers/Cinergi Productions.
Cast
Bob Hoskins (Mario Mario), John Leguizamo (Luigi Mario), Dennis Hopper (King Koopa), Samantha Mathis (Princess Daisy), Fiona Shaw (Lena), Fisher Stevens (Iggy), Richard Edson (Spike), Dana Kaminski (Daniela), Francesca Roberts (Big Bertha)
---
Plot
Brooklyn plumbers, brothers Mario and Luigi Mario, go to the aid of palaeontology student Daisy as she is abducted by two men and taken into another dimension. There they find themselves in an alternate world where dinosaurs have survived the meteorite that killed them off 65 million years ago in our world and have evolved intelligence. Pursued by this world's dinosaur dictator King Koopa, the Mario Brothers try to rescue Daisy and stop Koopa obtaining the pendant Daisy wears, which is capable of merging the two dimensions.
---
Super Mario Brothers, first produced by Nintendo in 1985, was the biggest selling videogame of all time. Up against today's first person shooter games and complex creations of entire worlds, Super Mario Brothers with its two-dimensional side-scrolling action is now datedly primitive. At the time, it was a game that created a revolution, made the Nintendo company name and produced five sequels.
Super Mario Bros. is a big-budget film adaptation of the videogame. (The game had earlier been made into three different animated series between 1989 and 1991). Super Mario Bros. was the first film ever based on a videogame and surprisingly, considering the game's popularity, proved to be a big flop and was critically trashed.
Indeed, it could be a general rule of thumb that all films based on video/computer games have been either been flops and in most cases not very good – see the likes of Double Dragon (1994), Street Fighter (1994), Wing Commander (1999), Lara Croft, Tomb Raider (2001), Resident Evil (2002), House of the Dead (2003), Alone in the Dark (2005), BloodRayne (2005), Doom (2005), DOA: Dead or Alive (2006), Hitman (2007), In the Name of the King: A Dungeon Siege Tale (2007), Postal (2007), Far Cry (2008), Max Payne (2008), Prince of Persia: The Sands of Time (2010), Tekken (2010), Angry Birds (2016), Assassin's Creed (2016), Warcraft (2016), Rampage (2018), Pokemon Detective Pikachu (2019), Monster Hunter (2020), Sonic the Hedgehog (2020), Werewolves Within (2021), the tv series Halo (2022- ) and Uncharted (2022), with the sole exceptions being the likable Mortal Kombat (1995), Silent Hill (2006) and the amazing Final Fantasy: The Spirits Within (2001).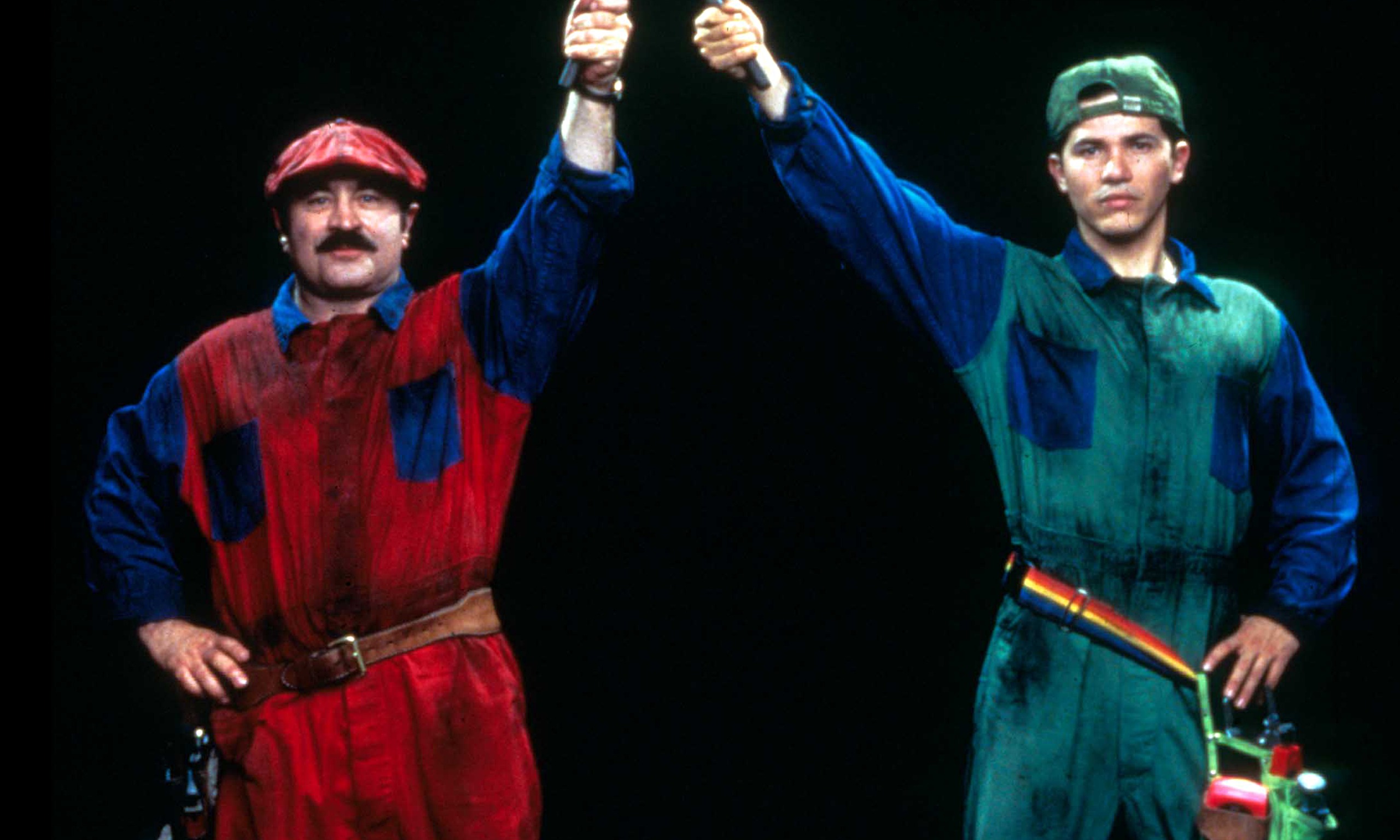 The husband and wife directing team of Annabel Jankel and Rocky Morton had worked in music videos and made the culty original UK tv pilot of Max Headroom (1985) but that film's visual inspiration is not in evidence here. (In fairness, they had origially conceived the film as a much grittier, more adult tone but this was overriden and watered down by the studio after production had begun).
One went into Super Mario Bros. with low expectations and at least one can say they receive exactly what they expected from the film. Super Mario Bros. is a film constructed as a big package of explosions and shootouts, car chases, a handful of creatures and some then trendy morphing effects but is routinely presented. The highly extolled sets for Dinohattan never for a moment convince that they exist anywhere outside the confines of studio walls.
It is in Super Mario Bros.'s persistent celebration of its own utter brainlessness that it becomes incredibly annoying. The two central character's dumb-but-heart-of-gold, average guy characterizations are irritating. Bob Hoskins at least tackles his role with good-hearted cheer, although one can see even his Cockney provinciality has been dwarfed by a project he does not understand.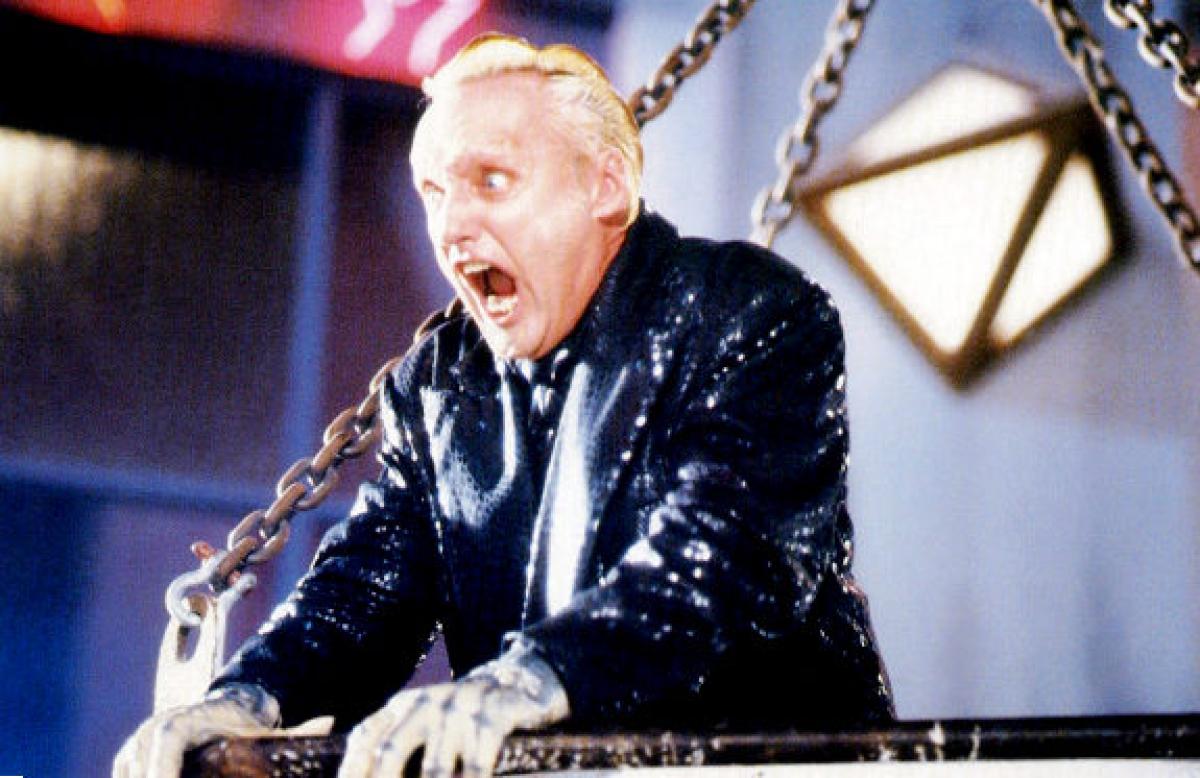 The mindless merriment of everything is worn thin by the two nonsense-babble spouting moron sidekicks played by Fisher Stevens and Richard Edson and the super-dumb Goombah dance sequences. Dennis Hopper has his amusements, although tends towards the campy – even so the performance is surprisingly dull for what one would have expected someone as iconoclastic as Hopper to have made of it. Far more enjoyable is Fiona Shaw who gives a high camp performance of alarming intensity.
The most irritating thing in Super Mario Bros. is the idiocy that passes for the script. The film's one interesting idea is that of an alternate world where the dinosaurs continued to evolve. Any hope that this might aspire to something like an unofficial filmed equivalent of Harry Harrison's Eden books or the tv mini-series Dinotopia (2002) is dashed – evolving dinosaurs into a humanoid form is merely a convenient excuse to allow the dinosaurs to be replaced by human actors. Even then the only reptilian behaviour that the humanoid dinosaurs demonstrate is a single scene where Dennis Hopper lasciviously languishes a forked tongue. Dennis Hopper goes through the film with a peculiar walk, keeping his hands perched up by his chest in what one finally guesses is meant to represent the evolved tyrannosaurus he is supposed to be.
The ending is set up for a sequel, which thankfully has yet to happen.
---
---