---
Crew
Director – Ivan Reitman, Screenplay – Don Payne, Producers – Arnon Milchan & Gavin Polone, Photography – Don Burgess, Music – Teddy Castellucci, Music Supervisor – Patrick Houlihan, Visual Effects Supervisor – Erik Nash, Visual Effects – Digital Domain, Lola VFX (Supervisor – Edson Williams), Pacific Title & Pixel Magic, Special Effects Supervisor – Clay Pinney, Production Design – Jane Musky. Production Company – New Regency/Pariah
Cast
Luke Wilson (Matt Saunders), Uma Thurman (Jenny Johnson/G-Girl), Anna Faris (Hannah Lewis), Rainn Wilson (Vaughn Haige), Eddie Izzard (Professor Bedlam/Berry Edward Lambert), Wanda Sykes (Carla Dunkirk), Margaret Anne Florence (Shapely Bartender)
---
Plot
Matt Saunders meets Jenny Johnson on the subway and asks her out. After snubbing him at first, she agrees. She seems weird and intense but Matt is not too concerned about this as he has a history of strange girlfriends. As they become more involved, Jenny reveals her secret to him – that she is the superheroine G-Girl. Matt then realises that he is attracted to his co-worker Hannah and decides to break things off with Jenny. After the split-up, Jenny promptly becomes a stalker, using her superpowers to harass Matt and make his life a misery.
---
Ivan Reitman came to fame in the 1980s as producer of the huge hit of National Lampoon's Animal House (1978) and then as director with comedies like Meatballs (1979), Stripes (1981) and then the huge hit of Ghostbusters (1984), as well as his and frequent collaborator Arnold Schwarzenegger's finest hour-and-a-half Twins (1988). (See below for Ivan Reitman's other genre films). Nobody could ever accuse Ivan Reitman of being a great director, even so the 1990s has been an uneven period for him with middling efforts like Ghostbusters II (1989), Kindergarten Cop (1990), Dave (1993), Junior (1994), Father's Day (1997), Six Days, Seven Nights (1998) and Evolution (2001), none of which seemed to travel on all cylinders. In these, the raucous and vulgar laughs that seemed to fire up Reitman's earlier films have settled down into a middle-of-the-road banality. My Super Ex-Girlfriend gives strong evidence that Ivan Reitman has lost what he once had.
The script for My Super Ex-Girlfriend comes from Don Payne who has written for various tv sitcoms, including Men Behaving Badly (1996-7) and worked as a producer/writer on The Simpsons (1989– ) and has subsequently went onto write three serious superhero films with Fantastic Four: Rise of the Silver Surfer (2007), Thor (2011) and Thor: The Dark World (2013).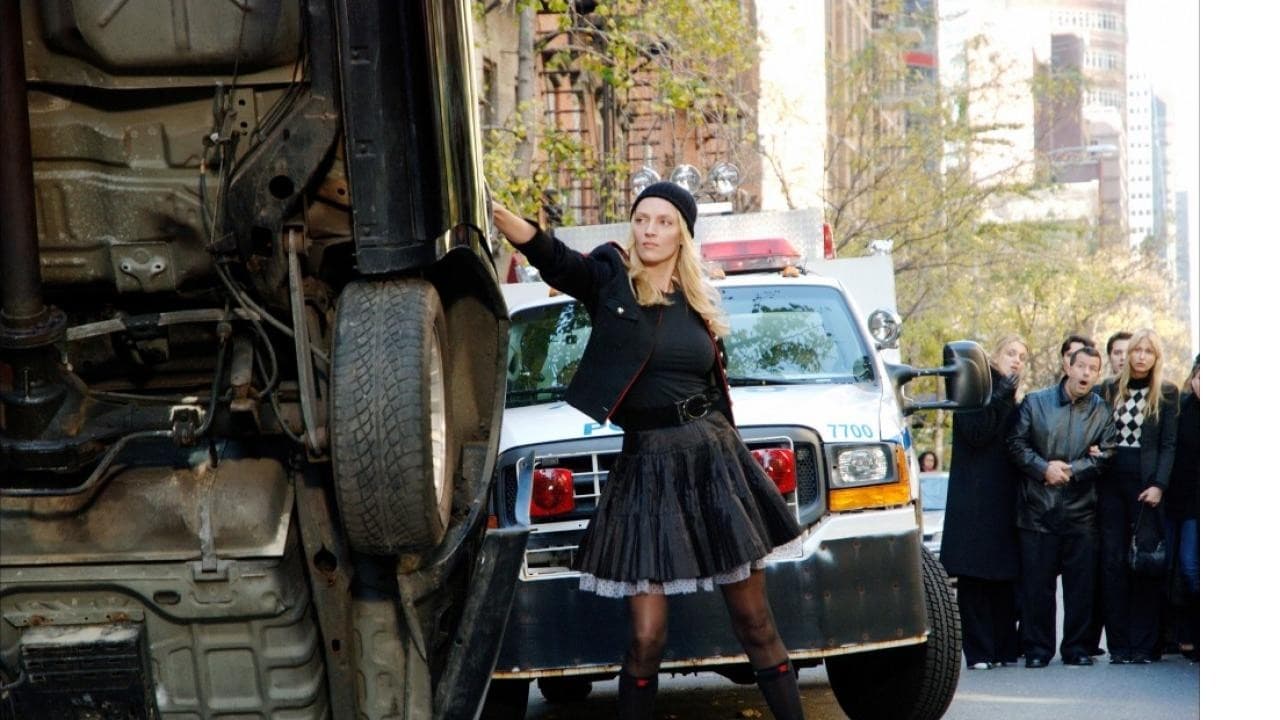 My Super Ex-Girlfriend is a superhero comedy that follows on in the vein of the then recent success of The Incredibles (2004), which dealt with the domestic life of the superhero in highly amusingly ways. Indeed, My Super Ex-Girlfriend is a logical follow-on from the Superman-Lois Lane-Clark Kent love triangle, albeit played with a reversal of the sexes and imagined as things gone toxic rather than existing in a perpetual state of unfulfilled sexual tension – what if a guy discovered that the mousy bespectacled girl he was dating was a superheroine and what then happens if he splits up with her and she turns out to be a psycho stalker?
My Super Ex-Girlfriend is a cute idea badly directed. There is something staggeringly unfunny to much of Ivan Reitman's handling of the film. The bedroom scene with Uma Thurman trying to hide her superheroine outfit beneath her clothes as she undresses and then slamming the bed against and through the wall with her thrusts on top should have been funny but fails to be in a big way. There is a scene that tries to parody the romantic flight of Christopher Reeve and Margot Kidder through the skies in Superman (1978) with Uma Thurman and Luke Wilson having sex in mid-air but it is a gag that seems to be searching for a punchline.
All the major punchlines – like Uma Thurman throwing a shark into Luke Wilson's bedroom or turning up with a chainsaw – have been tipped in advance by the film's trailer. And when each gag does turn up, you can predict exactly the way it is going to play out five minutes in advance. In Ghostbusters, Ivan Reitman showed that he had a great flourish with visual effects but here, though Digital Domain do a professional service, the climactic super-fight leaves one monumentally uninvolved.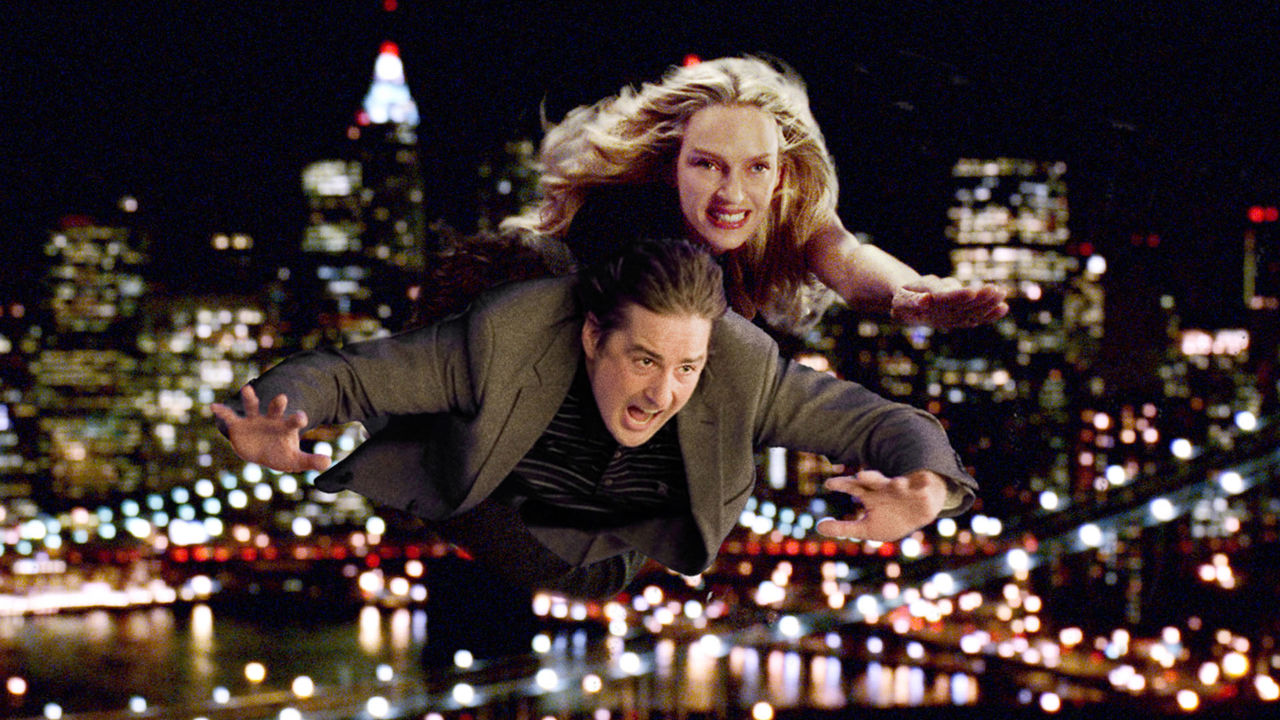 Luke Wilson gives an amiably hapless performance in the male lead. Uma Thurman is an actress that for every good performance she gives – Dangerous Liaisons (1988), Henry and June (1990), Pulp Fiction (1994), The Golden Bowl (2000) and the Kill Bill saga – also leaves a string of bad, miscalculated or simply indifferent performances – Batman & Robin (1997), Gattaca (1997), The Avengers (1998), Paycheck (2003). Her role here is annoyingly one-dimensional. She seems to be trying to channel Clark Kent in her performance but all that she does is come out as awkward, ungainly and an entirely one-dimensional psycho. It is sad when one has to say it but much of the show is stolen by the cheerfully filthy horndog performance from Rainn Wilson.
Ivan Reitman's other genre films are:– Cannibal Girls (1973); Ghostbusters (1984); Twins (1988) with Arnold Schwarzenegger and Danny DeVito as mismatched clone twins; Ghostbusters II (1989); Junior (1994) with Schwarzenegger as a pregnant man; and the alien invasion comedy Evolution (2001). Ivan Reitman also produced David Cronenberg's first two commercial successes, Shivers/They Came from Within/The Parasite Murders (1976) and Rabid (1977), the revenge and brutality film Death Weekend/The House By the Lake (1976), the animated Heavy Metal (1981), the space opera Spacehunter: Adventures in the Forbidden Zone (1983), Space Jam (1996) featuring Michael Jordan taking on Warner Brothers cartoon characters, the animated tv series Mummies Alive! The Legend Begins (1998), the psycho-thriller Disturbia (2007), the ghost story The Uninvited (2009), Hitchcock (2012), Ghostbusters (2016), A Babysitter's Guide to Monster Hunting (2020), Ghostbusters: Afterlife (2021) and Space Jam: A New Legacy (2021).
---
---