USA. 1988.
Crew
Director/Producer – Ivan Reitman, Screenplay – William Davies, Timothy Harris, William Osborne & Herschel Weingrod, Photography – Andrzej Bartkowiak, Music – Georges Delerue, Production Design – James D. Bissell. Production Company – Universal.
Cast
Arnold Schwarzenegger (Julius Benedict), Danny DeVito (Vincent Benedict), Chloe Webb (Linda Mason), Kelly Preston (Marnie Mason), Trey Wilson (Webster), Bonnie Bartlett (Mary Ann Benedict)
---
Plot
In the 1950s, an experiment was conducted where a perfect mother was chosen and impregnated with genetic material selected from six different fathers. However, when the mother gave birth, there was not one baby born but twins. The larger baby Julius was taken and raised to the peak of physical and mental perfection on an island remote from civilisation. It is not until now, his 31st birthday, that Julius learns that he has a twin. And so Julius sets out to find his twin, leaving the island for the first time. In Los Angeles, Julius meets his twin brother Vincent, a wily, diminutive conman. Vincent proves only too willing to use the innocent and unworldwise Julius as a dupe in his schemes. Soon the two brothers begin to discover familial feelings and decide to set out on a journey together to find their mother. However, due to Vincent's underhand schemes, there is also a hitman on their trail.
---
The Czech-born Ivan Reitman has a reputation as director of mainstream comedy films. After working as a producer in his naturalised country of Canada, including for David Cronenberg among others, Reitman produced the runaway hit of National Lampoon's Animal House (1978). In the aftermath of this, Reitman had some success as director with two popular comedies Meatballs (1979) and Stripes (1981). Reitman then followed these with the enormous hit of Ghostbusters (1984). Reitman would go on to make various other mainstream (and rather bland) comedies such as Legal Eagles (1986), Kindergarten Cop (1990), Dave (1993) and Six Days, Seven Nights (1998). (Reitman's other credits of genre interest are listed below). Upon three occasions, Ivan Reitman teamed up with action star Arnold Schwarzenegger – here, for the first time, and later with Kindergarten Cop and Junior (1994). In all three of the films he made with Reitman, Arnold Schwarzenegger played roles that deflated his action man persona. Twins was the occasion where Reitman and Schwarzenegger both turned out their very best efforts.
Twins is a one-joke movie. The one joke it has is in playing the physiques of its two stars – brawny muscle-builder Arnold Schwarzenegger and diminutive 5′ Danny DeVito – against each other as the most unlikely of twins. The pairing is as much a joke on the two actors' physical differences as it is on the audience for giving the film the suspension of disbelief to accept this.
Schwarzenegger, in playing against action man type as the gentle, kindly, almost-Buddhist Julius, is clearly having a ball and gives a performance that surprises one in actually showing that he can almost act. He has some delightful scenes entering into combat and redressing his opponents for ignoring the 'Rules of Confrontation', or his naively agog innocence while wandering the big city and during the romantic scenes. Although perhaps a sight gag where Schwarzenegger passes a poster of Sylvester Stallone in Rambo III (1988) and compares muscles makes the element of self-parody in his performance a little too obvious.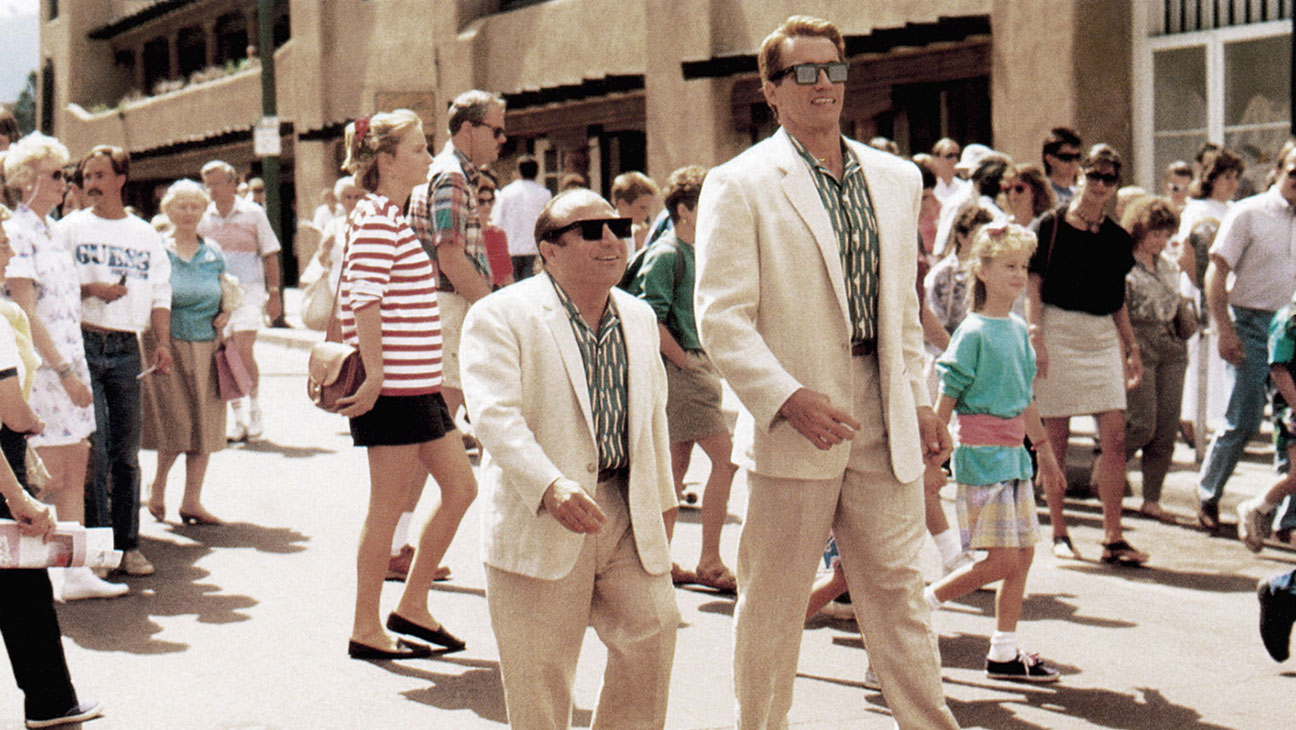 Danny DeVito is equally engaging as the rabid, roguishly likeable conman who gradually thaws throughout. Ivan Reitman gets perfect comedy timing out of the pair. More than its single joke, Twins carries a wonderfully tongue-in-cheek sense of sincerity. The scene where Arnold Schwarzenegger explains to Danny DeVito that he is not the genetic loser and that they both need their mother is both a scene that pokes fun at and enjoys a touching earnestness.
1988 was a year that peculiarly featured twin twin movies – at opposed ends of the thematic spectrum was Ivan Reitman's former compatriot David Cronenberg's darkly obsessive and quite brilliant Dead Ringers (1988), which Cronenberg had started out planning to call Twins but had been forced to change after being beaten to the title by this film. Furthermore, Twins, had it not been planned long before, almost serves as a parody of the same year's vastly overrated Oscar-winner Rain Man (1988) about the similar reunification of two dissimilar brothers setting out on the great American road movie quest. Both Twins and Rain Man share exactly the same conman/naive brother relationship and even have a scene with the two of them dancing together.
For some years, there were plans to make a Twins sequel, although this never emerged. It has finally been announced tentatively for the 2010s as Triplets with Eddie Murphy as a further twin. Reitman, Schwarzenegger and Danny DeVito later reteamed for Junior (1994), which is not a sequel, but casts the two actors in a similar relationship and has a similar genetic engineering theme where this time Arnold Schwarzenegger becomes pregnant.
Ivan Reitman's other films of genre note as director are:– Cannibal Girls (1973); Ghostbusters (1984); Ghostbusters II (1989); Junior (1994) with Schwarzenegger as a pregnant man; Evolution (2001), which essentially replays Ghostbusters as an alien invasion comedy; and the superhero spoof My Super Ex-Girlfriend (2006). Reitman also produced David Cronenberg's first two commercial successes Shivers/They Came from Within/The Parasite Murders (1976) and Rabid (1977), the revenge and brutality film Death Weekend/The House By the Lake (1976), the animated Heavy Metal (1981), the space opera Spacehunter: Adventures in the Forbidden Zone (1983), Space Jam (1996) featuring Michael Jordan taking on Warner Brothers cartoon characters, the animated tv series Mummies Alive! The Legend Begins (1998), the psycho-thriller Disturbia (2007), the ghost story The Uninvited (2009), Hitchcock (2012), Ghostbusters (2016), A Babysitter's Guide to Monster Hunting (2020), Ghostbusters: Afterlife (2021) and Space Jam: A New Legacy (2021).
---
---