---
Crew
Director – Aaron Seltzer, Screenplay – Aaron Seltzer & Jason Friedberg, Producers – Jason Friedberg & Paul Schiff, Photography – Shawn Maurer, Music – David Kitay, Music Supervisors – Dave Jordan & Jojo Villaneuva, Visual Effects – Furious FX, Pacific Title and Digital & Kent Roman, Special Effects Supervisor – Mark Byers, Fat Makeup – Matthew W. Mungle, Makeup Effects – Creature FX Inc (Supervisor – Mark Rappaport), Production Design – William A. Elliott. Production Company – New Regency.
Cast
Alyson Hannigan (Julia Jones), Adam Campbell (Grant Funkyerdoder), Eddie Griffin (Frank Jones), Sophie Monk (Andy), Tony Cox (Hitch), Fred Willard (Bernie Funkyerdoder), Jennifer Coolidge (Roz Funkyerdoder), Meera Simhan (Linda Jones), Judah Friedlander (Nicky), Valery M. Ortiz (Jell-O), Beverly Polcyn (Old Cat Woman), Marie Matiko (Betty Jones), Carmen Electra (Anne), Josh Meyers (Napoleon/Wedding Crasher)
---
Plot
Julia Jones is pushed by her Greek father to get married. Weighing 300+ pounds, Julia despairs of ever finding true love. She encounters a nice guy in the family restaurant where she works as a waitress. In desperation, she goes to the date doctor Hitch who gives her a miraculous makeover in a neighbourhood body shop to emerge as slim and good looking. She then goes on a tv reality show and ends up being chosen by Grant Funkyerdoder, the guy from the restaurant. After encountering their mutual families, she and Grant decide to marry. However, their wedding plans are sabotaged by Grant's ex, the stunningly good-looking Andy, who is determined to claim Grant back for herself.
---
Date Movie proudly announces on its poster that it is from "two of the six writers of Scary Movie (2000)." It is more than clear from this that Date Movie essentially sets out to do for the romantic movie genre what Scary Movie and sequels did for the horror film. Certainly, the romantic movie has become such an overworked genre in recent years that it is exceedingly ripe for parody. Whether it gets this in Date Movie may be a matter for debate.
Date Movie comes packed to the brim with scenes quoting other romantic movies. Alyson Hannigan writes her own diary a la Bridget Jones' Diary (2001); makes a transformation from obese to slim a la Gwyneth Paltrow in Shallow Hal (2001); consults a date doctor in a spoof of Hitch (2005); goes to a wedding planner in a parody of The Wedding Planner (2001) (who in the film's most amusing gag is a takeoff on Jennifer Lopez who demolishes everything and even plays the piano with her oversized ass); and deals with a scheming ex a la Along Came Polly (2004).
There are various takeoffs of Marilyn Monroe's air vent dance in The Seven Year Itch (1955); John Cusack and ghetto blaster from Say Anything … (1989); the restaurant orgasm scene in When Harry Met Sally (1989); the singing scenes in My Best Friend's Wedding (1997); of large chunks of both Meet the Parents (2000) and Meet the Fockers (2004); the telepathy themes of What Women Want (2000); the fated meetings and near-misses in Serendipity (2001); as well as Pretty Woman (1990), My Big Fat Greek Wedding (2002), How to Lose a Guy in 10 Days (2003) and the reality tv show The Bachelor (2002-5).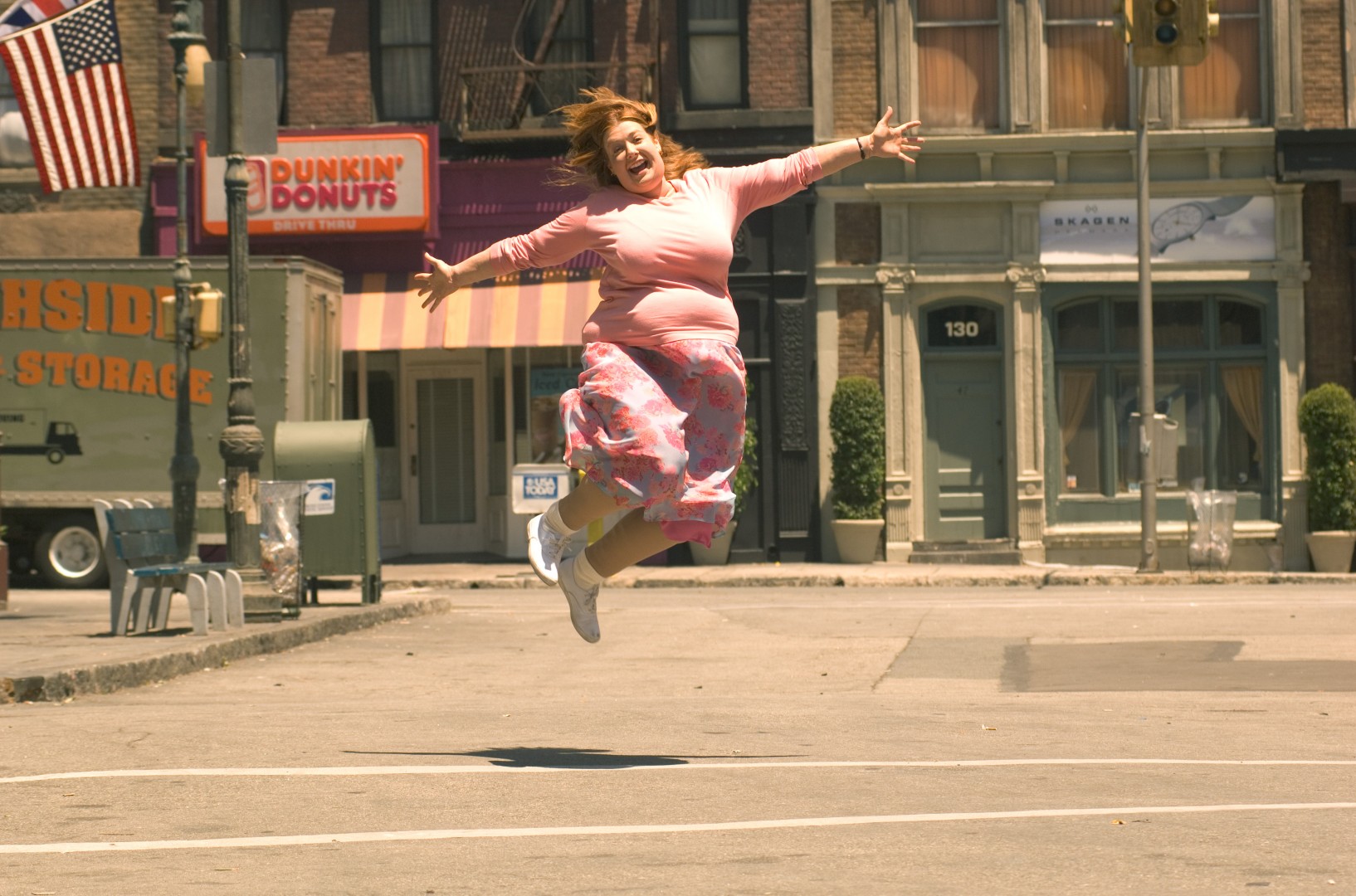 There are various other non-romantic movie quotes too – the fight scenes from Kill Bill Vol. 2 (2004), the therapy scenes in Mr. and Mrs. Smith (2005), while there is a Ben Stiller look-alike from Dodgeball: An Underdog Story (2004) and Josh Meyers turns up in the opening scene doing an uncanny parody of Jon Heder in Napoleon Dynamite (2004) and again at the end impersonating Owen Wilson in Wedding Crashers (2005). There are also snide jokes about Michael Jackson trying to lure children with Jesus Juice and the Britney Spears-Kevin Federline marriage.
There are even a number of genre in-references – during her makeover, Alyson Hannigan briefly turns into a Darth Vader out of Star Wars Episode III: Revenge of the Sith (2005); The Lord of the Rings trilogy – Frodo tries to trade the One Ring in at a jewellery store, while Gandalf gets kicked in the balls and cries "My precious"; and a parody of King Kong (2005) with a bikini-clad Carmen Electra being caressed by a giant hairy finger at the very end of the film.
The problem I had with Date Movie is that it plays more as a Spot the Reference trivia game than it ever does as a comedy. There have been movie parodies before – everything from Mad magazine to the films of Mel Brooks, tv's French and Saunders (1987-2017) and Airplane/Flying High (1980). All of these generally construct witty spoofs of their source material. Alas, the legacy that Scary Movie has given us is much more reduced than that – both Scary Movie and Date Movie seem to think that constructing a scene that quotes another film is reason enough in itself to be regarded as side-splittingly hilarious.
The one aspect missing in this seems to be the small thing of a gag to go along with the quote. Case in point being the Kill Bill parody here where Alyson Hannigan and Sophie Monk square off in a jewellery story waving swords and dressed respectively in Uma Thurman's yellow jumpsuit and Daryl Hannah's eyepatch – and that is the sum total of the gag; the parody of What Women Want, which is merely to have Alyson Hannigan suddenly reading everybody's thoughts for a couple of minutes; or the Dodgeball spoof, where a Ben Stiller lookalike turns up in a flashback and throws a ball. Simply mimicking a scene from another movie is not comedy. When Date Movie does take the time to construct a gag, it is lame – in the parody of Hitch, the date doctor is simple a foul-mouthed dwarf; or in the parody of The Bachelor, Adam Campbell eliminates the other contenders with a shotgun.
There is a good deal of crass comedy – a cat that sits on the toilet and makes excessive farting noises, many fat jokes and so on – although to Date Movie's credit, it never plumbs the depths that Scary Movie and sequels did. (Something you could never say about Jason Friedberg and Aaron Seltzer's subsequent films). The truth is that take away the movie quotes and there is nothing else to Date Movie. It is a film that has no existence outside of a body of other films. Alyson Hannigan is a talented performer – and she does well in some parts of the film, especially when playing the fat girl – but she deserves a better starring vehicle than this.
Jason Friedberg and Aaron Seltzer, along with many of the cast here, went onto to conduct the same sort of movie parody in the increasingly more awful Epic Movie (2007), Meet the Spartans (2008), Disaster Movie (2008), Vampires Suck (2010), The Starving Games (2013), Best Night Ever (2013) and Superfast! (2015), which all spoofed various films that came out in about the twelve months prior. Friedberg and Seltzer had also earlier written another film spoof with Spy Hard (1996).
---
---