---
Crew
Director – William F. Claxton, Screenplay – Don Holliday & Gene R. Kearney, Based on the Novel The Year of the Angry Rabbit by Russell Braddon, Producer – A.C. Lyles, Photography – Ted Voigtlander, Music – Jimmie Haskell, Visual Effects – Howard A. Anderson Co, Production Design – Stan Jolley. Production Company – MGM.
Cast
Stuart Whitman (Dr Ray Bennett), Rory Calhoun (Cole Hillman), Janet Leigh (Dr Gerry Bennett), DeForest Kelley (Elgin Clark), Melanie Fullerton (Amanda Bennett), Paul Fix (Sheriff Cody)
---
Plot
Arizona rancher Cole Hillman requests the help of scientists Ray and Gerry Bennett in trying to stop the infestation of rabbits on his land without resorting to the use of poisons. Ray comes up with the idea of using a hormone that interrupts the breeding cycle of the rabbits. However, his daughter unwittingly frees one of the infected rabbits. The hormone has unforeseen side effects and soon the entire area is overrun by a horde of rabbits grown to giant-size who turn on humanity with lethal results.
---
Night of the Lepus is a film that has attained a reputation as a genuine Golden Turkey. It was one of a number of films made during the 1970s influenced that came influenced by the success of The Birds (1963), which saw animals, insects and the whole of nature turning against humanity. In spirit though, it harkens back to the giant animals films of the 1950s.
Night of the Lepus is uniquely a film that sinks or swims dependent entirely upon the conviction of the creatures. Alas, it is a film that is stuck with the wholly ludicrous notion of trying to make the concept of giant rabbits work. Unfortunately for it, all that the giant rabbits do is sit there and look amiably inoffensive – they just don't seem threatening despite the film's attempts to make them seem so. The film just cannot escape this one ridiculous fact.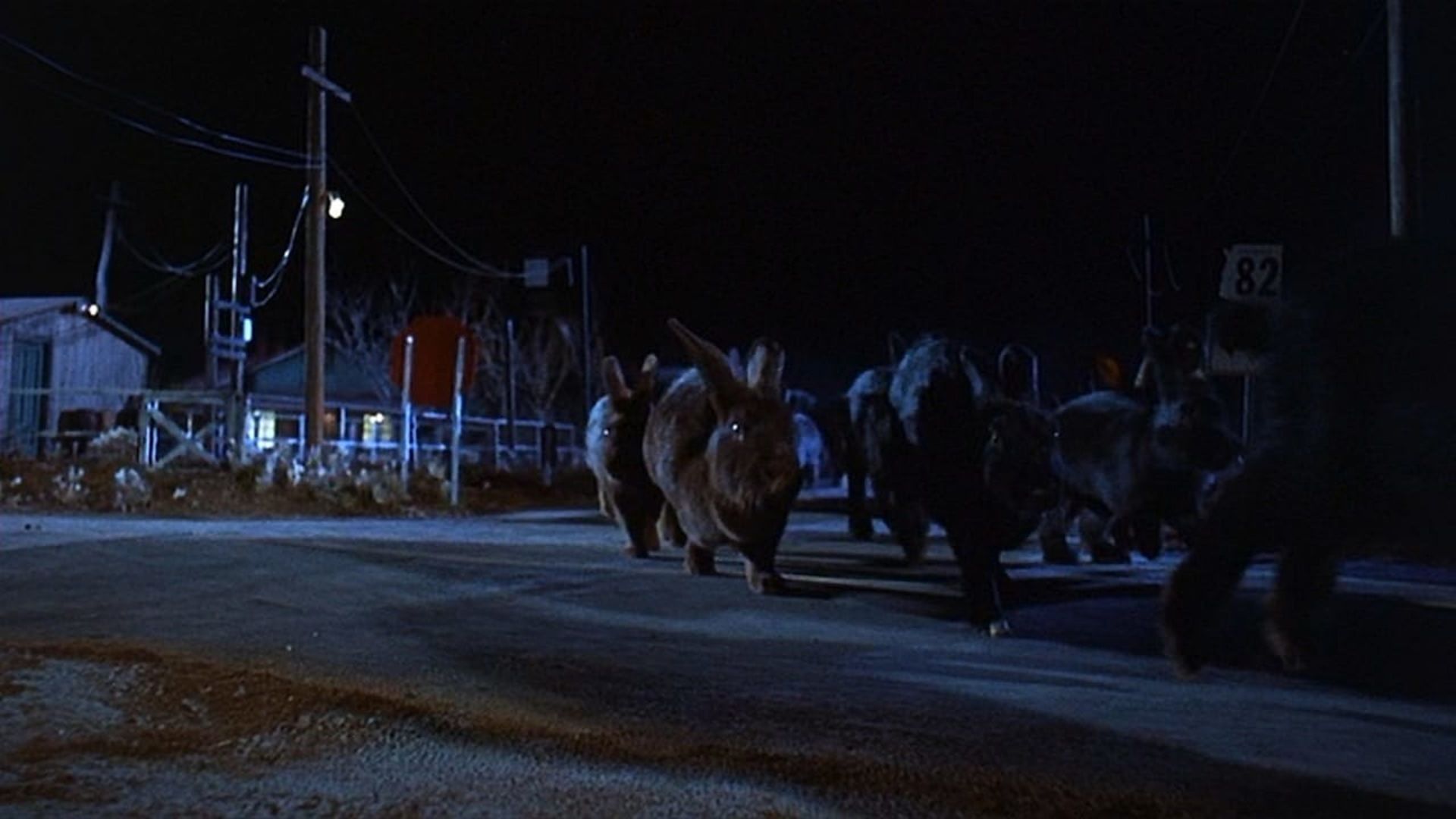 All the rabbits are represented by photographically blown-up bunnies loping about in slow-motion. Apart from a couple of scenes with them running past a pick-up truck or demolishing a kitchen, they rarely ever attain a sense of scale in relation to people. There are some gory scenes of them attacking people and cattle but it is micro-closeups we see of jaws, whenever see them in the same shot as the victims.
None of this is helped by lines of classically bad dialogue that include the immortal "Attention, there's a horde of killer rabbits headed this way," delivered by a deputy at a drive-in. There is a modestly convincing climax with the rabbits running across an electrified railway line and being electrocuted en masse.
William F. Claxton was a director who was mostly used to Westerns. He had made numerous episodes of tv shows such as Bonanza (1959-73), The High Chaparral (1967-71) and Little House on the Prairie (1974-83). He would never make another theatrically released film again after this.
---
---