---
Crew
Director – Hank Braxtan, Screenplay – Hank Braxtan, Tim Johnson, James Kondelik, Jon Kondelik & Ashley Scott Meyers, Story – Hank Braxtan & Tim Johnson, Producers – Arielle Brachfeld, Hank Braxtan, Anthony Clementi, James Kondelik & Jon Kondelik, Photography – Joel Hodge, Music – Chris Lott, Visual Effects – Steve Clarke & Paul Knott, Makeup Effects – Juli Hapney, Production Design – Amanda Hart. Production Company – Automatic Entertainment/Dual Visions.
Cast
Ricky Flowers (Cam), Donte Essien (Vurkel), Joston Theney (Denz), Motown Maurice (Pinball), Aurelia Michael (Neon), Tarkan Dospil (Beez Neez), Jon Kondelik (Ethan), Arielle Brachfeld (R.E.L.), Eric Erickson (Alley Jaws), Ray Chao (Yoon), Alison Jones (Ms Jones), Dan Sinclair (Homeless Bill), Elijah Braughman (Homeless Ted)
---
Plot
A snake falls out of a plane and lands in the streets of Compton, California. It is found by the nerdish Vurkel who takes it to his basement laboratory and experiments on it with the enlarging ray he has invented. Vurkel's housemates are a rap group who are preparing for their big audition with Uppercase Records. Their rehearsal is interrupted by the hoodlum Alley Jaws who demands repayment of the money he loaned them. In the midst of a fight between Alley and the lead singer Cam, the snake gets loose. At the same time, the corrupt cop Denz takes the rookie Ethan out on his training day. They happen by just as Cam picks up a gun and they arrest Cam. The others decide the only option is for them to conduct a robbery of a convenience store to get the money to bail Cam out so they can make it to the audition. However, the snake has grown to giant-size and is now amok in the neighbourhood.
---
The rap horror film does not have a very good reputation. One need look no further than Da Hip Hop Witch (2000), which counts as surely as one of the worst films of the 2000s. And there are other less than exactly outstanding examples such as Leprechaun in the Hood (2000) and Snoop Dogg's Hood of Horror (2006).
Snake Outta Compton has been conceived as a parody film in the same vein as Scary Movie (2000) and sequels. As the title suggests, the principal target is Straight Outta Compton (2015) and its true-life tale of rappers looking for the big break. As with a bunch of zombie and killer shark films of recent, the idea has been to mimic that success but with the addition of a monster and a pun on the original's title.
On top of this has been thrown a bunch of quotes/parodies of other films of recent, in almost all cases of ones featuring African-Americans. The opening scene has a plane fly by with a voiceover delivering Samuel L. Jackson's classic line "Get these motherfucking snakes off this motherfucking plane" from Snakes on a Plane (2006) as the snake comes flying down to the ground.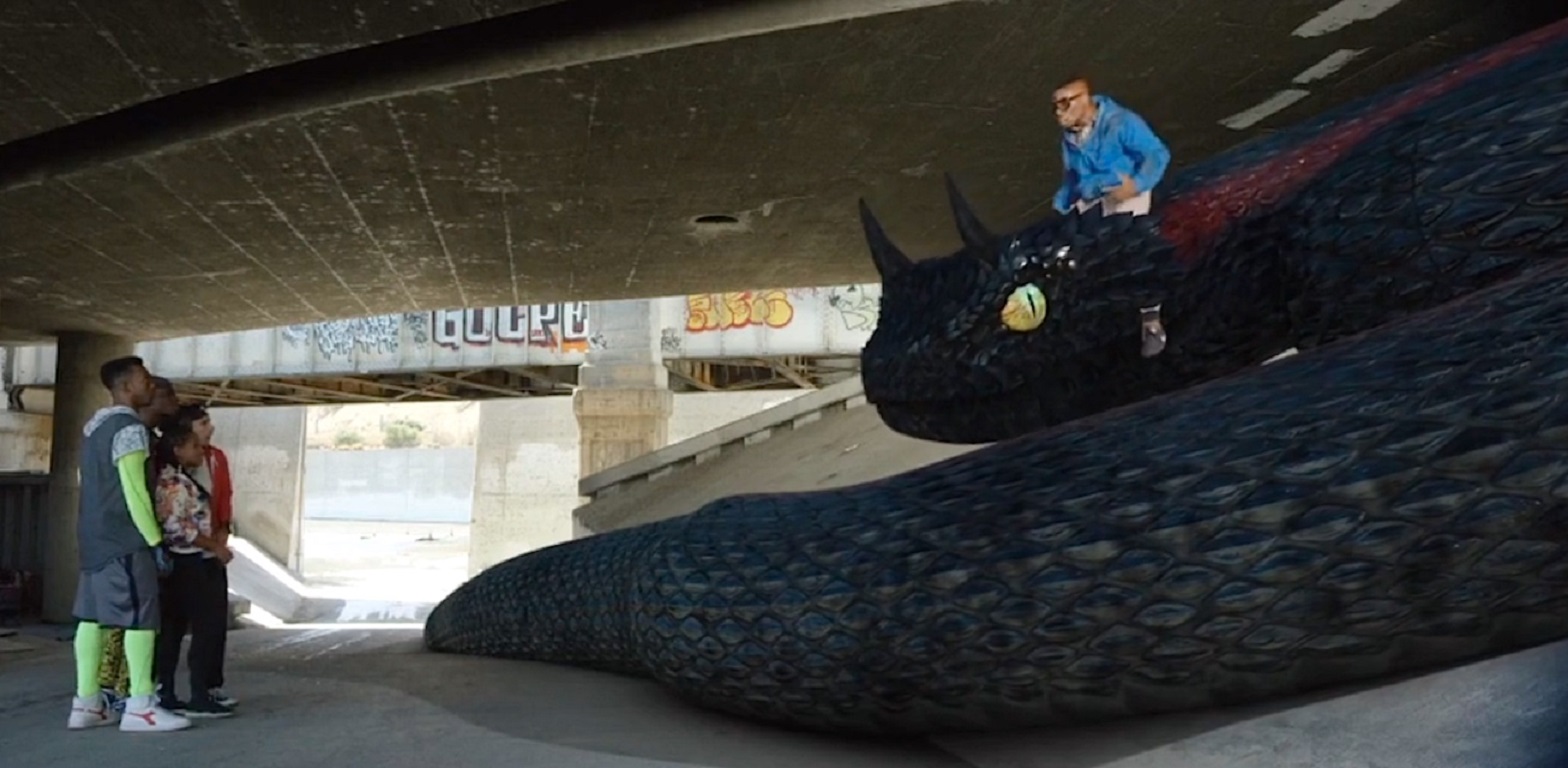 Elsewhere, Joston Theney and Jon Kondelik play the equivalent of Denzel Washington and Ethan Hawke in a parody of Training Day (2001); Donte Essien plays a character based on Jaleel White's Steve Urkel from tv's Family Matters (1989-97); Alison Jones conducts a spoof of Tyler Perry's Madea; and there are other spoofs thrown in the direction of the House Party films and Speed (1994); while the scene with Korean convenience store owner who is begging to be robbed seem to have been intended as a parody of Falling Down (1993).
You might think that all of this is a parody made by the African-American community, spoofing its own breakout hits and characters. The reality could not be further from the truth in that of the seven names that fill out the film's principal creative spots (director, writers and producers) every single one of them is a white dude plus one white girl. All of which puts a film that sets out to make fun of African-American culture into a very dubious position, especially when every African-American character on screen is played as a moron. The film gets its laughs out of them speaking in a nonsensical babble of gangsta-speak or as inept hoodlums and wannabe rappers. Even aside from its highly dubious racial caricaturing, the film is shabbily made, containing some of the worst digital effects (to represent the snake) that one has seen in the last few years.
Snake Outta Compton was the fifth film for Hank Braxtan, a former soldier turned filmmaker who had previously made the home movie Return of the Ghostbusters (2007) and assorted low-budget horror films with Blood Effects (2011), Chemical Peel (2014), Unnatural (2015) and the subsequent Dragon Soldiers (2020), Jurassic Hunt (2021) and Dead Zone (2022). Braxtan is married to Arielle Brachfeld who here co-produces the film and appears on screen. For some reason, the film is executive produced by Mike Mendez, the director of Big Ass Spider! (2013), Lavalantula (2015) and Don't Kill It (2016), among others.
(Winner in this site's Worst Films of 2018 list).
---