---
Crew
Directors – Henry Joost & Ariel Schulman, Screenplay – Mattson Tomlin, Producers – Eric Newman & Bryan Unkeless, Photography – Michael Simmons, Music – Joseph Trapanese, Visual Effects Supervisor – Ivan Moran, Visual Effects – Distillery VFX (Supervisor – David Bowman), Eastside Effects, Framestore (Supervisors – Shawn Hillier, Joao Sita & Matthew Twyford), Image Engine (Supervisor – Thomas Schelesny), Outpost VFX (Supervisor – James Rustad) & Territory Studio Inc., Special Effects Supervisor – Yves DeBono, Makeup Effects – Prosthetic Renaissance Inc., Production Design – Naomi Shohan. Production Company – Supermarché Productions.
Cast
Jamie Foxx (Art/The Major), Joseph Gordon-Levitt (Detective Frank Shaver), Dominique Fishback (Robin Reilly), Rodrigo Santoro (Biggie), Andrene Ward-Hammond (Irene Reilly), Courtney B. Vance (Captain Craine), Amy Landecker (Gardner), Kyanna Simpson (Tracy), Tait Fletcher (Wallace), Allen Maldonado (Landry), Rose Bianco (The Matriarch), Jazzy De Lisser (Candy aka Frozen Woman)
---
Plot
A new drug Power is released free onto the streets of New Orleans. Power grants the user a superpower for five minutes, although this can be completely random – for some it super-speed and physical transformation abilities, while it can cause others to explode. In an effort to find the source of Power, police detective Frank Shaver has befriended Robin Reilly, a high-school student with ambitions of being a rapper who has turned to dealing to pay for her mother's medical bills. Also attempting to trace the source of Power is The Major. The Major tracks down the dealer Newt but in the fight between them Newt is killed in a pyrokinetic explosion after taking a pill. The Major traces Robin from Newt's phone contacts and abducts her in an effort to find the source. She gradually thaws to him, seeing he is only trying to find his daughter who has been snatched by the people who created Power. The Major, Frank and Robin come together and cooperate in trying to track down the group who are using the people of New Orleans as unauthorised test subjects to perfect the drug.
---
Project Power was the fifth directorial outing for the duo of Henry Joost and Ariel Schulman who first appeared with the Found footage film Catfish (2010) and then went to work with Blumhouse making Paranormal Activity 3 (2011) and Paranormal Activity 4 (2012). They subsequently left Found Footage behind and made the social media thriller Nerve (2016) and the Blumhouse horror Viral (2016) and subsequent to this the superhero film Secret Hedquarters (2022).
The script comes from Mattson Tomlin who had previously directed The Projectionist (2008) and Solomon Grundy (2012) about an imaginary companion, neither film being widely seen. The script for Project Power resulted in a bidding war and gained Tomlin a name as a screenwriter. On the basis of this, Tomlin has also written the script for Little Fish (2020) about a worldwide plague of amnesia and was given the funding to direct Mother/Android (2021).
The superhero film has been with us since the 1940s, in a big way at least since the 1970s. Since the early 2000s at least, cinema screens have been dominated by the exploits of assorted Marvel and belatedly DC Comics superheroes. There have been very few occasions where we have seen any original superhero films that have not come from comic-book adapted properties. (For an overview of the genre see Superhero Films).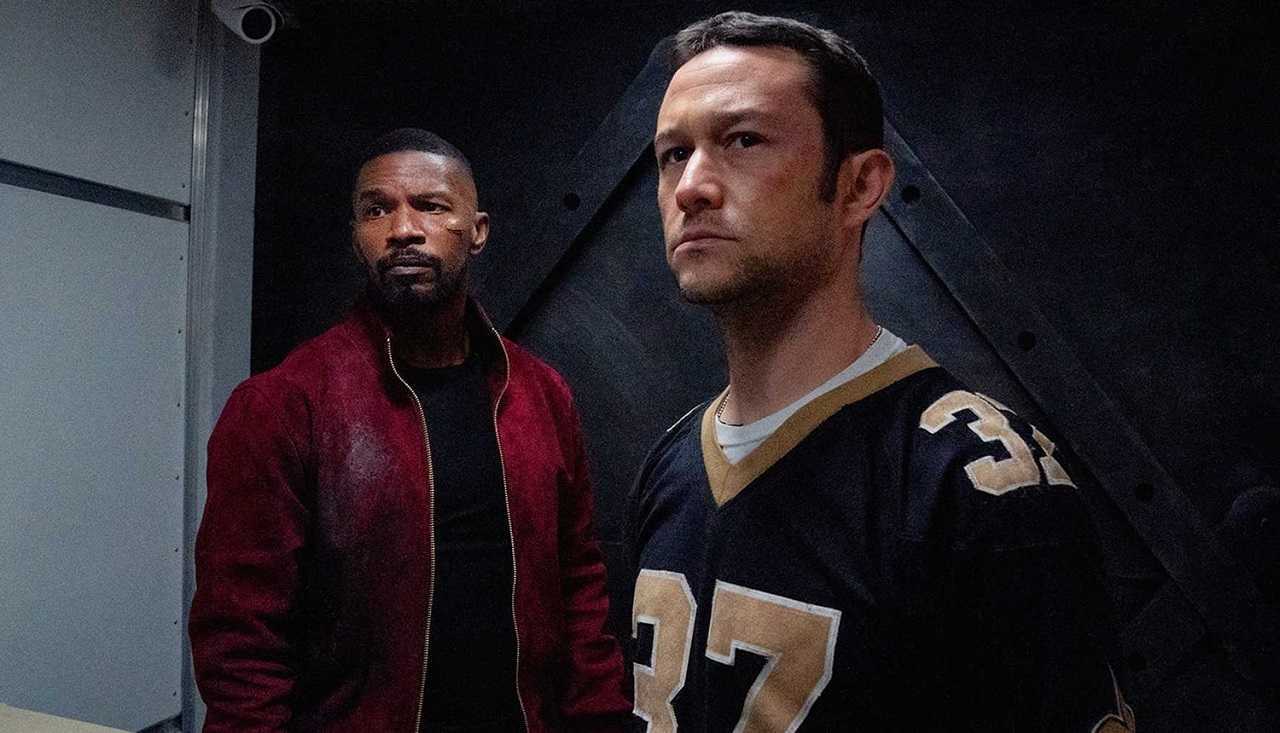 Amidst this, Project Power (an ungainly title that made me think at first glance that it was a sports movie rather than a superhero film), comes with an ingenuity – the idea of a drug that gives users superpowers for five minutes only. (Although I do quibble with the five minutes thing – in one scene, we see Allen Maldonado who gains the ability to chameleon-shift where he has not only managed to take hostages in a bank, the police have arrived and surrounded the building and are engaged in a jurisdictional battle, while Maldonado makes a getaway, engages a fight with Joseph Gordon-Levitt on the street and manages to escape onto a street car all within a five minute timeframe. In actuality, you'd be surprised if all parties could manage to coordinate such in the space of an hour).
Nevertheless, the idea is a highly original one that seems filled with possibilities. I would have loved to have seen some of the other possibilities mentioned – drug users taking out entire police stations or speedsters out-racing police cars. In terms of what they do show, Joost and Schulman mount the film a series of spectacular effects set-pieces. There is a great scene not far in where Jamie Foxx pursues/fights Colson Baker through a drug den as Baker turns into a human torch before Foxx douses him under a shower.
Not long after, there is another fine sequence (mentioned above) with Joseph Gordon-Levitt pursuing Tait Fletcher through the street as Tate chameleon-shifts into the colours of everything he encounters. The special effects in these scenes are highly impressive. Although the best of these is the climactic scene where Jamie Foxx takes a pill and blasts away a mass of bad guys in a massive eruption of energy.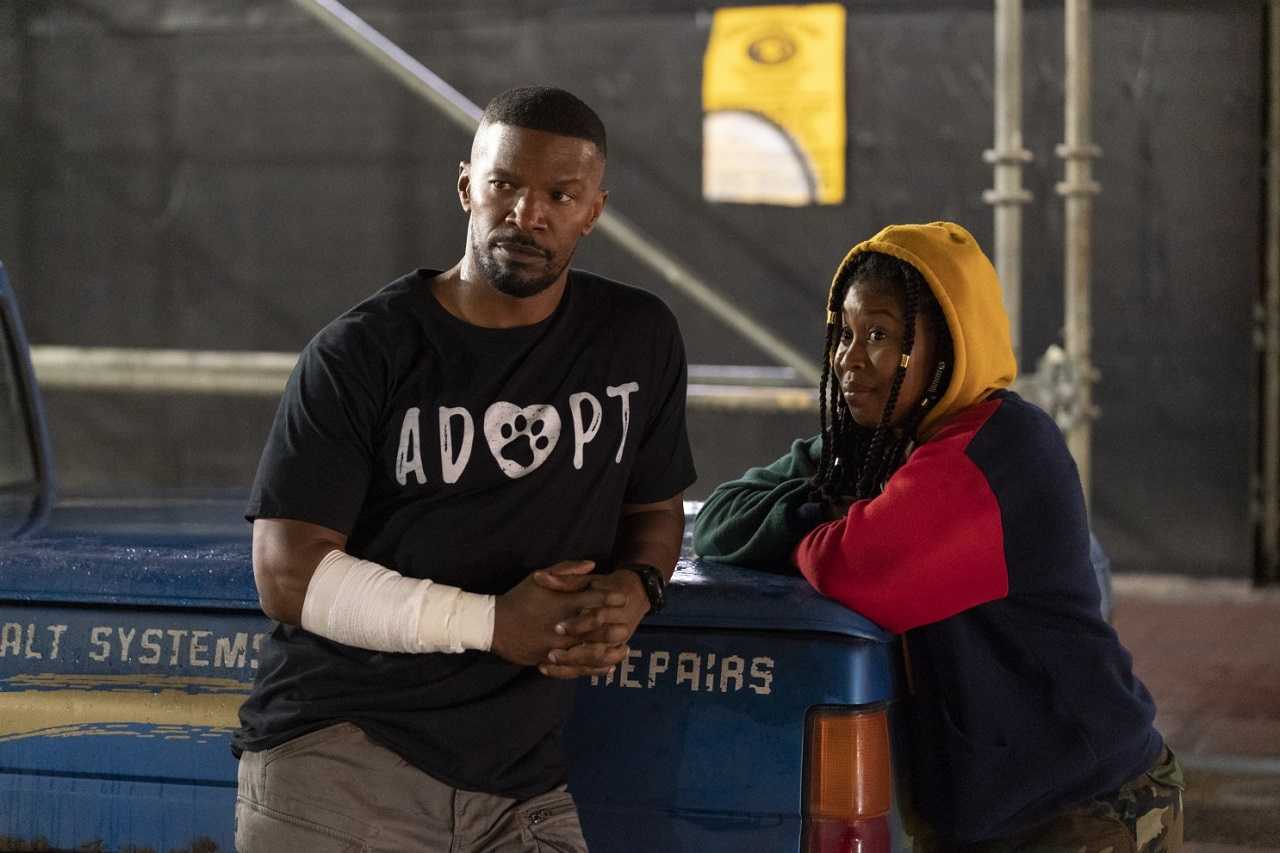 One of the more unique touches is how the film is set in the social underside of New Orleans amid drug dealers and ghetto neighbourhoods. The world of drug dens, street dealers, apartment projects and promising students turned to dealing as a way of paying medical bills seems not only a whole world away from but an entirely different socio-economic strata to the MCU and DC films where The Avengers live in apartment towers provided by arms billionaire Tony Stark or Batman happens to be independently wealthy and able to outfit himself with all the gadgets he needs. Even when the MCU tries to delve into African-American social issues, all we get is Black Panther (2018) with Chadwick Boseman fighting over a mythical African kingdom that has magically highly advanced technology.
Joost and Schulman portray this world with colour and verisimilitude – it often feels like we are in a superhero film by way of one of the 'hood films of John Singleton or Antoine Fuqua. There is the occasional scene where you suspect that the realism of the world is trumped by Joost and Schulman's desire to visually show off. The opening scene where Joseph Gordon-Levitt breaks up one of Dominique Fishback's deals is distractingly framed by a lit-up Ferris Wheel overhead, or where Colson Baker's drug den exists in an improbably more real-than-the-real-thing version of a ghetto apartment block that has been graffitied to the point it looks like an art installation.
Amidst this, the one find of the film is Dominique Fishback (who despite being cast as a teenager is actually 29 years old) who comes with a wonderfully ebullient energy that lights up every scene she is in. Not to mention the various scenes where she gets to rap that end up stealing the show (and this is being said by someone who isn't a fan of rap).
(Winner for Best Supporting Actress (Dominique Fishback), Nominee for Best Special Effects at this site's Best of 2020 Awards).
---
---