---
Crew
Directors – Henry Joost & Ariel Schulman, Screenplay – Christopher Landon & Barbara Marshall, Producers – Jason Blum, Sherryl Clark & Matt Kaplan, Photography – Madalena Gorka, Music – Rob Simonsen, Visual Effects Supervisor – Eddie Pasquarello, Visual Effects – Cyborg Ant, Industrial Light and Magic, Legion Studios (Supervisor – James David Hattin), Special Effects Supervisor – Bart Dion, Makeup Effects – Fractured FX, Production Design – Chris Trujillo. Production Company – Blumhouse/Busted Shark.
Cast
Sofia Black D'Elia (Emma Drakeford), Analeigh Tipton (Stacey Drakeford), Travis Tope (Evan Klein), Michael Kelly (Michael Drakeford), Colson Baker (CJ), Jhn Cothran, Jr. (Alan Toomey), Stoney Westmoreland (Bill), Linzie Gray (Gracie Lemay)
---
Plot
Teenager Emma Drakeford and her older sister Stacey have just moved to California where their father has taken a job as the school's biology teacher. As their father drives to the airport to pick their mother up, there are reports of an outbreak of Worm Flu and he is caught up as a quarantine zone is imposed. TV broadcasts urge everybody to stay inside and the military distribute rations door to door. It soon becomes apparent that the zombified infected are being controlled by a parasite that drives their body to infect others. As the whole neighbourhood descends into chaos, Emma realises that Stacey has become infected. She decides to lock Stacey up and seeks to find a means to remove the parasite inside her.
---
Viral – not to be confused with V/H/S: Viral (2014) – is another production from the near-ubiquitous Blumhouse Productions (see below). Viral was the fifth directorial outing for the duo of Henry Joost and Ariel Schulman who first appeared with Catfish (2010) and then went on to work with Blumhouse making Paranormal Activity 3 (2011) and Paranormal Activity 4 (2012). Premiering only two weeks before this, Joost and Schulman had a moderate hit with the social media thriller Nerve (2016). They subsequently went on to make the superpowers film Project Power (2020) and the superhero film Secret Hedquarters (2022), as well as produced the tv mini-series The Watcher (2022).
The film is co-written by Christopher Landon who wrote Blood and Chocolate (2007), Disturbia (2007), and then joined Blumhouse to write Paranormal Activity 2 (2010), Paranormal Activity 3 and Paranormal Activity 4, before making his directorial debut with Paranormal Activity: The Marked Ones (2014) and going on to Scouts Guide to the Zombie Apocalypse (2015), Happy Death Day (2017), Happy Death Day 2U (2019), Freaky (2020) and We Have a Ghost (2023).
Viral starts well. Joost and Schulman create teen characters that are effectively drawn without giving the feel that the film is trying to be too edgy or the mistake that many teen-starring films do in playing to young, good-looking leads. This leads to some rather funny scenes as the catastrophe kicks in with the teens regarding the emergency announcements (cleverly re-edited footage from Obama news conferences) as 'boring' or Colson Baker fooling around and complaining about having to eat the emergency rations.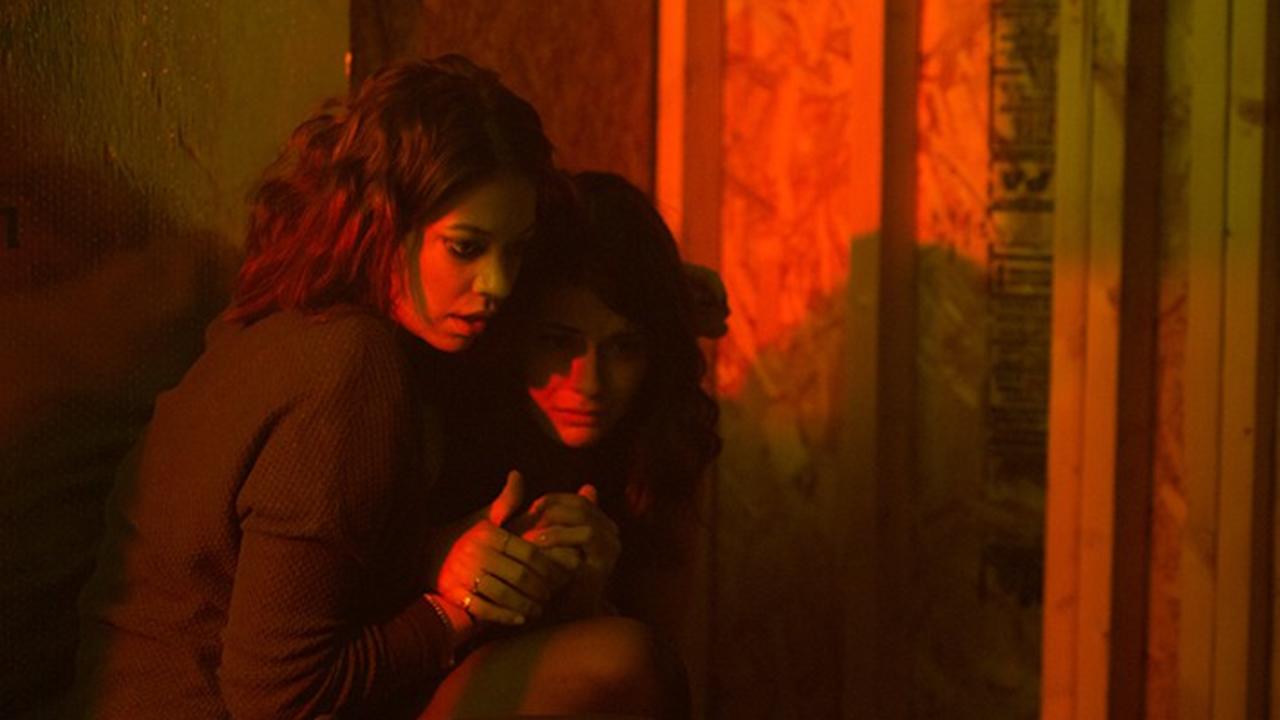 Once the outbreak begins, the film starts to travel into overly familiar areas that have been staked out by the plague outbreak drama – see films such as Outbreak (1995), Contagion (2011) and Flu (2013). Joost and Schulman let it work with some effect. Just as much, Viral also confounds expectations of genre pigeonholing – it is a plague outbreak drama but not quite; it is a zombie film but not quite that either. You assume that you are watching a zombie film up until the striking scene where Stoney Westmoreland bursts into the house and comes after them and we then see the tentacles of the worm-like parasites wriggling out of his ears guiding him.
The latter third of the film heads in the interesting direction of Sofia Black D'Elia conducting an experiment to remove the parasite from Analeigh Tipton. This is not a great or groundbreaking film but it is modest and worthwhile one that takes things in some interestingly original directions.
Jason Blum and his Blumhouse production company have produced a number of other genre films including:- Hamlet (2000), Paranormal Activity (2007) and sequels, Insidious (2010) and sequels, Tooth Fairy (2010), The Bay (2012), The Lords of Salem (2012), The River (tv series, 2012), Sinister (2012) and sequel, Dark Skies (2013), Oculus (2013), The Purge (2013) and sequels, the tv mini-series Ascension (2014), Creep (2014), Jessabelle (2014), Mercy (2014), Mockingbird (2014), Not Safe for Work (2014), Ouija (2014) and sequel, 13 Sins (2014), The Town That Dreaded Sundown (2014), Unfriended/Cybernatural (2014), Area 51 (2015), The Boy Next Door (2015), Curve (2015), The Gallows (2015), The Gift (2015), Jem and the Holograms (2015), The Lazarus Effect (2015), Martyrs (2015), Visions (2015), The Visit (2015), The Darkness (2016), Hush (2016), Incarnate (2016), The Veil (2016), Amityville: The Awakening (2017), Get Out (2017), Happy Death Day (2017), The Keeping Hours (2017), Split (2017), Stephanie (2017), Bloodline (2018), Cam (2018), Delirium (2018), Halloween (2018), Seven in Heaven (2018), Truth or Dare (2018), Upgrade (2018), Black Christmas (2019), Ma (2019), Prey (2019), Don't Let Go (2019), Sweetheart (2019), Black Box (2020), The Craft: Legacy (2020), Evil Eye (2020), Fantasy Island (2020), Freaky (2020), The Hunt (2020), The Invisible Man (2020), Nocturne (2020), You Should Have Left (2020), Black As Night (2021), The Black Phone (2021), Dashcam (2021), Firestarter (2022), M3gan (2022), Mr Harrigan's Phone (2022), Nanny (2022), Soft & Quiet (2022), Run Sweetheart Run (2022), Sick (2022), They/Them (2022), Torn Hearts (2022), Unhuman (2022), The Exorcist (2023), Five Nights at Freddy's (2023) and There's Something Wrong With the Children (2023).
---
---