---
Crew
Director/Screenplay/Photography – Robert Rodriguez, Producers – Racer Max & Robert Rodriguez, Music – Rebel Rodriguez, Visual Effects Supervisor – Charlie Iturriaga, Visual Effects/Animation – Industrial Light and Magic (Supervisor – David Seager), Mr. Wolf VFX (Supervisor – John Pierce), Ollin VFX, Refuge (Supervisor – Fred Ruff), Rodeo FX (Supervisor – Ara Khanikian), Verve Digital Technologies (Supervisor – Rupesh Gujar) & Weta Digital Limited (Supervisor – Daniel MacArin), Special Effects Supervisor – Bob Trevino, Production Design – Caylah Eddleblute & Steve Joyner. Production Company – Double R Productions.
Cast
YaYa Gosselin (Missy Moreno), Lyon Daniels (Noodles), Andy Walken (Wheels), Hala Finley (Ojo), Vivien Blair (Guppy), Dylan Henry Lau (Slo-Mo), Isaiah Russell-Bailey (Rewind), Akira Akbar (Fast Forward), Nathan Blair (Wild Card), Lotus Blossom (A Capella), Andrew Diaz (Facemaker), Priyanka Chopra Jonas (Ms Granada), Pedro Pascal (Marcus Moreno), Adriana Barraza (Grandma Moreno), Boyd Holbrook (Miracle Guy), Christian Slater (Tech-No), Christopher McDonald (President Neil Anami), Taylor Dooley (Lavagirl), Sung Kang (Blinding Fast), JJ Dashnaw (Sharkboy), Haley Reinhart (Ms. Vox)
---
Plot
A flotilla of alien ships appears in Earth orbit. The superheroes Miracle Guy and Tech-No go to confront them and are immediately defeated. The superhero organisation Heroics orders every superhero into action against the threat. Missy Moreno is upset to find that this includes her father who had promised her he would stay off active duty. She and all the other children of the superheroes are taken to safety at an underground bunker at Heroics Hq. There Missy finds that she is the only one of the group who does not have powers of their own. They are dismayed to watch on tv as their parents are defeated and captured by the aliens. The aliens then issue a demand that Earth surrender to them in three hours' time. One of the children Ojo creates drawings that predict the future and these reveal that the aliens are about to attack the bunker. Missy decides that they cannot stand by and organises the group to break out. They set off to rescue their parents, first diverting to visit Missy's grandmother in order to train them. Arriving on the alien ship, they discover that defeating the alien threat requires them to learn how to work together as a team.
---
Robert Rodriguez first emerged as director with his self-financed Western homage El Mariachi (1993). This gained acclaim and Rodriguez reworked the film on a bigger budget as Desperado (1995). He then went on to make From Dusk Till Dawn (1996), The Faculty (1998), Spy Kids (2001) and sequels, Sin City (2005), the Planet Terror (2007) segment of Grindhouse and Machete (2010), among other works. (See below for a full list of Robert Rodriguez's genre films). Throughout these, Rodriguez has revealed himself as a workaholic, frequently fulfilling multiple tasks behind the camera on every film. He has built his own studio Troublemaker Studios in Austin, Texas, which even has its own in-house digital effects facility.
The latter half of the 2010s proved to be a major slowing down for Rodriguez. This was the period he entered his fifties so you are tempted to speculate it might well have been due to workload burnout. Whereas the 2000s saw several years where Rodriguez was releasing two films a year, the six years between 2014 and 2020 saw him only releasing two films in all – the big-budget James Cameron collaboration Alita: Battle Angel (2019), which arrived like a damp squib, and another low-budget home production Red 11 (2019), which has yet to receive wide release outside of film festivals at the point We Can Be Heroes was released.
Alita: Battle Angel felt like Rodriguez was out of his element taking on a massively budgeted, CGI-heavy studio production. We Can Be Heroes feels like it was made as therapy to clean that from his system. It is Rodriguez back doing what is familiar to him – making another on-the-fly children's film. It is another home production made with most of his family (four of his five children) – son Racer Max co-produces, while son Rebel composes the score, daughter Rogue designs the aliens and daughter Rhiannon creates Ojo's drawings.
We Can Be Heroes also becomes the fourth concurrent film series that Robert Rodriguez has running. There's the Spy Kids series, currently incarnated as an animated tv series; Sin City for which Rodriguez has promised a third film; the Machete series for which Machete in Space has been promised for most of the 2010s; and now We Can Be Heroes, which is a quasi-sequel to The Adventures of Sharkboy and Lavagirl in 3D (2005) (and to no surprise was announced by Netflix as having its own sequel a week after it premiered). If you counted the recently ended From Dusk Till Dawn (2014-6) tv series, you could call that a fifth series, while the El Mariachi/Desperado films would make a sixth series but Rodriguez seems to brought that to a natural end in 2003. Indeed, other than studio films like The Faculty and Alita, that makes Planet Terror and Shorts (2009) the only of his films that Rodriguez hasn't spun out as a series.
We Can Be Heroes is only a loose sequel to Sharkboy and Lavagirl. It features return appearances of Sharkboy and Lavagirl in supporting roles and the introduction of their child (Vivien Blair who proves a scene-stealer with her 'shark frenzy' attacks). Only one of the actors returns from the first film, a now grown-up Taylor Dooley. In the original film, Sharkboy was played by an unknown thirteen year-old Taylor Lautner who is presumably now too busy, has too high an asking price or considers returning for a Robert Rodriguez home movie to be beneath him since becoming an A-lister with the Twilight films. He is replaced by JJ Dashnaw who has been stuntman/coordinator on Rodriguez's films since 2001.
We Can Be Heroes has the same scrappy, home movie quality of most of Rodriguez's kids films. Sometimes what results with these films is too bitsy and never amounts to a fully satisfying film. As with the last two Spy Kids films. We Can Be Heroes recycles the essentials of the first Spy Kids film with a plot where the adults are captured and the kids are needed to go into action to save the day.
The title appears to be because Rodriguez obtained the rights to use the David Bowie song "Heroes" (1977). Bowie was writing about two defiant lovers against the backdrop of the Berlin Wall; this being a kid's film means that Rodriguez dumps all the lyrics about kissing in the shadow of the Wall and analogies to kings, queens and dolphins swimming, in fact stripping everything down to just repeating the refrain "We can be heroes/Just for one day."
Alita was made on a $170 million budget and while I can't find a figure for We Can Be Heroes, it feels like it was made for a tenth of that (or considerably less). However, We Can Be Heroes has one thing that Alita didn't – a sense of fun. As with the Sky Kids films, there is a good deal of amusement seeing the kids in action as superheroes with a variety of superpowers that range from extending body parts, running in slow-motion, rewinding/fast forwarding events, doing etch-a-sketch drawings that predict the future, creating shapes out of water and so on.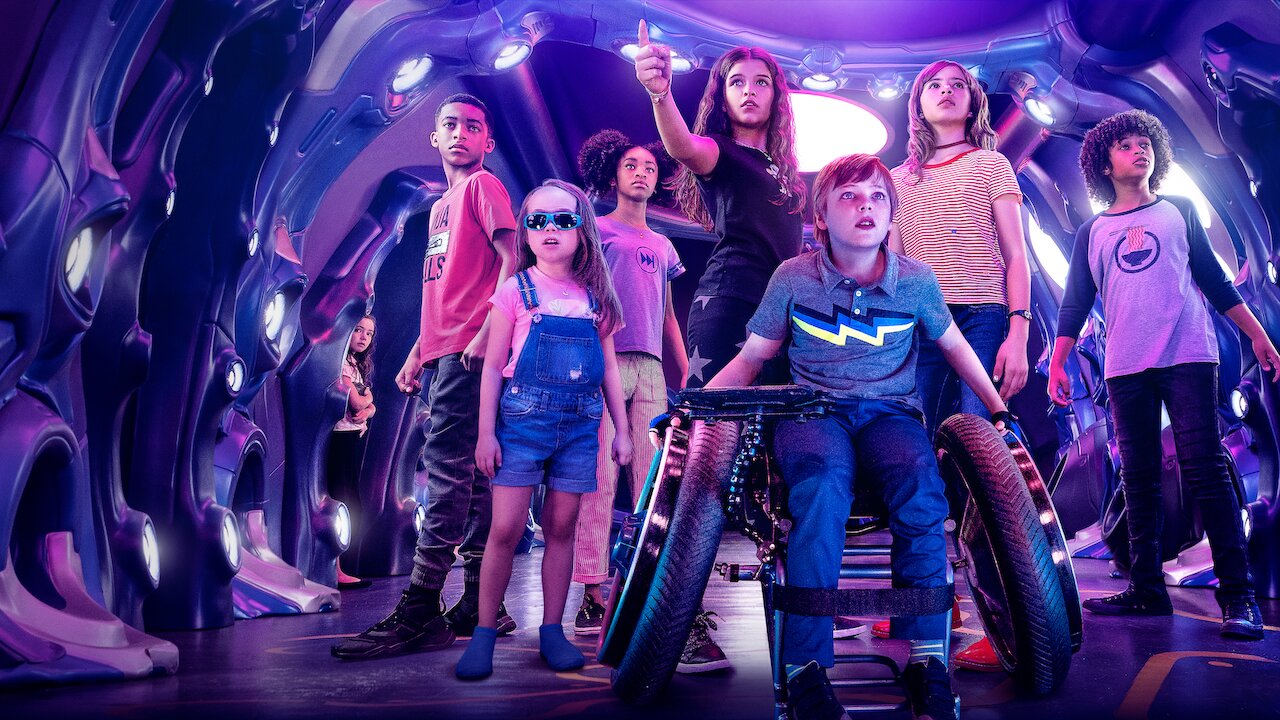 In that the Spy Kids films were premised on kids doing spy things, one is tempted to call this Superhero Kids. On the other hand, the kids doing adult things is not quite as clever and cute as it was in the Spy Kids films due to the fact that the market for the Superhero Film has been so oversaturated in recent years that it is hard to come up with a new type of superpower that hasn't been done before. Even so Noodles resembles Plastic Man/The Elongated Man; Ojo's predictive sketches was done by the character of Isaac Mendez in tv's Heroes (2006-10); Blinding Fast is a variant on The Flash etc.
That said, there is an enormous amount of sheer fun being had in the various scenes with the kids combining their powers and escaping from the bunker (by climbing up the bodies of security guards who have been levitated in mid-air like stepping stones); the escape on the levitated bus with Noodle's stretchy arms used to turn direction by grabbing onto a pole; and the various scenes running around the alien ship.
I am not entirely sure if the big end reveal [PLOT SPOILERS] – that there was no alien invasion, this was all just a big test to allow the kids to prove they are worthy to inherit the roles of superheroes – would fly in any real world setting. Whatever value such a ruse could hardly make up for the absolute terror and mass panic that would go around the world upon learning that there was three hours before an imminent alien takeover of Earth. Not to mention, I'd be feel a little dubious about the world being defended by a group of kids whose sole training for the job consisted of some exercises that took place in well under a three hour timeframe.
Robert Rodriguez's other films of genre interest are the vampire/getaway thriller From Dusk Till Dawn (1996); the witty teen body snatchers film The Faculty (1998); the juvenile spy adventure Spy Kids (2001) and sequels Spy Kids 2: Island of Lost Dreams (2002), Spy Kids 3-D: Game Over (2003) and Spy Kids: All the Time in the World (2011); the children's film The Adventures of Sharkboy and Lavagirl in 3-D (2005); the graphic novel adaptation/film noir pastiche Sin City (2005) and Sin City: A Dame to Kill For (2014); the zombie film Planet Terror (2007), half of the Quentin Tarantino collaboration Grindhouse (2007); the children's film Shorts (2009); Machete Kills (2013), a sequel to his earlier Mexican-themed action film that frequently enters into science-fiction territory; the manga adaptation Alita: Battle Angel (2019); and Red 11 (2019), a mind-bending work set during an experimental drug trial. Rodriguez has also produced From Dusk Till Dawn 2: Texas Blood Money (1999), From Dusk Till Dawn 3: The Hangman's Daughter (2000) and Predators (2010), as well as developed the tv series From Dusk Till Dawn (2014-6).
---