---
Crew
Director – Mark L. Lester, Screenplay – Mark Sevi, Producers – Dana Dubovsky & Mark L. Lester, Photography – George Mooradian, Music – John Dickson, Visual Effects – Worldwide FX (Supervisor – Simeon Asanov), Pyro Effects Supervisor – Jiri Berger, Mechanical Creature & Puppet Effects – Creature Effects Inc., Production Design – Olga Rosenfelderova. Production Company – American World Pictures/Sci Fi Pictures.
Cast
Cameron Daddo (Dr Michael Lovecraft), Coolio (Captain Bergen), Amy Sloan (Kate Heinlein), Mircea Monroe (Angie Lem), Steve Braun (Willis Bradbury), Ivo Cutzarida (Yolen), Jessica Ferrarone (Zelazny), George Calil (Serling), Howie Lotker (Jason Donaldson), Danna Lee (Gwen Kemper)
---
Plot
A volcanic eruption at Mount Arana in Northern Turkey unearths a series of prehistoric eggs, which hatch into pterodactyls. Palaeontologist Dr Michael Lovecraft leads a group of students on an expedition to explore Mount Arana. The group suddenly find themselves attacked by the pterodactyls. At the same time, Captain Bergen is leading a Black Ops troupe of US marines on a hunt to find the leader of a group of Armenian rebels hiding in the forest. Lovecraft's party and the marines are forced together as the pterodactyls decimate their numbers. When Lovecraft's assistant Kate Heinlein is abducted by the pterodactyls, Lovecraft must venture into their nest to rescue her.
---
Pterodactyl is a film that has B-budget direct-to-dvd release written all over it. It is the sort of monster movie that a number of direct-to-dvd companies have made a great many of since the late 1990s – see the likes of Mosquito (1995), King Cobra (1999), Komodo (1999), Crocodile (2000), Octopus (2000), Python (2000), Spiders (2000), Fangs (2001), New Alcatraz/Boa (2002), Boa vs Python (2004), Attack of the Sabretooth (2005), Cerberus (2005), Larva (2005), Mansquito (2005), Kraken: Tentacles of the Deep (2006), Mammoth (2006) and Minotaur (2006) and numerous others. It has been cast with relative unknowns, the effects produced by digital effects houses that no-one has heard of before and everything shot on the cheap in the Czech Republic.
Director Mark L. Lester emerged in the 1970s, attaining notoriety with the violent revenge film Class of 1984 (1982) and action films like Commando (1985), Armed and Dangerous (1986) and Showdown in Little Tokyo (1991). Lester has made several ventures into genre material with the Stephen King adaptation Firestarter (1984), the android schoolteachers film Class of 1999 (1990), the psycho-thriller The Ex (1997), the hilarious psycho Misbegotten (1997) about a psychopathic sperm donor, the thriller Sacrifice (2000) about an escaped con hunting a serial killer, Groupie (2010) about murders on a band's comeback tour, the monster movie Poseidon Rex (2013) and the Arthurian fantasy Dragons of Camelot (2014).
Screenwriter Mark Sevi has gained a name with his scripts for his science-fiction or action films down the direct-to-video/dvd end of the market with the likes of Class of 1999 II: The Substitute (1994), Ghoulies IV (1994), Scanner Cop II: Volkin's Revenge (1995), Serial Killer (1995), Sci-Fighters (1996) and Arachnid (2001).
All of that said, and while acknowledging that it is a perfectly formulaic B-budget CGI monster movie, Pterodactyl emerges as a surprisingly modest and likeable. The visual effects are reasonably competent. Mark L. Lester does a decent job in staging the various pterodactyl attacks. There is a cool intro where a group of hunters are walking across an open grass plain, the shadow of a pterodactyl appears overhead and then one of the hunters is instantly torn apart, leaving only the gory stumps of his legs with his torso missing. There is an especially good balance of action, CGI and suspense during the scene where the party are defending themselves from the pterodactyls in the cabin. Mark L. Lester does not stint when it comes to the gore and there are some upfront scenes with heads, torsos and arms being severed and intestines torn out.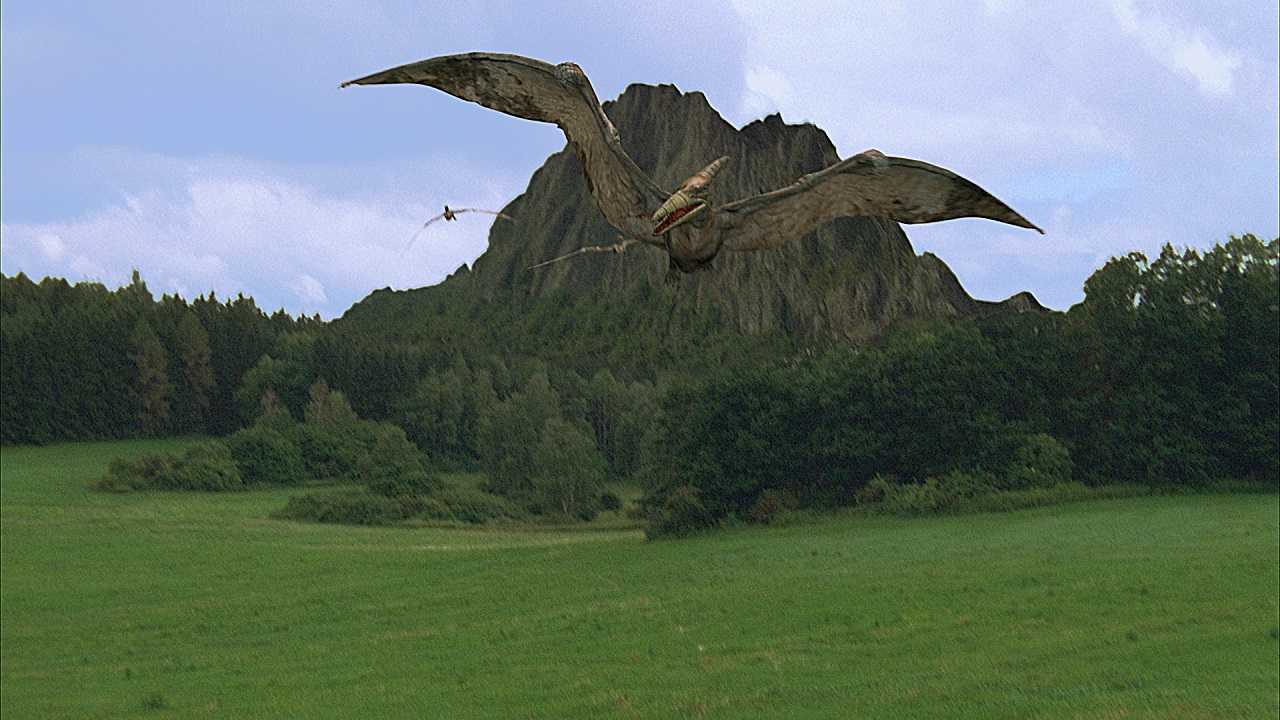 Mark Sevi also writes some snappy characterizations. There are the well drawn characters of Cameron Daddo's professor and Amy Sloan as the assistant with the unrequited crush, as well as Mircea Monroe as the bitchy socialite venturing out into the wilderness and the bunch of geek nerds. There are a number of snide one-liners – Mircea Monroe greets the two geeks of the expedition: "Holy Smoke, I haven't seen that much fish belly white since the Math Department went to the Farscape [1999-2003] convention." There is a highly amusing scene where Mircea Monroe goes bathing, is attacked by a pterodactyl and flees, only to run into one of the nerds who ignores her panic and stands in agog amazement at the sight of her bare breasts.
Australian actor Cameron Daddo plays with a competent handsomeness as the hero of the show – Daddo is an actor who had the looks but never attracted the profile to be a Hollywood leading man. On the other hand, rapper Coolio is badly miscast as a marine captain. Rather than presenting any commanding authority and competence, Coolio plays with a ghetto accent and an expression that indicates he is pissed off about something. The main problem is that the role has been filled with someone who is not an actor and whose natural persona is completely at odds with the part at hand.
One of the more amusing parts about Mark Sevi's script is his tipping his genre enthusiasm by naming the characters after various science-fiction and fantasy writers, including Roger Zelazny, Arthur C. Clarke, Tarzan creator Edgar Rice Burroughs, Twilight Zone (1959-63) creator Rod Serling, Ray Bradbury, Stanislaw Lem, Stephen Donaldson, Frank Herbert, a hero named after horror writer H.P. Lovecraft and a love interest named for science-fiction grandmaster Robert A. Heinlein.
---
---