---
Crew
Director/Screenplay – J.J. Abrams, Producers – J.J. Abrams, Bryan Burk & Steven Spielberg, Photography – Larry Fong, Music – Michael Giacchino, Visual Effects Supervisors – Russell Earl, Ken Liberi & Dennis Muren, Visual Effects – Industrial Light and Magic, Creature Designer – Neville Page, Special Effects Supervisor – Steven Riley, Production Design – Martin Whist. Production Company – Amblin Entertainment/Bad Robot Productions/Paramount.
Cast
Joel Courtney (Joe Lamb), Elle Fanning (Alice Dainard), Kyle Chandler (Jack Lamb), Riley Griffiths (Charles Kaznyk), Ryan Lee (Cary), Ron Eldard (Louis Dainard), Noah Emmerich (Colonel Nelec), Gabriel Basso (Martin), Zach Mills (Preston), David Gallagher (Donny), Glynn Turman (Dr Thomas Woodward), Jessica Tuck (Mrs Kaznyk), Brett Rice (Sheriff Pruitt), A.J. Michalka (Jen Kaznyk), Joel McKinnon Miller (Mr Kaznyk), Beau Knapp (Breen)
---
Plot
1979 in the small town of Lillian, Ohio. Young Joe Lamb and his father Jack, a police deputy, are coping following the death of Joe's mother in an industrial accident at the town plant. As the summer comes, Joe joins a group of friends who are attempting to make a zombie film using a Super 8 camera. Joe is excited when director Charles Kaznyk invites Alice Dainard to play the role of the hero's wife. During the course of the shoot, Joe and Alice are attracted. While they are filming at the town railway station, a freight train passes through just as a pick-up truck goes onto the tracks, causing a massive crash. The boys find that the pick-up truck is driven by the school science teacher who tells them to flee and say nothing as the military arrive to cordon off the crash site. Over the next few days, Joe's father deals with a rash of mysterious disappearances around the town – of people and pets going missing, of appliances and machine parts reported stolen. Jack believes that the military are keeping something hidden. As the town is evacuated, Joe and the others realise they are dealing with a menace that is alien in origin and has escaped from government custody.
---
Director, writer and producer J.J. Abrams has become a major genre name. Abrams first emerged in the 1990s as a screenwriter for films such as Taking Care of Business (1990), Regarding Henry (1991), Forever Young (1992), Gone Fishin' (1997) and Joy Ride (1997), while the IMDB also insists that Abrams co-wrote Michael Bay's Armageddon (1998) even though his name does not appear on the credits. Abrams' success came when he moved into television, first with the twentysomething series Felicity (1998-2002) and then the smart and sexy spy series Alias (2001-6). This was followed by the massive success of the ultra-cryptic desert island drama Lost (2004-10) and to a lesser extent the paranormal investigators series Fringe (2008-13). Abrams has subsequently gone on to produce other genre shows such as Person of Interest (2011-6), Alcatraz (2012), Revolution (2012-4), Almost Human (2013-4), 11.22.63 (2016), Westworld (2016-22), Castle Rock (2018-19), Lovecraft Country (2020) and Lisey's Story (2021).
Alias had J.J. Abrams personally selected by Tom Cruise to make his big screen directorial debut with Mission: Impossible III (2006). Abrams then went on to make his second directorial outing with the theatrical reboot of Star Trek (2009), followed by Super 8 and then on to Star Trek: Into Darkness (2013), Star Wars Episode VII: The Force Awakens (2015) and Star Wars Episode IX: Rise of the Skywalker (2019). He has also produced the monster mockumentary Cloverfield (2008), Mission: Impossible – Ghost Protocol (2011), Mission: Impossible – Rogue Nation (2015), Star Trek: Beyond (2016), 10 Cloverfield Lane (2016), Star Wars Episode VIII: The Last Jedi (2017), The Cloverfield Paradox (2018), Mission: Impossible – Fallout (2018) and Overlord (2018). Super 8 was J.J. Abrams' third film as director.
Super 8 comes co-produced by Steven Spielberg and made under the banner of Spielberg's Amblin production company. This seems not inappropriate as Super 8 feels exactly like one of the films that Spielberg, if he did not make it himself back in the 1980s, would have at least acted as Executive Producer for – a la efforts such as Poltergeist (1982), Gremlins (1984), Back to the Future (1985), The Goonies (1985) and Batteries Not Included (1987), all of which came out under the Amblin name.
Mostly, Super 8 is a homage to two key Spielberg films from this era – Close Encounters of the Third Kind (1977) and E.T. – The Extra-Terrestrial (1982). Though J.J. Abrams never specifically quotes any scenes from these films, their influence cast a vast shadow over Super 8 – the kids could be school friends of the ones we saw in E.T., the telephone linesman who experiences extraterrestrial phenomena a colleague of Close Encounters' Richard Dreyfuss, while the scenes of the town being evacuated by a military cover-up under a bogus environmental scare closely parallel the same ones in Close Encounters.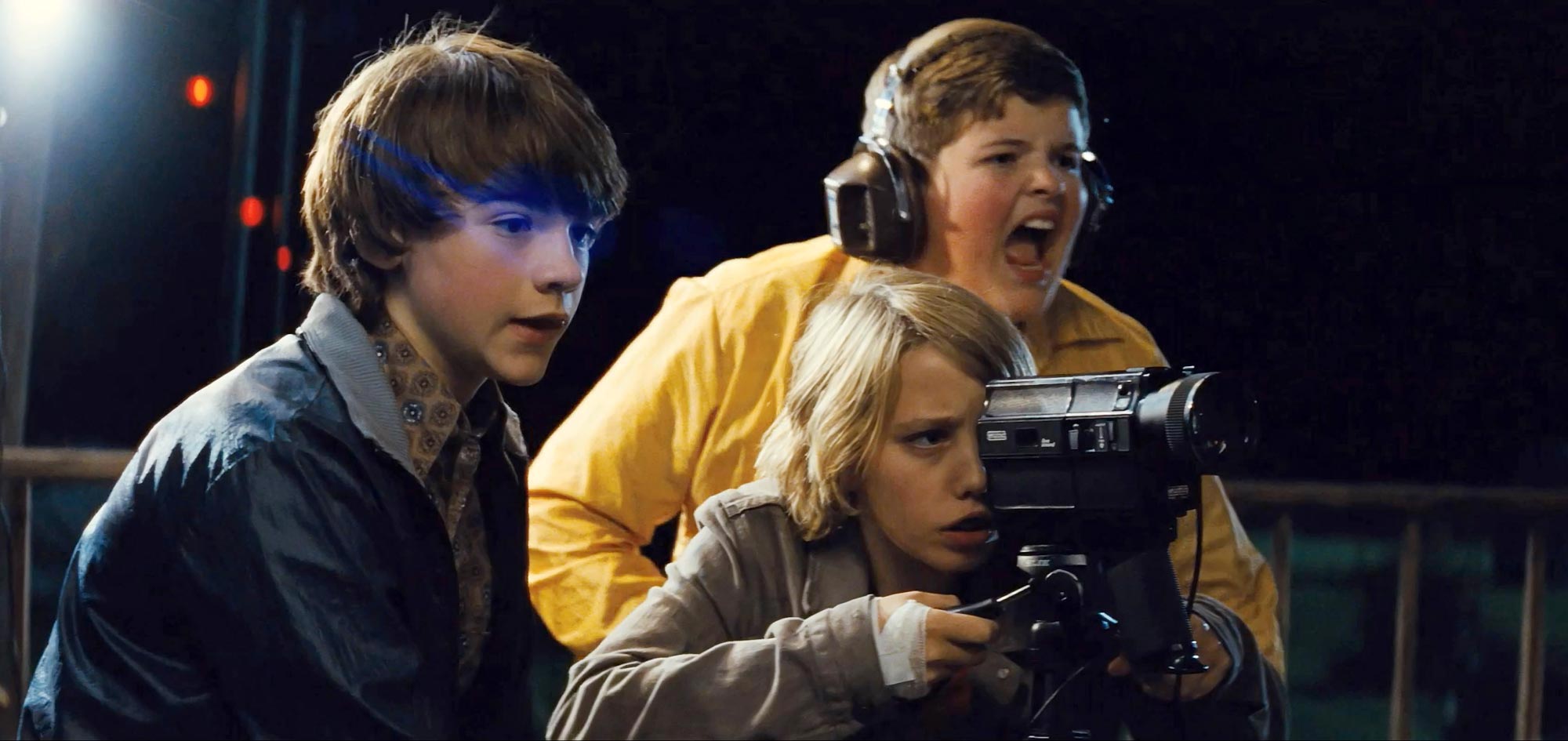 Just as much as it is a homage to Steven Spielberg, Super 8 is as much a Coming of Age tale about growing up in this era. It could perhaps be a Steven Spielberg film that takes place through a patina of nostalgia for the era of Spielberg's heyday in the 1980s. The film feels exactly like it could slot into being an instant childhood for many people in the audience – I am not too far apart in age from many of the kids here and for me the world that J.J. Abrams conjures is an instantly familiar one. J.J. Abrams would have been thirteen in 1979 and you suspect that much of the story touches bases with his own childhood – he tells in promotional interviews how he roped family and friends into making his own Super 8 films. (The homage becomes overt in that one learns how Abrams and friend Matt Reeves were hired in their teens by Steven Spielberg to edit some of his old Super 8 Films).
Abrams touches base with the pop culture of the era – Super 8 filmmaking (a cheap mass-produced home movie camera that came before the video era, a technology that is as lost on today's audience as the Betamax is and the VHS soon will be); posters for Halloween (1978), Dawn of the Dead (1978) or Robert Crumb's iconic Keep on Truckin' comic panel on bedroom walls; incidents like the space shuttle launch and Three Mile Island occurring in the background; jokes made about the newly arrived Walkman; and a soundtrack made up of popular songs of the period.
These scenes are successful at evoking growing up in the era, even if one feels that J.J. Abrams only touches the surface of some of the more complex issues – the death of a parent, a child with an abusive alcoholic father. On the other hand, there is Super 8 the monster movie. Abrams builds much mystery about what is happening and pulls off one or two cool effects sequences, before an overly predictable ending where what we take to be a monster is not a monster after all and only something that has been made mad by military imprisonment. These scenes are okay but nothing standout. Certainly, given the film's build-up, I felt underwhelmed in that J.J. Abrams never does anything more to put a spin on or unexpected with what he serves up.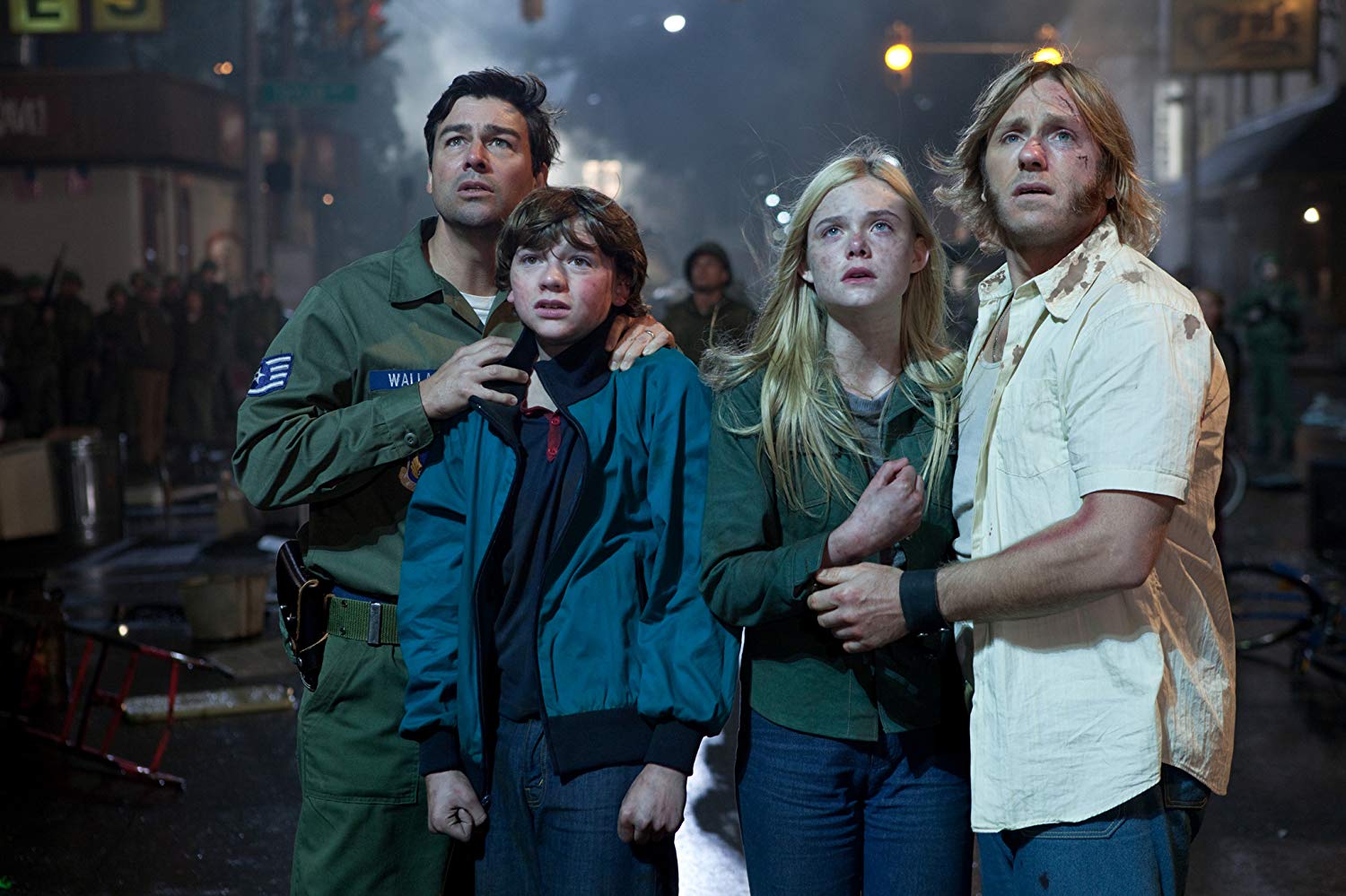 One of the overriding things you associate with J.J. Abrams' films and tv is their obsessive secrecy. You feel almost that Abrams took inspiration from M. Night Shyamalan back around the time when he was running hot on the back of The Sixth Sense (1999) with the likes of Unbreakable (2000), Signs (2002) and The Village (2004) – at least until he split ways with the Touchstone people unhappy about being so pigeonholed in the promotion of his films. During this period, the Touchstone publicity department were building each of Shyamalan's films up with an enormous mystery, never giving us anything but the scantiest clues as to what they were about and constantly hinting that each of these held some great conceptual reversal of understanding and expectation that would wow an audience – the same thing that The Sixth Sense was founded on.
You get the impression that J.J. Abrams has taken a few leaves from what Shyamalan/Touchstone did in these works. Many of Abrams' films and tv series come surrounded by the same obsessive secrecy and are premised on telling the audience as little as possible about what to expect before they sit down to watch. For many months, we were not even told what the title of Cloverfield was, it was merely listed as 'Untitled J.J. Abrams Project' on releasing schedules and it was only up until just before the film came out that one found out it was a monster movie. Similarly, for many months beforehand, Star Trek went out with only a single trailer that showed a brief clip of The Enterprise in construction dock, while Star Trek: Into Darkness went so far as to hide Benedict Cumberbatch under a different character name to preserve the surprise about who he was playing. Indeed, Lost was a series that was conceptually founded on maximum secrecy and constantly providing hints of vast mysteries and twist surprises – even if all of such eventually collapsed down into a hokey revelation that failed to offer any adequate explanation of the mysteries hinted at.
Similarly, Super 8 was given the obsessive secrecy treatment in the build-up – the only trailer available up until the film's release was some brief handheld camera shots of the train crash, while there was little information as to what the film was about until a matter of weeks before its release. You can applaud J.J. Abrams and his publicity department for wishing to keep the essential surprise element of a film intact for an audience – indeed, you wish that more filmmakers would do this and not give away so much in the trailer. On the other hand, this carries some undeniable expectations with it – one is that the film on show is going to be something amazing that is going to blow our socks off or that it will hold dazzling surprises that the filmmakers don't wish spoiled.
[PLOT SPOILERS] The great disappointment about Super 8 after all of this obsessively secretive build-up … is that there are no surprises on show after all. The film transpires as being a variant on the basics of Cloverfield – monster amok in an urban environment; guy who ventures into the devastation area to rescue a girl; while in both cases, the filming of what is going on proves crucial to the plot. Maybe you could see Super 8 as Cloverfield fed through the nostalgic lens of a Coming of Age tale such as Stand By Me (1986). The revelation of what the monster looks like is withheld for over three-quarters of the film but proves to be nothing special when seen. There is an eminently predictable revelation where the monster is shown to be an alien that simply wants to repair its spaceship and go home again – a surprise twist that goes all the way back to It Came from Outer Space (1953).
The only surprise that Super 8 ultimately holds is what it is about, after which it seems an average but hardly standout alien monster movie. I kept waiting for J.J. Abrams to pull off something amazing and left field, but the disappointment, especially when all the secretive build-up is taken into account, is what a conventional film that Super 8 eventually ends up being. Strictly Average 8, I am afraid to say.
(Nominee for Best Actress (Elle Fanning) at this site's Best of 2011 Awards).
---
---