---
Crew
Director/Screenplay – Alex Cox, Producers – Peter McCarthy & Jonathan Wacks, Photography – Robby Muller, Music – Steven Hefsteter & Tito Larriva, Special Effects – Roger George & Robby Knott, Electronic Effects – Electric Melody Studios, Art Direction – Linda Burbank & J. Rae Fox. Production Company – Edge City.
Cast
Emilio Estevez (Otto Maddox), Harry Dean Stanton (Bud), Sy Richardson (Lite), Olivia Barash (Leila), Tracey Walter (Miller), Susan Barnes (Agent Rogers), Fox Harris (J. Frank Parnell), Tom Finnegan (Oly), Del Zamora (Lagarto Rodriguez), Eddie Velez (Napo)
---
Plot
Disaffected L.A. punk Otto Maddox is fired from his job in a supermarket then walks out on his girlfriend after he finds her making out with another guy. He is approached by Bud who offers Otto money to drive his car home while he picks up what he says is his wife's car. It turns out that Bud is a 'repo man' whose job is repossessing cars whose owners have fallen behind in payments. Otto is disgusted at being fooled but later accepts a job offer from Bud. While Otto is learning the trade, a $20,000 reward goes out for a 1964 Chevy Malibu being driven about the city by a scientist, which houses radioactive aliens in the trunk. Suddenly every rival repo man, along with government agents, is converging to try and find the Chevy.
---
This amusingly offbeat film gained an instant cult reputation upon its release. It was celebrated for its eccentric sense of humour and punk sarcasm. The fun in the film is director Alex Cox's careeringly sense of offbeat humour. The opening scene sets the tone perfectly – a cop pulls over a seemingly drunken driver on a desert highway and opens the trunk despite a warning "You don't want to do that," whereupon the trunk starts glowing and the car takes off leaving only a pair of smoking boots behind, while the soundtrack blasts into a loud and mean Iggy Pop track.
Repo Man is a wildly out-of-control film – Alex Cox throws in a kitchen sink full of lunacies, none of which ever seem to coalesce into a plot. This is particularly evident in the middle where all the subplots about various people trying to steal the car slows things to a repetitive standstill. However, the film arrives at an ending that comes so mellow and strung-out that it is downright hilarious.
The tone of Repo Man could, if anything, be described as post-punk punk. The film vents sarcastic against middle class values and aspirations but then equally amusingly turns around and vents cynical about its punk own ideals. In one scene, a dying punk tells his girlfriend how he wants to give up his life of crime and marry her, "I blame society. Society made me what I am," while Emilio Estevez stands on sneering, "Bullshit, you're just a suburban punk like me."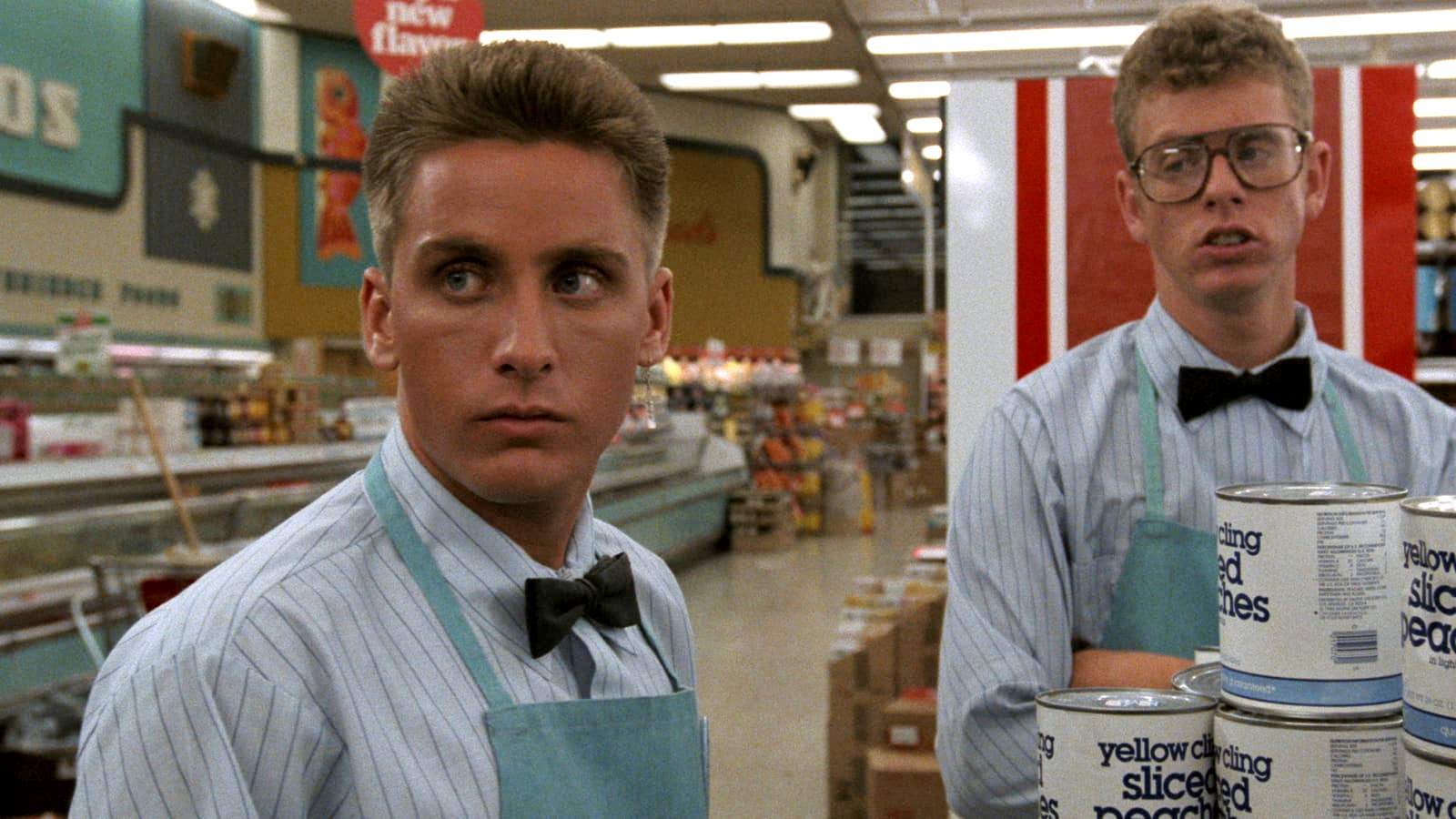 If anything though, Repo Man is less a punk film than it is a stoner film. All of Emilio Estevez's experiences are denoted by an impassively all-fitting "That was intense." It is a celebration of the sort of tripped-out mental space where nonsense ideas take on a profundity and a tabloid magazine vision of conspiratorial UFO nuttiness takes on some kind of reality. Tracey Walter has an hilarious monologue about the 'cosmic unconscious' and seemingly random coincidence, the sort of abstract profundities that come to people while Under the Influence, all of which seems to underlie the film.
The wonderfully mellow ending the film eventually reaches is not unakin to the light trip in 2001: A Space Odyssey (1968) or Richard Dreyfuss's being carried away in a ship full of lights at the end of Close Encounters of the Third Kind (1977), albeit relayed more as a stoned shaggy dog ending than a wondrous journey.
There is good casting, particularly in Harry Dean Stanton who seems completely in his element and gives one of the best performances he has ever given, and Emilio Estevez, who walks through the film with a face of amusingly blank indifference. There is a gutsy up-front punk score with the best tracks being Iggy Pop's credits track and a very funny punk parody performed by L.A. punk group The Circle Jerks.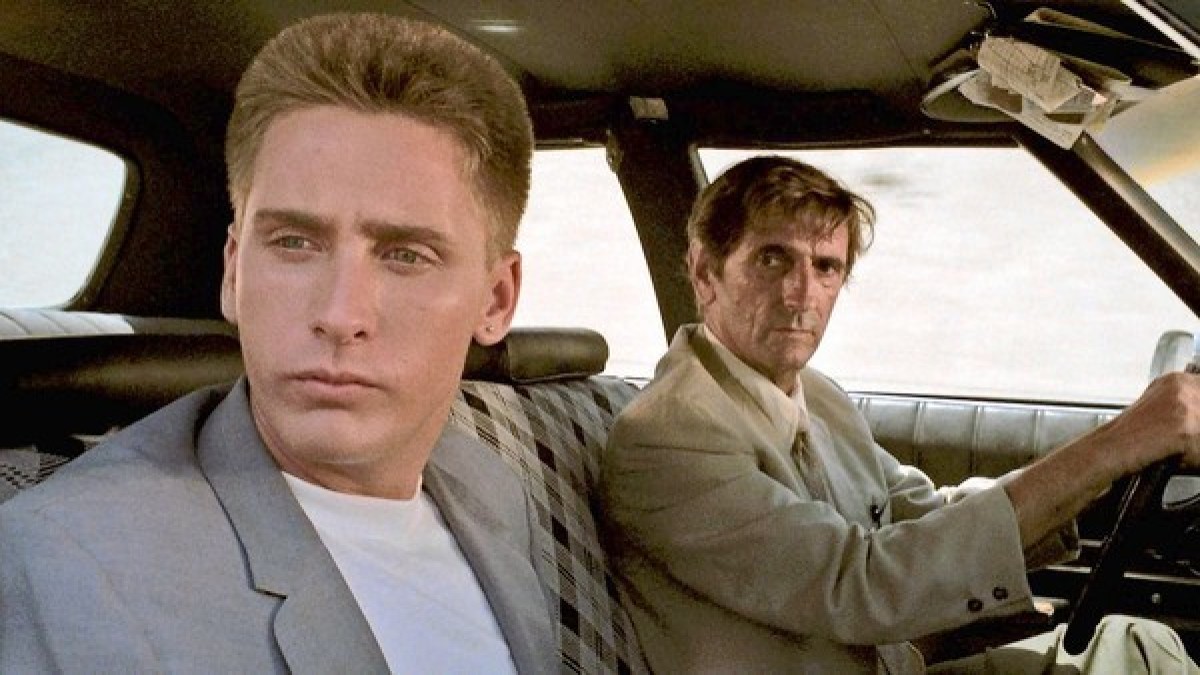 Alex Cox later made a sequel-in-name-only with the disappointing Repo Chick (2009), an equally surreal film where the basics were recast with a female character. He had earlier written a sequel following Emilio Estevez's character but this was never produced and later adapted into the graphic novel Waldo's Hawaiian Journey (2008). Repo Man is unrelated to either Repo: The Genetic Opera (2008) or Repo Men (2010), which are both set in futures where organ repossession is legal.
Repo Man announced Alex Cox as a talent worth watching. Cox continued his interest in punk with Sid and Nancy (1986), a fine biopic of doomed Sex Pistols guitarist Sid Vicious. Alas, Alex Cox's subsequent films – the quasi-surreal modern Western Straight to Hell (1987), The Highway Patrolman (1993), Death and the Compass (1996), based on a Jorge Luis Borges story, and Searchers 2.0 (2007) – never amounted to much and often seem obscure and amateurish. He returned to the fantasy genre with the semi-fantastical The Winner (1996) about a man who never loses at the gambling tables; the surreal Three Businessmen (1998), which consists of a philosophical dialogue between two men as they cross a cityscape that somehow merges into several different international cities, all ending on a Biblical shaggy dog ending; Revengers Tragedy (2002), a Jacobean revenge drama translated to a near future setting; and the adaptation of Harry Harrison's sf satire Bill the Galactic Hero (2014). Cox also co-wrote Terry Gilliam's surreal, tripped-out adaptation of Hunter S. Thompson's Fear and Loathing in Las Vegas (1998).
---
---