---
Crew
Director – James Gunn, Screenplay – James Gunn & Nicola Perlman, Based on the Comic-Book Created by Dan Abnett & Andy Lanning, Producer – Kevin Feige, Photography (3D) – Ben Davis, Music – Tyler Bates, Visual Effects Supervisor – Stephane Ceretti, Visual Effects – Cantina Creative, Framestore (Supervisor – Jonathan Fawkner), Lola VFX (Supervisor – Trent Claus), Luma Pictures (Supervisor – Vincent Cirelli), Method Studios (Supervisor – Greg Steele), MPC (Supervisor – Nicholas Aithadi) & Sony Pictures Imageworks, Special Effects Supervisor – Paul Corbould, Production Design – Charles Wood. Production Company – Marvel Studios.
Cast
Chris Pratt (Peter Quill/Star-Lord), Zoe Saldana (Gamora), Bradley Cooper (Voice of Rocket), Dave Bautista (Drax the Destroyer), Vin Diesel (Voice of Groot), Lee Pace (Ronan), Michael Rooker (Yondu Udonta), Djimon Hounsou (Korath), Karen Gillan (Nebula), John C. Reilly (Corpsman Dey), Glenn Close (Nova Prime), Benicio Del Toro (The Collector/Taneleer Tivan), Christopher Fairbank (The Broker), Laura Haddock (Meredith Quill), Ophelia Lovibond (Carina), Wyatt Oleff (Young Peter), Gregg Henry (Grandpa)
---
Plot
In 1988, young Peter Quill is given a gift by his mother just before she dies. Wandering outside, he is abducted by a spaceship. Twenty-six years later, Peter has been raised by the alien Ravagers. He calls himself Star-Lord and is an adventurer of fortune. He travels to the planet Morag to retrieve a sphere that contains the Infinity Stone and narrowly escapes pursuit by Kree thugs. A bounty is placed on Quill's head. As he tries to sell the orb on the planet Xandar, he is pursued by the genetically-engineered raccoon bounty hunter Rocket and his tree companion Groot, as well as the rogue Kree assassin Gamora. They are all captured and sentenced to the interstellar prison Klyn. There they, joined by Drax the Destroyer who wants to eliminate the Kree leader Ronan for killing his family, agree to work together in order to escape. They head to Knowhere to sell the Infinity Stone to The Collector but bring pursuing Kree and Ravagers down on their head. The Kree leader Ronan opens the orb and absorbs the unbelievable power of the Infinity Stone to become a god-like being with the power to destroy worlds.
---
Guardians of the Galaxy is another of the massively successful Marvel comics adaptations that have taken over the box-office in the 2000s/10s, alongside the likes of Blade (1998), X-Men (2000), Spider-Man (2002), Daredevil (2003), Hulk (2003), The Punisher (2004), Elektra (2005), Fantastic Four (2005), Man-Thing (2005), Ghost Rider (2007), Iron Man (2008), Captain America: The First Avenger (2011), Thor (2011) and The Avengers (2012), Ant-Man (2015), Deadpool (2016), Doctor Strange (2016), Black Panther (2018), Venom (2018), Captain Marvel (2019), Black Widow (2021), Eternals (2021), Shang-Chi and the Legend of the Ten Rings (2021) and various sequels to these, as well as the tv series' Agents of S.H.I.E.L.D. (2013-20), Daredevil (2015-8), Agent Carter (2015-6), Jessica Jones (2015-9), Luke Cage (2016-8), The Defenders (2017), Inhumans (2017), Iron Fist (2017-8), The Punisher (2017-9), Runaways (2017-9), The Falcon and the Winter Soldier (2021- ), Hawkeye (2021- ), Loki (2021- ), WandaVision (2021- ), Moon Knight (2022- ), Ms Marvel (2022- ), She-Hulk: Attorney at Law (2022- ) and Secret Invsion (2023).
The film is based on Guardians of the Galaxy, a Marvel team-up that first appeared in 1969. Quite possibly inspired by the film The Dirty Dozen (1967) that came out around the same time, The Guardians are yet another Marvel superhero team, a motley array of alien creatures led by Vance Astro, a present-day astronaut thawed out in the 31st Century, who defend the galaxy against various menaces. The Guardians made sporadic appearances up until they gained their own title that ran between 1990 and 1995. (Incidentally, the only member of the original team to appear in the film is Yondu Udonta who is rewritten here as a villain). In 2008, the Guardians were given a reboot with new characters – a line-up that somewhat approximates the one we see in the film (although there are other members in the print version) – in a title that continues to this day.
Guardians of the Galaxy is the least Marvel-like film of all the Marvel Comics Universe films to date. Where the other films are superheroic adventures, it is more of a space opera (even though it does tie over into Marvel continuity). To this extent, Marvel Studios took the risk of handing the director's chair to James Gunn. Gunn started working at Troma Films, co-writing Tromeo & Juliet (1996) and Troma founder Lloyd Kaufman's biography All I Need to Know About Filmmaking I Learned from the Toxic Avenger (1998), which became the basis of Terror Firmer (1999). Gunn graduated to a screenwriter of A-list films such as Scooby-Doo (2002), Dawn of the Dead (2004), Scooby Doo 2: Monsters Unleashed (2004) and The Belko Experiment (2016).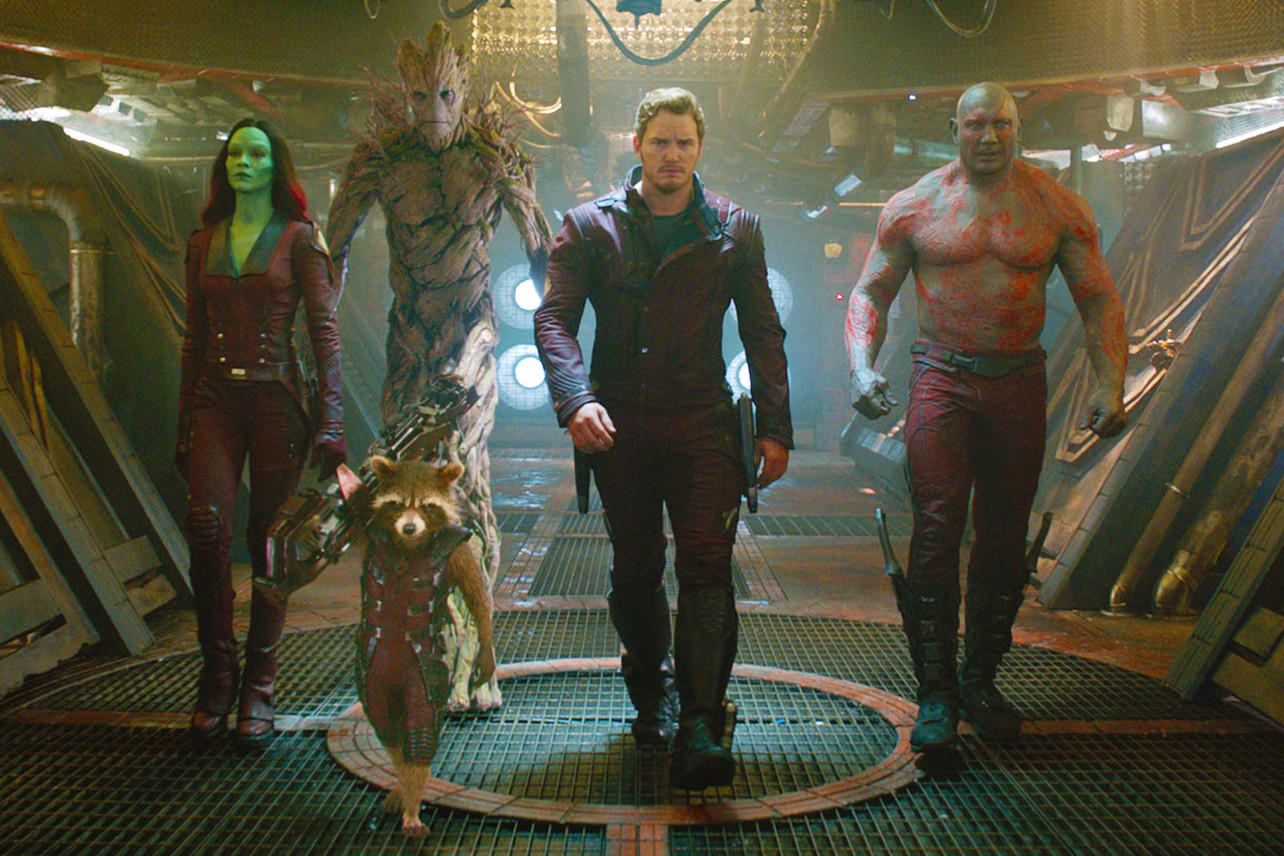 Gunn made his directorial debut with the alien monster movie Slither (2006), an affectionate homage to his genre favourites, and then went onto Super (2010), one of the wittiest of the spate of superheroes with no powers parodies we have had in recent years, as well as the Beezel segment of Movie 43 (2013) and as producer of the anti-superhero film Brightburn (2019). Guardians of the Galaxy is Gunn's first directorial effort that has been intended as a mainstream blockbuster. It is certainly a smart choice that has worked for Marvel as Gunn brings a distinctive quirky point-of-view that has paid off in abundance.
Right from the post-opening credits scene where Chris Pratt ventures into the ruins of an abandoned alien city where the expectation of an Indiana Jones-type treasure hunting adventure is wackily subverted by the image of him putting on his Walkman and blasting Blue Suede's Hooked on a Feeling (1974) as he dances across the landscape, kicking small alien animals out of the way, we all suddenly fall in love with James Gunn's funky cool. This segues into a perfect balance of kickass action and wry self-deprecating humour in the encounter with Djimon Hounsou and his goons and Chris Pratt's escape.
It is delight just how much James Gunn, previously pegged as a quirky indie genre director, taps into mainstream sensibilities, hits every button with the audience and moreover does so without losing any of his voice – if anything, amplifying it. Gunn demonstrates a huge assurance with visual effects and especially the use of motion capture to bring characters to life. The film has an enormous richness – we seem to be in a similar sort of galaxy to the one inhabited by the modern Star Trek tv series where alienness is defined by strange coloured skin and/or facial appliances, at which you have to say the makeup people manage to produce a superbly creative range of characters.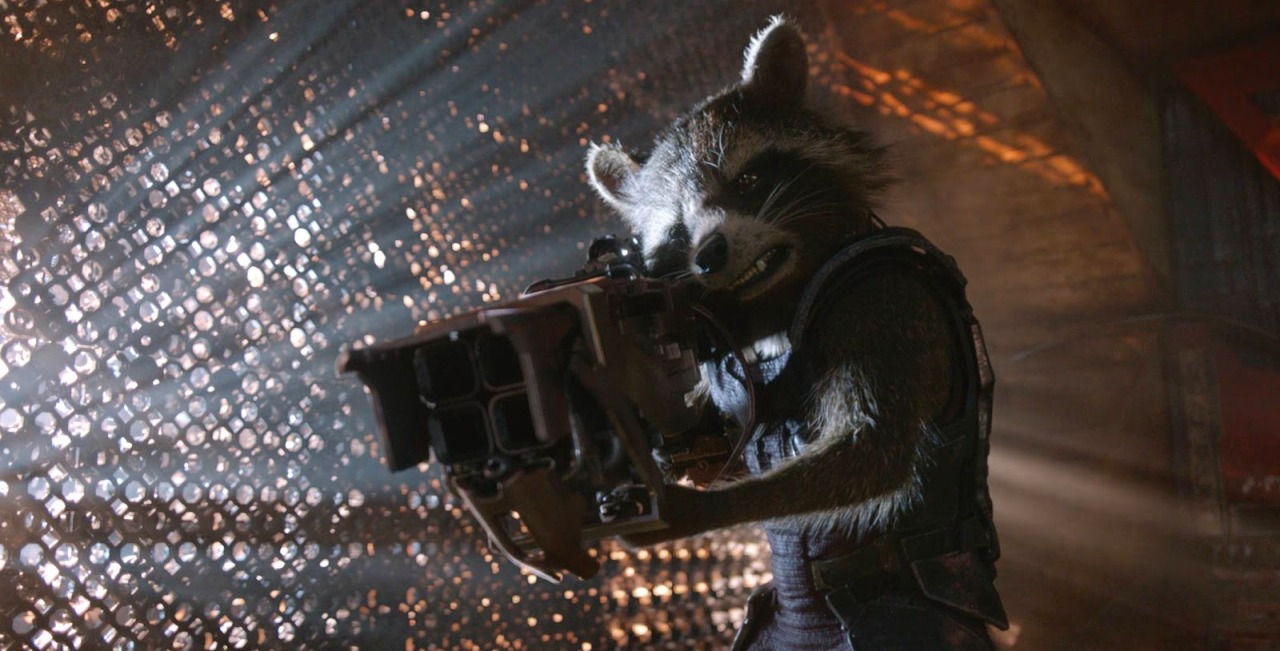 The tone of Guardians of the Galaxy harkens back to the exhilarating intergalactic adventure of Star Wars (1977). The balance of wry, character-based humour reminds very much of the Han and Leia sparring there or else the wry cockiness of Harrison Ford in Raiders of the Lost Ark (1981). The film hits just the right balance that is the spirit of what all of us who grew up with the original Star Wars films wanted the prequels to be only for George Lucas to instead let them be overrun by CGI and extended commercials for the toy companies.
Indeed, what Guardians keeps suggesting is a Star Wars rewritten by a fourteen year-old Quentin Tarantino where the sense of adventure is undercut by a mocking, culture-savvy self-deflation. Perhaps the most surprising aspect in this regard is the Golden Oldie soundtrack, which James Gunn makes into far more than just a way to merchandise a spinoff cd. He is perhaps the only filmmaker since Tarantino who has the ability to use a song to not only amplify a dramatic scene but weave it in as an integral part of the film.
The characters all come together as a fantastically well-polished ensemble. Chris Pratt reminds of actors like Harrison Ford and Kurt Russell in their 1980s heyday, constantly charging into peril with little more than their own cockiness and just as often tripping over their own self-certainty – although Pratt comes with far more of a boyish innocence than either Ford or Russell ever had. Dave Bautista proves that one can come from a wrestling background and also act. It is only Zoe Saldana's Gamora who seems somewhat subdued, while Karen Gillan – the delight from several recent seasons of Doctor Who (2005– ) – entirely disappears behind her alien makeup.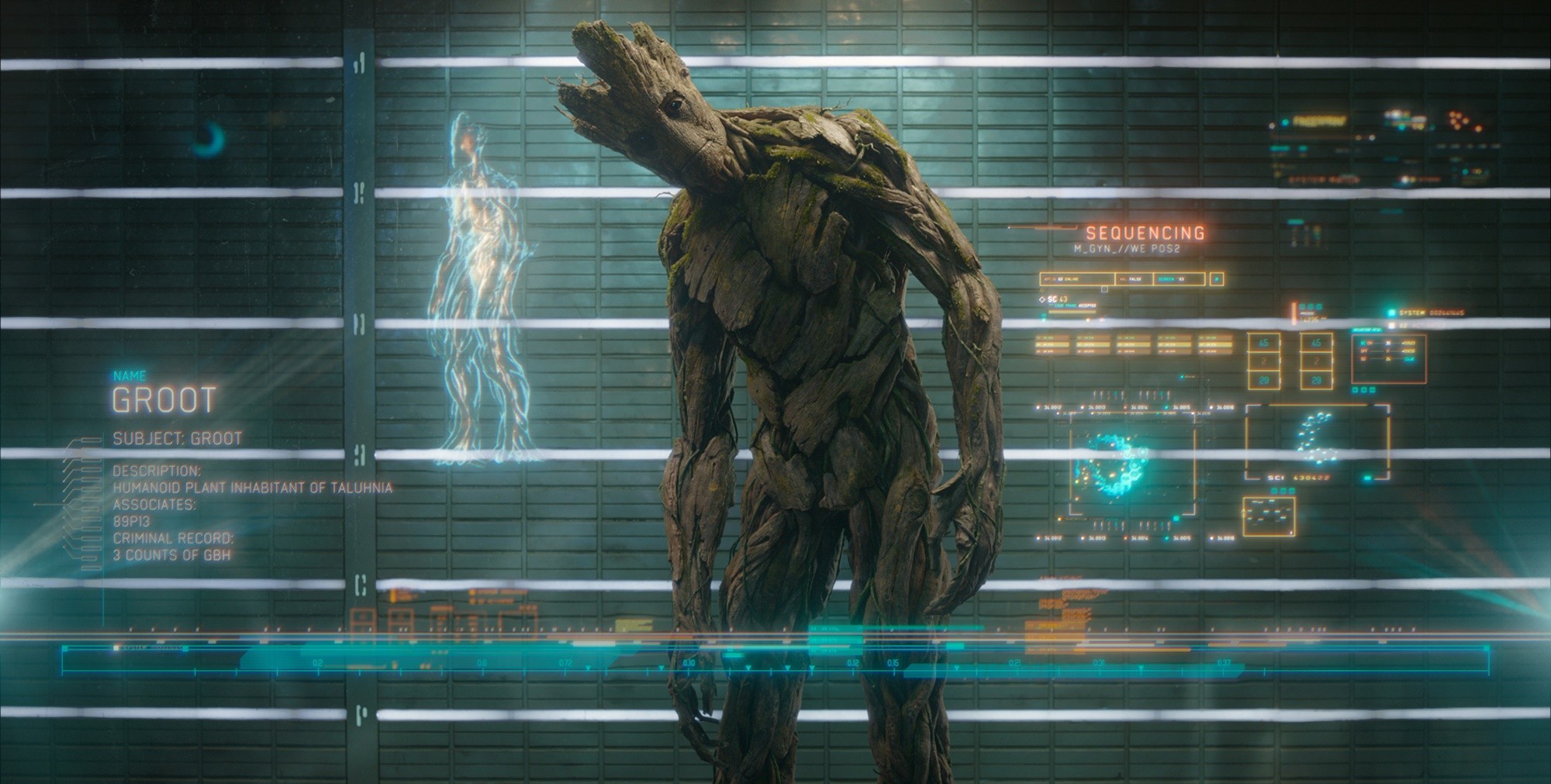 The most endearing characters though are the non-human, mocap generated ones – the gun-toting raccoon with streetwise shrewdness and a wounded sense of hurt and the Vin Diesel-voiced tree man Groot who manages to make three words into an amazingly expressive vocabulary and steal most of the scenes he is in (especially the film's fadeout). Everybody is on great form, even the possibility that these will be career-defining performances for some of the actors concerned. The only aspect that seems standard is the character of Ronan who is no more than a cliche evil dark lord, while the Infinity Stone is a generically mystic all-purpose Doomsday McGuffin.
This was followed by the sequels Guardians of the Galaxy: Vol. 2 (2017) and Guardians of the Galaxy: Vol. 3 (2023), all directed/written by James Gunn and featuring return performances from most of the cast. The Guardians next merged with the wider MCU universe in Avengers: Infinity War (2018), Avengers: Endgame (2019) and Thor: Love and Thunder (2022). (Avengers: Endgame also features The Avengers travelling back in time and scenes set in the margins of this film). A third film is slated for 2022. The characters were also spun out in an animated tv series Guardians of the Galaxy (2015– ). Groot also makes an amusing cameo appearance in Ralph Breaks the Internet (2018).
James Gunn next went on to make The Suicide Squad (2021).
(Winner in this site's Top 10 Films of 2014 list. Winner for Best Makeup Effects and Best Production Design, Nominee for Best Actor (Chris Pratt) at this site's Best of 2014 Awards).
---
---