aka The Alien's Return
---
Crew
Director/Producer – Greydon Clark, Screenplay – Curtis Burch, Jim Wheat & Ken Wheat, Photography – Daniel Pearl, Music – Dan Wyman, Special Effects – Dana Rheaume, Makeup Effects – Ken Horn & Tom Schwartz, Art Direction – Chester Kaczenski. Production Company – OFM.
Cast
Jan-Michael Vincent (Wayne Thompson), Cybill Shepherd (Jennifer Kramer), Martin Landau (Niles Buchanan), Raymond Burr (Dr Joseph Kramer), Vincent Schiavelli (The Prospector), Neville Brand (Walt Casper), Brad Rearden (Eddie Casper)
---
Plot
A UFO hovers over a small New Mexico town, enveloping two children that have been momentarily left by their respective parents in a cone of translucent mist. Twenty-five years later and the girl, Jennifer Kramer, has grown up and become an astrophysicist. She returns to the town to investigate strange satellite readings coming from the area that leave an intense fogging on photos. Jennifer meets up with town deputy Wayne Thompson and realises that he is the other child from twenty-five years ago. The two of them are drawn into the mystery surrounding an outbreak of cattle mutilations. These are being conducted by a crazed prospector who is acting as an agent for the aliens. As Jennifer analyses the patterns left on rocks by the aliens, she realises that they are about to return.
---
The Return was a minor B-budget entry in the early 1980s science-fiction boom. It was one of a number of genre entries directed by former Al Adamson associate Greydon Clark who also made Satan's Cheerleaders (1977), Without Warning (1980), the horror parody Wacko (1982), Uninvited (1988) about a mutant cat, Out of Mind, Out of Sight (1990), Danse Macabre (1992), Dark Future (1994) and Stargames (1998), as well as also writing/producing Psychic Killer (1975).
The co-writers, brothers Ken and Jim Wheat, went onto a number of other genre works including The Silent Scream (1979), Lies (1983), Ewoks and the Marauders of Endor (1986), A Nightmare on Elm Street Part IV: The Dream Master (1988), After Midnight (1989), The Fly II (1989), The Birds II: Land's End (1994), It Came from Outer Space II (1995), Rattled (1996), The Stepford Husbands (1996) and most famously Pitch Black (2000).
Greydon Clark and the Wheat brothers whip an intriguing brew of elements that include UFOs, prophetic symbols, hick locals in small desert towns and the late 1970s fad for cattle mutilations (as conducted by crazy old prospector Vincent Schiavelli with a cut-off lightsabre where he throws body parts into an alien vortex). However, the explanations for everything are vague. Often the explanations are patently silly – at one point, the scientists are astounded to find a schematic of the Solar System as supposedly taken from across the galaxy, however a schematic of the Solar System will look the same no matter where in the galaxy it is taken from and, being a series of concentric circles denoting orbits, will be no different whether seen in a mirror or not.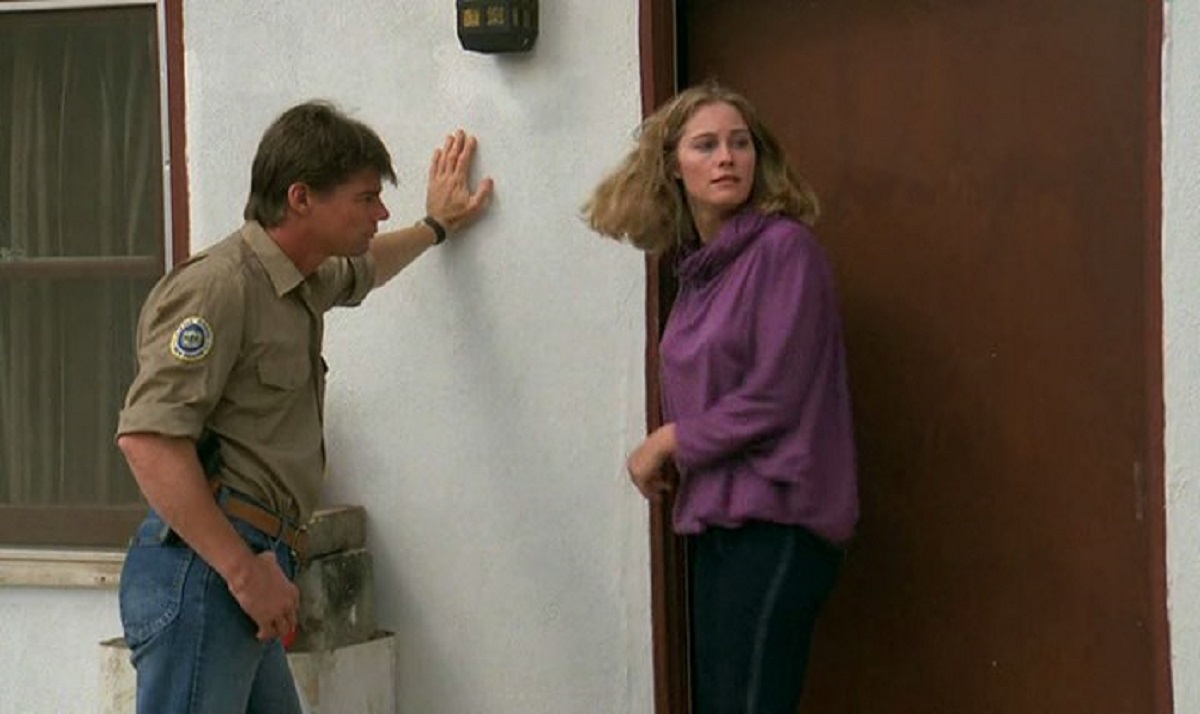 The ending plays against cliche with the aliens are shown to be benevolent and it explained that the mutilations were carried out by a paranoid and deranged contactee. However, the eventual resolution fails to adequately wrap up the mystery – what is the significance of the night predicted in the symbols? If Vincent Schiavelli is only an aberrant contactee then why is his dog equally psychotic?
The film brings together an amazing cast, including Raymond Burr as Cybill Shepherd's father; the always strange Vincent Schiavelli as the crazed prospector; and exploitation veteran Neville Brand as a paranoid farmer. The leads consist of Jan-Michael Vincent who was for a time being promoted as a heartthrob in the 1970s, and Cybill Shepherd who had come to notice in the early 1970s and was strongly out of studio favour by 1980 but then a few years later regained her feet in tv's Moonlighting (1985-9).
Cybill Shepherd and Jan-Michael Vincent are reasonable paired but the person having the most fun is surprisingly enough Martin Landau, who was going through a career slump at the time and paying the rent by appearing in a good many B movies. Traditionally, Landau has been a block of squared-off wood but cast as Jan-Michael Vincent's deputy here, he goes over-the-top, yee-hahing and eye-rolling his way through a performance that seems a whole lot more fun than all of his straight roles put together (his one other completely whacked performance was also for Greydon Clark as a Vietnam veteran in Without Warning).
The Return was a medium-budget exercise. The film impresses with its professional UFO effects, albeit ones that clearly steal not only leaves but entire branches from Close Encounters of the Third Kind (1977). The only point that these fall down are the obvious laser and smoke effects used to create the alien vortex.
---
---