Canada. 1991.
Crew
Director – Harry Bromley-Davenport, Screenplay – John A. Curtis, Edward Kovach, Steven Lister & Robert Smith, Producers – John A. Curtis & Lloyd A. Simandl, Photography – Nathaniel Massey, Music – Braun Farnon & Robert Small, Visual Effects – Cyberflex Films (Supervisor – Greg Derochie), Special Effects – Paller Special Effects (Jeff Butterworth, Gary Paller, Tom Price & Steve Smith), Creature Design – Wayne Dang & Charlie Grant, Prosthetic Effects – ET & Company (Supervisor – Tibor Farkas), Production Design – Glenn Patterson. Production Company – North American Pictures/The Excalibur Film Group (VCC) Ltd./B.C. Film.
Cast
Jan-Michael Vincent (Dr Ron Shepherd), Tara Buckman (Dr Julie Casserly), Paul Koslo (Dr Alexander Summerfield), Jano Frandsen (Colonel McShane), Nicholas Lea (Baines), W.F. Wadden (Jedburg), Rolf Reynolds (Zunoski), Nic Amoroso (Mancini), Bob Wilde (Secretary Bob Kenmore), Rachel Hayward (Dr Myers), Tracy Westerholm (Marshall), Gerry Nairn (Ford)
---
Plot
Secretary Bob Kenmore conducts a tour of the Nexus Project headed by Dr Alexander Summerfield. As he watches, they conduct a test run that involves sending a team into a parallel world but something goes wrong. Kenmore immediately wants to shut the project down but Dr Julie Casserly persuades him to bring in her ex, the former Nexus head Dr Ron Shepherd. Shepherd was forced out after a disastrous previous attempt to activate Nexus but is the only person to return from the other side. One woman, Marshall, now staggers back out through the portal. In the sickbay, her body transforms into an alien creature that disappears into the ventilation ducts and from there begins slaughtering people. Trapped inside a locked down facility that is about to be radioactively purged in a few hours' time, the survivors set out to stop the creature.
---
Xtro (1982) was an entertainingly absurd copycat made soon after the success of Alien (1979), noted more for its bizarre creature effects than actually making any sense. Director Harry Bromley-Davenport freely admits that he only returned to make Xtro II: The Second Encounter for money. He didn't have the copyright on the script for the first film so went away and invented something original that has nothing in common with the original beyond the word 'Xtro' in the title. He would go on to make a further sequel Xtro 3: Watch the Skies (1993), which is also unrelated to the two previous entries. With both sequels, Bromley-Davenport came with the backing of Lloyd A. Simandl's Canadian-based North American Pictures, which made a number of other low-budget sf and softcore erotic films during the 1990s.
With Xtro II: The Second Encounter, Harry Bromley-Davenport has simply given us a standard copy of Alien – as was also the case with Xtro. However, in the time between the first and second Xtro films, we had Aliens (1986) and Predator (1987), so with Xtro II there is less focus on a slimy alien creature lurking in the dark than there is on soldiers with biiiiig guns hunting the creature through the darkened corridors of a facility. The one slight difference between Xtro II and all of the Alien copies is that this has the creature emerging from another dimension as opposed to being an alien or an escaped laboratory experiment. That said, this is a standard alien/laboratory experiment amok film in all regards and the film has zero interest in anything to do with the other dimension once the alien has emerged.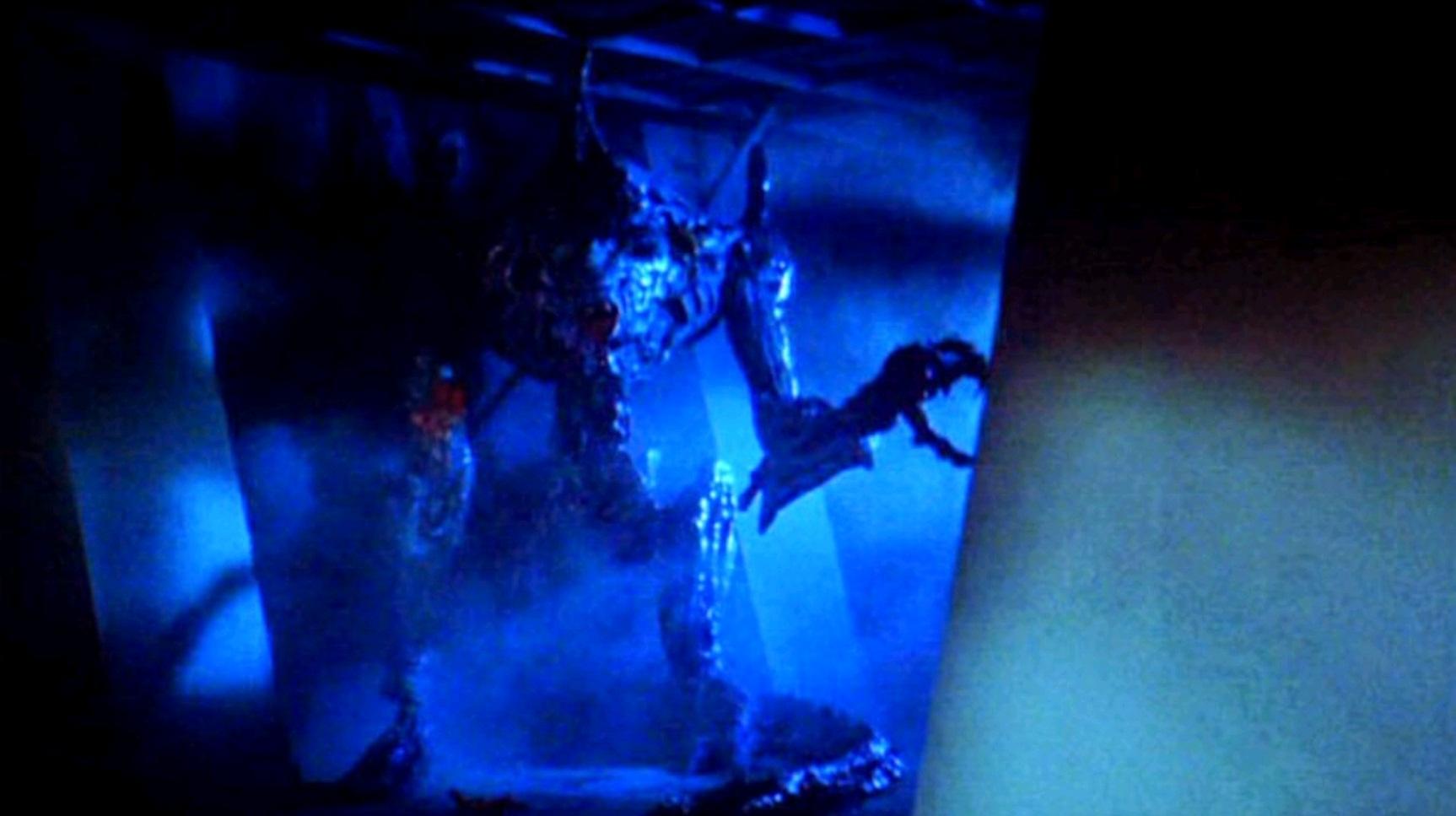 Xtro II has a fairly bad reputation. Seen, it is not a particularly had film, just an uninspired rehash of the type of Alien copy that was being made in the 1980s/90s. Harry Bromley-Davenport does nothing to vary the formula and what by now had become thorough cliches in any way. The creature effect also look ropy – it is wisely kept to the shadows and what we see of it looks rather absurdly like a denuded frame for a creature. Jan-Michael Vincent, never the most expressive of actors, purportedly hated the script and made no attempt to learn his lines – it clearly shows through in his zero effort performance.
Outside of the Xtro series, British-born Harry Bromley Davenport has made a handful of other films, including the black comedy Life Among the Cannibals (1996); the children's film Waking Up Horton/The Adventures of Young Brave (1998) about the returned spirit of an Indian medicine man; Mockingbird Don't Sing (2001), the true story of an adult woman who was treated like an animal; and the ghost story Darkness Visible/Haunted Echoes (2008).
---
---