---
USA. 1987.
Crew
Director – Kevin Connor, Teleplay – Bob Shayne, Producers – Nick Gillott, Photography – Tony Imi, Music – Ken Thorne, Production Design – Keith Wilson. Production Company – CBS Entertainment.
Cast
Margaret Colin (Jane Watson), Michael Pennington (Sherlock Holmes), Nicholas Guest (Toby Gregory), Lila Kaye (Ms Houston), Connie Booth (Violet Morstan), Shane Rimmer (Lysander Stark), Ray Jewers (Ray Singer), Barry Morse (Carter Morstan), Tony Steedman (Doctor), Daniel Benzali (Charles Ross)
---
Plot
Jane Watson runs a private detective agency in New York City. With her business faltering, she accepts that the only option is to sell off the family estate in England. Travelling there to make arrangements, she receives a document from the lawyer that contains a list of instructions that direct her to the basement where she discovers a cryogenically frozen body. She follows the directions to revive the man who announces that he is Sherlock Holmes. He was frozen in 1901 after being infected with bubonic plague by Moriarty's brother. After finding a doctor to cure him, Jane takes Holmes with her back to New York, which proves a bewildering world to him. Holmes is soon pressed into action as Jane is hired by Violet Morstan to find the cause of her former FBI agent father's death. This leads the two of them on the trail of a missing stash of counterfeit money.
---
Sherlock Holmes is of course the great character created by Arthur Conan Doyle. Canonically, Holmes appeared in four novels and 56 stories after his first appearance in A Study in Scarlet (1887). Holmes has a long cinematic legacy, being played by over 300 different actors ever since his first appearance on film in 1900. There have even been sporadic Sherlock Holmes ventures into fantastic cinema as in A Study in Terror (1965) and Murder By Decree (1979), which had Holmes solving the Jack the Ripper case; the adventure film Young Sherlock Holmes (1985); the animated Disney talking animal film The Great Mouse Detective (1986); The Case of the Whitechapel Vampire (2002); Guy Ritchie's Sherlock Holmes (2009), which featured an eventually rationalised black magic plot; and The Asylum's Sherlock Holmes (2009), which had him in a Steampunk adventure; as well the meta-fiction The Strange Case of Sherlock Holmes and Arthur Conan Doyle (2005) that allowed creator and creation to meet, while there have been numerous adaptations of Doyle's The Hound of the Baskervilles (1902) in which Holmes tracks an eventually rationalised ghostly killer dog. Literary ventures from other writers have pitted Holmes against contemporaries such as Count Dracula, The Phantom of the Opera, Tarzan, H.P. Lovecraft's Cthulhu mythos and even amidst H.G. Wells' The War of the Worlds (1898).
The Return of Sherlock Holmes was a mid-1980s attempt to spawn a tv series out of the idea of a Holmes revived in the present-day. This title should not be confused with the Arthur Conan Doyle short story collection The Return of Sherlock Holmes (1905) or the Jeremy Brett tv series The Return of Sherlock Holmes (1986-8) that was made around the same time. The film's basic set-up is one that has given some cause to think – like how well a Holmes who operates by deductive intuition would work in the modern era of detective work and up against the forensic methodology of something like CSI: Crime Scene Investigation (2000-15) et al. There is an appealing scene where Michael Pennington gives a Holmesian flourish of deduction about a note and is proven wrong by interpreting a photocopied note written in marker pen by the secretary as evidence of a tall poor man who could not afford decent paper.
The Return of Sherlock Holmes never ended up going to series – and you can see why, it would have amounted to no more than the grafting of the character of Holmes onto a standard mid-1980s tv detective show formula akin to Remington Steele (1982-7) and Moonlighting (1985-9), which had a male and female private detective trading banter as they solved a crime each week. To be fair to the film, the characters work reasonably well. Margaret Colin makes an appealingly chirpy Jane Watson. Michael Pennington settles into the standard cliche of Holmes in deerstalker and calabash pipe – it is a cliche version of Holmes, nevertheless Pennington gives the part a certain dignity and gravitas.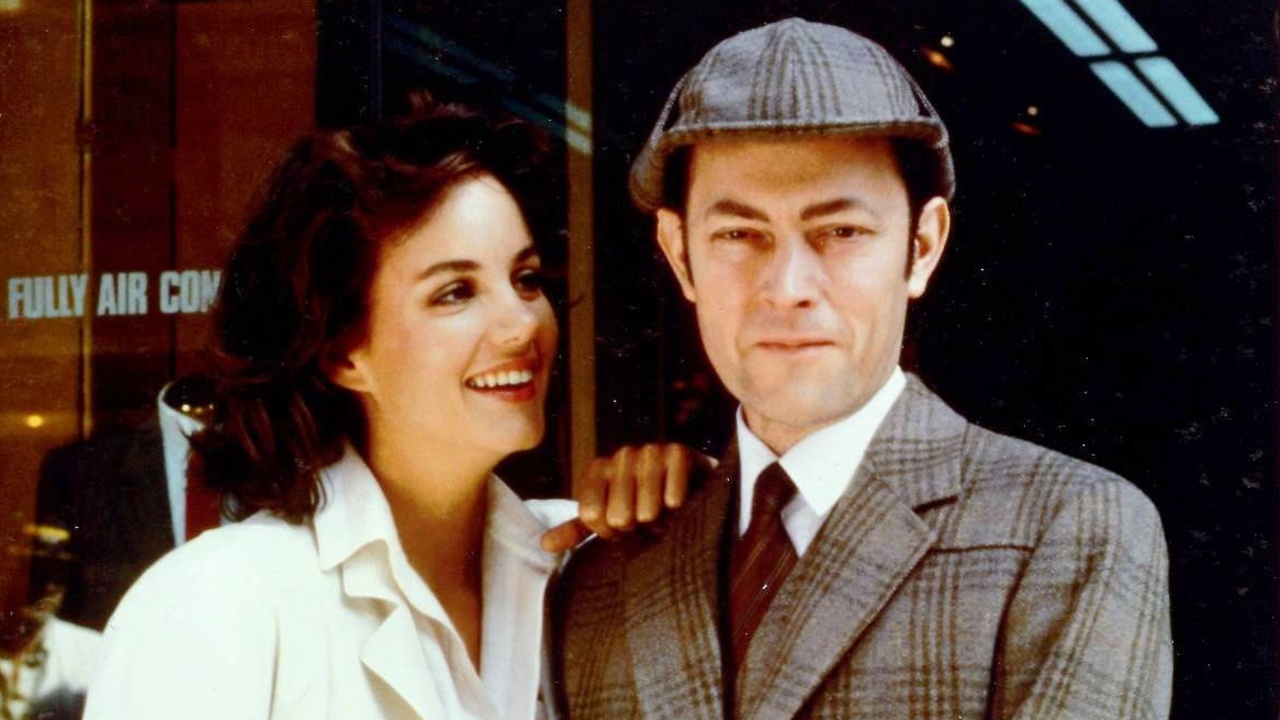 However, the rest of The Return of Sherlock Holmes is formulaic. There is some shabby plotting that would never have been worthy of an Arthur Conan Doyle – like when Holmes, despite being innocent in 20th Century ways, manages to convincingly impersonate a modern detective; or where the FBI send an undercover agent to date Jane for reasons that are never too clear (as though that is the most natural way in the world to obtain information); while in the opening scenes, Jane is seen tailing a man (William Hootkins) only for him to walk into her office and ask to hire her to see if his wife is cheating on him whereupon she advises him to go home, before we improbably learn that she has in fact been hired by the wife in the first place to see if Hootkins was cheating.
You get the impression that the film was inspired after the creators watched Time After Time (1979), which had H.G. Wells travelling through time to present-day San Francisco. Holmes's expostulation "What have they done to my London?" is almost a direct quote from that film. Much of the humour in the show plays off Holmes as a fish out of water in the present day. We get predictable lines like: "What kind of carriage is this? A horseless carriage!" at his encountering a car for the first time. Or more amusingly when he asks the clerk at a hotel "If I leave my shoes outside the door, will they be cleaned by morning?" Not to mention the pricelessness of Holmes's expression after walking into an adult bookstore. On the other hand, some of the plays on familiar lines – "Elementary, my dear Holmes" or "Watson, the game is afoot" – come across as groan worthy.
The idea of Sherlock Holmes cryogenically unfrozen in the present was later also conducted in another tv movie Sherlock Holmes Returns (1993) starring Anthony Higgins, while the animated tv series Sherlock Holmes in the 22nd Century (1999-2001) had Holmes unfrozen in the future and engaged in more adventures accompanied by a robotic Watson.
Kevin Connor originally began directing back in the days of the original English horror fad created by Hammer. There Connor made the Amicus horror anthology From Beyond the Grave (1974); Amicus's trilogy of Edgar Rice Burroughs lost world films, The Land That Time Forgot (1974), At the Earth's Core (1976) and The People That Time Forgot (1977), and one original lost world film Warlords of Atlantis (1978), all starring Doug McClure; the Arabian Nights fantasy Arabian Adventure (1979); the Backwoods Brutality black comedy Motel Hell (1980); and the Japanese ghost story The House Where Evil Dwells (1982). These days Connor directs for tv. Among Connor's genre tv fare is:- Goliath Awaits (1981), an interesting tv mini-series about a society that has survived in a sunken ship; the Indian adventure The Mysteries of the Dark Jungle (1991); the stalker thriller Shadow of Obsession (1994); the Egyptian archaeology adventure The Seventh Scroll (1999); the Christmas fantasies Santa, Jr. (2002), A Boyfriend for Christmas (2004), Farewell Mr Kringle (2010) and Annie Claus is Coming to Town (2011); the Hallmark adaptation of Frankenstein (2004); and Chasing Leprechauns (2012).
---
Film online in several parts beginning here
---