aka The Rest of Daniel
---
USA. 1992.
Crew
Director – Steve Miner, Screenplay – Jeffrey Abrams, Producer – Bruce Davey, Photography – Russell Boyd, Music – Jerry Goldsmith, Visual Effects – Visual Concepts Engineering, Makeup Effects – Greg Cannom & Dick Smith, Production Design – Gregg Fonseca. Production Company – Icon Entertainment.
Cast
Mel Gibson (Captain Daniel McCormack), Elijah Wood (Nat Cooper), Jamie Lee Curtis (Claire Cooper), Isabel Glasser (Helen), George Wendt (Harry Finley), Robert Hy Gorman (Felix), David Marshall Grant (Wilcox), Joe Morton (Dr Cameron), Nicholas Surovy (John)
---
Plot
The 1940s. Air Force test pilot Daniel McCormack keeps trying to propose to his girlfriend Helen but cannot find the words. He is then shattered when she is hit by a car and goes into a coma. Unable to handle the loss, he volunteers for a cryogenic experiment being conducted by his good friend Harry Finley so that he can be frozen for a year and not to have to deal with the grief of Helen's death. However, after Daniel is frozen, he is forgotten about. In the present-day, he is found and accidentally revived by two kids. The world that Daniel now wakes into is one that he finds bewilderingly different.
---
Forever Young is a variation on stories like Washington Irving's Rip Van Winkle (1820) and H.G. Wells's When the Sleeper Wakes (1899). It is a film that contains a number of surprises. The first of these is that it managed to turn such an old-fashioned, slow-moving and rather sweet story into a box-office success. The biggest surprise at the time was also the change of pace that Forever Young held for Mel Gibson, who was then principally known as an action superstar in the likes of the Mad Max and Lethal Weapon films. Gibson's Icon Entertainment production company produces Forever Young – it was their second film – and it clearly acts as a change of pace, showing Mel Gibson wanting to be taken more seriously as an actor.
The other surprise is that Forever Young comes from director Steve Miner, a director who started his career as an associate of Sean S. Cunningham, making slasher films like Friday the 13th Part 2 (1981) and Friday the 13th Part III in 3D (1982) and would go onto the likes of House (1986), Warlock (1989), Halloween H20: Twenty Years Later (1998), Lake Placid (1999) and Day of the Dead (2008). The other surprise that Forever Young holds over a decade later is that it has a script by J.J. Abrams, the creator of tv's Alias (2001-6), Lost (2004-10) and Fringe (2008-13) and director of Mission: Impossible III (2006), Star Trek (2009), Super 8 (2011), Star Wars Episode VIII: The Last Jedi (2017) and Star Wars Episode IX: Rise of the Skywalker (2019).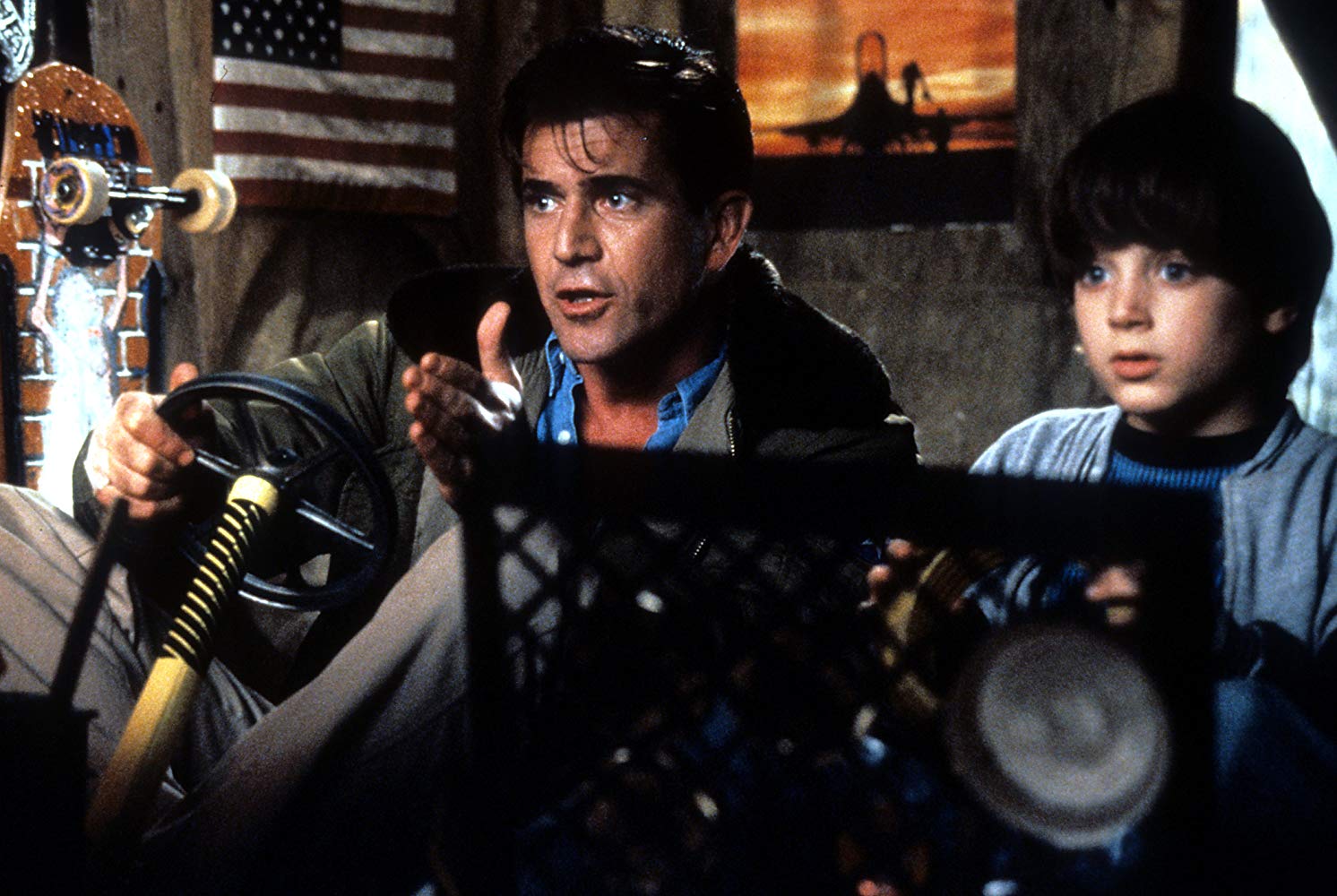 Surprisingly, for a director coming from a background in B-budget horror, Steve Miner does a good job in playing up the feelgood emotions and toning Mel Gibson's wild and crazy guy persona down to get him to play a romantic lead. Unfortunately, the plot is supported by a decidedly shaky series of incredulities – like the initial premise of Mel Gibson jumping into a cryogenic freezing chamber so that he does not have to deal with seeing his girlfriend die, as though that is the most natural way of dealing with grief in the world.
All the subplots come together in the last ten minutes with ludicrously melodramatic contrivation – Mel Gibson finds his old love is still alive; gets to pilot the plane he has been dreaming of flying throughout; young Elijah Wood gets to fulfil his dream of piloting a plane; and all of Gibson's age catches up with him (in a very nice makeup job from Dick Smith), which conveniently means that he and his love are not separated by 40 years age difference and can finally be reunited with her (well for as much time is left for them at the age of 85); and everyone involved lives happily ever after, except perhaps for Jamie Lee Curtis who has been developing romantic interest in Mel Gibson and is now shuffled aside without even a second thought.
A far better variation on the cryogenic sleeper awakes theme was Late for Dinner (1991), which was released the previous year. Of course, Late for Dinner lacked a major box-office star to carry it that Forever Young did and attracted little attention, even though it is the infinitely superior film.
---