aka Scanner Force
---
Canada. 1992.
Crew
Director – Christian Duguay, Screenplay – B.J. Nelson, David Preston & Julie Richard, Producer – Rene Malo, Photography – Hugues De Haeck, Music – Marty Simon, Special Effects Supervisor – Louis Drag, Makeup Effects – Mike Maddi, Production Design – Michael Joy. Production Company – Malo Film Group/Filmtech Productions.
Cast
Liliana Komorowska (Helena Monet), Steve Parrish (Alex Monet), Valerie Valois (Joyce Stone), Collin Fox (Elton Monet), Daniel Pilon (Michael), Harry Hill (Dr Baumann)
---
Plot
Helena Monet takes Eph-3, an experimental scan-suppressant drug developed by her adopted father, a wealthy pharmaceutical manufacturer. However, the Eph-3 affects a personality change and causes her to become megalomaniacally crazed. Using her scanner abilities, Helena kills her adopted father, assumes control of the company and starts avenging herself against those who have wronged her.
---
This is another of the dreary sequels to David Cronenberg's excellent Scanners (1981). (See bottom of the page for other sequels).
In most regards, Scanners III: The Takeover is a desperately mediocre film. It has a poorly written script. Chief among the many sillinesses is the failure to carve a believable character out of Liliana Komorowska's lead villainness. The script initially asks us to believe that a drug could affect such a wild personality change as to turn a sweet innocent into a wild, power-crazed bitch is a big enough plausibility hole in itself.
However, the script is happy to dump this when it wants to. In one scene it turns around and plays Liliana Komorowska as an innocent victim being exploited by her egomaniac boss in order to set him up for a just desserts punishment. Equally contradictory is the ending where she is defeated by the dislodging of her drug disc whereupon she kills herself, only for her spirit to exit the body and enter the tv set after everyone has gone, laughing as she plans to take over the world. Previously the film has established that her rampant behaviour was caused by the drug but this contradicts it by having said behaviour continue after the drug has been removed.
Returning in the director's chair after the previous sequel Scanners II: The New Order (1991), Christian Duguay does a fair job of keeping the pace moving. He does however come up with some scenes that are extremely silly no matter what way one looks at them – like the scene where Liliana Komorowska makes her boss get up and perform a strip in front of his backers or to make a couple on a live tv show have sex.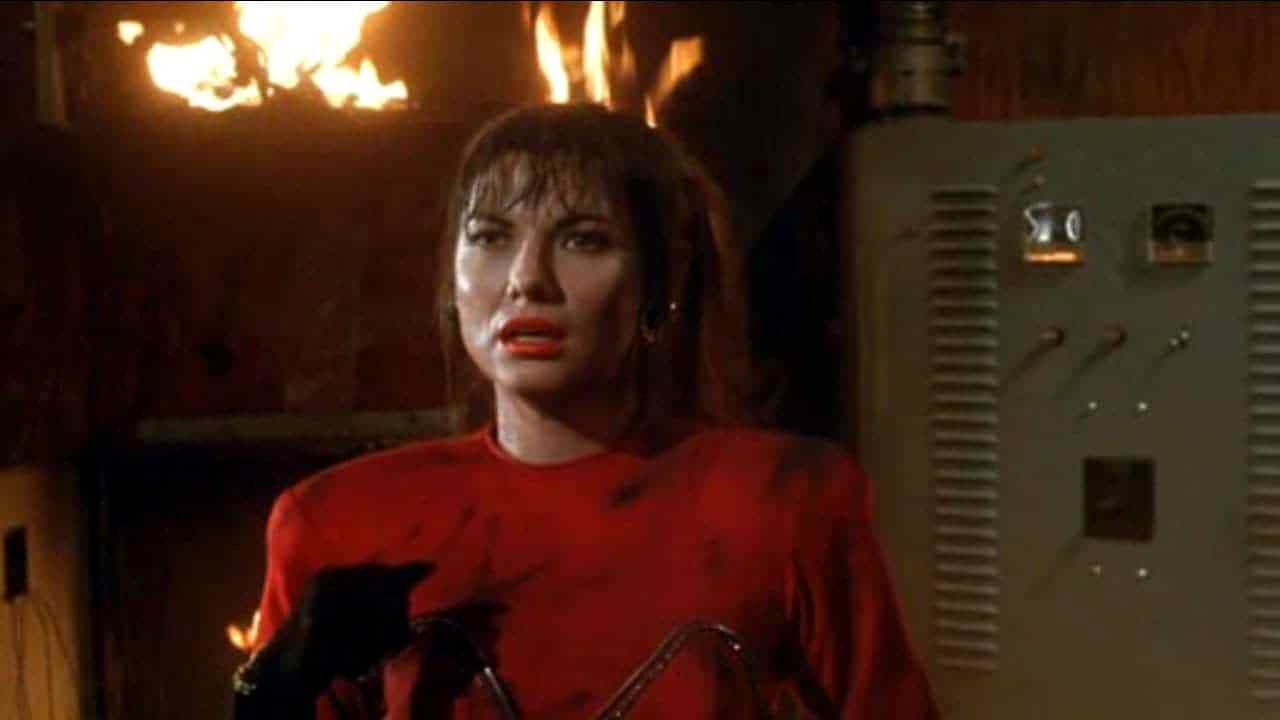 The silliest part is surely the scenes in the asylum that involve a well stacked nurse trying to seduce Steve Parrish followed by a group of patients dressed as though they have stepped out of a 1930s gangster flick arresting him for sexual harassment and then strapping him down to a laser – it is a laughably unconvincing scene that could have stepped out of an Edward D. Wood Jr movie.
The film's one ace in the hole is Liliana Komorowska, a Polish actress who subsequenrly became Christian Duguay's wife. She speaks through a thick accent, nevertheless projects both a beauty and a radiant charm. In fact, she is better in the part than the part itself is. The way the part is written it keeps wanting her to play it as a camped-up scanner super-bitch but by sheer virtue of her sunny charms she invests the role with considerably more sympathy than the one dimensionality that is required of her.
The other Scanners films are Scanners (1981), Scanners II: The New Order (1991), Scanner Cop (1994) and Scanner Cop II: Volkin's Revenge/Scanners: The Showdown (1995).
Christian Duguay would go onto make the human bomb thriller Live Wire (1992), the comic-book superheroine tv pilot Model By Day (1993), the interesting sf film Screamers (1995), the action film The Art of War (2000), the dire Hitler: The Rise of Evil tv mini-series (2003), Human Trafficking (2005) and the horror film Boot Camp (2007).
---
Trailer here
---