---
Crew
Director – Robert Iscove, Screenplay – Phillip Eisner, Producer – Jeff Morton, Photography – David Boyd, Music – Randy Miller, Visual Effects Supervisors – Eric Grenaudier, Sam Nicholson & Patrick Shearn, Digital Visual Effects – Stargate Digital, Special Effects Supervisor – Richard Stutsman, Makeup Effects – Barri & Tom Burman, Production Design – John C. Vallone. Production Company – Traveler's Rest Films.
Cast
Marguerite Moreau (Charlie McGee), Malcolm McDowell (John Rainbird), Danny Nucci (Vincent Sforza), Dennis Hopper (James Richardson), John Dennis Johnson (Joel Lowen), Darnell Williams (Gil James), Dan Byrd (Paul), Travis Charitan (Cody), Scott E. Cox (Andrew), Emmett Shoemaker (Edward), Devon Alan (Max), Eric Jacobs (Jack), Deborah Van Valkenburg (Mary Conant), Ron Perkins (Agent Pruitt), Jeremy Elliott (Henry Sforza), Skye McCole Bartusiak (Young Charlie), Mary Parker Williams (Mrs Wanless), Aaron Radl (Andrew McGee)
---
Plot
The firestarter Charlie McGee is now in her early twenties. She hides under the assumed name Tommy Andrews and attends university where she is conducting research into the Lot 6 experiments. Insurance claims investigator Vincent Sforza is asked to track down several names from the Lot 6 experiments to give out cheques as part of a group action settlement. One of the names on his list is Charlie, although she is presumed dead. When he goes to the university library to conduct research, Vincent encounters Charlie without realising who she is and they are attracted to one another. He comprehends who she is after they sleep together and she nearly torches the hotel room in the heat of passion. He persuades her to come in and be helped by his people – but what he does not know is that the insurance company is a front for The Shop and is controlled by John Rainbird, the Shop assassin who befriended Charlie as a child. Rainbird is obsessed with finding Charlie again and plans to introduce her to the new generation of children born from the experiments that he has cultivated and who have powers that rival her own.
---
Firestarter (1984) was a not particularly standout adaptation of the 1980 Stephen King novel of the same name and is generally looked down upon by King fans as another amid the slate of weak King screen adaptations. Nevertheless, Firestarter clearly proved to be of sufficient interest for this tv mini-series sequel to be mounted, one of a host of Stephen King works that have been remade or multiply sequelised in the 1990s and 00s. TV during the late 1990s/2000s saw remakes of The Shining (1997), The Dead Zone (2001-2), Carrie (2002), 'Salem's Lot (2004) and Children of the Corn (2009).
Firestarter Rekindled starts out promisingly. The characterisation of Charlie now in her twenties is credible and Marguerite Moreau gives a decent performance in the role. There are some witty images like her keeping a fire extinguisher beside her bed in case she wakes up with bad dreams and inadvertently starts fires and an amusing scene where she picks up a guy in a bar for a bout of PG-rated sex on the hood of a car, only for her to blow up the alley surrounding them and cause the asphalt to boil in the heat of passion. There is a spooky scene where she spends the night in Danny Nucci's hotel room and turns the lights on to find the entire room a charred mess. There is even a cute scene in the script that compares the difference between the superheroic Superman and the mundanely powered Batman as a metaphor for Charlie wishing she could be rid of her superpowers and be ordinary.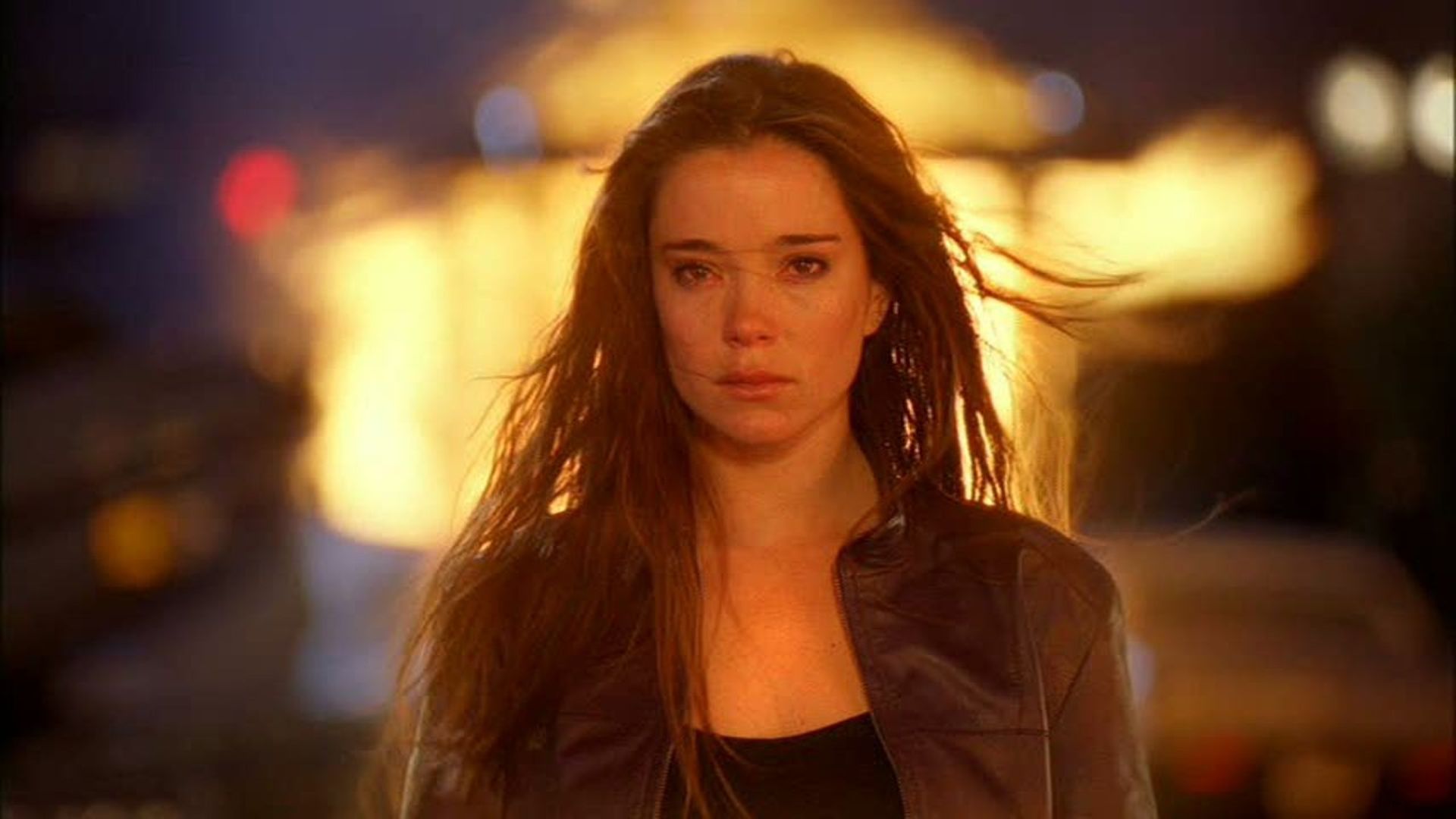 However, after a promising start, Firestarter Rekindled goes downhill. After about the point where we get to the introduction of the psychically superpowered kids, the mini-series starts to turn into cheesy 'sci-fi'. Indeed, the show feels less like an exploration of someone with psychic powers as the original was, than it does a B-movie version of X-Men (2000). The scenes with Charlie combating the evil psychic kids become very comic-bookish.
Moreover, the mini-series is badly padded. Coming in at 162 minutes, the show could easily have done with three-quarters of an hour less running time with little noticeable difference. What we have feels like something that exists down at the level of a B-budget franchise film – say a Wishmaster or a Children of the Corn sequel – that has been lengthily extruded to make a three-hour mini-series. There are a number of extraneous subplots – the death and revival of Deborah Van Valkenburg, a good many scenes with Malcolm McDowell and the kids – that have been tossed in to pad out the length. The mini-series is certainly underplotted for the length of time the story is required to fill.
The mini-series retells large sections of Firestarter generally faithfully at least up until the end of the original story, which has been changed to have Charlie incinerate her father and leave Rainbird alive. The role of Rainbird has been recast with Malcolm McDowell who gives a fey performance that becomes decidedly campy at times. It is certainly hard to believe that the Rainbird we have here is the same character essayed by George C. Scott in the original film, while the character's American Indian background has been omitted altogether. Indeed, Rainbird is now less of an assassin than an evil version of X-Men's Professor Xavier.
The Stephen King book was later very poorly remade as Firestarter (2022) starring Ryan Kiera Armstrong as Charlie and with a real Native American actor Michael Greyes as Rainbird.
---
---