aka Blink of an Eye
---
Crew
Director – Bob Misiorowski, Screenplay – Edward Kovach, Producer – Jacob Kotzky, Photography – David Gurfinkel, Music – Vladimir Horunzhy, Special Effects Supervisor – Rory Cutler, Production Design – Eytan Levy. Production Company – Capitol Films.
Cast
Michael Paré (Sam Browning), Janis Lee (Kathryn Baker), Uri Gavriel (Izmir), Amos Lavie (Yassar Mozaffar), Sasson Gabay (Prime Minister Xhalil), Richard Peterson (Colonel Townsend), Jack Widerker (Alan Baker), Elkie Jacobs (Noreen Baker)
---
Plot
Sam Browning, a top agent with the US government's Psychic Warfare Unit, is assigned to go to a field hospital in a Kurdish refugee camp near the Turkish border. The wife of the Unit's head has had a dream that her daughter Kathryn who is working as a doctor in the camp is in danger. Sam is sceptical about the dream and Kathryn is not interested in his protection when he arrives. Terrorists led by Yassar Mozaffar then break into the camp in stolen Red Cross vehicles and take Kathryn hostage. They then contact the US government, saying they want plutonium in exchange for her safe return. It is up to Sam to use his psychic powers to rescue Kathryn and defeat the terrorists.
---
This is an extremely routine action film. Director Bob Misiorowski has made a good many other such action films, including In Too Deep/Point of No Impact (1993), Beyond Forgiveness/Blood of the Innocent (1994), On the Border (1998), Shark Attack (1999), Panic (2001) and Derailed (2002) with none of these being in any way standout. First Light/Blink of an Eye is no exception.
First Light/Blink of an Eye never consists of anything more than gunplay and explosions. Bob Misiorowski handles these with an adequate competence, although his weakness tends to show up when it comes to human scenes. Unfortunately, the potentially interesting psychic soldier angle is of little importance to the film – Michael Paré's character could be a standard two-fisted action hero for all that his psychic powers matter to the film.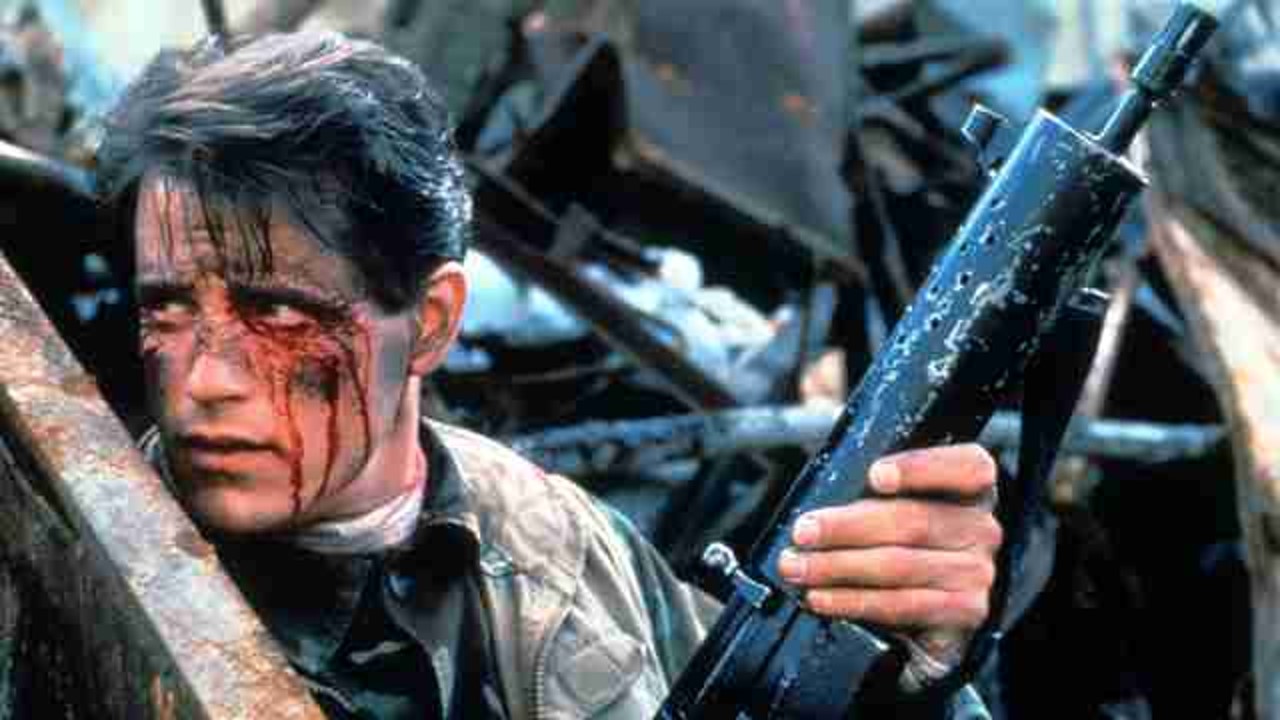 There are about two scenes where we see the potential the psychic soldier angle might have held – one where Michael Paré convinces a group of enemy soldiers that they are about to be set on fire and an intriguing scene when he uses his psi powers to compensate for having been temporarily blinded. However, the predominating focus on low-budget action quashes any potential the story might have. Michael Paré is, as usual, wooden.
First Light is also unique for its red-blooded take on American foreign policy. Michael Paré has an amazing speech: "We Americans have forgotten there's such a thing as righteous anger and righteous violence … All Americans will do is talk tough and negotiate until the headlines die … Washington, Jefferson, Franklin – do you think they'd put up with stuff like this." This is something that political events subsequent to the film's making – a Kurdish refugee camp (ie. Iraq) as setting, terrorists kidnapping foreign aid workers as hostages – have only served to make even more relevant than at the time that First Light was made.
---
---