hr/>
USA. 1964.
Crew
Director – John Frankenheimer, Screenplay – Rod Serling, Based on the Novel by Charles W. Bailey II & Fletcher Knebel, Producer – Edward Lewis, Photography (b&w) – Ellsworth Fredericks, Music – Jerry Goldsmith, Production Design – Cary Odell. Production Company – Seven Arts Productions/Joel Productions/John Frankenheimer.
Cast
Fredric March (President Jordan Lyman), Kirk Douglas (Colonel Martin 'Jiggs' Casey), Burt Lancaster (General James Mattoon Scott), Edmond O'Brien (Senator Raymond Clark), Martin Balsam (Paul Girard), Ava Gardner (Eleanor Holbrook), Andrew Duggan (Colonel William Henderson)
---
Plot
The popularity of US President Jordan Lyman is at an all-time low over his decision to sign a nuclear disarmament treaty with the Soviet Union. Joint Chiefs General James Mattoon Scott has become a charismatic demagogue, spearheading public opposition to the treaty. One of Scott's staff, Colonel Martin 'Jiggs' Casey, puzzles over a number of increasingly suspicious incidents and draws the conclusion that Scott and selected members of the Joint Chiefs are planning a coup to overthrow Lyman that coming weekend.
---
During the 1960s, director John Frankenheimer came to critical acclaim with films such as Birdman of Alcatraz (1962), The Train (1964) and Grand Prix (1966). In this period, Frankenheimer also made a trilogy of incredibly bleak thrillers – The Manchurian Candidate (1962), Seven Days in May and Seconds (1966) – all of which fall within genre lines. All are darkly penetrating pinpointings of Cold War anxiety that Frankenheimer shoots in black-and-white with meticulous style. Seven Days in May is a genre-borderline political thriller.
The script for Seven Days in May comes from Rod Serling, best known as the creator/host of The Twilight Zone (1959-63). Rod Serling is one of the genre's greatest writers but in his off days had a tendency to write dialogue that came with the crude snub-nosed thrust of a Mickey Spillane. When at his worst – as in Night Gallery (1969-72) tv series – Serling became a preachy moralist taking potshots at straw figures. In his best pieces of writing – such as Planet of the Apes (1968), The Man (1972) and this – Serling despaired about the state of the world and made deep and heartfelt humanist pleas for things to change for the better.
Seven Days in May is Rod Serling's political/humanist writing at its very best. Some of the arguments that Burt Lancaster's general offers in favour of militarism are almost too disturbingly plausible – "There's not a single piece of paper in history that's ever served as a deterrent to a Pearl Harbor. Every twenty years or so we pick ourselves up bleeding off the floor and forget that. Mistakes which are delivered to us COD by peace-loving men and are bought and paid for by peace-loving men – men in uniform." Serling had been n service during World War II and been decorated several times but came away from the experience an ardent pacifist.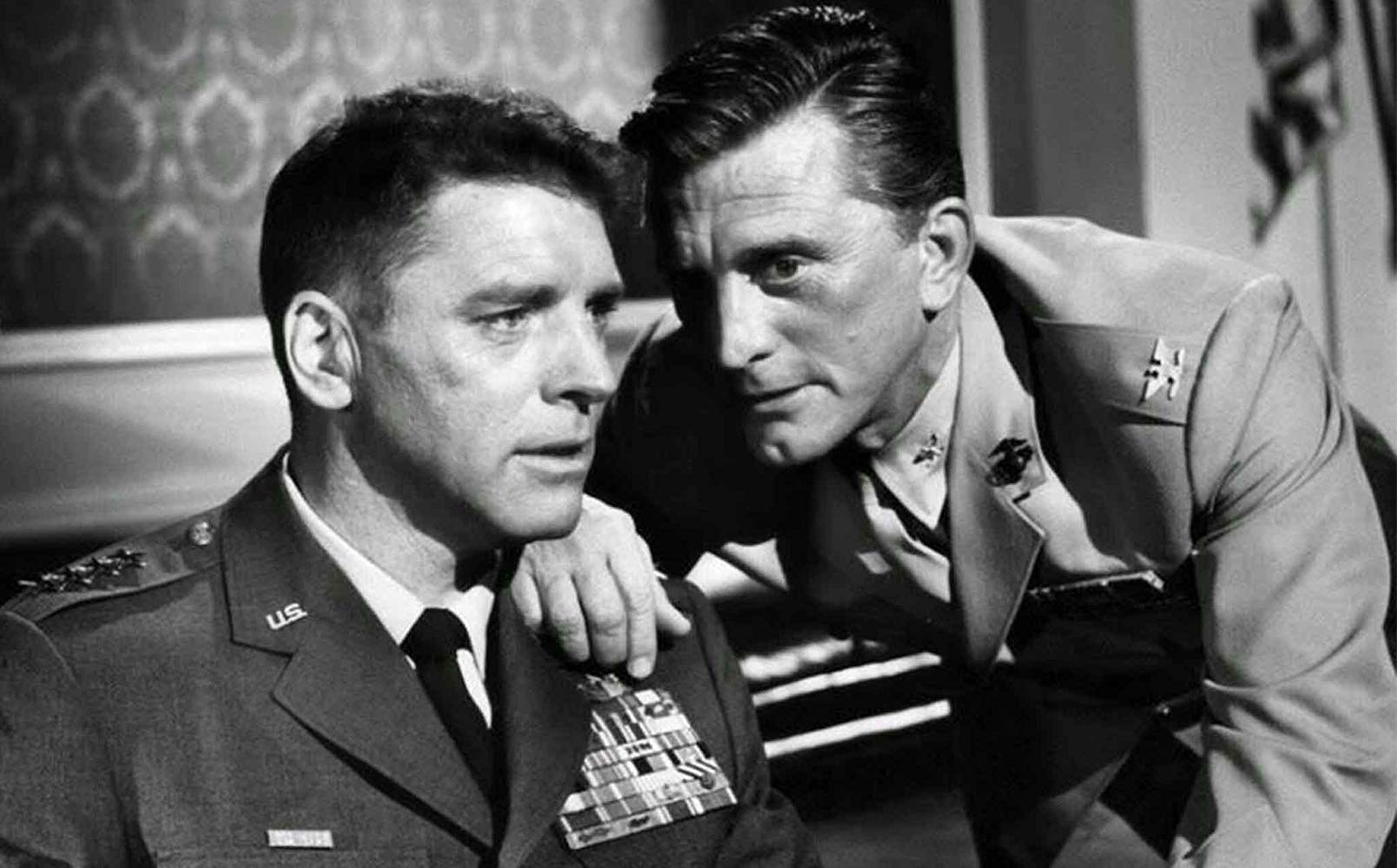 The confrontations between Burt Lancaster and Fredric March are written with a genuine tension, something ably brought out by Frankenheimer who frames each confrontation in stark relief. The climax of the film where Fredric March's President stands up and says that the greatness of a nation is built on peace is the sort of stuff that winning political speeches are made of. Frankenheimer shoots the conflict with a starkness that conveys a maximum degree of cold, frightening tension. This is aided immensely by Jerry Goldsmith's score, which consists solely of big, basso snare drumbeats.
Seven Days in May was remade as the disappointing cable tv movie The Enemy Within (1994) with Sam Waterston as The President, Jason Robards as the mutinous general and Forest Whitaker in the Kirk Douglas role.
John Frankenheimer's other films of genre interest are The Manchurian Candidate (1962), a black comedy about politics and brainwashed assassins; Seconds (1966), a bleak thriller about a secret syndicate that offers a rejuvenation treatment; Prophecy (1979), an eco-thriller about a rampaging mutant bear; and the H.G. Wells adaptation The Island of Dr Moreau (1996).
---
---