aka Madman of Mandoras
---
Crew
Director – David Bradley, Screenplay – Richard Miles, Story – Steve Bennett, Producer – Carl Edwards, Photography (b&w) – Stanley Cortez, Music – Pete Zinner, Additional Music – Don Hulette, Makeup – Maurice Seiderman, Art Direction – Frank Sylos. Production Company – Paragon Films
Cast
Walter Stocker (Phil Day), Audrey Caire (Kathy Day), Dani Lynn (Suzanne Coleman), Nestor Paiva (Police Chief Alaniz), John Holland (Professor John Coleman), Pedro Rigas (El Presidente)
---
Plot
Professor John Coleman is abducted while working on an antidote to the deadly G-gas. His daughter Kathy and her husband, CID agent Phil Day, follow his trail to the South American republic of Mandoras, a country that has become a hiding ground for Nazi war criminals. In Mandoras, they learn the secret that the country houses – that the head of Adolf Hitler was severed at the end of World War II and has been brought to Mandoras still alive where it is now masterminding a scheme to unleash G-gas on the rest of the world.
---
They Saved Hitler's Brain was one of a spate of Nazi mad scientist films that came out in the 1960s, a period that also included the likes of She Demons (1958), The Flesh Eaters (1964), The Frozen Dead (1966) and Flesh Feast (1970). They Saved Hitler's Brain has gained a reputation as a hilariously bad film.
Although this bad movie reputation can surely only have derived from people who have not seen the film and are reacting to its wonderful exploitation premise and title. Upon seeing it it turns out to be one of the dullest films imaginable, not even worthy of a so-bad-it's-enjoyably-funny categorisation as both Robot Monster (1953) and Plan 9 from Outer Space (1959) are.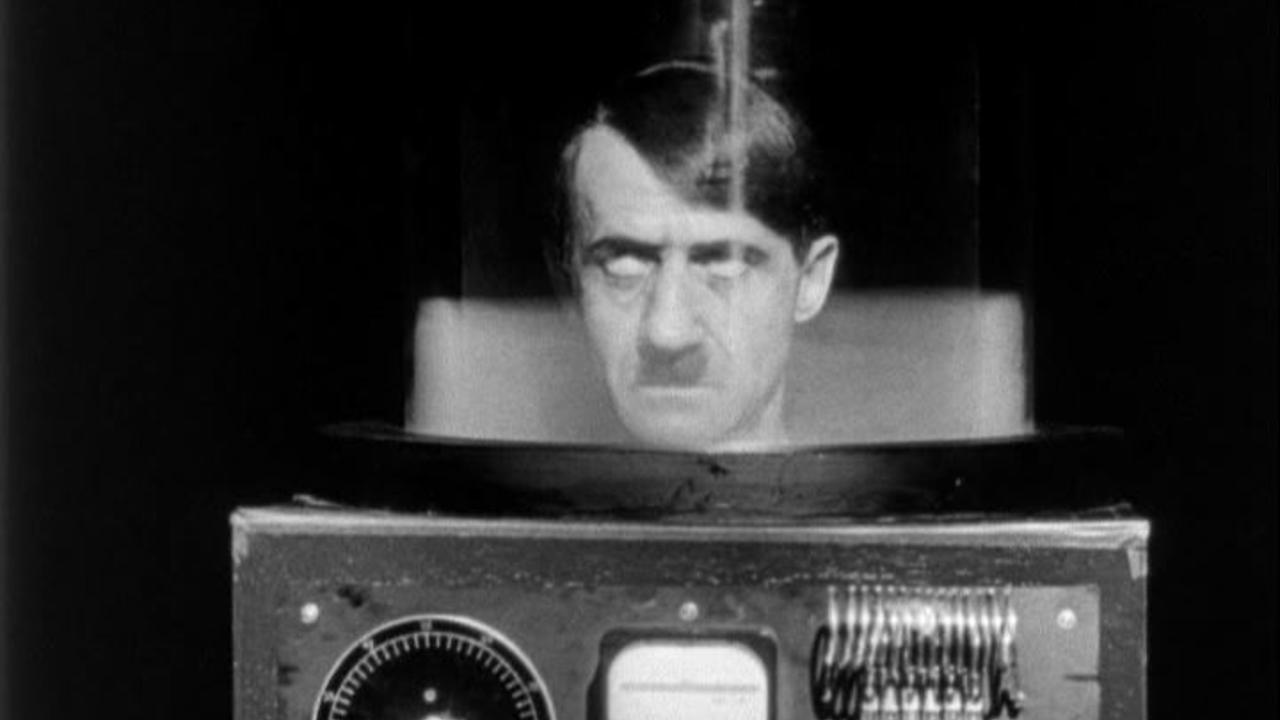 The outrageous title concept has gained the film a reputation amongst B movie fans. Other than that, there is nothing else to the film. The action is mind-numbingly dull – most of the film consists of conversations that take place in living rooms and hotels. Occasionally there are a few car chases but all of these take place under the speed limit.
We have to wait three-quarters of the film before we get to Hitler's decapitated and still living head. It is here that They Saved Hitler's Brain offers some amusement – there is an undeniable fascination to watching the head in the tank as it performs bizarre silent grimaces and contortions. The end effect of the head melting is hilariously unconvincing.
---
---