---
Crew
Director – Toshihiko Masuda, Screenplay – Stan Berkowitz, Alan Burnett, Paul Dini, Rick Fogel & Steve Gerber, Story – Alan Burnett & Paul Dini, Producers – Alan Burnett, Paul Dini & Bruce W. Timm, Music – Michael McCuiston, Theme – Shirley Walker, Additional Music – Lolita Ritmanis, Animation Directors – Hiroaki Noguchi, Teiichi Takiguchi & Hideaki Yoshio, Art Direction – Glen Murakami. Production Company – Warner Bros.
Voices
Kevin Conroy (Batman/Bruce Wayne), Tim Daly (Superman/Clark Kent), Dana Delany (Lois Lane), Mark Hamill (The Joker), Clancy Brown (Lex Luthor), Arleen Sorkin (Harley Quinn), Lisa Edelstein (Mercy Graves)
---
Plot
The Joker steals a valuable statuette known as The Laughing Dragon. Batman realizes that the statuette is composed of Kryptonite and heads to Metropolis where The Joker is negotiating a deal with Lex Luthor to kill Superman for one billion dollars. While trying to track down The Joker, Batman encounters Superman and they deduce one another's secret identities. Superman dislikes Batman's vigilante methods but they agree to work together to stop The Joker. Meanwhile, Bruce Wayne asks Lois Lane out on a date and she decides she prefers his charms to those of the perpetually absent Superman.
---
The creative team of Alan Burnett, Bruce W. Timm, Eric Radomski and Paul Dini had had great success with the animated tv series Batman/The Adventures of Batman and Robin (1992-4), which they had spun off from the success of Tim Burton's Batman (1989) and Batman Returns (1992) live-action films. Bruce Timm and company revolutionized the look of tv animation by springboarding off the dark mood look of the Burton films and following Burton's lead in giving psychological depth and motivation to the comic-book's villains. Timm and co next attuned their sights to Batman's stablemate Superman and delivered an equally fine series Superman (1996-2000), which expanded and gave life to the Superman mythos – in fact, did a far better job of it than anything in the concurrent live-action tv series Lois and Clark: The New Adventures of Superman (1993-7). Eric Radomski went on to deliver the superb animated adaptation of Todd MacFarlane's Spawn (1997) for cable, while all then created the original futuristic Batman Beyond/Batman of the Future (1999-2001) to great acclaim and Bruce Timm followed up with Justice League (2001-5) and Green Lantern: The Animated Series (2011-3), as well as a number of other DC superhero based animated films.
In between this, the team began a series of Batman film spinoffs, beginning with the theatrically released Batman: Mask of the Phantasm (1993). This was followed by Batman and Mr Freeze: SubZero (1998), this, Batman Beyond: Return of the Joker (2000), Batman: Mystery of the Batwoman (2003) and then assorted DC Universe Original Animated Movies.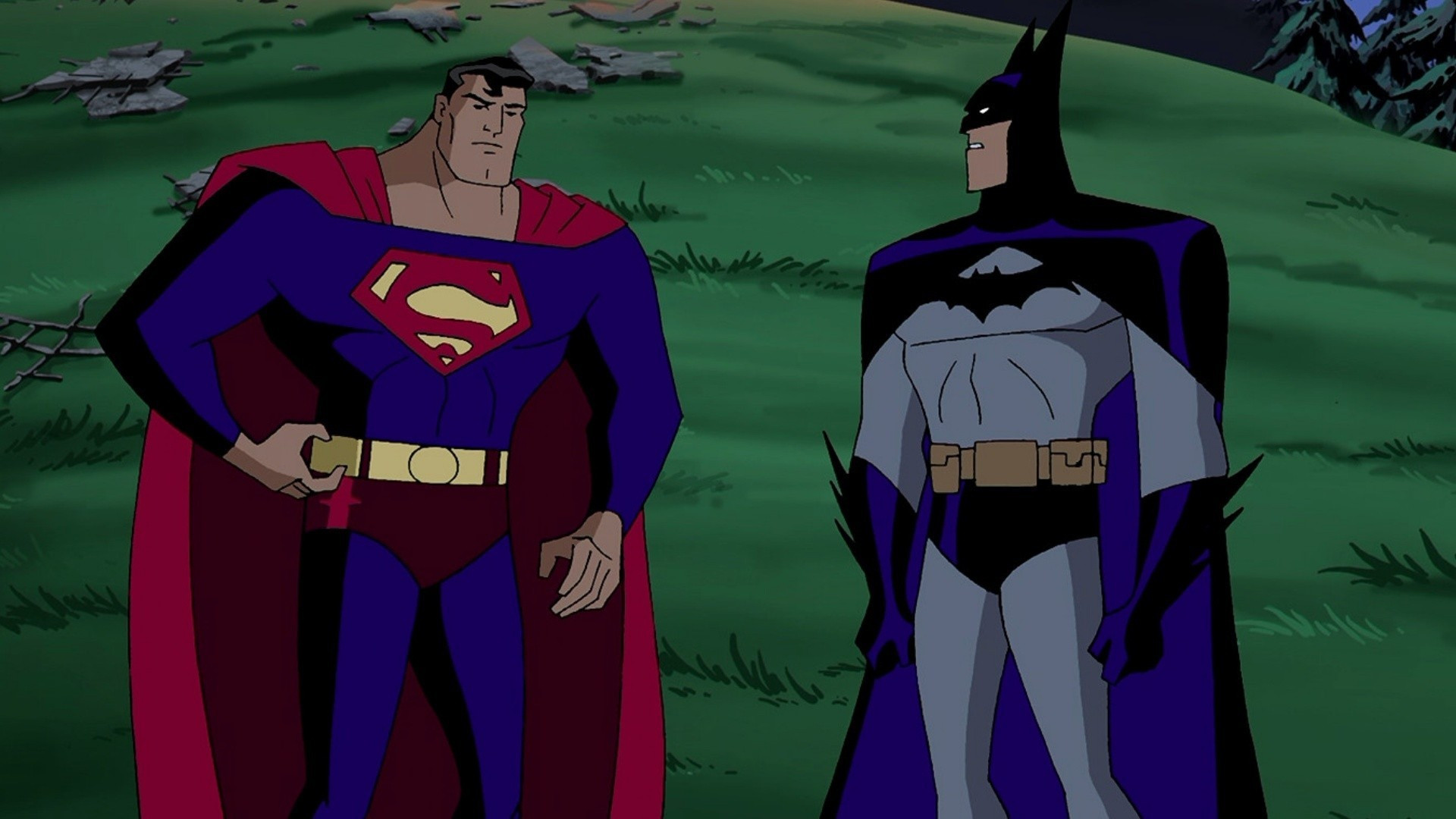 There were several Superman animated films with Superman: The Last Son of Krypton (1996), Superman: Brainiac Attacks (2006) and assorted films within the DC Universe Original Animated Movies, beginning with the first of these Superman: Doomsday (2007).
The Batman Superman Movie was a crossover between the two animated series. It originally aired as a three-part episode, World's Finest, of the Superman series and was compiled as a film for video release. (It should also be noted that around this time director Wolfgang Petersen was in discussion for making a live-action film Batman vs Superman). Batman and Superman teamed up again in the animated Superman/Batman: Public Enemies and Superman/Batman: Apocalypse, also from the Bruce Timm production team.
Both the Batman and Superman animated series should be noted for their uncommon intelligence in the general intellectual wasteland of tv animation. The same rigour is applied to the team-up here. Rather than approaching the meeting as a mutual friend's club as the comic-book is wont to do, the script (which interestingly is co-written by Howard the Duck creator Steve Gerber) sets up rivalries on all levels. Instead of a team-up, there is friction between Batman and Superman with Superman disdaining Batman's vigilante approach – in fact, their first meeting starts out as a fight.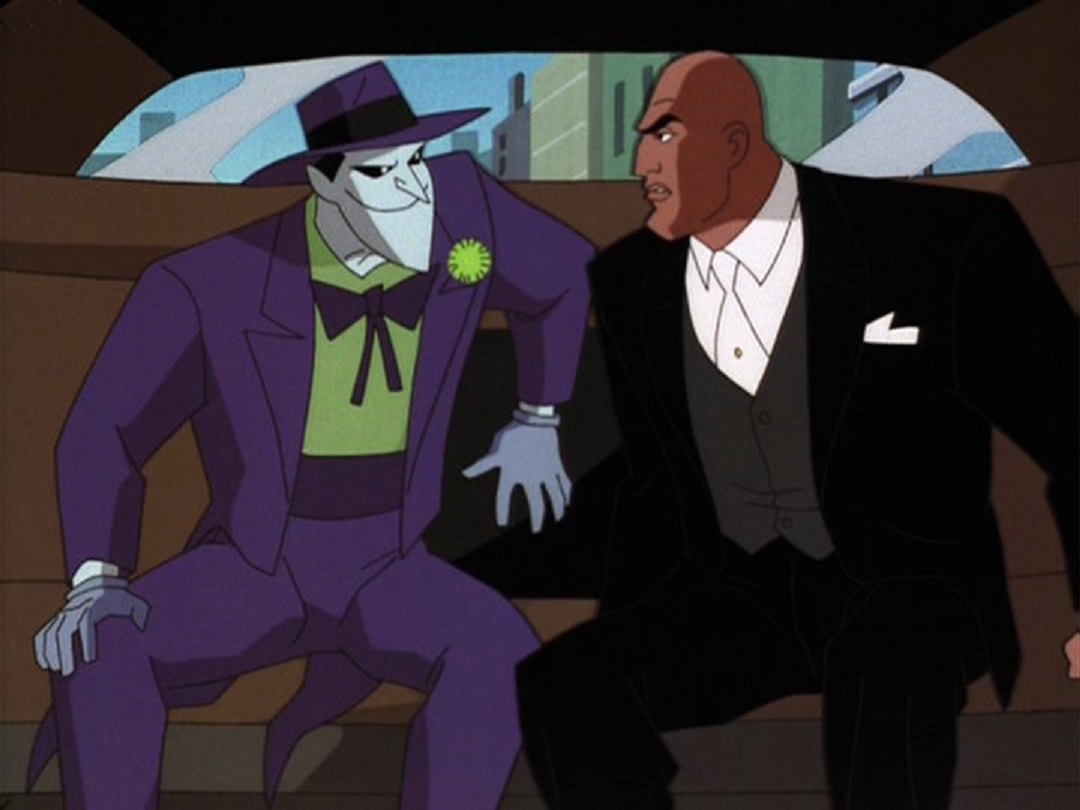 Similarly, the film brings in both character's two principal nemeses – The Joker and Lex Luthor – and pits them together in a reluctant team-up where Luthor is patently gritting his teeth at the off-the-wall Joker's insanity. Even the two villains' female sidekicks are seen fighting it out at one point. The film's most interesting spin is to throw in a romance between Bruce Wayne and Lois Lane, something that clearly has Superman trying to keep his cool from the sideline.
There is also crossplay between the various secret identities, including a nifty scene where Superman and Batman both manage to unmask the other's identity. This is wound into an interesting playoff between all four identities – at one point Batman and Superman lament: "It's ironic that she [Lois Lane] likes Bruce Wayne and Superman. It's the other two guys she's not hot about." "I wish there was some way we could swap around." It is these playoffs that make the film.
The Batman Superman Movie: World's Finest is less successful on a directorial level. The Batman series always managed to throw in some wonderfully exciting action sequences, while the Superman series scaled Superman's superheroics up with enthralling results. For the most part, the action here is routine – although toward the end there are some exciting sequences with Batman and Superman facing killer robots and taking on The Joker who has gone crazy in a giant Flying Wing. Director Toshiko Masuda also fails to grasp the mood of either series. Batman created a wonderfully stylised vision of the dark moodiness of the Tim Burton films, while Superman adopted a unique Art Deco look. However, Toshiko Masuda abandons either look and opts for a blank lack of any real background detail.
---
---