aka Beneath the Bermuda Triangle
---
Crew
Director – Scott Levy, Screenplay – Sean McGinly & Tripp Reed, Producers – Ashok Armritaj & Andrew Stevens, Photography – Gary Graver & Mark Allen Putnam, Music – David & Eric Wurst, Visual Effects Supervisor – Brett Hedlund, Makeup Effects – Kathleen Sandoval, Production Design – Steve Ralph. Production Company – Royal Oaks Entertainment/Concorde-New Horizons.
Cast
Jeff Fahey (Alan Deakins/John Deakins), Jack Coleman (Dr Lance McCarty), Brian Cranston (Charles Braddock), Richard Cummings (Hawks), Linda Hoffman (Marjorie), Chick Vennera (Michael 'Spitz' Spitzer), Richard Tyson (Koda), Kimberly Stevens (Jeannie Deakins), Ben Jurand (Pierce), Jay Acovone (Schmidt)
---
Plot
The FBI interrogate a man claiming to be from the year 2077. He tells his story. Submarine commander Alan Deakins had been placed in a psychiatric institution, the only survivor after his entire crew vanished in the Bermuda Triangle. He was released by paranormal investigator Lance McCarty who had persuaded Washington politico Charles Braddock to sponsor an investigation into what happened. They set forth with a new submarine and crew, passing through a time warp in the Bermuda Triangle to emerge in the year 2077. Once there, they were immediately captured by Braddock, who was now the cryogenically-preserved dictator of the post-holocaust world. They managed to escape and join the underground resistance run by Deakins's grandson, where they attempted to get back to their own time and prevent such a future from occurring.
---
This is a cheap sf/action hybrid from Roger Corman's Concorde-New Horizons combine and former actor-turned-producer Andrew Stevens and his Royal Oaks production company. In its promotional premise and on the video-cover, the film makes much of the submarine drama and Bermuda Triangle angle but this proves to be of little actual importance to the story and the film itself is only another variant on The Terminator (1984).
To complement Stevens and associates, they aim for slightly more than the usual time-travelling killer android film. This is sort of like The Terminator in reverse – where instead of the parent joining in the fight to ensure that the future resistance leader, her son, is not killed, here the parent time-travels into the future and fights alongside his resistance leader son and then returns to the present to prevent the future from coming about. Actually when you think about it, the story has a scope that is wider than either of the first two Terminator films and you suspect that James Cameron could have had a field day with it.
Alas, Time Under Fire is a cheap effort, the likes of which both Stevens and Corman have produced far too many of. The whole film gives the impression of having been shot on the cheap in a single factory location. Scott Levy proves a poor action director and crafts some particularly unconvincing fight scenes.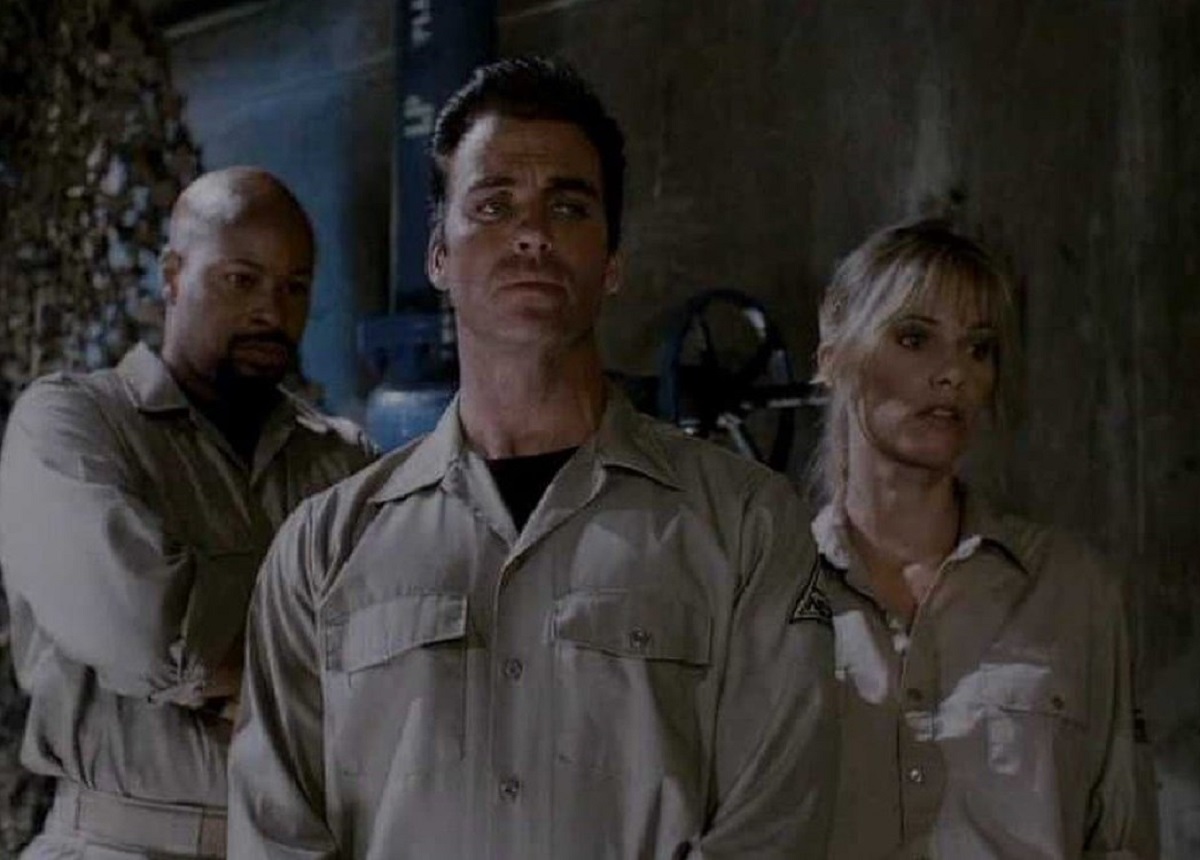 The film unimaginatively borrows ideas from other sources – the principal villain with his pockmarked face and black cape could be a clone on the Emperor out of Return of the Jedi (1983), while the film's debt to The Terminator is more than clearly acknowledged in the unimaginative inclusion of a shape-changing killer android right out of Terminator 2: Judgment Day (1991), which even transforms its arms into vicious spikes. Jeff Fahey is passable as the time-travelling submarine commander but looks ridiculously unconvincing doubling as his younger rebel leader son.
Director Scott [P.] Levy is a former Roger Corman protégé who has directed a number of B genre films including Midnight Tease (1994), The Alien Within (1995), Piranha (1995), House of the Damned (1996), National Lampoon's Men in White (1998) and Error in Judgement (1999).
---
---