aka Virgin Hunters
---
Crew
Director – Ellen Cabot [David DeCoteau], Screenplay – Kenneth J. Hall, Producer – Karen L. Spencer, Photography – James Lawrence Spencer, Music – Reg Powell, Production Design – Arlan Jay Vetter. Production Company – TorchLight Entertainment.
Cast
Brian Bremer (Naldo), Christopher Wolf (Vin), Morgan Fairchild (Camella Swales), Michelle Matheson (Maggie), Sara Suzanne Brown (Reena), Ian Abercrombie (Professor Dorn), Don Dowe (Lex 500), Tamara Tohill (Samantha Cummings)
---
Plot
In the year 2019, The Mega Conglomerate runs the world and has outlawed sex. In class, Professor Dorn tells two of his male students Naldo and Vin that things were not always this way. Naldo and Vin decide to find out for themselves. They break into the archives where they discover a time machine. They realise they can use it to go back in time and stop Camella Swales, who was responsible for changing the world and banning sex. They travel back to 1994 where Camela was the principal of a girls' boarding school. They gain the aid of Maggie, one of the pupils, who disguises them as female students. Meanwhile, a Lex 500 cyborg has been sent back from the future with orders to eliminate Naldo and Vin.
---
Test Tube Teens from the Year 2000 was produced under the banner of TorchLight Entertainment. This was a subsidiary of Full Moon Productions headed by Charles Band, which has been prolific in producing a great many low-budget genre films, including the various Puppetmaster and Trancers series, among others. TorchLight was set up to produce genre films with a softcore bent intended for the 90s cable market (while in some cases edited versions were released to VHS). TorchLight only put out a handful of titles with the likes of Beach Babes from Beyond (1993) and sequel Beach Babes 2: Cave Girl Island (1995) and Blonde Heaven (1995), all also directed by David DeCoteau, Huntress: Spirit of the Night (1995), Petticoat Planet (1996) and Lurid Tales: The Castle Queen (1998).
Hiding behind the pseudonym of Ellen Cabot is David DeCoteau, a director who has had a lengthy career in genre material since the 1980s. (David DeCoteau's other genre films are listed at the bottom of the page). DeCoteau fell into the Band/Full Moon camp throughout the late 1980s/early 90s. A few years after this towards the end of the 90s, DeCoteau began to work independently and specialised in horror films with a softcore gay content – lots of scenes of young good-looking men without shirts on tumbling together and endlessly showering. By the late 2010s, even the market for that appears to have dried up and DeCoteau now seems to specialise in Christmas tv movies and Lifetime Channel thrillers.
Test Tube Teens from the Year 2000 does not exactly have a believable premise – a world where sex has been banned. You kind of wonder how such a society ever came into being and why there weren't riots against the notion. Not to mention, the question of how such a society would reproduce – not even the most extremes conservatives who believe in no sex before marriage would consider banning all sex – although presumably this is explained in the title 'test tube teens'. You can guarantee this is a world where there is a heck of a lot of illicit sex. That said, Test Tube Teens from the Year 2000 avoids any of these questions for the simple reason it is not a film interested in taking anything that happens seriously.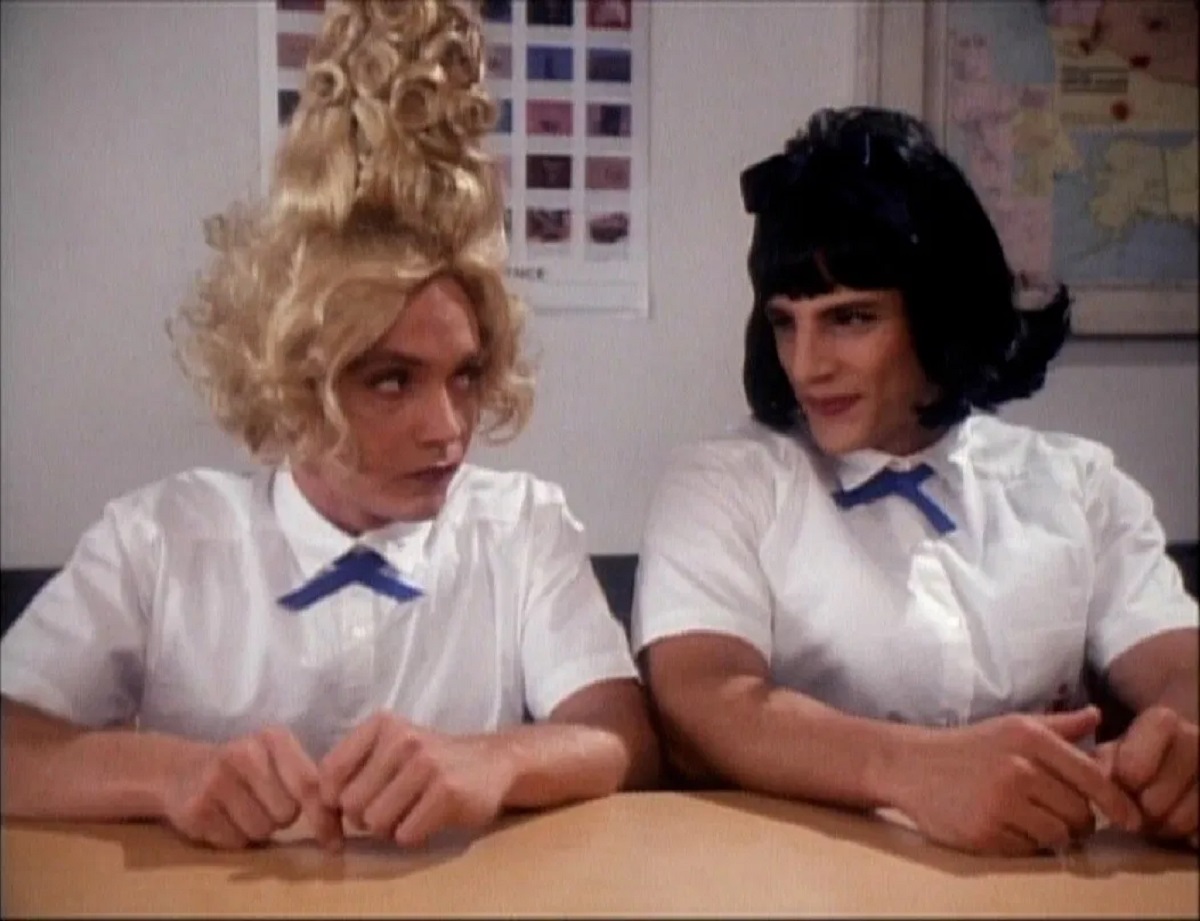 Most of the film plays out a like a bad version of a 1980s comedy – think something like tv's Bosom Buddies (1980-2) and the films He's My Girl (1987) and Nobody's Perfect (1990) where guys are forced to dress as girls or even Soul Man (1986) where C. Thomas Howell adopts blackface to go to college. The two guys have barely arrived back in the present when they are outfitted in drag, including Christopher Wolf with a ridiculous oversized beehive hairdo larger than his head having to fend off professor Ian Abercrombie coming onto him. There is a lame parody of The Terminator (1984) with Don Dowe as a chubby time-travelling cyborg affecting a fake Schwarzenegger accent before hooking up with Morgan Fairchild and driving off with her on a motorcycle in the concluding scenes.
Cast as the headmistress/future morality campaigner, Morgan Fairchild gives a campy performance. She was apparently not happy with the film and sent an angry letter to Charles Band – one can only presume her upset was about the addition of the softcore scenes as surely the ridiculousness of the script should have been evident to anybody with a functioning brain cell in their head. DeCoteau even goes so far as to dub cartoon whee and tweeting sounds over the action at various points, which surely gives all evidence that this is not a film taking itself in the slightest seriously.
As mentioned, one of the peculiarities about David DeCoteau that only became apparent several years after this is that he is a gay director. The question that gets you as you watch Test Tube Teens from the Year 2000 is what the heck is a gay director doing directing straight softcore erotica? The only real answer that you can arrive at is that DeCoteau was just doing a job. Certainly, not long after this he began to spend a good deal more time making softcore gay films. His straight erotica here one has to say is tedious – all garish lighting schemes and topless women pretending to writhe in ecstasy – and directed without a shred of believability.
David DeCoteau's other films of genre interest are:– Dreamaniac (1986), Nightmare Sisters (1987), Creepozoids (1987), Sorority Babes at the Slimeball Bowl-O-Rama (1987), Dr Alien/I Was a Teenage Sex Maniac (1988), Murder Weapon (1990), Puppetmaster III: Toulon's Revenge (1991), Beach Babes from Beyond (1993), Blonde Heaven (1995), Prehysteria! 3 (1995), Beach Babes 2: Cave Girl Island (1996), Bikini Goddesses (1996), Lurid Tales: The Castle Queen (1996), Petticoat Planet (1996), Prey of the Jaguar (1996), The Journey: Absolution (1997), Shrieker (1997), Skeletons (1997), Beach Babes from Beyond 2 (1998), Curse of the Puppet Master (1998), Frankenstein Reborn (1998), The Killer Eye (1998), Talisman (1998), Alien Arsenal (1999), Ancient Evil: Scream of the Mummy (1999), Witchhouse (1999), The Brotherhood (2000), Frankenstein and the Wolfman Reborn (2000), Prison of the Dead (2000), Voodoo Academy (2000), Final Stab/Final Scream/Scream 4 (2001), The Frightening (2001), The Brotherhood 2: Young Warlocks (2001), The Brotherhood 3: Young Demons (2002), Wolves of Wall Street (2002), Leeches (2003), Speed Demon (2003), Ring of Darkness (2004), The Sisterhood (2004), Brotherhood IV: The Complex (2005), Killer Bash (2005), Witches of the Caribbean (2005), Beastly Boyz (2006), Grizzly Rage (2007), The Raven (2007), House of Usher (2008), Alien Presence (2009), The Brotherhood V: Alumni (2009), The Brotherhood VI: Initiation (2009), Nightfall (2009), The Pit & the Pendulum (2009), Son of a Witch (2009), Stem Cell (2009), 1313: Giant Killer Bees (2010), Puppet Master: Axis of Evil (2010), A Dream Within a Dream (2011), 1313: Haunted Frat (2011), 1313: Actor Slash Model (2011), 1313: Boy Crazies (2011), 1313: Wicked Stepbrother (2011), 1313: Bermuda Triangle (2012), 1313: Bigfoot Island (2012), 1313: Cougar Cult (2012), 1313: Frankenqueen (2012), 1313: Hercules Unbound (2012), 1313: Night of the Widow (2012), 1313: UFO Invasion (2012), A Halloween Puppy (2012), Immortal Kiss: Queen of the Night (2012), Santa's Summer House (2012), Snow White: A Deadly Summer (2012), 2: Voodoo Academy (2012), Hansel & Gretel: Warriors of Witchcraft (2013), My Stepbrother is a Vampire (2013), A Talking Cat (2013), A Talking Pony (2013), 3 Scream Queens (2014), 3 Wicked Witches (2014), 666: Devilish Charm (2014), 666: Kreepy Kerry (2014), 90210 Shark Attack (2014), Bigfoot vs D.B. Cooper (2014), Knock 'Em Dead (2014), Asian Ghost Story (2016), Bloody Blacksmith (2016), Evil Exhumed (2016), Sorority Slaughterhouse (2016), 666: Teen Warlock (2016), The Wrong Child (2016), The Wrong Roommate (2016), Swamp Freak (2017), The Wrong Crush (2017), The Wrong Man (2017), The Wrong Student (2017), The Wrong Cruise (2018), The Wrong Friend (2018) and The Wrong Teacher (2018). DeCoteau has made films under a variety of pseudonyms, including Ellen Cabot, Richard Chasen, Julian Breen and Victoria Sloan.
---
Trailer here
---