---
USA. 1998.
Crew
Director – Brian Yuzna, Screenplay – Aubrey Solomon, Story – Stuart Gordon & Aubrey Solomon, Producers – Jack F. Murphy & Henry Seggerman, Photography – James Hawkinson, Music – Steven Morrell, Visual Effects Supervisor – Marcus Keys, Makeup Effects Supervisor – Anthony C. Ferrante, Makeup Effects – Me-FX & Sota F/X (Supervisors – Roy Knyrim & Jerry Macaluso), Alien Creature Design – Screaming Mad George, Production Design – Anthony Tremblay. Production Company – Fries Film Group.
Cast
Arnold Vosloo (Dr Craig Burton), Jillian McWhirter (Sherry Burton), Brad Dourif (Dr Bert Clavell), Lindsay Crouse (Dr Susan Lamarche), Wilford Brimley (Dr David Wetherly), Willard E. Pugh (Eric Davison), David Wells (Dr Duke Kelly)
---
Plot
Craig Burton, a Newport Beach ER doctor, consults psychiatrist Susan Lamarche about a blank period in his memory that has left him confused. His wife Sherry then announces that she is pregnant, despite the fact that all their previous attempts have been unsuccessful due to Craig's low sperm count. In hypnotherapy sessions with Susan, Craig recalls what happened the night Sherry was impregnated – where she was lifted up off the bed and taken up into the skies by aliens. This is something that Sherry's subsequent hypnotherapy sessions also confirm. Craig becomes certain that Sherry was impregnated by aliens. Attempts to examine the foetus reveal that something is not right but the equipment malfunctions during the examination, causing the doctor to have a heart-attack. A mentally unstable Sherry is admitted to the hospital where Craig becomes certain that the baby has to be removed.
---
Progeny was one of the films from Brian Yuzna. Yuzna began as producer for Stuart Gordon on Re-Animator (1985), From Beyond (1986) and Dolls (1987). He made his debut as a director with Society (1989), before going onto direct a string of genre films with the likes of Bride of Re-Animator (1990), Silent Night, Deadly Night 4: The Initiation (1990), Necronomicon (1993), Return of the Living Dead III (1993), The Dentist (1996), The Dentist 2 (1998), Faust: Love of the Damned (2000), Beyond Re-Animator (2003), Rottweiler (2004), Beneath Still Waters (2005) and Amphibious 3-D (2010). Yuzna has also produced a number of genre films including Honey, I Shrunk the Kids (1989), The Guyver (1991), Infested (1993), Crying Freeman (1995), Arachnid (2001), Dagon (2001), Darkness (2002), Romasanta: The Werewolf Hunt (2004), The Nun (2005) and Takut: Faces of Fear (2008). With Progeny, Yuzna reteams with his old friend Stuart Gordon, director of Re-Animator, From Beyond, Dolls and Dagon, who co-writes the script and takes an executive producer role.
Progeny tackles the theme of alien abduction and impregnation that was popular during the mid-1990s with the success of films such as Fire in the Sky (1993) and in particular tv's The X Files (1993-2002, 2016-8). Only a few years earlier there had been the popular hoax video Alien Autopsy: Fact or Fiction (1995). Yuzna and co tap into the general narrative that runs through these of sleep paralysis experiences, abduction and impregnation, implants and the recovering of blanked memories of missing time.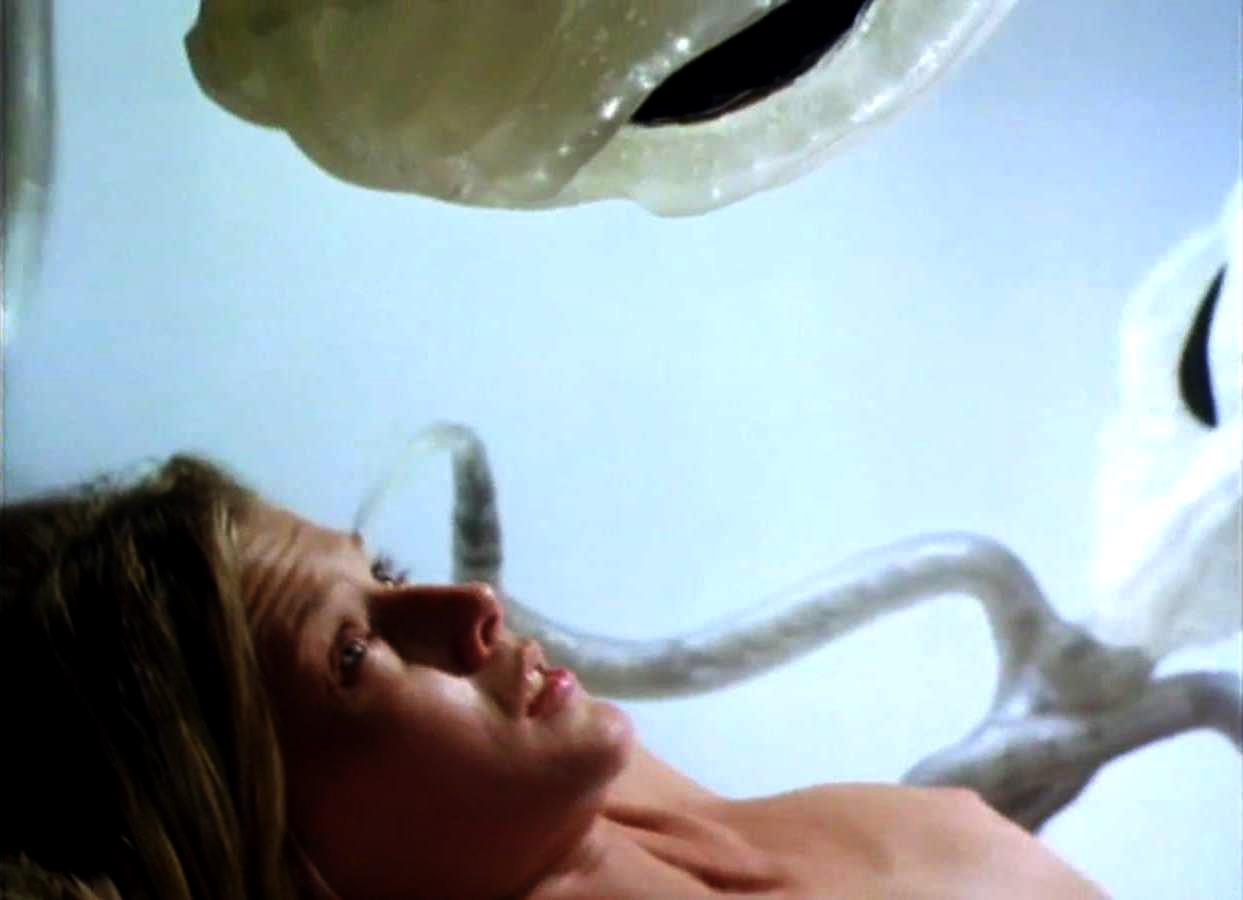 A common fascination in all of Brian Yuzna's films is of sexual perversities – or at least the sexual act as relayed/twisted with the use of some makeup effects driven effect. Thus what we get with Progeny is an alien abduction/impregnation film where the emphasis has been placed on the impregnation. As a result, we get lots of images of Jillian McWhirter naked in bed or being taken up and pinned on a gynaecological exam table as aliens wield unearthly implements. This does lead to some eerie images such as Arnold Vosloo's dream where he and Jillian McWhirter are having sex, he finds they are paralysed and is lifted off her as she floats off the bed, out the window and up into the sky above.
Yuzna gets into all his makeup effects, including a tackily entertaining one where Jillian McWhirter gives birth in the kitchen and backs away across the floor while trailing the baby on a huge still-attached umbilical as it comes to life. On the other hand, I didn't think Progeny was one of Brian Yuzna's more inspired films. It seems like it is going to be but the theme of alien abduction and impregnation it delves into offers nothing substantially new, while the latter scenes of Arnold Vosloo trying to remove the foetus while everyone else insisting there is nothing wrong fall into too much of an over-familiar ambiguously fantastic divide.
---
---