---
Crew
Director – David F. Sandberg, Screenplay – Gary Dauberman, Producers – Peter Safran & James Wan, Photography – Maxime Alexandre, Music – Benjamin Wallfisch, Visual Effects Supervisors – Jeremy Burns & Mitch Drain, Visual Effects – Shade VFX, Special Effects Supervisor – Mark Hawker, Makeup Effects – Amalgamated Dynamics, Inc., Production Design – Jennifer Spence. Production Company – New Line Cinema/RatPac-Dune Entertainment/Atomic Monster/Safran Company.
Cast
Talitha Bateman (Janice), Lulu Wilson (Linda), Stephanie Sigman (Sister Charlotte), Anthony LaPaglia (Samuel Mullins), Miranda Otto (Esther Mullins), Philippa Couthard (Nancy), Grace Fulton (Carol), Tayler Buck (Kate), Lou Lou Safran (Tierney), Mark Bramhall (Father Massey), Samara Lee (Bee Mullins)
---
Plot
In 1943, dollmaker Samuel Mullins and his wife Esther are shattered when their daughter Bee is struck and killed by a vehicle. Twelve years later, they offer to allow Sister Charlotte and six orphan girls to come stay at their farmhouse following the closure of their orphanage. There the crippled Janice is drawn to the locked room that used to belong to Bee, which mysteriously opens for her. Inside she finds the sinister Annabelle doll and believes is moving. Soon the released Annabelle starts to exert an evil influence over the household.
---
James Wan had a considerable hit with The Conjuring (2013), which made much of its claim that it was based on a true story. (This is something I heavily dispute – visit the above review link for further details). One of the audience talking points about the film was the doll Annabelle seen in the museum of Ed and Lorraine Warren during the opening scene. This was an actual doll (in reality, a Raggedy Ann doll) collected by the Warrens during one of their paranormal investigations, which they claimed was possessed. The Conjuring enjoyed such popularity that before the sequel The Conjuring 2 (2016) was even produced, Annabelle was spun off into her own film with Annabelle (2014). That was hated by critics and audiences alike but grossed some $84 million in the US alone thus giving birth to a further sequel (or maybe pre-prequel – I am confused over the correct nomenclature for what to call a sequel that is actually a prequel to another prequel). This was followed by Annabelle Comes Home (2019), while The Conjuring series later spawned other spinoffs with The Nun (2018) and The Curse of La Llorona (2019).
I found Annabelle tedious and formulaic in every department so entered into Annabelle: Creation with little enthusiasm but ended up reasonably surprised. In this case, the change of director makes all the difference – from the first film's John R. Leonetti, a director who had previously only made sequels to other people's films, to David F. Sandberg, a Swedish director who before this had only made the James Wan-produced Lights Out (2016), another film that did far more box-office than was expected.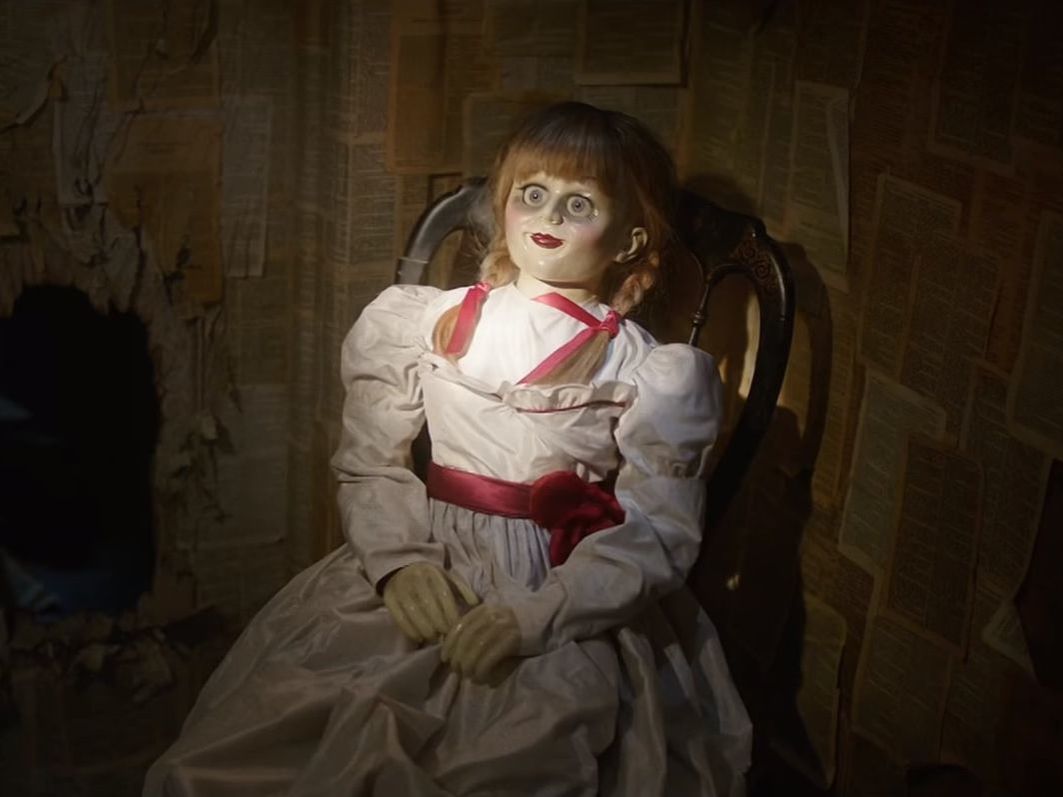 Whether we asked for it or not, Annabelle: Creation concerns the origin story of the Annabelle doll. We see the doll being made in the opening scenes. We also get a mid-film flashback that shows how the Mullins's were persuaded to allow the spirit of their dead daughter Bee/Annabelle to inhabit the doll so that she could return to them but that this was a trick on them by a demonic entity that now wants to inhabit one of the girls from the orphanage.
Mostly, Annabelle: Creation is not so interested with the creation of Annabelle as it is with what happens when it has the girls from the orphanage in the house and the Annabelle doll stalking them. David F. Sandberg does a surprisingly good job of creating eerie jumps and keeping an audience on an edge. There is the fine scene where Talitha Bateman enters Bee's bedroom and sees the Annabelle doll sitting ominously staring from a half-open cupboard before she throws a sheet over it only for the sheet-covered figure to get up and follow her across the room. Or where two of the teenage girls are huddled under a sheet and see a silhouette and hear the bell of the bedridden Miranda Otto coming closer before the big jump when a ghostly figure appears under the sheet with them. Or of Lulu Wilson running to hide in the bed after seeing the ball on the end of a string she fires into the cupboard lifted upwards – only to emerge later and find a pair of blackened footprints that have walked out of the closet.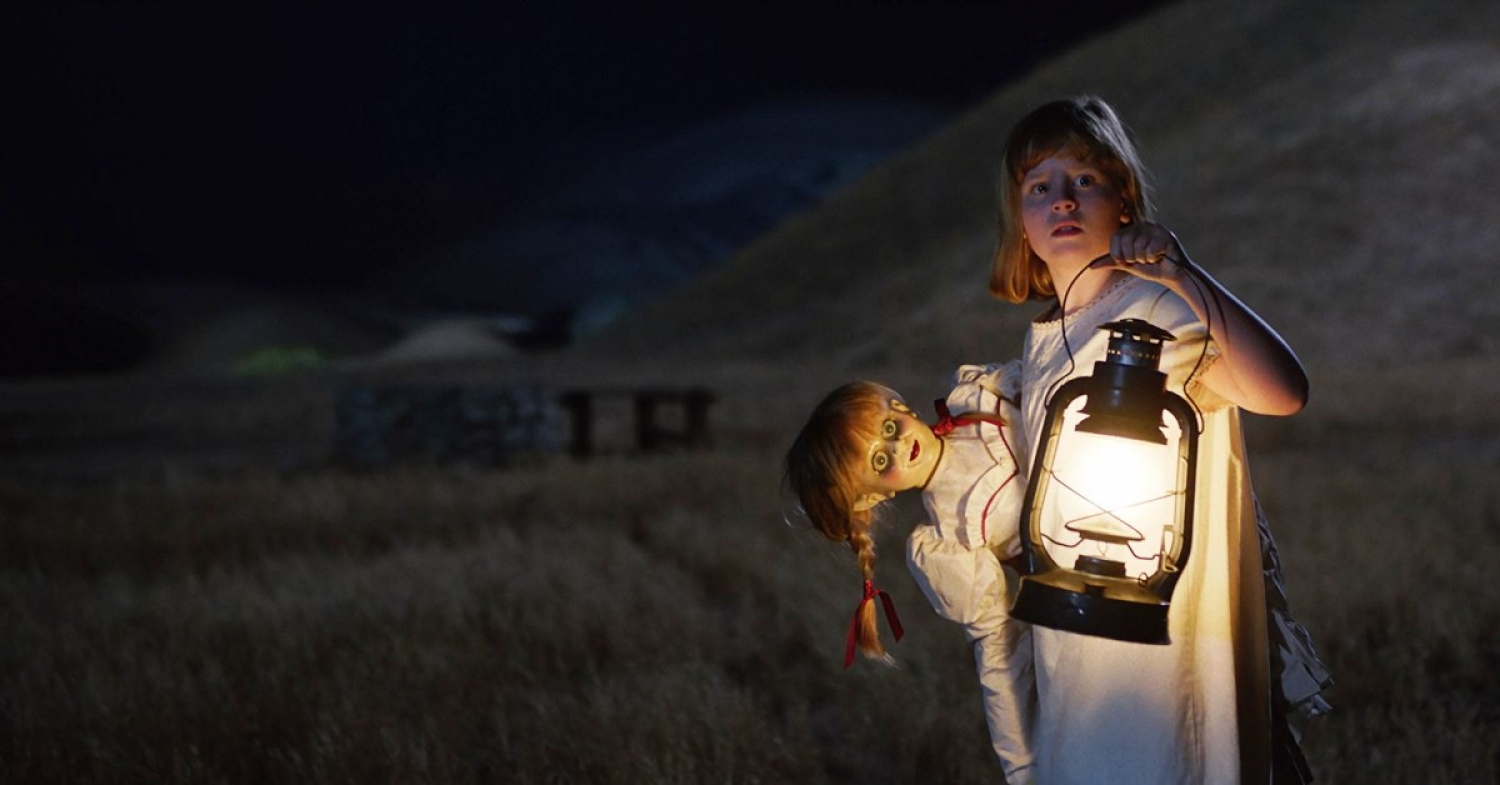 David F. Sandberg makes for two-thirds of a reasonable horror film. On the other hand, it feels like the studio has taken over for the last third. Here all of the fine suspense-generating of the earlier sections disappears under a series of serial jumpshocks, driven more than anything by loud noises on the soundtrack, which quickly cause the film to disappear into being just another formula horror exercise. Some of these jumps are denoted more by their outright silliness – like a scene where Anthony LaPaglia is holding out a crucifix and the demonic entity psychically bends every one of his fingers backwards and snaps them in order to cause him to drop it, where either the CGI or makeup effects that went into the effect make LaPaglia look like he has a cartoon hand.
What also becomes distracting is the need to connect up to what James Wan and Warner Brothers are clearly intending to be an extended universe. We get no cameos from the Warrens this time, although a Raggedy Ann doll, which was the original model for Annabelle, makes an appearance later in the film. Stephanie Sigman does have a scene where she talks about how she was previously in a convent in Romania that ties up to The Nun (2018). In one of the photos, we even see the phantom shape of the nun who makes an actual appearance in a brief post-credits sequence. There is also a mid-credits scene where we get cameos from Kerry O'Malley and Brian Howe as Sharon and Pete Higgins, the couple who were killed at the start of Annabelle, as the film shows what happened leading up to the start of that film.
David F. Sandberg went on to make the DC Comics superhero film Shazam! (2019).
---
---