---
Crew
Director – John Lafia, Screenplay – Don Mancini, Producer – David Kirschner, Photography – Stefan Czapsky, Music – Graeme Revell, Optical Effects – Apogee Productions Inc, Mechanical Effects – Image Engineering Inc (Supervisor – Peter M. Chesney), Chucky Effects – Kevin Yagher Productions Inc (Supervisor – Kevin Yagher), Production Design – Ivo Cristante. Production Company – Universal.
Cast
Alex Vincent (Andy Barclay), Christine Elise (Kyle), Brad Doruif (Voice of Chucky), Gerrit Graham (Phil Simpson), Jenny Agutter (Joanne Simpson), Grace Zabriskie (Grace Poole), Greg Germann (Mattson)
---
Plot
Play Pals Toys have taken the remains of Chucky and are rebuilding it in an attempt to understand what went wrong. An electrical fault causes Chucky to return to life. Chucky then sets about tracking down Andy Barclay, who has been fostered out to Phil and Joanne Simpson, so that he can transfer his soul into Andy's body. This proves more difficult than anticipated and Chucky has to start killing the people who get in his way.
---
The first Child's Play (1988) was a work of incredible silliness. A success, it was quickly spun off into a series of sequels, of which this was the first. With the late 1980s being the height of Freddy Krueger mania, the appeal of the sequels soon became that of the doll with a bad attitude spouting bad puns as it brutally dispatched victims. (See below for listing of the other sequels).
The first film collapsed into its own ridiculousness; to the contrary; this second film takes the basic elements and makes a much better film out of them. Child's Play 2 has no pretensions other than the basic exploitativeness of an Elm Street copycat or sequel but is a reasonable entry as such.
The first killing scene where Chucky comes to life in the lab and blasts a technician with electricity is fairly silly but the film improves considerably thereafter. Particularly good are the scenes where Alex Vincent pursues Chucky through a darkened cellar and Christine Elise hunts it in a bedroom, where director John Lafia does a fine job in milking the scenes for tension and suspense.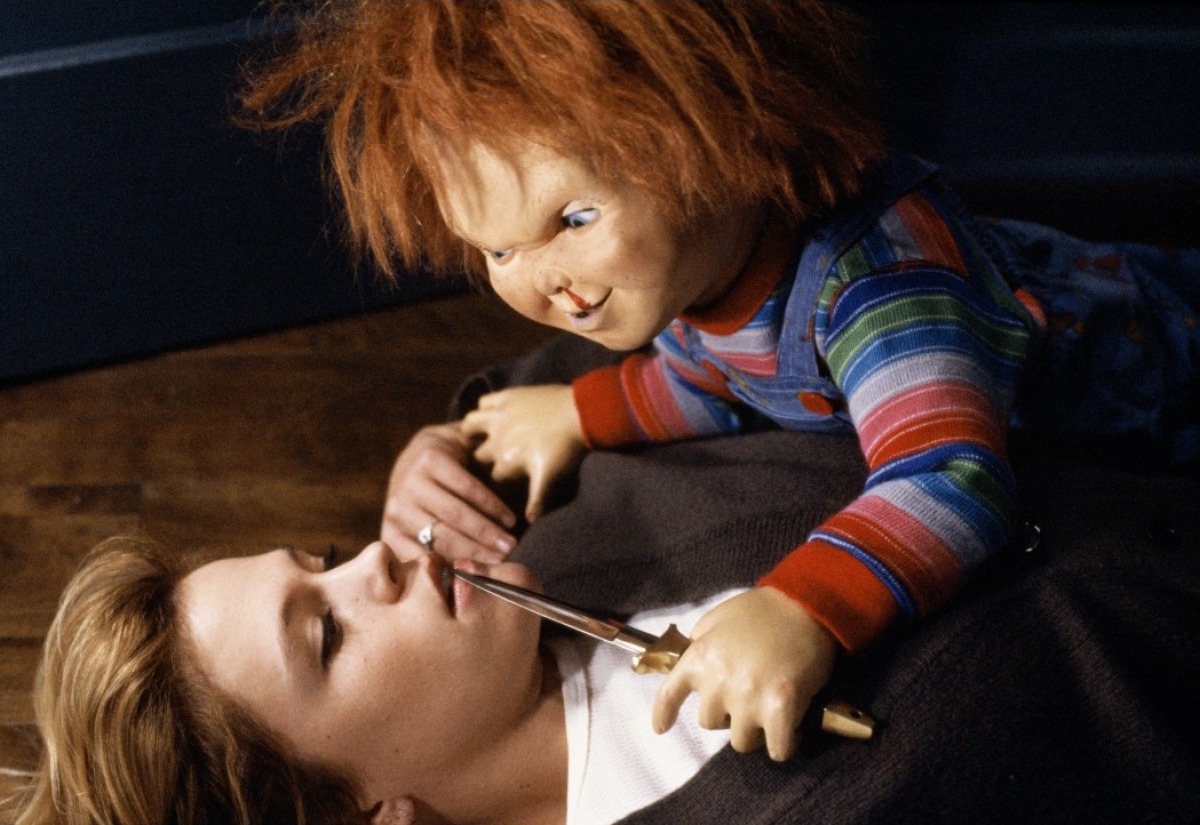 The climax with Chucky pursuing people through the factory and being variously impaled in a stamping press, melted with hot wax and finally blown up with an oxygen pump, is highly entertaining. Kevin Yagher creates a much more versatile and convincing Chucky doll this time around. One scene, a full body shot filmed from a low angle with Chucky advancing on the schoolteacher while smacking a ruler into its hand, holds quite a menacing charge.
The script is wholly routine but should be noted for its eminently plausible means for reviving the doll and getting around the first film's lead actresses absence – the doll is being rebuilt in the toy factory in an attempt to understand why it went berserk, while she has been committed to an asylum because her story has been disbelieved.
The subsequent sequels were Child's Play 3 (1991), Bride of Chucky (1998), Seed of Chucky (2004), Curse of Chucky (2013) and Cult of Chucky (2017), as well as the tv series Chucky (2021- ). Child's Play (2019) is a remake of the original.
Director John Lafia co-wrote the original Child's Play and later went onto direct the ludicrous killer dog film Man's Best Friend (1993), Monster! (1999), Chameleon 3: Dark Angel (2000), The Rats (2002) and the disaster mini-series 10.5 (2004) and 10.5: Apocalypse (2006).
---
---