---
Crew
Director – David F. Sandberg, Screenplay – Henry Gayden & Chris Morgan, Producer – Peter Safran, Photography – Gyula Pados, Music – Christophe Beck, Visual Effects Supervisors – Raymond Chen & Bruce Jones, Visual Effects – Bot VFX, DNeg (Supervisor – Russell Bowen), Method Studios (Supervisor – Sean Schur), Rise Visual Effects Studios (Supervisors – Hugo Putze & Michael Wortmann), Scanline VFX (Supervisor – Joel Delle-Vergin), SDFX & Weta VFX (Supervisor – Thrain Shadbolt), Visual Effects/Animation – Pixomondo (Supervisor – Sven Martin), Special Effects Supervisor – J.D. Schwalm, Production Design – Paul Kirby. Production Company – New Line Cinema.
Cast
Zachary Levi (Shazam), Asher Angel (Billy Batson), Jack Dylan Grazer (Freddy Freeman), Rachel Zeigler (Anthea), Adam Brody (Super Hero Freddy), Grace Caroline Currey (Mary Bromfield/Super Hero Mary), Ross Butler (Super Hero Eugene), D.J. Cotrona (Super Hero Pedro), Meagan Good (Super Hero Darla), Lucy Liu (Kalypso), Djimon Hounsou (Wizard), Helen Mirren (Hespera), Faithe Herman (Darla Dudley), Ian Chen (Eugene Choi), Joyan Armand (Pero Pena), Cooper Andrews (Victor Vasquez), Marta Milans (Rosa Vasquez), Diedrich Bader (Mr Geckle), Caron MacCormac (Brett Breyer), Evan Marsh (Burke Breyer), P.J. Byrne (Dr Dario Bava), [uncredited] Mark Strong (Dr Sivana), [uncredited] Gal Gadot (Wonder Woman)
---
Plot
Kalypso and Hespera, two of the daughters of Atlas, break into a museum in Greece to take the wizard's broken staff. Meanwhile, Billy Batson has been experiencing difficulty holding the rest of the Shazam Family together with the others wanting to head off and do their own thing. The occasions where they do go into action are haphazard with the media having branded them the Philly Fiascos. Billy is also worried about the fact that he is about to turn eighteen, meaning that he will be aged out of the foster system. Freddy is befriended by Anthea, a new girl at school, who thinks he is cute. However, she turns out to be the third of the Atlas sisters who are seeking to reclaim the power that was stolen from them. Kalypso and Hespera arrive and together the sisters steal Freddy's powers, take him prisoner and place a forcefield around the city. Billy brings the others together as they try to find a means to defeat the sisters and the mythological monsters they have unleashed.
---
Shazam! (2019) was an entry in the so-called DCEU (DC Comics Extended Universe) that began with Man of Steel (2013). Shazam was created on the comic-book page in 1940 by Fawcett Comics, intended as a Superman copycat who was called Captain Marvel in his original incarnation. After Fawcett went out of business, the name Captain Marvel was taken up by Marvel, while everything else was bought up by DC who were forced to rename the character Shazam. The original Captain Marvel had appeared in a serial Adventures of Captain Marvel (1941) and the DC version in the tv series The Shazam/Isis Hour (1974-6). A film version had been long planned before emerging with Shazam!, which enjoyed reasonable box-office and was celebrated for its playing things with a more light-heated spin.
Director David F. Sandberg, Zachary Levi, Asher Angel and most of the cast have returned with Fury of the Gods. The film received a very mixed reception. Its' box-office was less than expected and the film was released to streaming a mere three weeks after it premiered. This may represent the tapering off of interest in the DCEU with the most recent releases Wonder Woman 1984 (2020) and Black Adam (2022) both having opened well below expectation. Or possibly, it is even suggested, that with the announcement of the James Gunn-led DC Universe franchise that nobody much cares about the stragglers from the old regime.
I liked Shazam! It was a refreshingly light-hearted take on the Superhero Film that gained a good deal of goofy amusement out of its premise of a kid who finds himself in an adult body. On the other hand, when it comes to Fury of the Gods much of that cuteness has evaporated. One of the problems is that this is now Shazam! making a pitch for being a kid's movie, which is not something I would have said about the first film. This comes with the awkward straddling act of trying to make a play for comic silliness, which the film does in moments, and satisfy the marshmallowy appeasement of modern cinema that makes sure that everything is inclusive and nobody offended.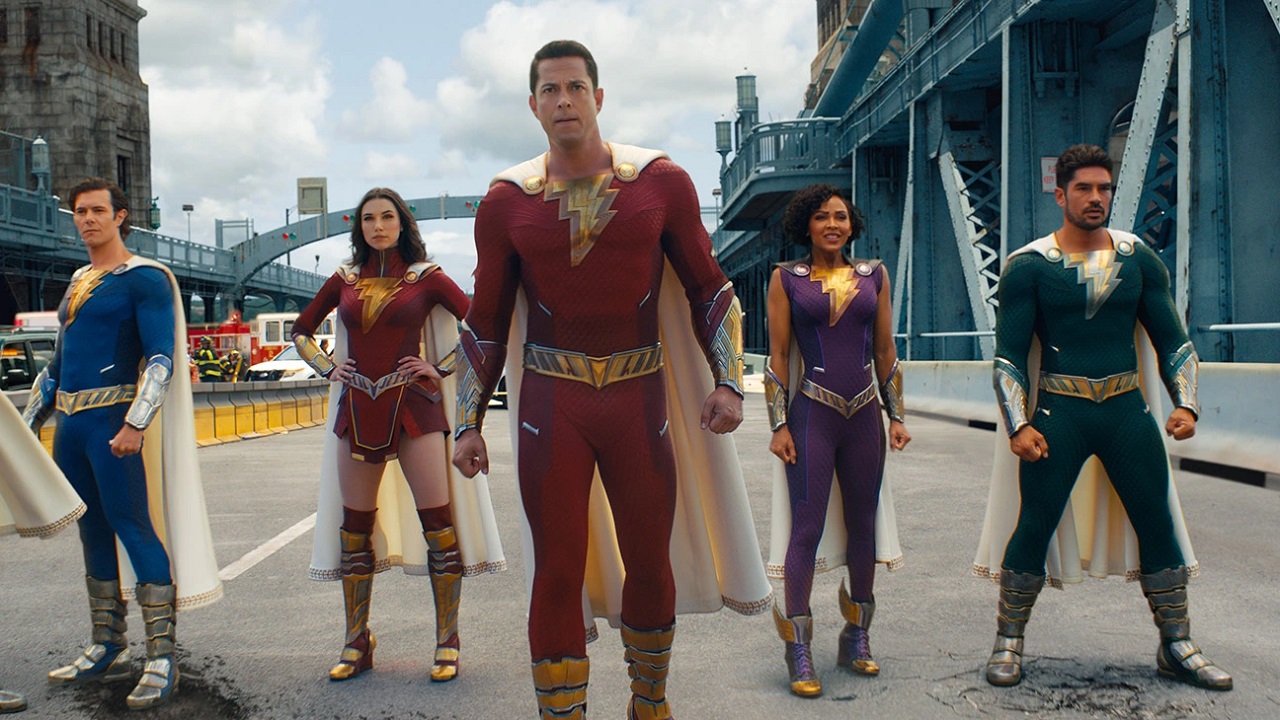 The scenes with Jack Dylan Grazer at school being bullied and finding the cute girl who likes him come written down at the level of the sort of unironic teenage school melodrama that is usually pitched for a twelve year-old level. The scenes with the animate pen look badly like the series is trying to aim for a Harry Potter vibe. The worst though is the scenes where the kids save the city from the mythic creatures that have been conjured, riding in to defeat them on the backs of unicorns – yes, a major fantasy film where kids save the day by riding to the rescue on magic horses.
The film departs more from comic-book canon than the first film did and essentially does its own thing. The trio of deities, for instance, are characters that are original to the screen rather than drawn from the comic-book. There are assorted superheroic battles that contain some good effects but feel fairly generic. We end up with mild dramatic complications placed on things but the film plays everything safe by quickly assuring us that everything is okay by a flick of the pen – Billy Batson is about to be aged out of foster home but no worry we find that the Vasquez's have brought the house (before it is destroyed by the dragon!). Djimon Hounsou's wizard was reduced to dust in the first film but this is forgotten with a flick of the pen and he turns up again here alive and well and now transformed into an Obi-wan Kenobi figure, dispensing sagely wisdom while the butt of some of the film's humour.
Much of the film's efforts at humour are embarrassing. Like the self-conscious inanity of lines where Zachary Levi compares their being a family to The Fast and the Furious films (which are notedly also produced by the film's distributor Warner Brothers). There is a constant theme throughout about Billy Batson having adolescent lust for Wonder Woman, which leads to a cringe-inducing dream scene where he has a restaurant date with her that ends up with Djimon Hounsou turning up in full drag inside a Wonder Woman costume! Am uncredited appearance from Gal Gadot near the end does a serious disservice to the character, least of all the paragon of feminist virtue she has been built into. Even more ridiculous is when the film feels it has to keep apologising for this, including more than one aside questioning the appropriateness of the teen characters being attracted to women several thousand years older.
---
Trailer here
---