---
Crew
Director/Screenplay – Don Mancini, Producer – David Kirschner, Photography – Michael Marshall, Music – Joseph LoDuca, Visual Effects Supervisor – Gary Oldroyd, Visual Effects/Animation – Assembly Line, Ltd. (Supervisors – Ilya Lindberg, Adam Marihazi, Aron Nemeti & Eugeny Skorobogatko), Base Effects, Special Effects Supervisor – Mike Hamilton, Animatronic Effects – Alterian Ghost Factory, Inc (Supervisor – Tony Gardner), Production Design – Craig Sandels. Production Company – Universal/1440 Entertainment.
Cast
Fiona Dourif (Nica Davies), Brad Dourif (Voice of Chucky/Charles Lee Ray), Danielle Bisutti (Barb), Maitland McConnell (Jill), Brennan Elliott (Ian), Summer Howell (Alice), Chantal Quesnelle (Sarah Davies), A. Martinez (Father Frank), Adam Hurtig (Officer Stanton), Jennifer Tilly (Tiffany), Alex Vincent (Andy Barclay)
---
Plot
Nica Davies has been wheelchair-ridden her whole life and lives with her mother Sarah. They unexpectedly receive delivery of a parcel, which is opened to reveal the Chucky doll. Thinking it a mistake, they throw Chucky aside only for Nica to wake in the night and find her mother dead. Nica's sister Barb arrives, along with her husband Ian, her young daughter Alice and the nanny Jill. There is debate between them with they wanting to sell the house and place Nica into a cared facility and Nica not wanting to lose the home. Alice immediately attaches herself to Chucky who soon begins talking to her in very adult ways. Chucky then comes to life and sets about killing everybody in the house.
---
Child's Play (1988) featuring the malevolent children's doll Chucky became a major horror franchise. Even though the original film was not a big hit in theatres, it found an afterlife on video. There were two sequels, Child's Play 2 (1990) and Child's Play 3 (1991), which turned Chucky into a one-liner quipping bad-ass monster along the lines of Freddy Krueger. The series has been revived sporadically over the years with Bride of Chucky (1998) and Seed of Chucky (2004). Throughout the 2000s, there was talk of the inevitable remake of the original, which eventually emerged with Child's Play (2019).
Curse of Chucky is the sixth film in the Child's Play series. Notedly this version has been made to celebrate the twenty-fifth anniversary of the first film. Don Mancini, who co-wrote the original, wrote all of the sequels and directed Seed of Chucky, is back to write-direct this entry. The film pays lots of fanservice for those who have followed the series. You have to watch right to the end and even after the end credits have run where Mancini brings back two of the actors who have played famous faces throughout the series, the last of these in particular being a considerable surprise.
Brad Dourif returns as the voice of Chucky, while we also see him as serial killer Charles Lee Ray, whom we have not seen since the first film, in flashbacks. There is also a plot involving him coming back to claim the daughter he had, which in a neat touch is played by Brad Dourif's own daughter Fiona. This is Fiona Dourif's first lead role and she does rather well in the part, giving an intent and serious performance – you would swear that she was an older sister of Summer Glau.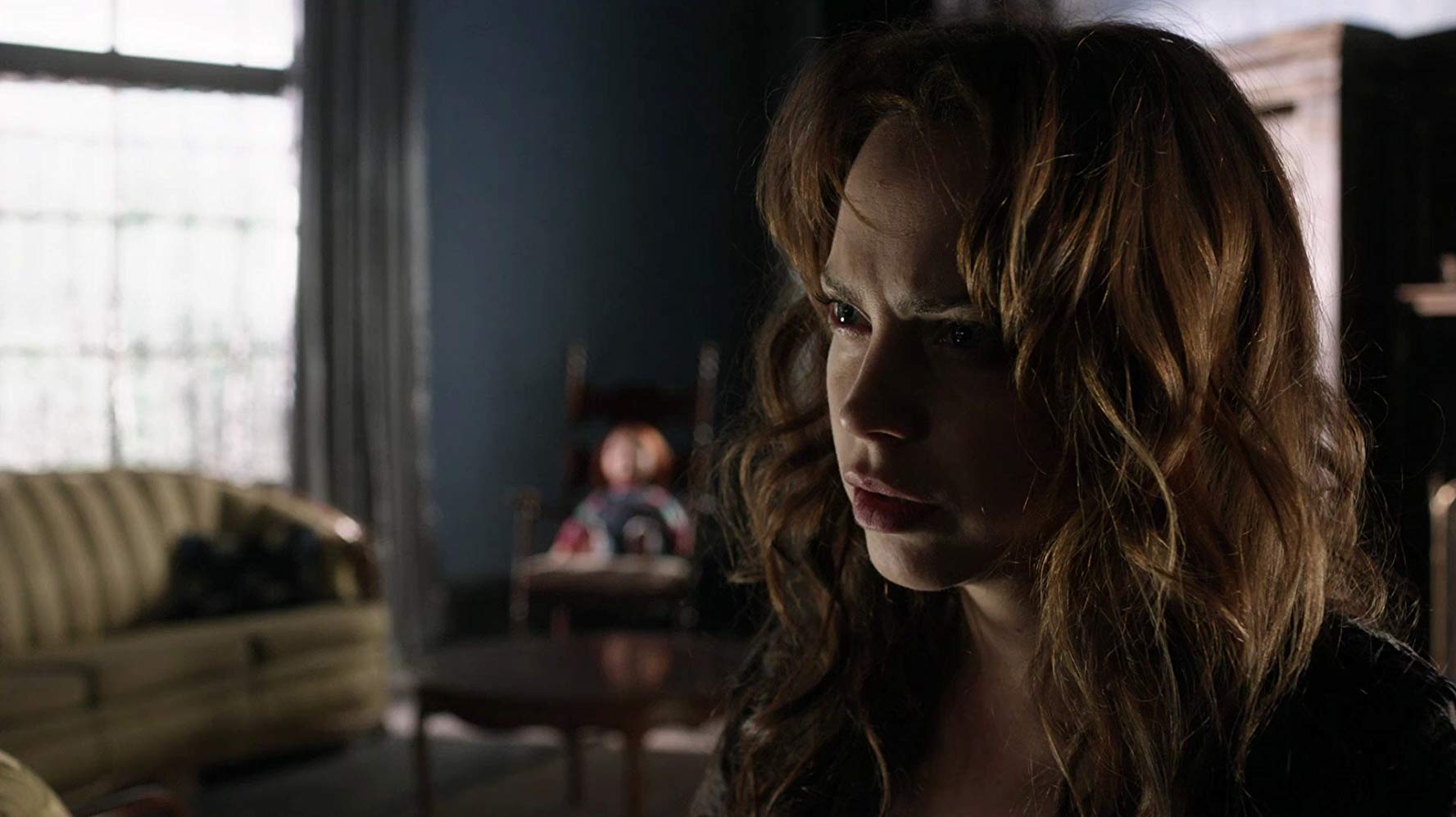 Don Mancini had made a concerted effort to take the series back to being something scary. There has been a progressive slide throughout the sequels – something that was never there in the original film – where Chucky became a campy one-liner spouting figure and a broad element of black humour was allowed to take over the series. Curse of Chucky takes itself relatively more seriously by contrast. Mancini even aims for reasonable degree of atmosphere, although to do so he has had to largely appropriate an Old Dark House setting with Chucky stalking the cast around.
All of that said, Curse of Chucky never deviates too much from the basic elements of the other sequels. There are a number of tongue-in-cheek gore effects – A. Martinez caught in a car accident where a sheet of metal is removed and his head rolls off; shots of eyeballs rolling down the stairs. There is an entertainingly preposterous scene where the babysitter Maitland McConnell, for entirely gratuitous reasons, strips down to her underwear for a webcam conversation with Danielle Bisutti and Chucky appears and tips a bucket of water over the laptop cable whereupon we watch her eye socket slowly char to the skeleton. In other words, for all Mancini's efforts to make Chucky scary again, once he is unleashed it is back to business as usual.
Don Mancini and Fiona Dourif returned with a further sequel Cult of Chucky (2017). There was also the tv series Chucky (2021- ).
---
---