---
Crew
Director – Michael Chaves, Screenplay – Mikki Daughtry & Tobias Iaconis, Producers – Gary Dauberman, Emile Gladstone & James Wan, Photography – Michael Burgess, Music – Joseph Bishara, Visual Effects – Digital Domain & Ingenuity Studios (Supervisor – David Lebensfeld), Special Effects Supervisor – Zak Knight, Production Design – Melanie Jones. Production Company – Atomic Monster/Emile Gladstone.
Cast
Linda Cardellini (Anna Tate-Garcia), Roman Christiou (Chris Garcia), Jaynee-Lynne Kinchen (Samantha Garcia), Raymond Cruz (Rafael), Patricia Velasquez (Patricia Alvarez), Sean Patrick Thomas (Detective Cooper), Tony Amendola (Father Perez), Marisol Ramirez (La Llorona), Irene Keng (Donna), Oliver Alexander (Carlos Alvarez), Aiden Lewandowski (Tomas Alvarez)
---
Plot
Los Angeles, 1973. Social worker Anna Tate-Garcia goes to visit Patricia Alvarez, a Mexican immigrant, after her two boys are reported for truancy. Inside the house, Anna finds the two boys locked in a closet and has to order them taken into care, while Patricia is jailed. Shortly after, the two boys are found dead. Anna is raising her own two children Chris and Samantha following the death of her husband, a police officer, in the line of duty. First the children and then Anna begin to see visions of a crying woman in a wedding dress who leaves burn marks when she touches their wrist. Investigating further, Anna discovers that this is the legendary figure of La Llorona, a Mexican woman from the 18th Century who found her husband was unfaithful and responded by drowning her two children and then killing herself. Her ghost now roams seeking to claim other children. As Anna discovers, Patricia's children were haunted by La Llorona and she has placed the curse on Anna, asking La Llorona to claim her children in vengeance for Anna having taken her boys away.
---
The Curse of La Llorona was a further attempt to build a shared universe out from James Wan's The Conjuring films. Wan made The Conjuring (2013) based on the claimedly true-life experiences of ghost hunters and demonologists Ed and Lorraine Warren, and this proved an enormous success. Wan followed that with The Conjuring 2 (2016). The spooky doll that was seen in the opening scenes of The Conjuring became a sufficient talking point that it was given its own film with Annabelle (2014) and that proved of sufficient success that it spun off sequels with Annabelle: Creation (2017) and Annabelle Comes Home (2019). By this point, Wan and associates had hit onto the idea of building a shared universe. Scenes were placed in The Conjuring 2 that laid the groundwork for The Nun (2018), which is supposedly a (fictionalised) story from Lorraine's early years.
The Curse of La Llorona was another chapter in what is now being called The Conjuring Universe. The point of connection to the rest of the series is Tony Amendola who has several scenes as Father Perez, the character he also played in Annabelle. There is even a scene where he talks about how he was convinced of the existence of the supernatural by his experiences and we get a flashback of him carrying the Annabelle doll.
One is somewhat dubious about this prospect of creating a Conjuring Universe. It might well be a selling hook for the films that gets audiences in the door. Even so, most of the sequels – Annabelle: Creation excepted – have emerged as so shabby that it is starting to feel like damaged goods that audiences are soon likely to turn off. And even with the idea of a shared universe – an idea that only seems to exist because Marvel Comics are having such success doing so at the moment – what does it actually mean? Are we going to get subsequent films where Annabelle, The Nun and La Llorona team-up and/or battle one another sort of like Universal's monster bashes of the 1940s beginning with Frankenstein Meets the Wolf Man (1943).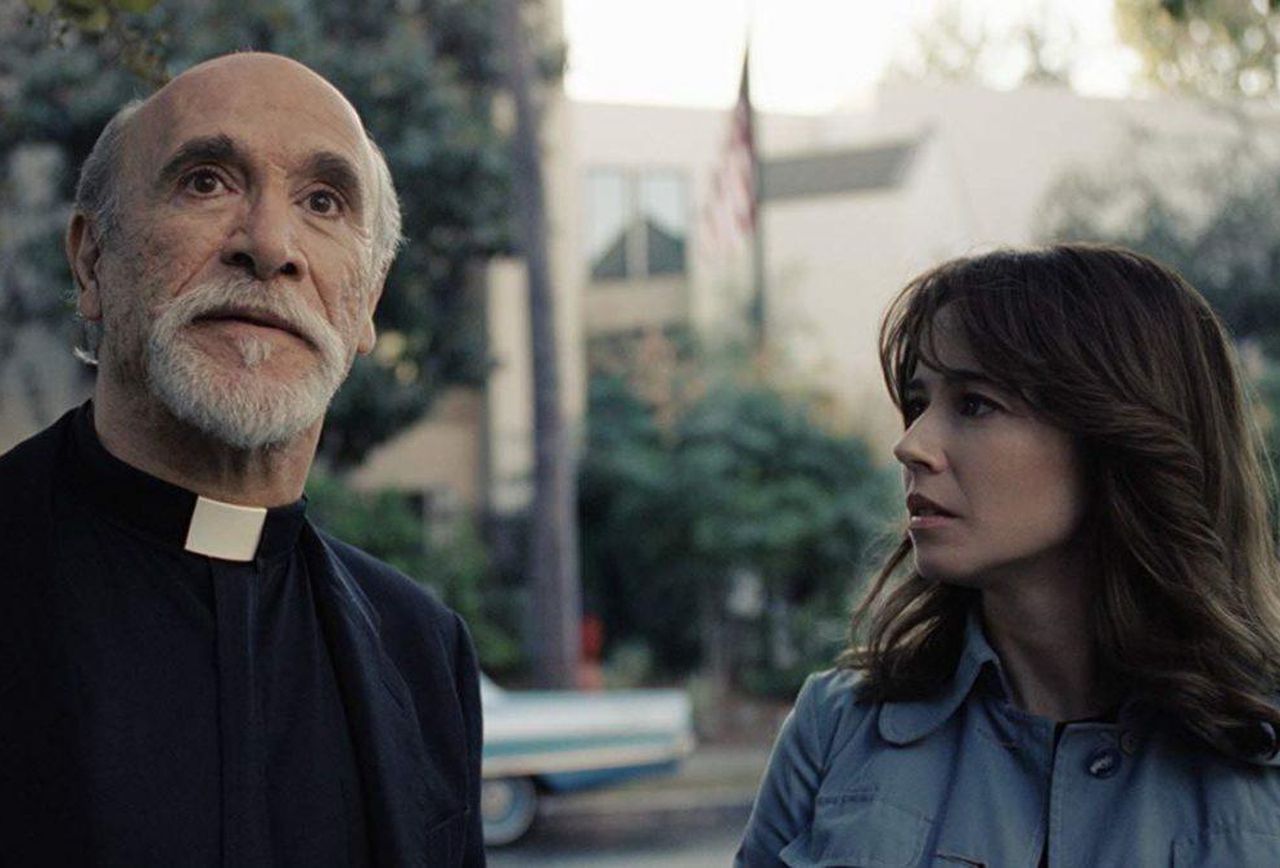 The film is based on the legend of La Llorona, a Mexican folklore tale that originated in the 19th Century. As the legend goes, La Llorona was a poor woman who married a nobleman. When he abandoned her for another woman, she drowned their two children in the river and then herself. Denied entrance to Heaven for her deeds, she has spent eternity searching for her children and can always be heard weeping. She is in effect a boogeyman character and is reputed to steal other children believing them hers. The film never goes into any of this in much depth.
There have been several films based on La Llorona with the Mexican-made The Heritage of the Crying Woman (1947), The Curse of the Crying Woman (1963), Vengeance of the Crying Woman (1974) in which she meets the wrestling superhero Santo, Las Lloronas (2004), KM 31: Kilometre 31 (2006) and the animated The Legend of La Llorona (2011), and the US-made Spirit Hunter: La Llorona (2004), The Wailer (2006) and its sequel The Wailer 2 (2007), and J'ok-el (2007) and its sequels, Curse of La Llorona (2007), The Cry (2007), The Curse of La Llorona (2020) and The Legend of La Llorona (2022). Subsequent to this, we also saw the Guatemalan-made La Llorona (2019), which wound La Llorona in as a political metaphor.
I have a great deal of liking for James Wan's films as a director – in particular, both Saw (2004) and Aquaman (2018) blew me away when I saw them. I have mixed feelings about The Conjuring films but that is more to do with their pushing of parapsychological bunkum as being true stories; what you cannot deny is that with either film Wan delivers a spooky and otherworldly show that has a number of genuine jump moments. I have yet to see any of Wan's directorial efforts that I have not liked.
On the other hand, the films that Wan has lent his name to as producer have been a series of sorry efforts that can almost all be dismissed. His name appears on all of the Saw sequels, which went from a smart and intensely gripping original to a series of films that seemed in a competition to become nastier and more sadistic in their parade of on-screen tortures. Wan's Insidious (2010) and Insidious Chapter 2 (2013) had an unsettlingly spooky mood but the subsequent sequels became formulaic hackwork. Lights Out (2016) was well directed but forgettable, Demonic (2015) should have been forgotten. And as to The Conjuring Universe, Annabelle was widely ridiculed, while The Nun was the single worst thing to come out bearing Wan's name. Aside from the tv series Swamp Thing (2019) Annabelle: Creation has been the sole halfway reasonable film to come out from Wan in a producing capacity. (The subsequent Wan-produced Mortal Kombat (2021) turned out not too badly either).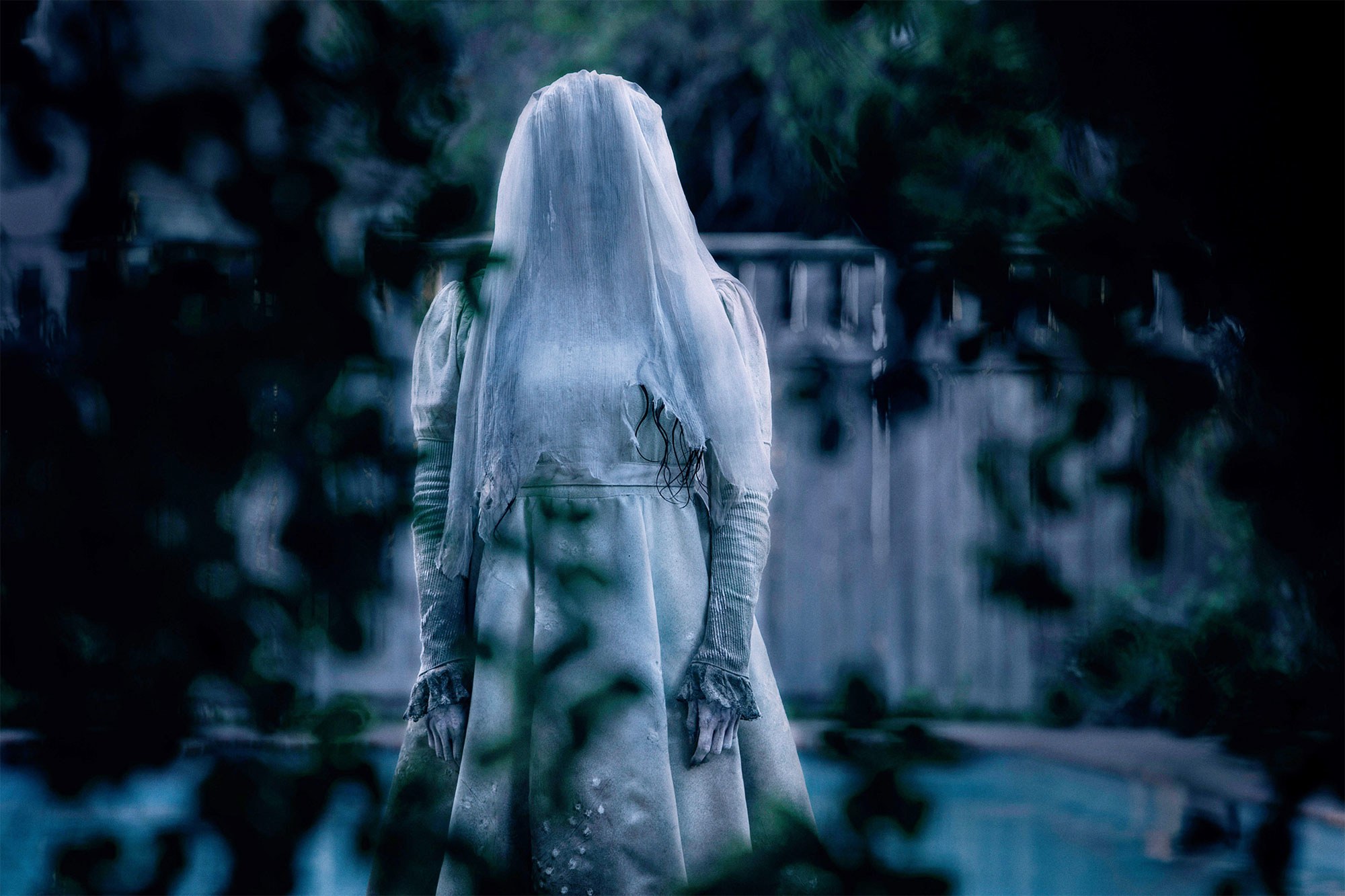 The Curse of La Llorona fails to do anything to change the lowered expectations one has of a James Wan-produced film. Like The Nun, it is a film that has been construed entirely as a progression of scenes where things pop up to go "boo" at the audience. Michael Chaves doesn't do so as badly in the director's chair as Corin Hardy did in The Nun, nevertheless much of the film consists of a tiresome series of scenes where yet another evil woman figure pops out, lunges into the camera and/or grabs someone while the soundtrack provides a loud amplified barrage of noise. It feels like everything in the script that is extraneous to the basic set up – such as background, character or even much explanation of the legend of La Llorona – has been trimmed to an absolute minimum to make the show flow.
It may serve as a wake-up call to Michael Chaves, Corin Hardy and most of those working under Wan but this doesn't work. Constant straining for effect only serves to water the effect down to something tedious that produces zero effect at all. James Wan gets this and has the ability to create scenes that are eerie and unearthly. I don't get why he is unable to sit down with the directors of these films and show them the same tricks or allow them to come on set or into the editing room and observe the way he creates his set-pieces.
The sad truth may simply be that Wan doesn't care – he regards The Conjuring Universe as a cash cow franchise that can keep being milked for money while it lasts and the audiences that flocks to it as simple-minded rubes who will pay just for the name. With the announcement of a spinoff film dedicated to the creatures that appear in one scene in Aquaman (but do not appear in the original DC comic-book), you get the cynical realisation that Wan is now starting to see everything he does as a marketable brand that can be leveraged to milk audiences for more.
Director Michael Chaves next stepped into James Wan's shoes as director of the third of the Conjuring films The Conjuring: The Devil Made Me Do It (2021) and went on to the Wan produced The Nun II (2023).
(Winner in this site's Worst Films of 2019 list).
---
---