---
Crew
Director – Carlton J. Albright, Screenplay – Whitey Styles, Producer – David Platt, Photography – David Knox, Music – Vern Carlson, Special Effects – Bill Purcell, Production Design – Michael Beaudette. Production Company – Albright-Platt Films.
Cast
Edward Terry (Luther Watts), Joan Roth (Hilary Lawson), Stacy Haiduk (Beth Lawson), Thomas Mills (Bob), J. Joseph Clarke (Trooper Edwards), Gil Rogers (Walsh), Karen Maurise (Mrs Butler), David Pavlosky (Jason), Jerome Borgos (Chairman), Tom Brittingham (Geek), Carlton Williams (Little Luther), Gail Buxton (Old Lady at Bus Stop)
---
Plot
The Illinois Board of Corrections votes to release Luther Watts on parole after serving a twenty-year sentence for murder. Luther promptly tears out the neck of an old lady at a bus stop with his steel dentures. He hides from pursuit in the backseat of Hilary Lawson's car. Hilary returns home to the farm she manages by herself following the death of her husband. There Luther makes Hilary a prisoner and pursues her daughter Beth and Beth's boyfriend Bob around the property.
---
Luther the Geek was the one and only directing-writing effort for Carlton J. Albright. Albright had previously produced/written the zombie film The Children (1980) for Max Kalmanowicz and later produced Kalmanowicz's horror film Dream Come True (1984). The film was released via Troma.
Albright bases the film around the idea of a geek. Before the term was appropriated by computer nerds and genre fans, the geek used to be a performer at a circus freakshow who would bite the heads off chickens. The geek was usually a severe alcoholic who would often be paid with alcohol. This was the first film on the topic, although a geek had featured as part of the plot of Nightmare Alley (1947).
Luther the Geek got some reasonable genre attention at the time it came out. In all other regards though, it plays out as a standard 1970s psycho film, albeit having adopted a few moves from the 1980s slasher film. Edward Terry gets into the title role with a great deal of enthusiasm. His unnaturally pale, balding appearance and habit of strutting about and chicken squawking becomes somewhat unnerving.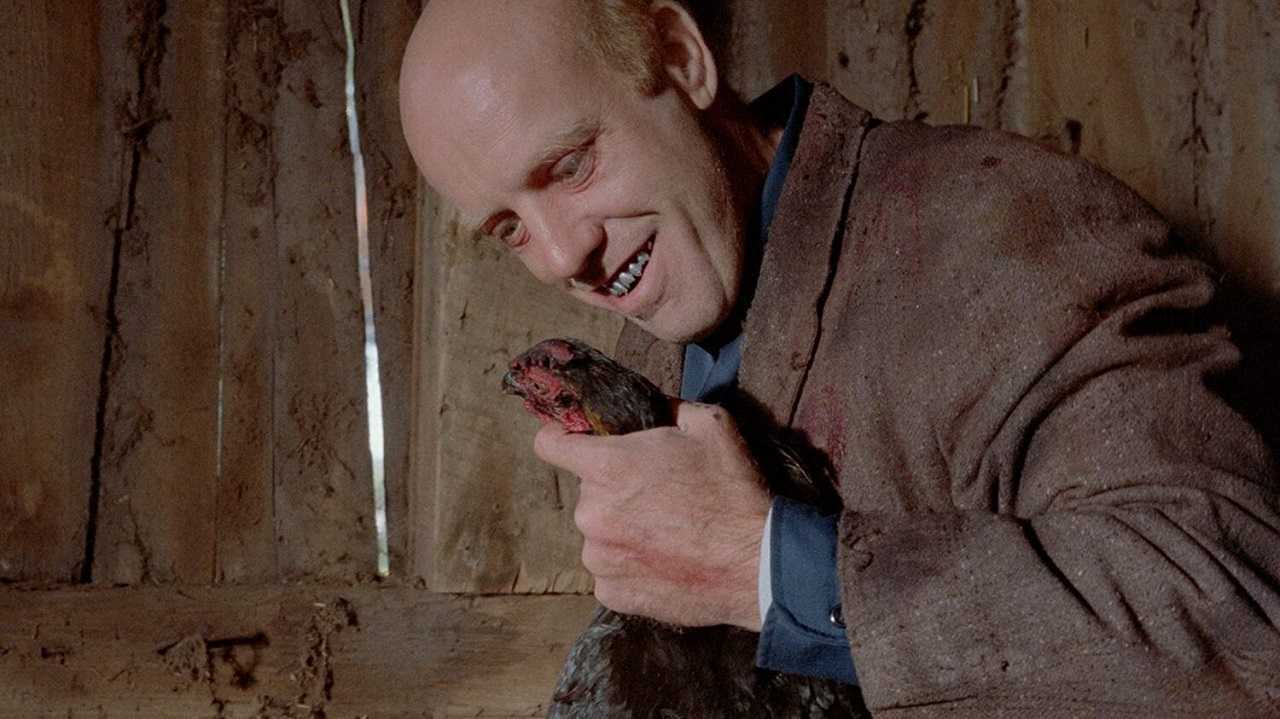 The film is certainly better made than most of the Troma releases of this era – or maybe that is just because I was watching an HD dvd restoration. Most of the film takes place around the locale of the farmhouse (that was owned by Albright's mother-in-law apparently). The plot is no more complicated that Edward Terry pursuing and killing various people. Which only makes it a slasher film with a slightly different psycho figure.
Albright does go for broke in terms of the makeup effects. We do see some very convincing scenes where Edward Terry bites the head off chickens that give you cause to wonder to whether such scenes were faked or not. There are some very gory scenes when Terry kills various of his victims where Albright holds little back in showing Terry tearing out throats or eviscerated bodies with their organs exposed.
The film is most known in retrospect as the screen debut of Stacy Haiduk – she had previously had a walk-on in Magic Sticks (1987) and would later go on to moderate attention as Lana Lang in tv's Superboy (1988-92) and as a regular on tv's SeaQuest DSV (1993-6) and assorted soap operas. Here she is simply playing the regular Girl Next Door role, although does get to disrobe and display an impressive set of breasts in several scenes.
---