---
Crew
Director//Screenplay/Photography – Matt Farnsworth, Producers – Matt Farnsworth & Diane Foster, Makeup Effects – David Presto, Production Design – Lee Yaniv. Production Company – Full Fathom 5 Productions/Matt Farnsworth Films/Ra Productions.
Cast
Diane Foster (Audrey Miller), David Backhaus (The Orphan Killer), Matt Farnsworth (Officer Mike Hunt), Ed Winrow (Father Chuck), Ramon Villa (Sanchez the Janitor)
---
Plot
Audrey Miller goes to oversee her students at a dance recital at St Michael's Catholic School. Leaving to go home afterwards, she finds that the building is locked. She is then pursued by an axe-wielding maniac hidden behind a mask who slaughters everyone else in the building. Making Audrey a prisoner, the maniac reveals he is her brother Marcus who was left behind at the orphanage after she was adopted at the age of five and has now come back seeking revenge.
---
The Orphan Killer was the second directorial film for Matt Farnsworth who, according to the hilariously self-promotional Wikipedia page, is a "an American filmmaker and non-competitive bodybuilder". Farnsworth has some small roles as an actor before directing the non-genre drug drama Iowa (2015). In The Orphan Killer, Farnsworth can also be seen on screen in the role of the heroine's cop boyfriend (in real life Farnsworth and heroine Diane Foster are a married couple).
As per Farnsworth's Wikipedia page (that you are several hundred percent certain that Farnsworth wrote himself), "The Orphan Killer became a social media icon and the character is now considered by many slasher fans as the new icon of the 21st century." Meanwhile back in the real world just over 1500 people have bothered to watch and rank the film, giving it a lowly 3.9 at the IMDB. As for myself, I didn't particularly hate but equally didn't feel particularly moved by it.
The Orphan Killer is pure and simple a slasher film. The entire film is streamlined towards these ends and consists of nothing more than maniac David Backhaus pursuing Diane Foster through the locked hallways of a convent school while wielding an axe. There are a handful of scenes that take place in flashback and outside the school but that is otherwise it.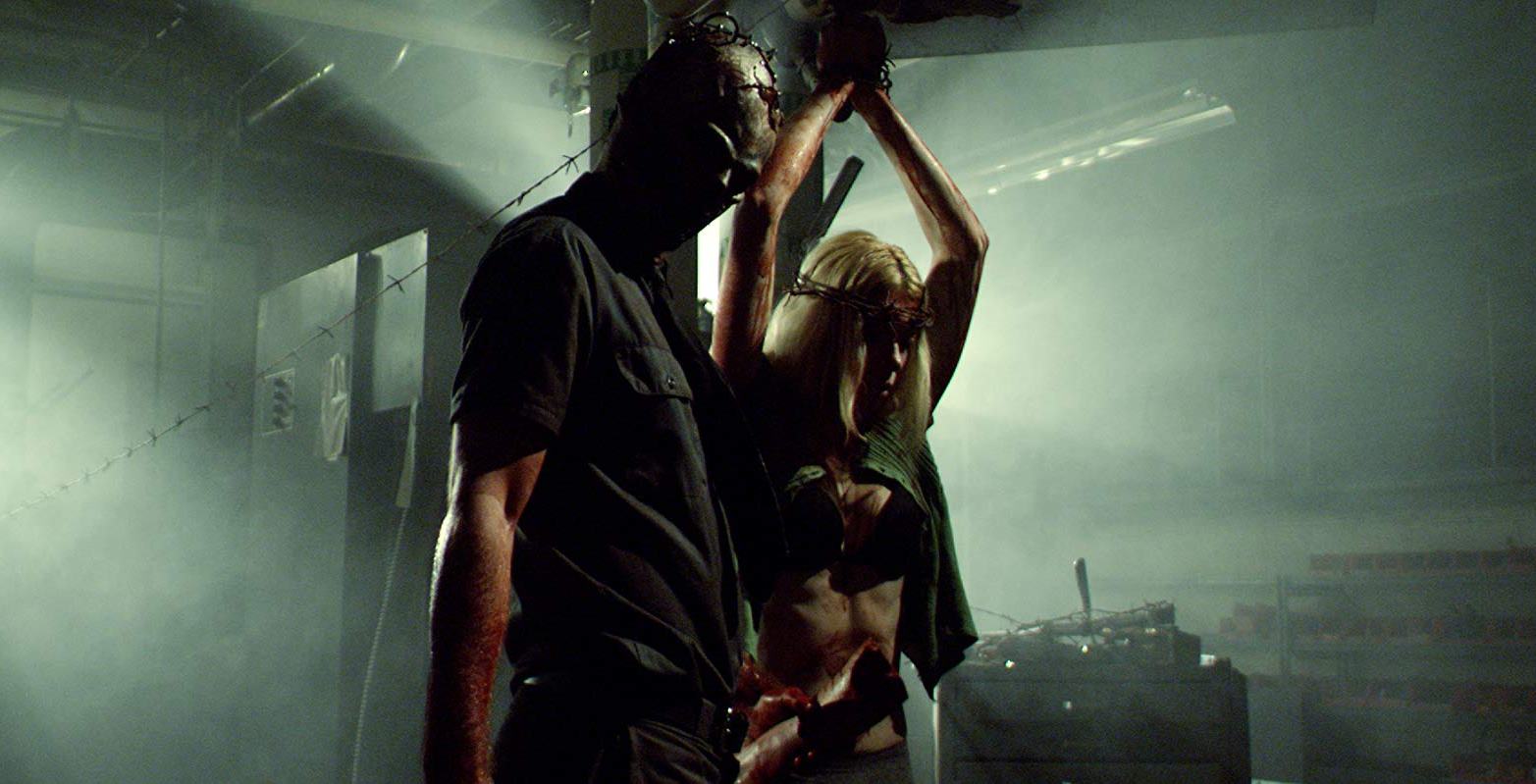 And when it comes to providing the slasher movie essentials, you have to admit that Matt Farnsworth does go for broke. He opts for a real brutality in the killer's attacks and frequently causes the hallways to wade in splatter and gore. Not to mention he also gets several of the women topless just like filmmakers used to back in the heyday of the slasher film.
The sketchy plot set-up echoes various other classic slasher films – the killer formed by the cruelties of Catholic institutionalism that we had in Silent Night, Deadly Night (1984). And in particular the revelation that the masked killer returned to town to hunt down his sister, which echoes with the familial connections between Michael Myers and Laurie Strode that were revealed in Halloween II (1981).
---
---