aka Night Crew: The Final Checkout
---
Crew
Director/Screenplay – Scott Spiegel, Story – Lawrence Bender & Scott Spiegel, Producer – Lawrence Bender, Photography – Fernando Arguelles, Special Effects – Sho-Glas Effects (Supervisor – Steve Patino), Makeup Effects – Howard Berger, Robert Kurtzman & Greg Nicotero, Production Design – Wendy Guidery. Production Company – Phantom Pictures.
Cast
Elizabeth Cox (Jennifer Ross), Danny Hicks (Bill Roberts), David Byrnes (Craig Peterson), Billy Marti (Dave), Renee Estevez (Linda), Eugene Glazer (Danny), Burr Steers (Bub), Sam Raimi (Randy), Craig Stark (Tim), Ted Raimi (Produce Joe), Alvy Moore (Officer Dalton), Tom Lester (Officer Matthews), Emil Sitka (Mr Abernathy), Bruce Campbell (Officer Howard), Lawrence Bender (Officer Adams)
---
Plot
It is closing time at the Walnut Lake supermarket. Just before the doors shut, checkout operator Jennifer Ross's ex-boyfriend Craig bursts in, having just beem released from jail and demanding to talk to her. The others drag him away and throw him out but Craig manages to sneak back in. After the supermarket closes, the staff begin an all-night clean-up operation. The managers inform them that the supermarket is going to be sold and they will all lose their jobs at the end of the month. They then discover that someone is locked in with them and is killing the staff off one by one.
---
Intruder was a minor B-budget film. It has gained a reasonable reputation because of its proliferation in a variety of cut and uncut versions. It was the directorial debut of Scott Spiegel, an associate of Sam Raimi who grew up with the Raimi brothers and Bruce Campbell, all of whom makes cameo appearances in the film.
Following this, Scott Spiegel went on to direct a handful of other films – From Dusk Till Dawn 2: Texas Blood Money (1999), My Name is Modesty: A Modesty Blaise Adventure (2004), based on the popular comic-book heroine, and Hostel Part III (2011). Spiegel has written several other films – Sam Raimi's The Evil Dead II (1987), Thou Shalt Not Kill … Except (1985), another Sam Raimi associated film about a murderous religious cult, Hit List (1989), The Rookie (1990) and The Nutt House (1992), as well as produced Hostel (2005), 2001 Maniacs (2005) and Hostel Part II (2007). Spiegel has also made cameo appearances in most of Sam Raimi's films.
When it comes down to it, Intruder is a routine Slasher Film – no more, no less. Scott Spiegel never concerns himself much with suspense driving, something that few slasher films did – and mostly cuts to the gory punchline. The climactic pursuit of the heroine through the supermarket by the killer generates moderate tension, even if the killer keeps popping up out of absurd places – grabbing the heroine over the top of an aisle or from beneath a car. One of the more distracting aspects in all of Scott Spiegel's films is his constant gimmick shots – here we get the camera looking up from beneath the dial of a telephone, from a floor that is being swept with a broom, up out of a bucket that water is dripping into, from inside a shopping cart and so on.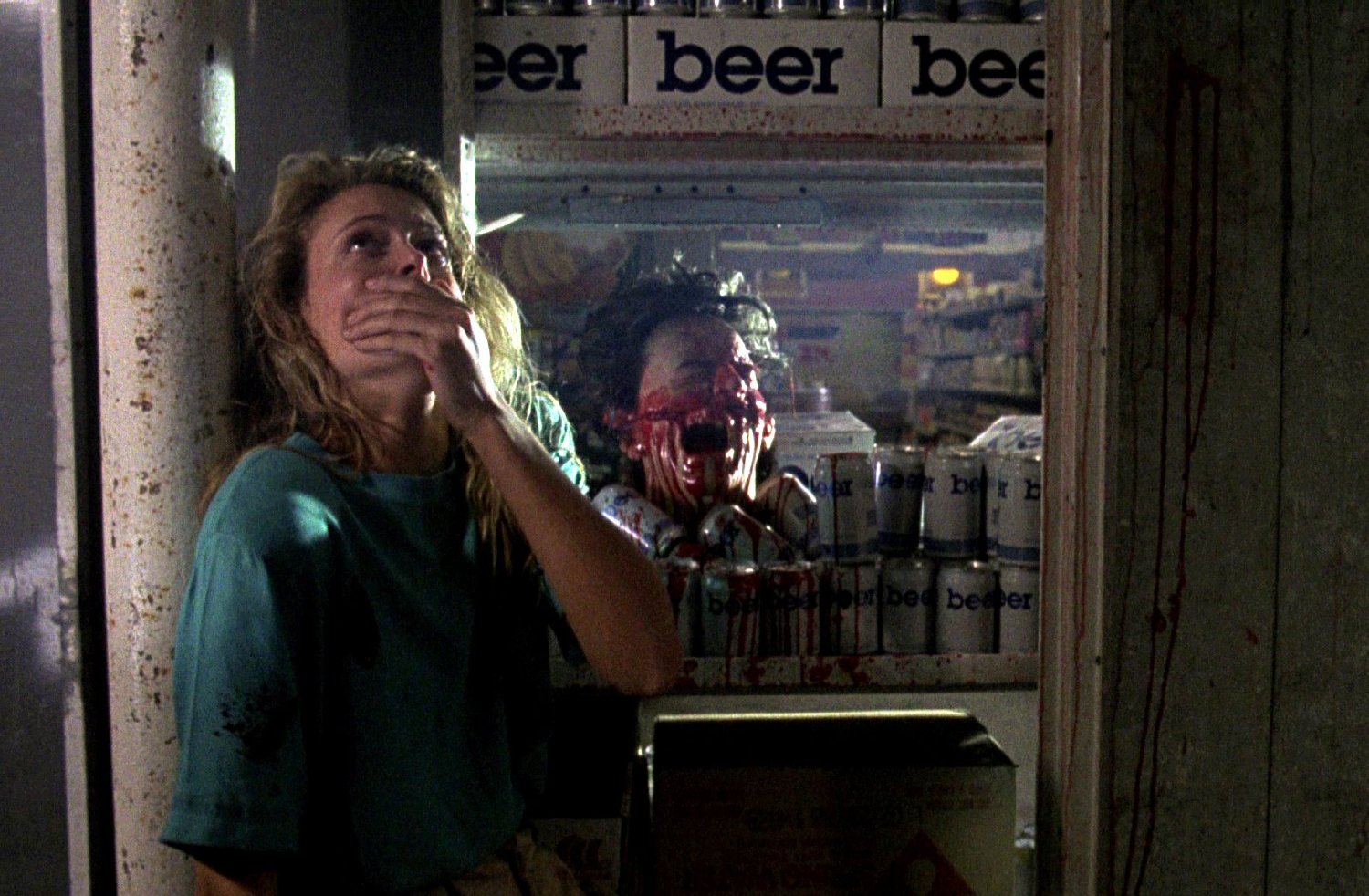 Mostly though, Spiegel aims for the gory punchline – Eugene Glazer having his head impaled on the spike of a paperweight, Burr Steers' head being crushed in a hydraulic press, Sam Raimi hung from a meat hook impaled through his eye. The most notorious of these scenes is the frequently cut one where Craig Stark's head is held down by the killer and the skull sliced open with a fretsaw. Spiegel aims for an occasional sense of black humour – a victim lying with a sign "as advertized ½ off" or a sign saying "beware of sharp knives" just as Ted Raimi gets a machete in the head.
Intruder is most fascinating not so much in itself – it is merely mediocre – but for the numbers of others present who went onto do other things. There is Sam Raimi who plays the employee who manages the deli, while his brother Ted plays an ultra-nerdy produce clerk. There is also Burr Steers, later the director of Igby Goes Down (2002), 17 Again (2009) and Pride and Prejudice and Zombies (2016) as an employee, while Alvy Moore, a veteran Western actor and producer of Brotherhood of Satan (1971) and A Boy and His Dog (1975), turns up as a cop. Renee Estevez, who plays one of the checkout girls that gets slaughtered early on, is the daughter of Martin Sheen and brother of Emilio Estevez. Emil Sitka, who plays the old man that passes through the checkout in the very first scene, was one of The Three Stooges films. Co-writer and producer Lawrence Bender, after making on his first film here, later went onto produce numerous films, including everything that Quentin Tarantino has ever made and other celebrated works like An Inconvenient Truth (2006).
---
---