---
USA. 1989.
Crew
Director – Michael A. Simpson, Screenplay – Fritz Gordon, Based on an Original Idea by Robert Hiltzik, Producers – Jerry Silva & Michael A. Simpson, Photography – Bill Mills, Music – James Oliverio, Makeup Effects – Bill Johnson. Production Company – Double Helix Films.
Cast
Pamela Springsteen (Angela Johnson), Tracy Griffith (Marcia Holland), Michael J. Pollard (Herman Miranda), Sandra Dorsey (Lilly Miranda), Cliff Brand (Barney Whitmore), Haynes Brooke (Bobby Stark), Kim Wall (Cindy Hammersmith), Daryl Wilcher (Riff), Kyle Holman (Snowboy), Mark Oliver (Tony De Herrara), Jarrett Beal (Peter Doyle), Jill Terashita (Arab), Randi Layne (Tawny Richards), Sonya Maddox (Anita Bertram), Kashina Kessler (Maria Nicostro), Chung Yen Tsay (Greg Nakashima), Stacie Lambert (Jan Hernandez)
---
Plot
Angela Johnson kills Maria Nicostro and assumes her identity. She then joins a group of people heading to Camp New Horizons, a new summer camp that has been established on the grounds of Camp Rolling Hills where she had previously slaughtered a group of counselors. There camp owners Herman and Lilly Miranda are attempting an experiment in mixing together teenagers from rich and poor families. As the teens are split into groups to go and camp in the outdoors, Angela proceeds to kill her way through them.
---
The first Sleepaway Camp (1983) is classic of the slasher genre. It is as much so for the relative degree more imagination with which it was made as its classic twist ending revelation about the identity of the killer. Teenage Wasteland was the second of two indifferently made sequels to the original and follows on from Sleepaway Camp 2: Unhappy Campers (1988). Both Unhappy Campers and Teenage Wasteland were shot back-to-back – the crew credits listed above are identical for both films. Both also feature Pamela Springsteen, the younger sister of rocker Bruce Springsteen, in the role of Angela. Over a decade later, there was a third sequel with Sleepaway Camp IV: The Survivor (2012). The first film's director/writer Robert Hiltzik had also made his own sequel independent to these others with Return to Sleepaway Camp (1988).
Sleepaway Camp 3: Teenage Wasteland is run of the mill slasher material. There is not really a whole lot more to it beyond Angela running around the camping grounds and nearby woods eliminating various teenagers and counsellors. That only leaves the parade of deaths to watch. Some of these are surprisingly dull – merely Pamela Springsteen bashing people with sticks.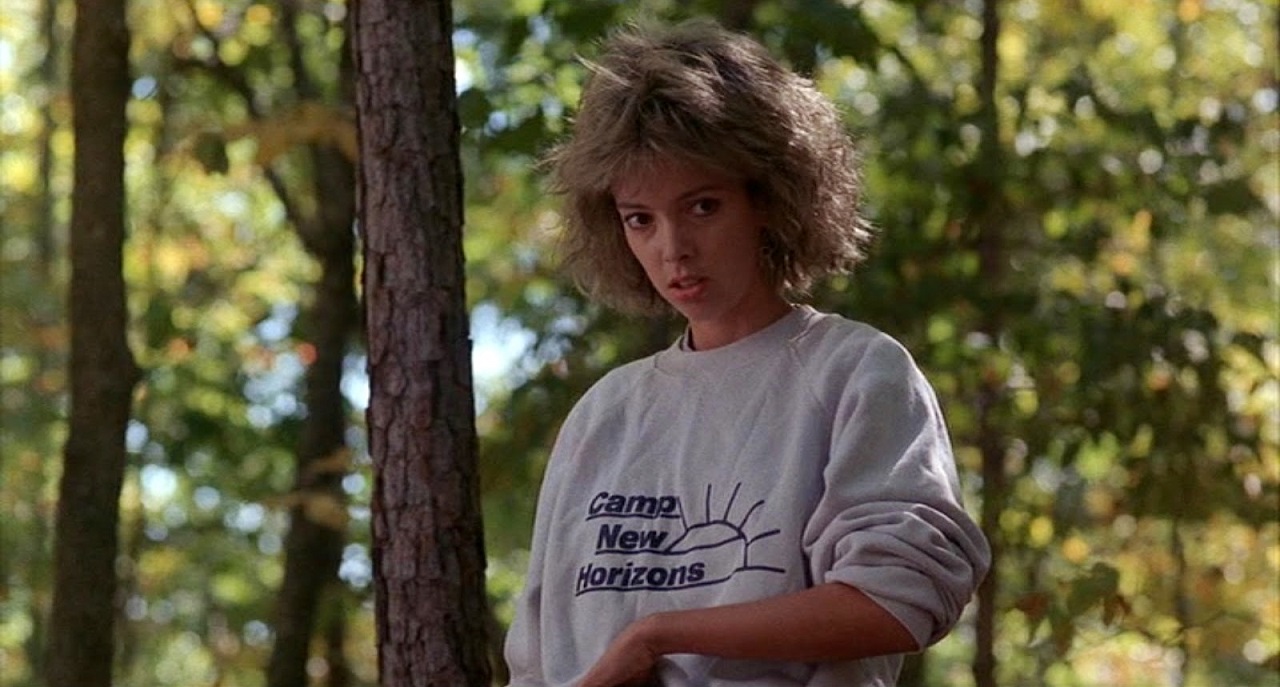 There's the odd dispatch of some amusement – Jarrett Beal having a firecracker placed up his nose and lit (a nasty death that the makeup effects team fails to do justice to); Kim Wall being hoisted up the campground flagpole on a rope and then dropped; and most amusingly where Sandra Dorsey is buried up to her neck and then Pamela Springsteen comes at her with a lawnmower.
The cast features Melanie Griffith's lesser known half-sister Tracy who becomes the Final Girl of sorts. The only other known face is Michael J. Pollard who had a long career of B movie parts who here gives an infantile performance before being bumped off early in the show.
Pamela Springsteen isn't much of an actress – and at around only 5'5" doesn't present much a threat either. (She abandoned acting not long after and became a photographer). This entry has clearly allowed some of her lines to tip over into the campy. "Seems like every time I go to camp someone loses their head," she says at one point.
---
---